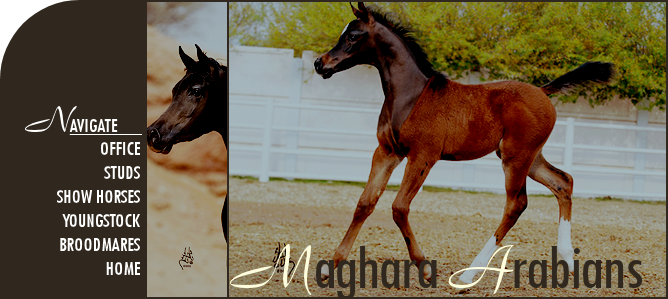 Andi Ibn Bozydar M++++

2008 Bay Polish Arabian Colt
Competing in English Pleasure & Pleasure Driving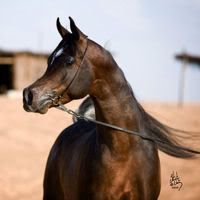 Andi Ibn Bozydar was our first 2008 foal here at Maghara Arabians, he is the first foal from Golden Eagle Farms Polish colt BT Bozydar Donat and an ex-resident mare Gwaizda Bint Andi z. We hope that Andi Ibn Bozydar will be a great new addition to us here at Maghara Arabians by adding some of the best arabian lines in Sim to our farm. Andi Ibn Bozydar is a beautifully bred polish colt with tons of prospect in saddleseat classes and as a stud in the future.




BT Bozydar Bonat

BT Bey Shaitti
Atticus
Bey Shailaan
BT Bialas Inam
Bialas Mandek
BT Borwaycus

Gwaizda Bint Andi z

El Andi Bask
Bask
Khonstant Reminder
Gwiazda oœwietlaŠ
Czarny Oewiateo
Znakomitooeae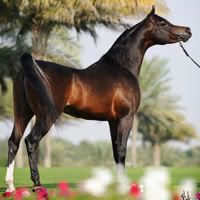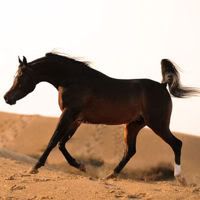 Progeny
None
Show Record
- 1768 AHAC POINTS ll AHAC LEGION OF MASTERS (++++)

- AHAC NOMINATED STALLION



AHAC 2008 Region 1 Championships
Top Ten - Classic Head Colts

AHAC 2008 Canadian Nationals
Top Ten - Classic Head Colts

AHAC 2008 Region 2 Championships
Top Ten - Most Classic Colt

Maghara Arabian Halter Show 2008
Champion - Weanling Colts
Champion Colt
Top Ten - Classic Head Colts

AHAC Ajman National Show 2008
Top Ten - Weanling Colts
Top Ten - Classic Head Colts
Top Ten - Most Classic Colt

AHAC Abu Dhabi 2008
Top Ten - Weanling Colts

AHAC Scottsdale Arabian Halter Show 2008
Top Ten - Weanling Colts
Top Ten - Most Classic Colt

AHAC 2008 Strohen International
Champion - Classic Head Colts

AHAC 2008 Sharjah International
Top Ten - Most Classic Colt
Top Ten - Weanling Colts

AHAC Arabian Breeders World Cup 2008
Reserve Champion - Most Classic Colt
Top Ten - Weanling Colt Breeders Sweepstakes

AHAC 2008 US Nationals
Top Ten - Weanling Colts
Top Ten - Weanling Colt Breeders Sweepstakes

AHAC 2008 Travagliato
Top Ten - Weanling Colts

AHAC 2008 Wels International
Top Ten - Weanling Colts

AHAC 2008 Austrian National Championships
Top Ten - Weanling Colts

AHAC 2008 Tulip Cup
Top Ten - Weanling Colts

AHAC 2008 Orientalica
Top Ten - Weanling Colts

AHAC 2008 German Nationals
Reserve Champion - Weanling Colts

AHAC 2008 Menton International
Top Ten - Weanling Colts
Top Ten - Most Classic Colt

AHAC 2008 Czech National Championships
Top Ten - Weanling Colts

AHAC Towerlands UK 2008
Champion - Classic Head Colts
Top Ten - Weanling Colts
Top Ten - Most Classic Colt

AHAC Elran Cup 2008
Top Ten - Weanling Colts

AHAC Vilhelmsborg 2008
Top Ten - Weanling Colts

AHAC Polish National Show 2008
Champion - Weanling Colts
National Reserve Champion Colt

AHAC Dutch Nationals 2008
Champion Weanling Colts
National Champion Colt

AHAC European Championships Verona 2008
Top Ten - Weanling Colts

AHAC St Petersberg Open 2008
Top Ten - Weanling Colts

AHAC Salon Du Cheval 2008
Top Ten - Weanling Colts
Top Ten - Most Classic Colt

AHAC Region One Championships 2009
Champion - Most Classic Colt

AHAC Ajman National Show 2009
Top Ten - Yearling Colts

AHAC Voghera 2009
Top Ten - Classic Head Colts

AHAC Scottsdale Arabian Horse Show 2009
Top Ten - Yearling Colts

AHAC Qatar International 2009
Top Ten - Classic Head Colts

AHAC 2009 Dubai International
Top Ten - Yearling Colt Breeders Sweepstakes

AHAC Arabian Masters 2009
Top Ten - Yearling Colts
Top Ten - Most Classic Colt
Top Ten - Yearling Colt Breeders Sweepstakes

AHAC 2009 Strohen International
Top Ten - Most Classic Colt
Top Ten - Yearling Colt Breeders Sweepstakes

AHAC 2009 Arabian Breeders World Cup
Top Ten - Yearling Colts
Top Ten - Yearling Colt Breeders Sweepstakes

AHAC 2009 Sharjah
Top Ten - Most Classic Colt
Top Ten - Yearling Colt Breeders Sweepstakes

AHAC 2009 US Nationals
Top Ten - Classic Head Colts
Top Ten - Yearling Colt Breeders Sweepstakes

AHAC Travagliato 2009
Top Ten - Classic Head Colts
Top Ten - Yearling Colt Breeders Sweepstakes

AHAC 2009 Wels International
Top Ten - Yearling Colts
Top Ten - Yearling Colt Breeders Sweepstakes

AHAC 2009 Tulip Cup
Top Ten - Yearling Colt Breeders Sweepstakes

AHAC 2009 Arabica
Reserve Champion - Yearling Colt Breeders Sweepstakes
Top Ten - Most Classic Colt

AHAC 2009 Buckeye
Champion - Most Classic Colt
Top Ten - Yearling Colts
Top Ten - Yearling Colt Breeders Sweepstakes

AHAC 2009 Austrian National Championships
Top Ten - Yearling Colts
Top Ten - Most Classic Colt
Top Ten - Yearling Colt Breeders Sweepstakes

AHAC 2009 Jordan National Championships
Top Ten - Most Classic Colt
Top Ten - Yearling Colt Breeders Sweepstakes

AHAC 2009 Czech National Championships
Top Ten - Yearling Colts
Top Ten - Yearling Colt Breeders Sweepstakes

AHAC 2009 German Nationals
Champion - Yearling Colt Breeders Sweepstakes
Top Ten - Yearling Colts
Top Ten - Classic Head Colts

AHAC 2009 Menton International
Top Ten - Yearling Colt Breeders Sweepstakes

AHAC 2009 Orientalica
Champion - Yearling Colt Breeders Sweepstakes
Top Ten - Yearling Colts

AHAC 2009 Emerald Trophy
Reserve Champion - Yearling Colt Breeders Sweepstakes
Top Ten - Sweepstakes Nominated Junior Sires

AHAC 2009 Scandinavian Open Championships
Top Ten - Yearling Colt Breeders Sweepstakes
Top Ten - Sweepstakes Nominated Junior Sires

AHAC 2009 Mooslargue
Top Ten - Yearling Colt Breeders Sweepstakes
Top Ten - Sweepstakes Nominated Junior Sires

AHAC 2009 Danish National Championships
Top Ten - Yearling Colts
Top Ten - Yearling Colt Breeders Sweepstakes
Top Ten - Sweepstakes Nominated Junior Sires

AHAC 2009 British National Championships
Top Ten - Yearling Colt Breeders Sweepstakes
Top Ten - Sweepstakes Nominated Junior Sires

AHAC 2009 Vilhelmsborg
Top Ten - Yearling Colt Breeders Sweepstakes
Top Ten - Sweepstakes Nominated Junior Sires

AHAC 2009 St Petersburg Open
Top Ten - Yearling Colts
Top Ten - Yearling Colt Breeders Sweepstakes
Top Ten - Sweepstakes Nominated Junior Sires

AHAC 2009 Asil Cup
Champion - Yearling Colt Breeders Sweepstakes
Top Ten - Classic Head Colts
Top Ten - Sweepstakes Nominated Junior Sires

AHAC 2009 Brussels Arabian Trophy
Top Ten - Yearling Colts
Top Ten - Yearling Colt Breeders Sweepstakes
Top Ten - Sweepstakes Nominated Junior Sires

AHAC 2009 Towerlands UK
Top Ten - Yearling Colts
Top Ten - Yearling Colt Breeders Sweepstakes
Top Ten - Sweepstakes Nominated Junior Sires

AHAC Elran Cup 2009
Top Ten - Most Classic Colt
Top Ten - Yearling Colt Breeders Sweepstakes

AHAC 2009 Finnish National Championships
Top Ten - Yearling Colts
Top Ten - Classic Head Colts
Top Ten - Yearling Colt Breeders Sweepstakes
Top Ten - Sweepstakes Nominated Junior Dams

AHAC 2009 All Nations Cup
Reserve Champion - Yearling Colt Breeders Sweepstakes
Top Ten - Yearling Colts

AHAC 2009 Merrist Wood
Champion - Classic Head Colts
Reserve Champion - Sweepstakes Nominated Junior Sires
Top Ten - Yearling Colt Breeders Sweepstakes

AHAC 2009 Moroccon National Championships
Reserve Champion - Sweepstakes Nominated Junior Sires
Top Ten - Yearling Colts
Top Ten - Yearling Colt Breeders Sweepstakes

AHAC 2009 Norwegian National Championships
Top Ten - Yearling Colt Breeders Sweepstakes
Top Ten - Sweepstakes Nominated Junior Sires

AHAC 2009 Saint Tropez Arabian Cup
Top Ten - Yearling Colt Breeders Sweepstakes
Top Ten - Sweepstakes Nominated Junior Sires

AHAC 2009 Middle East Championships
Top Ten - Yearling Colt Breeders Sweepstakes
Top Ten - Sweepstakes Nominated Junior Dams

AHAC 2009 Sharjah
Champion - Yearling Colts
Reserve Champion - Sweepstakes Nominated Junior Sires
Top Ten - Most Classic Colt
Top Ten - Yearling Colt Breeders Sweepstakes

AHAC 2009 Verona National Championships
Top Ten - Yearling Colt Breeders Sweepstakes
Top Ten - Sweepstakes Nominated Junior Sires

AHAC 2009 European Championships Verona
Champion - Classic Head Colts
Top Ten - Yearling Colts

AHAC 2009 Israeli Nationals
Top Ten - Most Classic Colt

AHAC 2009 Dutch National Championships
Top Ten - Yearling Colt Breeders Sweepstakes
Top Ten - Sweepstakes Nominated Junior Sires

AHAC 2009 Salon Du Cheval
Top Ten - Yearling Colts
Top Ten - Yearling Colt Breeders Sweepstakes
Top Ten - Sweepstakes Nominated Junior Sires

AHAC 2009 Egypt International
Top Ten - Yearling Colts
Top Ten - Yearling Colt Breeders Sweepstakes
Top Ten - Sweepstakes Nominated Junior Sires

AHAC 2009 Brazilian Nationals
Reserve Champion - Yearling Colts
Reserve Champion - Yearling Colt Breeders Sweepstakes
National Reserve Champion Colt
Top Ten - Most Classic Colt
Top Ten - Sweepstakes Nominated Junior Sires

AHAC 2010 Canadian Nationals
Top Ten - 2yr/o Colts
Top Ten - Classic Head Colts
Top Ten - 2yr/o Colt Breeders Sweepstakes
Top Ten - Sweepstakes Nominated Junior Sires

AHAC 2010 Region I Championships
Top Ten - 2yr/o Colts
Top Ten - Classic Head Colts
Top Ten - 2yr/o Colt Breeders Sweepstakes
Top Ten - Sweepstakes Nominated Junior Sires

AHAC 2010 Region II Championships
Champion - Most Classic Colt
Most Classic Arabian
Top Ten - 2yr/o Colts
Top Ten - Classic Head Colts
Top Ten - 2yr/o Colt Breeders Sweepstakes
Top Ten - Sweepstakes Nominated Junior Sires

AHAC 2010 Ajman
Top Ten - Classic Head Colts

AHAC 2010 Voghera
Reserve Champion - 2yr/o Colts

AHAC 2010 Qatar International
Champion - Classic Head Colts
Top Ten - Most Classic Colt

AHAC 2010 Egyptian National Championships
Top Ten - 2yr/o Colts
Top Ten - Most Classic Colt

AHAC 2010 Strohen International
Top Ten - Most Classic Colt

AHAC 2010 Arabian Masters
Top Ten - 2yr/o Colts

AHAC 2010 US Nationals
Top Ten - 2yr/o Colt Breeders Sweepstakes
Top Ten - Sweepstakes Nominated Junior Sires

AHAC 2010 Sharjah International
Top Ten - Classic Head Colts

AHAC 2010 Egyptian Event
Champion - 2yr/o Colts
Champion - 2yr/o Colt Breeders Sweepstakes
Champion - Sweepstakes Nominated Junior Sires
International Reserve Champion Colt
Top Ten - Classic Head Colts

AHAC 2010 Wels International
Top Ten - 2yr/o Colts

AHAC 2010 Tulip Cup
Top Ten - 2yr/o Colts

AHAC 2010 Buckeye
Champion - 2yr/o Colts
Regional Champion Colt

AHAC 2010 Orientalica
Top Ten - Most Classic Colt

AHAC 2010 Egyptian Classic Cup
Top Ten - 2yr/o Colts
Top Ten - Most Classic Colt

AHAC 2010 Mooslargue
Reserve Champion - 2yr/o Colts
Top Ten - Classic Head Colts

AHAC 2010 Scandinavian Open Championships
Top Ten - 2yr/o Colts

AHAC 2010 Menton International
Reserve Champion - Most Classic Colt

AHAC 2010 German Nationals
Top Ten - Most Classic Colt

AHAC 2010 Vilhelmsborg
Top Ten - 2yr/o Colts

AHAC 2010 Danish National Championships
Top Ten - 2yr/o Colts

AHAC 2010 British National Championships
Champion - 2yr/o Colts
National Reserve Champion Colt

AHAC 2010 St Petersburg Open
Top Ten - 2yr/o Colts

AHAC 2010 Asil Cup
Top Ten - Classic Head Colts

AHAC 2010 Merrist Wood
Top Ten - Most Classic Colt

AHAC 2010 Moroccan National Championships
Top Ten - 2yr/o Colts

AHAC 2010 Norwegian National Championships
Top Ten - Most Classic Colt

AHAC 2010 Middle East Championships
Top Ten - 2yr/o Colts