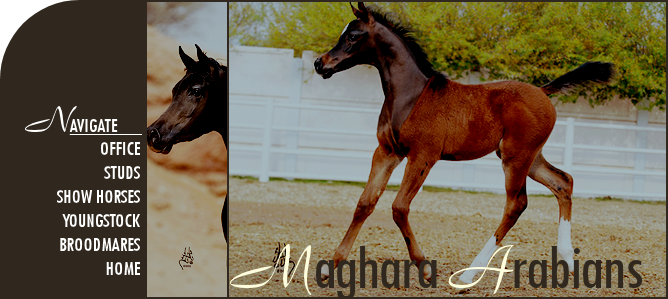 Beatrycze M+

2009 Grey Domestic Arabian Filly
Competing in English Pleasure & Pleasure Driving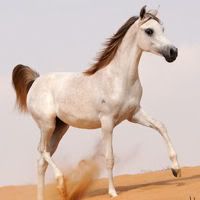 Beatrycze M is another new filly out of another of our Bint Gypsie Bey fillies. She is the youngest filly we bred from these stunning mares and we hope that she will foal in all her families footsteps, she is a promising filly and is already showing a love of competing and showing off in our arenas and also in her first halter shows with the AHAC. We hope that this girl will be the next best thing and show everyone just what Domestic Arabians can do, she is a force to be contended with.




BT Erwijn

BT Discovery
*Blow
Dzeckja
BT Erykah
Atticus
Farion Rafaar

Bint Rashiiq Aadeed M

Al Rashiiq Aadeed
G Al Ahmen Aadeed
Farres Rashiiq
Bint Gypsie Bey
Bask Knight
Yalla Bint Halim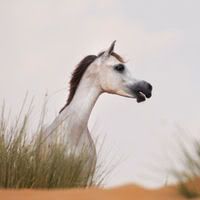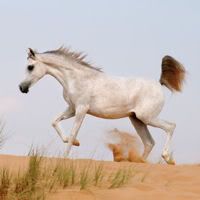 Progeny
None
Show Record
- 338 AHAC POINTS ll AHAC LEGION OF HONOUR (+)



AHAC 2010 Region I Championships
Reserve Champion - Most Classic Filly

AHAC 2010 Region II Championships
Champion - Yearling Fillies
Top Ten - Classic Head Fillies
Top Ten - Most Classic Filly

AHAC 2010 Ajman
Top Ten - Yearling Fillies

AHAC 2010 Egyptian National Championships
Top Ten - Yearling Fillies

AHAC 2010 Strohen International
Top Ten - Yearling Fillies
Top Ten - Classic Head Fillies

AHAC 2010 US Nationals
Top Ten - Most Classic Filly

AHAC 2010 Dubai International
Top Ten - Classic Head Fillies

AHAC 2010 Sharjah International
Champion - Yearling Fillies
Champion - Classic Head Fillies
Most Classic Head

AHAC 2010 Egyptian Event
Top Ten - Yearling Fillies

AHAC 2010 Arabian Breeders World Cup
Top Ten - Yearling Fillies

AHAC 2010 Travagliato
Top Ten - Yearling Fillies

AHAC 2010 Wels International
Top Ten - Most Classic Filly

AHAC 2010 Arabica
Reserve Champion - Most Classic Filly
Top Ten - Yearling Fillies

AHAC 2010 Orientalica
Top Ten - Classic Head Fillies

AHAC 2010 Jordan National Championships
Top Ten - Most Classic Filly

AHAC 2010 Czech National Championships
Top Ten - Yearling Fillies

AHAC 2010 Emerald Trophy
Champion - Yearling Fillies
International Champion Filly

AHAC 2010 Scandinavian Open Championships
Top Ten - Yearling Fillies

AHAC 2010 Menton International
Top Ten - Yearling Fillies

AHAC 2010 Danish National Championships
Top Ten - Yearling Fillies

AHAC 2010 St Petersburg Open
Top Ten - Yearling Fillies

AHAC 2010 Brussels Arabian Trophy
Top Ten - Yearling Fillies

AHAC 2010 Towerlands UK
Top Ten - Most Classic Filly

AHAC 2010 All Nations Cup
Reserve Champion - Yearling Fillies

AHAC 2010 Finnish National Championships
Top Ten - Yearling Fillies

AHAC 2010 Moroccan National Championships
Top Ten - Yearling Fillies
Top Ten - Classic Head Fillies

AHAC 2010 Norwegian National Championships
Top Ten - Yearling Fillies

AHAC 2010 Middle East Championships
Top Ten - Yearling Fillies