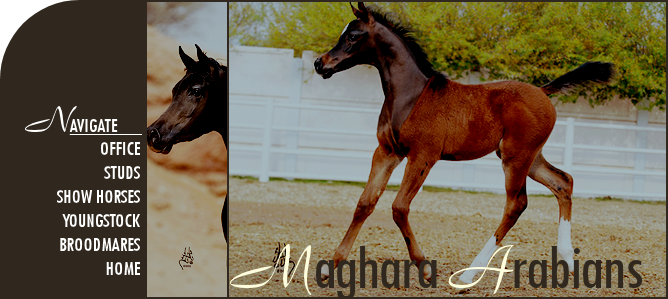 BT Bermuda++++

2004 Bay Polish Arabian Mare
Competing in Hunter Under Saddle & Hunter Hack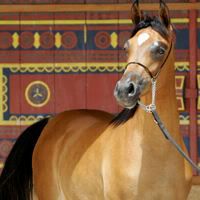 BT Bermuda is one of the latest additions to the Maghara Arabian AHAC show string, she is a beutiful young mare recently available in Blackthorn Hills 2009 foal crop. We jumped at the chance to be able to own another BT Discovery foal, our first of which was BT Erwijn who is competing wonderfully within the AHAC. We hope that this new mare will be just as successful as her half brother and become a champion within the AHAC ring and follow in her fathers footsteps.




BT Discovery

*Blow
*Ecaho
Borgia
Dzeckja
*Lech
Dahhncer

*Ballerina

Major
Batyskaf
Meta
Belladonna
Europejczyk
Bellona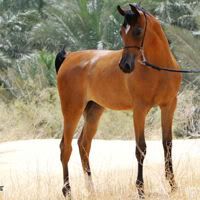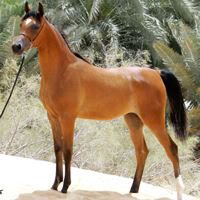 Progeny
Bivas M, 2011 Polish Arabian Filly Sired by BT Cwyndaz
Show Record
- 1976 AHAC POINTS ll AHAC LEGION OF MASTERS (++++)



AHAC 2009 Strohen International
Top Ten - 5yr/o Mares
Top Ten - Get of Sire

AHAC 2009 Dubai International
Top Ten - 5yr/o Mares
Top Ten - Get of Sire

AHAC Arabian Masters 2009
Champion - Get of Sire
Top Ten - 5yr/o Mares

AHAC 2009 Sharjah International
Top Ten - Hunter Hack

AHAC 2009 Arabian Breeders World Cup
Reserve Champion - Get of Sire
Top Ten - Hunter Hack

AHAC 2009 US Nationals
Top Ten - Hunter Hack

AHAC Travagliato 2009
Top Ten - 5yr/o Mares

AHAC 2009 Wels International
Top Ten - Get of Sire

AHAC 2009 Austrian National Championships
Top Ten - 5yr/o Mares

AHAC 2009 Arabica
Top Ten - Get of Sire

AHAC 2009 Buckeye
Top Ten - Get of Sire

AHAC 2009 Jordan National Championships
Reserve Champion - Hunter Under Saddle Jr Horse

AHAC 2009 Czech National Championships
Top Ten - Get of sire
Top Ten - Hunter Under Saddle Jr Horse

AHAC 2009 German Nationals
Top Ten - 5yr/o Mares

AHAC 2009 Menton International
Champion - Hunter Under Saddle Jr Horse
Top Ten - Get of Sire

AHAC 2009 Orientalica
Top Ten - Get of Sire

AHAC 2009 Emerald Trophy
Top Ten - 5yr/o Mares
Top Ten - Get of Sire
Top Ten - Hunter Hack

AHAC 2009 Scandinavian Open Championships
Top Ten - 5yr/o Mares
Top Ten - Get of Sire

AHAC 2009 Mooslargue
Champion - 5yr/o Mares

AHAC 2009 Danish National Championships
Top Ten - 5yr/o Mares
Top Ten - Get of Sire

AHAC 2009 British National Championships
Top Ten - Get of Sire

AHAC 2009 Vilhelmsborg
Top Ten - Get of Sire
Top Ten - Hunter Under Saddle Jr Horse

AHAC 2009 St Petersburg Open
Top Ten - 5yr/o Mares
Top Ten - Hunter Under Saddle Jr Horse

AHAC 2009 Asil Cup
Top Ten - Get of Sire

AHAC 2009 Brussels Arabian Trophy
Top Ten - Get of Sire

AHAC 2009 Towerlands UK
Top Ten - Get of Sire
Top Ten - Hunter Hack

AHAC Elran Cup 2009
Reserve Champion - Get of Sire
Top Ten - 5yr/o Mares

AHAC 2009 Finnish National Championships
Top Ten - 5yr/o Mares
Top Ten - Get of Sire

AHAC 2009 Merrist Wood
Top Ten - Get of Sire
Top Ten - Hunter Under Saddle Jr Horse

AHAC 2009 Moroccon National Championships
Reserve Champion - 5yr/o Mares
Top Ten - Get of Sire
Top Ten - Hunter Under Saddle Jr Horse

AHAC 2009 Norwegian National Championships
Top Ten - Hunter Under Saddle Jr Horse
Top Ten - Hunter Hack

AHAC 2009 Saint Tropez Arabian Cup
Champion - Hunter Hack

AHAC 2009 Middle East Championships
Reserve Champion - Hunter Under Saddle Jr Horse

AHAC 2009 Sharjah
Top Ten - Get of Sire

AHAC 2009 Verona National Championships
Top Ten - 5yr/o Mares
Top Ten - Get of Sire

AHAC 2009 European Championships Verona
Champion - Hunter Under Saddle Jr Horse
Top Ten - Hunter Hack

AHAC 2009 Israeli Nationals
Top Ten - Get of Sire
Top Ten - Hunter Under Saddle Jr Horse
Top Ten - Hunter Hack

AHAC 2009 Salon Du Cheval
Top Ten - 5yr/o Mares

AHAC 2009 Egypt International
Top Ten - Hunter Hack

AHAC 2009 Brazilian Nationals
Reserve Champion - Hunter Hack
Top Ten - Hunter Under Saddle Jr Horse

AHAC 2010 Canadian Nationals
Reserve Champion - Hunter Hack
Top Ten - Get of Sire
Top Ten - Hunter Under Saddle Jr Horse

AHAC 2010 Region I Championships
Champion - Hunter Under Saddle Jr Horse
Top Ten - 6yr/o Mares
Top Ten - Hunter Hack

AHAC 2010 Region II Championships
Top Ten - Get of Sire
Top Ten - Hunter Under Saddle Jr Horse
Top Ten - Hunter Hack

AHAC 2010 Ajman
Top Ten - 6yr/o Mares
Top Ten - Get of Sire

AHAC 2010 Abu Dhabi
Top Ten - 6yr/o Mares
Top Ten - Get of Sire

AHAC 2010 Scottsdale
Reserve Champion - Get of Sire
Top Ten - Hunter Under Saddle Jr Horse

AHAC 2010 Voghera
Top Ten - Get of Sire
Top Ten - Hunter Under Saddle Jr Horse

AHAC 2010 Qatar International
Reserve Champion - Classic Head Jr Mares
Top Ten - 6yr/o Mares
Top Ten - Hunter Under Saddle Jr Horse

AHAC 2010 Egyptian National Championships
Top Ten - Get of Sire
Top Ten - Classic Head Jr Mares
Top Ten - Most Classic Jr Mare
Top Ten - Hunter Under Saddle Jr Horse
Top Ten - Hunter Hack

AHAC 2010 Strohen International
Champion - Hunter Hack
Reserve Champion - Hunter Under Saddle Jr Horse
Top Ten - Get of Sire

AHAC 2010 Arabian Masters
Reserve Champion - 6yr/o Mares
Top Ten - Classic Head Jr Mares
Top Ten - Most Classic Jr Mare
Top Ten - Hunter Under Saddle Jr Horse
Top Ten - Hunter Hack

AHAC 2010 US Nationals
Top Ten - Get of Sire
Top Ten - Hunter Under Saddle Jr Horse

AHAC 2010 Dubai International
Champion - Get of Sire
Top Ten - 6yr/o Mares
Top Ten - Hunter Under Saddle Jr Horse

AHAC 2010 Sharjah International
Champion - 6yr/o Mares
Champion - Most Classic Jr Mare
International Reserve Champion Junior Mare
Top Ten - Get of Sire
Top Ten - Hunter Under Saddle Jr Horse
Top Ten - Hunter Hack

AHAC 2010 Egyptian Event
Champion - Get of Sire
Champion - Hunter Under Saddle Jr Horse
Top Ten - Hunter Hack

AHAC 2010 Arabian Breeders World Cup
Champion - Get of Sire
Champion - Classic Head Jr Mares
Most Classic Head
Reserve Champion - Hunter Hack
Top Ten - Hunter Under Saddle Jr Hrose

AHAC 2010 Travagliato
Reserve Champion - Hunter Under Saddle Jr Horse
Top Ten - 6yr/o Mares
Top Ten - Most Classic Jr Mare

AHAC 2010 Wels International
Top Ten - Classic Head Jr Mares
Top Ten - Hunter Under Saddle Jr Horse

AHAC 2010 Tulip Cup
Top Ten - Get of Sire
Top Ten - Classic Head Jr Mares
Top Ten - Hunter Under Saddle Jr Horse
Top Ten - Hunter Hack

AHAC 2010 Austrian National Championships
Reserve Champion - 6yr/o Mares
Top Ten - Most Classic Jr Mare
Top Ten - Hunter Under Saddle Jr Horse

AHAC 2010 Buckeye
Reserve Champion - Get of Sire
Top Ten - Hunter Under Saddle Jr Horse
Top Ten - Hunter Hack

AHAC 2010 Orientalica
Top Ten - Classic Head Jr Mares

AHAC 2010 Egyptian Classic Cup
Top Ten - 6yr/o Mares
Top Ten - Get of Sire

AHAC 2010 Mooslargue
Top Ten - 6yr/o Mares
Top Ten - Get of Sire

AHAC 2010 Jordan National Championships
Champion - 6yr/o Mares
National Reserve Champion Junior Mare
Top Ten - Get of Sire
Top Ten - Hunter Under Saddle Jr Horse
Top Ten - Hunter Hack

AHAC 2010 Czech National Championships
Top Ten - 6yr/o Mares
Top Ten - Get of Sire
Top Ten - Classic Head Jr Mares
Top Ten - Hunter Under Saddle Jr Horse
Top Ten - Hunter Hack

AHAC 2010 Emerald Trophy
Top Ten - 6yr/o Mares
Top Ten - Hunter Under Saddle Jr Horse
Top Ten - Hunter Hack

AHAC 2010 Scandinavian Open Championships
Top Ten - Hunter Under Saddle Jr Horse
Top Ten - Hunter Hack

AHAC 2010 Menton International
Top Ten - Get of Sire
Top Ten - Hunter Hack

AHAC 2010 German Nationals
Reserve Champion - Hunter Hack
Top Ten - 6yr/o Mares
Top Ten - Classic Head Jr Mares
Top Ten - Hunter Under Saddle Jr Horse

AHAC 2010 Vilhelmsborg
Champion - Hunter Hack
Top Ten - 6yr/o Mares
Top Ten - Get of Sire
Top Ten - Hunter Under Saddle Jr Horse

AHAC 2010 Danish National Championships
Top Ten - 6yr/o Mares

AHAC 2010 British National Championships
Top Ten - 6yr/o Mares
Top Ten - Get of Sire

AHAC 2010 St Petersburg Open
Top Ten - Hunter Under Saddle Jr Horse
Top Ten - Hunter Hack

AHAC 2010 Brussels Arabian Trophy
Top Ten - 6yr/o Mares
Top Ten - Get of Sire
Top Ten - Hunter Under Saddle Jr Horse
Top Ten - Hunter Hack

AHAC 2010 Asil Cup
Top Ten - Get of Sire
Top Ten - Most Classic Jr Mare

AHAC 2010 Elran Cup
Top Ten - Get of Sire

AHAC 2010 Towerlands UK
Champion - Hunter Under Saddle Jr Horse
Top Ten - Get of Sire
Top Ten - Hunter Hack

AHAC 2010 All Nations Cup
Top Ten - Get of Sire
Top Ten - Classic Head Jr Mares

AHAC Finnish National Championships 2010
Champion - Most Classic Jr Mare
Top Ten - Classic Head Jr Mares
Top Ten - Hunter Under Saddle Jr Horse
Top Ten - Hunter Hack

AHAC Moroccan National Championships 2010
Champion - 6yr/o Mares
Reserve Champion - Get of Sire
Reserve Champion - Hunter Under Saddle Jr Horse
National Reserve Champion Junior Mare
Top Ten - Hunter Hack

AHAC 2010 Norwegian National Championships
Reserve Champion - Hunter Under Saddle Jr Horse
Top Ten - 6yr/o Mares
Top Ten - Get of Sire
Top Ten - Most Classic Jr Mare
Top Ten - Hunter Hack

AHAC 2010 Middle East Championships
Top Ten - 6yr/o Mares
Top Ten - Get of Sire
Top Ten - Hunter Under Saddle Jr Horse
Top Ten - Hunter Hack

AHAC Saint Tropez Arabian Cup 2010
Champion - Get of Sire
Top Ten - Classic Head Jr Mare

AHAC 2010 US Sporthorse Nationals
Top Ten - Hunter Under Saddle Jr Horse

AHAC Israeli Nationals 2010
Top Ten - Get of Sire

AHAC Brazilian Nationals 2010
Reserve Champion - 6yr/o Mares
Reserve Champion - Get of Sire

AHAC Egypt International 2010
Top Ten - 6yr/o Mares
Top Ten - Get of Sire

AHAC Dutch National Championships 2010
Top Ten - Get of Sire
Top Ten - Hunter Under Saddle Jr Horse
Top Ten - Hunter Hack

AHAC European Championships Verona 2010
Top Ten - 6yr/o Mares
Top Ten - Get of Sire
Top Ten - Hunter Hack

AHAC Verona National Championships 2010
Champion - 6yr/o Mares
Champion - Hunter Under Saddle Jr Horse
National Champion Junior Mare
Top Ten - Hunter Hack

AHAC Sharjah 2010
Reserve Champion - Hunter Under Saddle Jr Horse
Top Ten - Hunter Hack

AHAC Salon Du Cheval 2010
Top Ten - Get of Sire