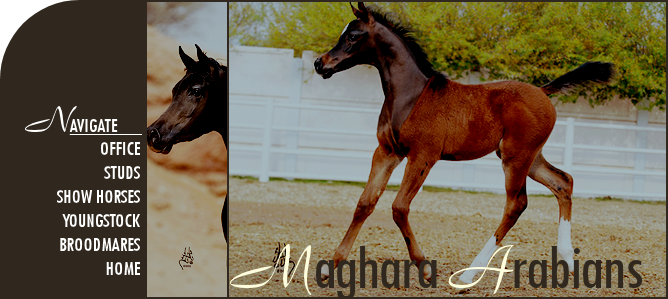 Berry Bazyli M++++/

2005 Grey Domestic Arabian Stallion
Competing in Training Level Dressage
Berry Bazyli was the first foal here at Maghara Arabians, he is out of the wonderful Pink Perfume by Bazyli who is owned by Noel of Blackthorn Hills Farm. Berry Bazyli is a beautiful colt with a great future ahead of him, he likes to run around the field with his mother and also play with the other foals of Maghara Arabians. Berry is now a Legion of Merit champion with the AHAC and he will continue to show up a storm until he reaches his senior years. He has also just been nominated for the AHAC Breeders Sweepstakes. Next year Berry will begin his training to become a Dressage horse and will be shown in Training level Dressage where we expect him to be just as fantastic as his mother and father. Berry Bazyli is now a four year old stallion and has been a successful dressage horse in his futurity years and is now a Legion of Supreme Merit stallion, we hope in the near future that he will begin producing some beautiful foals who will show along with their father.

Bazyli

Bailas Mandek
*Monogramm
Erytrea
Anielski
Emigrant
*Elma

Pink Perfume

Sanadik El Shaklan
El Shaklan
Mohena
Om El Shaina
Carmarque
Estopa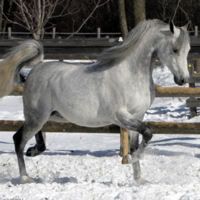 Progeny
None
Show Record
- 2432 AHAC POINTS ll AHAC LEGION OF SUPREME EXCELLENCE (++++/)

- AHAC NOMINATED STALLION
- AHAC NOMINATED BREEDING ENTRY



AHAC All Nations Cup
Top Ten - Yearling Colts
Top Ten - Most Classic Colts

AHAC Tulip Cup 2006
Champion - Open Liberty
Top Ten - Yearling Colts

AHAC 2006 Region Two Championships
Top Ten - Yearling Colts

AHAC Scandinavian Open 2006
Top Ten - Yearling Colts
Top Ten - Produce of Dam

AHAC Emerald Trophy 2006
Top Ten - Yearling Colts
Top Ten - Produce of Dam

AHAC Sharjah 2006
Top Ten - Yearling Colts

AHAC 2007 Ajman
Top Ten - 2yr/o Colts

AHAC 2007 Canadian Nationals
Top Ten - Produce of Dam

AHAC 2007 Scottsdale Show
Top Ten - 2yr/o Colts

AHAC 2007 Qatar International
Champion - 2yr/o Colts
International Reserve Champion Colt
Top Ten - Produce of Dam
Top Ten - Classic Head Colts

AHAC 2007 Egyptian National Championships
Champion - Classic Head Colts
Grand Reserve Champion - Classic Head Colt
Top Ten - 2yr/o Colts
Top Ten - Produce of Dam

2007 Adamant Arabian Classic
Top Ten - 2yr/o Colts

BT Gharkwan Arabian Spectacular 2007
Top Ten - 2yr/o Colts

Weatherlord Farm Classic Circuit Show A
Top Ten - Classic Head Colts

Weatherlord Farm Classic Circuit Show B
Top Ten - Classic Head Colts

AHAC Wels International 2007
Top Ten - 2yr/o Colts

AHAC Tulip Cup 2007
Top Ten - 2yr/o Colts

AHAC 2007 Austrian National Championships
Top Ten - 2yr/o Colts

AHAC Arabica 2007
Top Ten - 2yr/o Colts

AHAC Jordan National Championships 2007
Top Ten - 2yr/o Colts

AHAC 2007 Czech National Championships
Top Ten - 2yr/o Colts

AHAC 2007 Menton International
Top Ten - Classic Head Colts

AHAC 2007 Scandinavian Open Championships
Top Ten - 2yr/o Colts
Top Ten - Produce of Dam
Top Ten - Classic Head Colts

AHAC 2007 Mooslargue
Top Ten - 2yr/o Colts
Top Ten - Classic Head Colts

AHAC 2007 Vilhelmsborg
Top Ten - Produce of Dam

AHAC 2007 Asil Cup
Top Ten - 2yr/o Colts
Top Ten - Produce of Dam

AHAC 2007 St. Petersburg Open
Top Ten - 2yr/o Colts
Top Ten - Produce of Dam

AHAC 2007 Towerlands UK
Reserve Champion - Classic Head Colts

AHAC 2007 Finnish National Championships
Top Ten - 2yr/o Colts

AHAC Elran Cup 2007
Top Ten - 2yr/o Colts

AHAC 2007 Merrist Wood
Champion - Produce of Dam
Top Ten - 2yr/o Colts

AHAC 2007 All Nations Cup
Champion - Classic Head Colts
Top Ten - 2yr/o Colts

AHAC 2007 Moroccon National Championships
Top Ten - Produce of Dam

AHAC 2007 Norwegian National Championships
Top Ten - Produce of Dam
Top Ten - Classic Head Colts

AHAC 2007 Saint-Tropez Arabian Cup
Top Ten - Produce of Dam

AHAC 2007 European National Championships
Reserve Champion - 2yr/o Colts

AHAC 2007 Middle East Championships
Top Ten - Produce of Dam

AHAC 2007 Israeli Nationals
Champion - 2yr/o Colts

AHAC 2007 Egypt International
Top Ten - 2yr/o Colts

AHAC 2007 Salon Du Cheval
Top Ten - 2yr/o Colts

AHAC Sharjah 2007
Champion - 2yr/o Colts
National Champion Colt

AHAC 2008 Region 1 Championships
Top Ten - Colt Futurity
Top Ten - Introductory Dressage

AHAC 2008 Canadian Nationals
Champion - Junior Breeding Stallion Breeders Sweepstakes
Top Ten - Introductory Dressage

AHAC 2008 Region 2 Championships
Top Ten - Colt Futurity

AHAC Ajman National Show 2008
Top Ten - Colt Futurity
Top Ten - Introductory Dressage

AHAC Abu Dhabi 2008
Top Ten - Colt Futurity

AHAC 2008 Dubai International
Top Ten - Colt Futurity

AHAC 2008 Arabian Masters
Top Ten - Colt Futurity

AHAC 2008 US Nationals
Top Ten - Junior Breeding Stallions 3-6 Breeders Sweepstakes

AHAC Arabian Breeders World Cup 2008
Top Ten - Junior Breeding Stallions 2-6 Breeders Sweepstakes

AHAC 2008 Wels International
Champion - Colt Futurity
International Futurity Reserve Champion

2008 AHAC Jordan Nationals
Top Ten - Colt Futurity

AHAC 2008 German Nationals
Top Ten - Introductory Dressage

AHAC 2008 Asil Cup
Top Ten - Colt Futurity

AHAC Emerald Trophy 2008
Top Ten - Colt Futurity

AHAC 2008 Asil Cup
Top Ten - Colt Futurity

AHAC Brussels Arabian Trophy 2008
Top Ten - Introductory Dressage

AHAC British National Championships 2008
Top Ten - Classic Head Jr Stallions

AHAC Danish National Championshios 2008
Top Ten - Colt Futurity
Top Ten - Produce of Dam

AHAC Vilhelmsborg 2008
Top Ten - Colt Futurity
Top Ten - Introductory Dressage

AHAC Dutch Nationals 2008
Reserve Champion - Most Classic Jr Stallion

AHAC St Petersburg Open 2008
Top Ten - Colt Futurity

AHAC Salon Du Cheval 2008
Top Ten - Colt Futurity
Top Ten - Produce of Dam

AHAC Sharjah 2008
Reserve Champion - Produce of Dam
Top Ten - Colt Futurity

AHAC Region I Championships 2009
Reserve Champion - 4yr/o Stallions

AHAC Abu Dhabi 2009
Top Ten - 4yr/o Stallions

AHAC Scottsdale Arabian Horse Show 2009
Top Ten - Training Level Dressage

AHAC Voghera 2009
Top Ten - Training Level Dressage

AHAC Egyptian National Championships 2009
Champion - 4yr/o Stallions
National Champion Junior Stallion
Reserve Champion - Produce of Dam

AHAC Qatar International 2009
Top Ten - Training Level Dressage

AHAC Abu Dhabi 2009
Top Ten - 4yr/o Stallions

AHAC 2009 Dubai International
Top Ten - 4yr/o Stallions
Top Ten - Produce of Dam

AHAC Arabian Masters 2009
Top Ten - 4yr/o Stallions
Top Ten - Produce of Dam

AHAC 2009 Strohen International
Top Ten - 4yr/o Stallions

AHAC 2009 Arabian Breeders World Cup
Top Ten - 4yr/o Stallions
Top Ten - Junior Breeding Stallions 3-6 Breeders Sweepstakes

AHAC 2009 Sharjah
Top Ten - 4yr/o Stallions
Top Ten - Produce of Dam

AHAC 2009 US Nationals
Top Ten - Produce of Dam

AHAC Travagliato 2009
Top Ten - Produce of Dam
Top Ten - Junior Breeding Stallions 3-6 Breeders Sweepstakes

AHAC 2009 Wels International
Reserve Champion - Produce of Dam

AHAC 2009 Tulip Cup
Top Ten - Junior Breeding Stallion 3-6 Breeders Sweepstakes

AHAC 2009 Austrian National Championships
Top Ten - Classic Head Jr Stallions
Top Ten - Junior Breeding Stallion 3-6 Breeders Sweepstakes

AHAC 2009 Arabica
Reserve Champion - Freestyle Dressage Jr Horses
Top Ten - Produce of Dam
Top Ten - Junior Breeding Stalloin 3-6 Breeders Sweepstakes

AHAC 2009 Buckeye
Top Ten - 4yr/o Stallions
Top Ten - Training Level Dressage

AHAC 2009 Jordan National Championships
Reserve Champion - Get of Sire
Top Ten - Classic Head Jr Stallions
Top Ten - Most Classic Jr Stallion

AHAC 2009 Czech National Championships
Champion - Get of Sire
Top Ten - 4yr/o Stallions
Top Ten - Classic Head Jr Stallions
Top Ten - Freestyle Dressage Jr Horses

AHAC 2009 German Nationals
Top Ten - Get of Sire

AHAC 2009 Menton International
Top Ten - Get of Sire
Top Ten - Produce of Dam

AHAC 2009 Orientalica Top Ten - 4yr/o Stallions
Top Ten - Get of Sire

AHAC 2009 Emerald Trophy
Top Ten - Get of Sire
Top Ten - Classic Head Jr Stallions
Top Ten - Junior Breeding Stallion 3-6 Breeders Sweepstakes
Top Ten - Sweepstakes Nominated Junior Sires

AHAC 2009 Scandinavian Open Championships
Top Ten - Training Level Dressage
Top Ten - Freestyle Dressage Jr Horses
Top Ten - Junior Breeding Stallion 3-6 Breeders Sweepstakes
Top Ten - Sweepstakes Nominated Junior Sires

AHAC 2009 Mooslargue
Champion - Sweepstakes Nominated Junior Sires
Top Ten - Get of Sire
Top Ten - Produce of Dam
Top Ten - Classic Head Jr Stallions
Top Ten - Most Classic Jr Stallion

AHAC 2009 Danish National Championships
Top Ten - 4yr/o Stallions
Top Ten - Get of Sire
Top Ten - Produce of Dam
Top Ten - Sweepstakes Nominated Junior Sires

AHAC 2009 British National Championships
Champion - Sweepstakes Nominated Junior Sires

AHAC 2009 Vilhelmsborg
Top Ten - 4yr/o Stallions
Top Ten - Produce of Dam
Top Ten - Classic Head Jr Stallions
Top Ten - Training Level Dressage
Top Ten - Sweepstakes Nominated Junior Sires

AHAC 2009 St Petersburg Open
Reserve Champion - Produce of Dam
Top Ten - 4yr/o Stallions
Top Ten - Classic Head Jr Stallions
Top Ten - Sweepstakes Nominated Junior Sires

AHAC 2009 Asil Cup
Top Ten - Get of Sire
Top Ten - Sweepstakes Nominated Junior Sires

AHAC 2009 Brussels Arabian Trophy
Reserve Champion - Training Level Dressage
Top Ten - Get of Sire
Top Ten - Classic Head Jr Stallions
Top Ten - Junior Breeding Stallion 3-6 Breeders Sweepstakes
Top Ten - Sweepstakes Nominated Junior Sires

AHAC 2009 Towerlands UK
Top Ten - Junior Breeding Stallion 3-6 Breeders Sweepstkaes
Top Ten - Sweepstakes Nominated Junior Sires

AHAC Elran Cup 2009
Reserve Champion - Classic Head Jr Stallions
Top Ten - Get of Sire
Top Ten - Sweepstakes Nominated Junior Sires

AHAC 2009 Finnish National Championships
Champion - Get of Sire
Top Ten - Junior Breeding Stallion 3-6 Breeders Sweepstakes
Top Ten - Sweepstakes Nominated Junior Sires

AHAC 2009 All Nationals Cup
Top Ten - Junior Breeding Stallion 3-6 Breeders Sweepstakes

AHAC 2009 Merrist Wood
Top Ten - Junior Breeding Stallion 3-6 Breeders Sweepstakes
Top Ten - Sweepstakes Nominated Junior Sires

AHAC 2009 Moroccon National Championships
Champion - Sweepstakes Nominated Junior Sires
Reserve Champion - Classic Head Jr Stallions
Top Ten - Get of Sire
Top Ten - Freestyle Dressage Jr Horses
Top Ten - Junior Breeding Stallion 3-6 Breeders Sweepstakes

AHAC 2009 Norwegian National Championships
Top Ten - Junior Breeding Stallion 3-6 Breeders Sweepstakes
Top Ten - Sweepstakes Nominated Junior Sires

AHAC 2009 Saint Tropez Arabian Cup
Reserve Champion - Sweepstakes Nominated Junior Sires
Top Ten - 4yr/o Stallions
Top Ten - Training Level Dressage
Top Ten - Freestyle Dressage Jr Horses
Top Ten - Junior Breeding Stallion 3-6 Breeders Sweepstakes

AHAC 2009 Middle East Championships
Top Ten - Get of Sire
Top Ten - Training Level Dressage
Top Ten - Junior Breeding Stallion 3-6 Breeders Sweepstakes
Top Ten - Sweepstakes Nominated Junior Sires

AHAC 2009 Sharjah International
Champion - Get of Sire
Champion - Junior Breeding Stallions 3-6 Breeders Sweepstakes
Top Ten - Sweepstakes Nominated Junior Sires

AHAC 2009 Verona National Championships
Top Ten - 4yr/o Stallions
Top Ten - Get of Sire
Top Ten - Freestyle Dressage Jr Horses
Top Ten - Sweepstakes Nominated Junior Sires

AHAC 2009 European Championships Verona
Top Ten - Get of Sire
Top Ten - Classic Head Jr Stallions
Top Ten - Training Level Dressage

AHAC 2009 Israeli Nationals
Champion - Training Level Dressage
Top Ten - Classic Head Jr Stallions
Top Ten - Most Classic Jr Stallion

AHAC 2009 Dutch National Championships
Top Ten - Get of Sire
Top Ten - Classic Head Jr Stallions
Top Ten - Junior Breeding Stallions 3-6 Breeding Sweepstakes
Top Ten - Sweepstakes Nominated Junior Sires

AHAC 2009 Salon Du Cheval
Top Ten - Junior Breeding Stallions 3-6 Breeders Sweepstakes
Top Ten - Sweepstakes Nominated Junior Sires

AHAC 2009 Egypt International
Champion - Freestyle Dressage Jr Stallions
Top Ten - Get of Sire
Top Ten - Most Classic Jr Stallion
Top Ten - Sweepstakes Nominated Junior Sires

AHAC 2009 Brazilian Nationals
Top Ten - 4yr/o Stallions
Top Ten - Get of Sire
Top Ten - Sweepstakes Nominated Junior Sires

AHAC 2010 Canadian Nationals
Champion - Get of Sire
Top Ten - 5yr/o Stallions
Top Ten - Most Classic Jr Stallion
Top Ten - 1st Level Dressage
Top Ten - Junior Breeding Stallions 3-6 Breeders Sweepstakes
Top Ten - Sweepstakes Nominated Junior Sires

AHAC 2010 Region I Championships
Top Ten - 5yr/o Stallions
Top Ten - Get of Sire
Top Ten - Junior Breeding Stallions 3-6 Breeders Sweepstakes
Top Ten - Sweepstakes Nominated Junior Sires

AHAC 2010 Region II Championships
Top Ten - 5yr/o Stallions
Top Ten - Get of Sire
Top Ten - Classic Head Jr Stallions
Top Ten - 1st Level Dressage
Top Ten - Junior Breeding Stallions 3-6 Breeders Sweepstakes
Top Ten - Sweepstakes Nominated Junior Sires

AHAC 2010 Ajman
Champion - Get of Sire
Reserve Champion - Classic Head Jr Stallions
Top Ten - 5yr/o Stallions
Top Ten - Most Classic Jr Stallion

AHAC 2010 Abu Dhabi
Top Ten - 5yr/o Stallions
Top Ten - Most Classic Jr Stallions

AHAC 2010 Scottsdale
Top Ten - 5yr/o Stallions
Top Ten - Classic Head Jr Stallions

AHAC 2010 Voghera
Champion - 1st Level Dressage
Reserve Champion - Classic Head Jr Stallions
Top Ten - Get of Sire

AHAC 2010 Qatar International
Top Ten - 5yr/o Stallions
Top Ten - Classic Head Jr Stallions
Top Ten - Most Classic Jr Stallion
Top Ten - 1st Level Dressage

AHAC 2010 Egyptian National Championships
Champion - 5yr/o Stallions
Top Ten - Get of Sire
Top Ten - Classic Head Jr Stallions
Top Ten - 1st Level Dressage

AHAC 2010 Strohen International
Top Ten - 5yr/o Stallions
Top Ten - Get of Sire

AHAC 2010 Arabian Masters
Champion - 5yr/o Stallions
International Reserve Champion Junior Stallion
Top Ten - Get of Sire
Top Ten - Most Classic Jr Stallion
Top Ten - 1st Level Dressage

AHAC 2010 US Nationals
Top Ten - Get of Sire
Top Ten - Junior Breeding Stallions 3-6 Breeders Sweepstakes

AHAC 2010 Dubai International
Top Ten - 5yr/o Stallions
Top Ten - Get of Sire
Top Ten - 1st Level Dressage

AHAC 2010 Sharjah International
Top Ten - 5yr/o Stallions
Top Ten - Get of Sire
Top Ten - Most Classic Jr Stallion
Top Ten - 1st Level Dressage

AHAC 2010 Egyptian Event
Champion - Classic Head Jr Stallions
Champion - Junior Breeding Stallion 3-6 Breeders Sweepstakes
Reserve Champion - Get of Sire
Top Ten - 5yr/o Stallions
Top Ten - Sweepstakes Nominated Junior Sires

AHAC 2010 Arabian Breeders World Cup
Top Ten - 5yr/o Stallions
Top Ten - Get of Sire
Top Ten - 1st Level Dressage