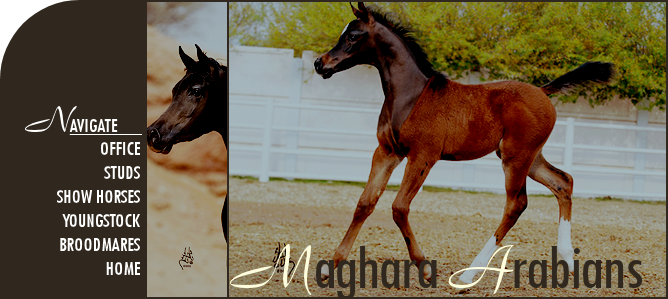 Bey Ibn Aqil++++

2007 Bay Domestic Arabian Colt
Competing in Cutting, Reining, Working Cow Horse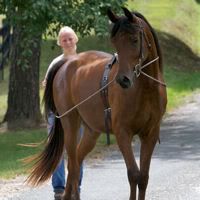 Bey Ibn Aqil's sire is an Egyptian arabian to die for and when we got the chance to breed to this guy the only accomplished mare we could think of was Bint Gypsie Bey our very own amazing Domestic mare who has already produced three amazing foals all of whom are titled within the AHAC along with their mother. We hope that Bint Gypsie's first colt will do just as amazingly as his three half sisters and his dam and sire who is a Legion of Supreme Merit champion within the AHAC. Aqil is an amazing colt with a beautifully shaped head and kind eye's which can make a fully grown man melt in front of him.

Aqil Ziam

Ibn Amon Ra
Ansata Amon Ra
BB Halimssa
Bint Bint Justina
Thee Desperado
Alijamila

Bint Gypsie Bey

Bask Knight
Bask
Sweet Gypsie Rose
Yalla Bint Halim
DA Shah Halim
Yalla Bint Nishan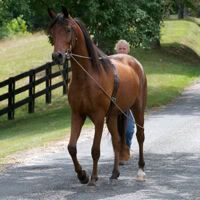 Progeny
None
Show Record
- 1473 AHAC POINTS ll AHAC LEGION OF MASTERS (++++)



AHAC 2007 Saint-Tropez Arabian Cup
Top Ten - Weanling Colts

2007 Aruba Rose Halter Show
Reserve Champion - Weanling Colts
Top Ten - Classic Head Colts

AHAC 2007 European National Championships
Top Ten - Weanling Colts

AHAC 2007 Middle East Championships
Champion - Produce of Dam
Top Ten - Weanling Colts

AHAC 2007 Dutch National Championships
Top Ten - Weanling Colts

AHAC 2007 Israeli Nationals
Champion - Weanling Colts
National Champion Colt
Top Ten - Produce of Dam

AHAC 2007 Brazilian National Championships
Champion - Weanling Colts
National Champion Colt
Champion - Produce of Dam
Top Ten - Classic Head Colts

SAI's December Arabian Show II
Top Ten - Weanling Colts
Top Ten - Classic Head Colts

AHAC 2008 Region 1 Championships
Top Ten - Classic Head Colts

AHAC 2008 Canadian Nationals
Champion - Classic Head Colts

AHAC 2008 Region 2 Championships
Reserve Champion - Produce of Dam

Maghara Arabian Halter Show 2008
Top Ten - Yearling Fillies
Top Ten - Produce of Dam
Top Ten - Most Classic Colt

AHAC Ajman National Show 2008
Top Ten - Most Classic Colt

AHAC 2008 Strohen International
Top Ten - Classic Head Colts

AHAC 2008 Arabian Masters
Top Ten - Yearling Colts

AHAC 2008 Sharjah International
Top Ten - Yearling Colts
Top Ten - Classic Head Colts
Top Ten - Most Classic Colt

AHAC Arabian Breeders World Cup 2008
Top Ten - Yearling Colts
Top Ten - Produce of Dam

AHAC 2008 US Nationals
Top Ten - Produce of Dam

AHAC 2008 Travagliato
Champion - Produce of Dam
Reserve Champion - Yearling Colts

AHAC 2008 Austrian National Championships
Top Ten - Produce of Dam

AHAC 2008 Tulip Cup
Top Ten - Yearling Colts

AHAC 2008 Buckeye
Top Ten - Produce of Dam

AHAC 2008 Orientalica
Top Ten - Yearling Colts
Top Ten - Produce of Dam

2008 AHAC Jordan Nationals
Top Ten - Yearling Colts

AHAC 2008 German Nationals
Reserve Champion - Yearling Colts

AHAC 2008 Menton International
Top Ten - Produce of Dam

AHAC 2008 Czech National Championships
Top Ten - Yearling Colts
Top Ten - Produce of Dam

AHAC 2008 Asil Cup
Top Ten - Produce of Dam

AHAC Mooslargue 2008
Top Ten - Yearling Colts
Top Ten - Produce of Dam

AHAC Brussels Arabian Trophy 2008
Top Ten - Produce of Dam

AHAC Towerlands UK 2008
Top Ten - Produce of Dam

AHAC Finnish National Championships 2008
Top Ten - Produce of Dam

AHAC Elran Cup 2008
Top Ten - Yearling Colts
Top Ten - Produce of Dam

AHAC Vilhelmsborg 2008
Top Ten - Yearling Colts
Top Ten - Produce of Dam

AHAC European Championships Verona 2008
Top Ten - Yearling Colts
Top Ten - Produce of Dam

AHAC Salon Du Cheval 2008
Reserve Champion - Produce of Dam
Top Ten - Yearling Colts

AHAC Sharjah 2008
Top Ten - Produce of Dam

AHAC Region One Championships 2009
Top Ten - 2yr/o Colts

AHAC Voghera 2009
Top Ten - 2yr/o Colts

AHAC Scottsdale Arabian Horse Show 2009
Top Ten - 2yr/o Colts

AHAC 2009 Dubai International
Top Ten - 2yr/o Colts

AHAC Arabian Masters 2009
Top Ten - Produce of Dam

AHAC 2009 Strohen International
Top Ten - 2yr/o Colts

AHAC 2009 Arabian Breeders World Cup
Top Ten - Produce of Dam

AHAC 2009 Sharjah
Top Ten - 2yr/o Colts
Top Ten - Produce of Dam

AHAC 2009 US Nationals
Top Ten - 2yr/o Colts
Top Ten - Classic Head Colts

AHAC Travagliato 2009
Top Ten - 2yr/o Colts

AHAC 2009 Wels International
Top Ten - 2yr/o Colts

AHAC 2009 Austrian National Championships
Top Ten - 2yr/o Colts

AHAC 2009 Arabica
Top Ten - Produce of Dam

AHAC 2009 Buckeye
Top Ten - 2yr/o Colts

AHAC 2009 Jordan National Championships
Top Ten - Produce of Dam

AHAC 2009 Czech National Championships
Champion - Most Classic Colt
Top Ten - 2yr/o Colts
Top Ten - Produce of Dam

AHAC 2009 German Nationals
Top Ten - 2yr/o Colts

AHAC 2009 Menton International
Champion - Produce of Dam
Top Ten - 2yr/o Colts
Top Ten - Classic Head Colts
Top Ten - Most Classic Colt

AHAC 2009 Orientalica
Reserve Champion - Most Classic Colt
Top Ten - 2yr/o Colts
Top Ten - Classic Head Colts

AHAC 2009 Emerald Trophy
Champion - 2yr/o Colts
International Champion Colt
Top Ten - Classic Head Colts

AHAC 2009 Scandinavian Open Championships
Top Ten - 2yr/o Colts
Top Ten - Produce of Dam
Top Ten - Classic Head Colts

AHAC 2009 Danish National Championships
Top Ten - 2yr/o Colts
Top Ten - Produce of Dam

AHAC 2009 British National Championships
Top Ten - Classic Head Colts

AHAC 2009 Vilhelmsborg
Reserve Champion - 2yr/o Colts
Top Ten - Classic Head Colts

AHAC 2009 St Petersburg Open
Top Ten - Produce of Dam
Top Ten - Most Classic Colt

AHAC 2009 Asil Cup
Reserve Champion - Produce of Dam
Top Ten - 2yr/o Colts

AHAC 2009 Brussels Arabian Trophy
Top Ten - Most Classic Colt

AHAC 2009 Towerlands UK
Top Ten - 2yr/o Colts
Top Ten - Produce of Dam

AHAC Elran Cup 2009
Top Ten - 2yr/o Colts
Top Ten - Classic Head Colts
Top Ten - Most Classic Colt

AHAC 2009 Finnish National Championships
Champion - Produce of Dam

AHAC 2009 All Nations Cup
Top Ten - Produce of Dam

AHAC 2009 Merrist Wood
Top Ten - Produce of Dam

AHAC 2009 Moroccon National Championships
Top Ten - 2yr/o Colts
Top Ten - Produce of Dam

AHAC 2009 Norwegian National Championships
Reserve Champion - 2yr/o Colts
Top Ten - Produce of Dam

AHAC 2009 Saint Tropez Arabian Cup
Top Ten - 2yr/o Colts
Top Ten - Produce of Dam

AHAC 2009 Middle East Championships
Top Ten - 2yr/o Colts

AHAC 2009 Sharjah
Top Ten - Produce of Dam
Top Ten - Classic Head Colts

AHAC 2009 Verona National Championships
Top Ten - 2yr/o Colts
Top Ten - Produce of Dam
Top Ten - Classic Head Colts

AHAC 2009 European Championships Verona
Reserve Champion - 2yr/o Colts
Top Ten - Produce of Dam
Top Ten - Most Classic Colt

AHAC 2009 Israeli Nationals
Reserve Champion - Produce of Dam

AHAC 2009 Dutch National Championships
Top Ten - 2yr/o Colts
Top Ten - Produce of Dam

AHAC 2009 Salon Du Cheval
Top Ten - 2yr/o Colts
Top Ten - Produce of Dam

AHAC 2009 Egypt International
Reserve Champion - Produce of Dam

AHAC 2010 Canadian Nationals
Top Ten - Produce of Dam

AHAC 2010 Region I Championships
Champion - Produce of Dam
Top Ten - Colt Futurity

AHAC 2010 Ajman
Top Ten - Colt Futurity
Top Ten - Produce of Dam

AHAC 2010 Abu Dhabi
Reserve Champion - Produce of Dam
Top Ten - Colt Futurity

AHAC 2010 Voghera
Top Ten - Colt Futurity

AHAC 2010 Qatar International
Top Ten - Colt Futurity
Top Ten - Produce of Dam

AHAC 2010 Egyptian National Championships
Reserve Champion - Colt Futurity
National Futurity Reserve Champion

AHAC 2010 Strohen International
Reserve Champion - Colt Futurity
International Futurity Reserve Champion
Top Ten - Produce of Dam

AHAC 2010 Arabian Masters
Top Ten - Colt Futurity
Top Ten - Produce of Dam

AHAC 2010 US Nationals
Champion - Reining Futurity
Top Ten - Colt Futurity
Top Ten - Produce of Dam
Top Ten - Working Cow Horse Futurity
Top Ten - Cutting Futurity

AHAC 2010 Dubai International
Top Ten - Produce of Dam

AHAC 2010 Sharjah International
Champion - Cutting Futurity
Reserve Champion - Reining Futurity
Top Ten - Colt Futurity
Top Ten - Produce of Dam
Top Ten - Working Cow Horse Futurity

AHAC 2010 Egyptian Event
Reserve Champion - Reining Futurity
Reserve Champion - Cutting Futurity
Top Ten - Colt Futurity
Top Ten - Working Cow Horse Futurity

AHAC 2010 Arabian Breeders World Cup
Champion - Reining Futurity
Reserve Champion - Working Cow Horse Futurity
Reserve Champion - Cutting Futurity
Top Ten - Produce of Dam