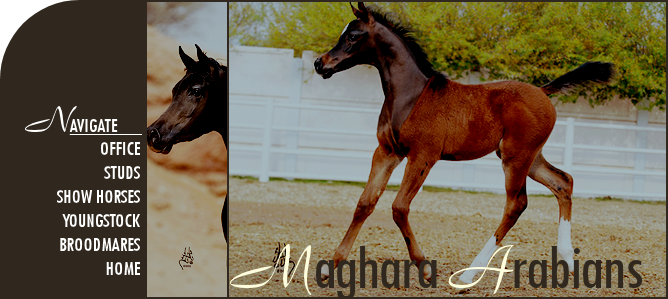 Catastrophe M++++

2003 Bay Sabino Paint x Arabian Stallion
Competing in Reining & Cutting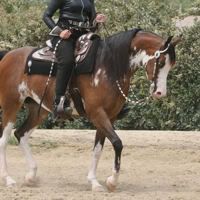 Catastrophe is a stunning Arabian cross Paint foal and we just can't wait to start showing and breeding this stunning stallion. He is sired by the Wise Owl Farm's stallion Pippy's Flyin Cat and out of our new mare Kalila Albadeia who is a stunning Egyptian Arabian with some old fashioned arabian lines in her stunning pedigree. Catastrophe is an awesome stallion who has been trained perposly for western events and we hope to begin showing him as soon as possible within the AHAC along with his mother and the other half arabians here at Maghara Arabians.

Peppy's Flyin Cat

Little Peppy Lynx
Peppy San Badger
Little Lynx
Dream Me A Sockett
Sockett
Money Dreams

Kalila Albadeia

Dahab Albadeia
El Moetaz
Ferial
Gawaher Albadeia
Hafid Anter
Malekat El Wadi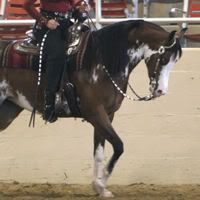 Progeny
Azaria M, 2006 Arabian x Paint Mare Out of Ela Bint Azraff VI
Catina M, 2011 Arabian x Paint Stallion Out of Stepping up Alliances M

Show Record
- 1235 AHAC POINTS ll AHAC LEGION OF MASTERS (++++)



AHAC Sharjah 2007
Champion - Cutting Jr Horse
Reserve Champion - Junior Half-Arabian Stallions
Top Ten - Reining Jr Horse

SAI's December Arabian Show II
Champion - Junior Half-Arabian Stallions
Reserve Champion Half Arabian Jr Horse
Top Ten - Reining Jr Horse
Top Ten - Cutting Jr Horse

AHAC 2008 Region 1 Championships
Champion - Junior Half-Arabian Stallions
Top Ten - Cutting Jr Horse

AHAC 2008 Canadian Nationals
Top Ten - Junior Half-Arabian Stallions
Top Ten - Reining Jr Horse
Top Ten - Cutting Jr Horse

AHAC 2008 Region 2 Championships
Top Ten - Junior Half-Arabian Stallions
Top Ten - Cutting Jr Horse

AHAC Ajman National Show 2008
Top Ten - Junior Half Arabian Stallions
Top Ten - Reining Jr Horse
Top Ten - Cutting Jr Horse

AHAC Scottsdale Arabian Horse Show 2008
Top Ten - Junior Half-Arabian Stallions
Top Ten - Reining Jr Horse

AHAC 2008 Egyptian National Championships
Top Ten - Junior Half-Arabian Stallions
Top Ten - Reining Jr Horse
Top Ten - Cutting Jr Horse

AHAC 2008 Sharjah International
Top Ten - Junior Half-Arabian Stallions
Top Ten - Cutting Jr Horse

AHAC Arabian Breeders World Cup 2008
Reserve Champion - Cutting Jr Horse
Top Ten - Junior Half-Arabian Stallions
Top Ten - Reining Jr Horse

AHAC 2008 US Nationals
Top Ten - Junior Half-Arabian Stallions
Top Ten - Cutting Jr Horse

AHAC Qatar International 2008
Champion - Cutting Jr Horse
Top Ten - Junior Half-Arabian Stallions
Top Ten - Reining Jr Horse

Half-Arabian Summer Showcase 2008
Champion - Junior Half-Arabian Stallions
Champion Junior Half-Arabian

AHAC 2008 Buckeye
Top Ten - Junior Half-Arabian Stallions
Top Ten - Reining Jr Horse
Top Ten - Cutting Jr Horse

AHAC 2008 Arabica
Reserve Champion - Junior Half-Arabian Stallions
Top Ten - Cutting Jr Horse

2008 AHAC Jordan Nationals
Champion - Cutting Jr Horse
Top Ten - Reining Jr Horse

AHAC 2008 Menton International
Champion - Cutting Jr Horse
Top Ten - Junior Half-Arabian Stallions

AHAC 2008 German Nationals
Top Ten - Junior Half-Arabian Stallions

AHAC 2008 Czech National Championships
Reserve Champion - Junior Half-Arabian Stallions

AHAC Emerald Trophy 2008
Top Ten - Junior Half-Arabian Stallions

AHAC Brussels Arabian Trophy 2008
Top Ten - Junior Half-Arabian Stallions
Top Ten - Reining Jr Horse
Top Ten - Cutting Jr Horse

AHAC Towerlands UK 2008
Reserve Champion - Reining Jr Horse
Top Ten - Junior Half-Arabian Stallions

AHAC Vilhelmsborg 2008
Top Ten - Junior Half-Arabian Stallions

AHAC European Championships Verona 2008
Top Ten - Reining Jr Horse
Top Ten - Cutting Jr Horse
Top Ten - Jr Half Arabian Stallions

AHAC St Petersburg Open 2008
Top Ten - Reining Jr Horse
Top Ten - Jr Half Arabian Stallions

AHAC Sharjah 2008
Champion - Reining Jr Horse
Top Ten - Jr Half Arabian Stallions

AHAC Region I Championships 2009
Top Ten - Reining Jr Horse
Top Ten - Cutting Sr Horse
Top Ten - Jr Half Arabian Stallions

AHAC Ajman National Show 2009
Reserve Champion - Jr Half Arabian Stallions

AHAC Scottsdale Arabian Horse Show 2009
Top Ten - Reining Jr Horse
Top Ten - Jr Half Arabian Stallions

AHAC Voghera 2009
Top Ten - Jr Half Arabian Stallions

AHAC Qatar International 2009
Top Ten - Reining Jr Horse

AHAC Egyptian National Championships 2009
Top Ten - Jr Half Arabian Stallions

AHAC 2009 US Nationals
Top Ten - Cutting Jr Horse
Top Ten - Jr Half-Arabian Stallions

AHAC 2009 Arabian Breeders World Cup
Reserve Champion - Jr Half-Arabian Stallions

AHAC 2009 Arabica
Top Ten - Reining Jr Horse
Top Ten - Jr Half-Arabian Stallions

AHAC 2009 Buckeye
Top Ten - Cutting Jr Horse

AHAC 2009 Jordan National Championships
Top Ten - Junior Half-Arabian Stallions

AHAC 2009 Czech National Championships
Reserve Champion - Cutting Jr Horse
Top Ten - Junior Half-Arabian Stallions

AHAC 2009 German Nationals
Top Ten - Reining Jr Horse
Top Ten - Junior Half-Arabian Stallions

AHAC 2009 Menton International
Top Ten - Reining Jr Horse

AHAC 2009 Emerald Trophy
Champion - Reining Jr Horse
Reserve Champion - Cutting Jr Horse
Top Ten - Junior Half-Arabian Stallions

AHAC 2009 Scandinavian Open Championships
Champion - Reining Jr Horse
Top Ten - Cutting Jr Horse
Top Ten - Junior Half-Arabian Stallions

AHAC 2009 Vilhelmsborg
Champion - Junior Half-Arabian Stallions
International Champion Junior Half-Arabian
Top Ten - Reining Jr Horse

AHAC 2009 St Petersburg Open
Top Ten - Reining Jr Horse
Top Ten - Junior Half-Arabian Stallions

AHAC 2009 Brussels Arabian Trophy
Top Ten - Reining Jr Horse
Top Ten - Cutting Jr Horse
Top Ten - Junior Half-Arabian Stallions

AHAC 2009 Towerlands UK
Reserve Champion - Reining Jr Horse
Top Ten - Cutting Jr Horse
Top Ten - Junior Half-Arabian Stallions

AHAC 2009 Merrist Wood
Top Ten - Cutting Sr Horse

AHAC 2009 Moroccon National Championships
Top Ten - Cutting Sr Horse
Top Ten - Junior Half-Arabian Stallions

AHAC 2009 Norwegian National Championships
Top Ten - Reining Jr Horse
Top Ten - Junior Half-Arabian Stallions

AHAC 2009 Saint Tropez Arabian Cup
Top Ten - Reining Jr Horse
Top Ten - Cutting Jr Horse

AHAC 2009 Middle East Championships
Champion - Cutting Jr Horse
Champion - Junior Half-Arabian Stallions
National Reserve Champion Junior Half-Arabian
Top Ten - Reining Jr Horse

AHAC 2009 Sharjah
Champion - Junior Half-Arabian Stallions
National Reserve Champion Half-Arabian
Top Ten - Reining Jr Horse
Top Ten - Cutting Jr Horse

AHAC 2009 Verona National Championships
Reserve Champion - Reining Jr Horse
Top Ten - Junior Half-Arabian Stallions

AHAC 2009 European Championships Verona
Top Ten - Reining Jr Horse
Top Ten - Cutting Jr Horse

AHAC 2009 Israeli Nationals
Reserve Champion - Junior Half-Arabian Stallions

AHAC 2009 Egypt International
Top Ten - Reining Jr Horse
Top Ten - Junior Half-Arabian Stallions

AHAC 2009 Brazilian Nationals
Top Ten - Junior Half-Arabian Stallions

AHAC 2010 Canadian Nationals
Top Ten - Cutting Sr Horse
Top Ten - Senior Half-Arabian Stallions

AHAC 2010 Region I Championships
Top Ten - Cutting Sr Horse

AHAC 2010 Region II Championships
Champion - Senior Half-Arabian Stallions
Regional Reserve Champion Senior Half-Arabian
Top Ten - Cutting Sr Horse

AHAC 2010 Scottsdale
Top Ten - Cutting Sr Horse

AHAC 2010 Voghera
Top Ten - Cutting Sr Horse
Top Ten - Senior Half-Arabian Stallions

AHAC 2010 Qatar International
Top Ten - Reining Sr Horse
Top Ten - Cutting Sr Horse

AHAC 2010 Egyptian National Championships
Champion - Reining Sr Horse
Reserve Champion - Cutting Sr Horse

AHAC 2010 Strohen International
Top Ten - Reining Sr Horse
Top Ten - Cutting Sr Horse
Top Ten - Senior Half-Arabian Stallions

AHAC 2010 Arabian Masters
Top Ten - Cutting Sr Horse

AHAC 2010 US Nationals
Top Ten - Cutting Sr Horse
Top Ten - Senior Half-Arabian Stallions

AHAC 2010 Dubai International
Champion - Cutting Sr Horse

AHAC 2010 Sharjah International
Champion - Cutting Sr Horse
Reserve Champion - Reining Sr Horse

AHAC 2010 Egyptian Event
Top Ten - Cutting Sr Horse
Top Ten - Senior Half-Arabian Sallions

AHAC 2010 Arabian Breeders World Cup
Top Ten - Cutting Sr Horse