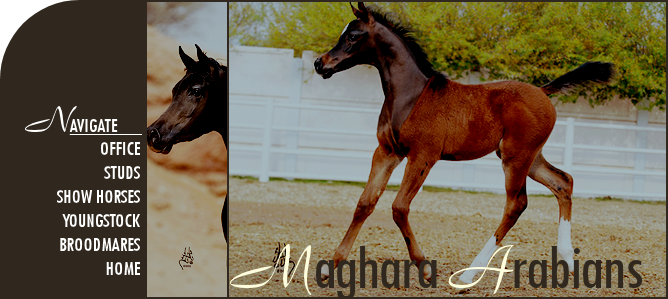 Celina M++++

2006 Grey Polish Arabian Mare
Competing in Hunter Pleasure & Native Costume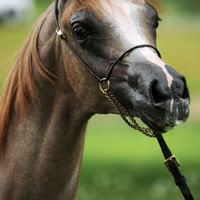 Celina M is the newest member of the Maghara Arabians show team, she is a beautiful little girl with alot of potential in hunter pleasure and native costume events. We cannot wait to begin showing this girl with the AHAC and make this girl just as successful as both her parents and also her grandsire Atticus on her mothers side. We hope this girl will make a big splash in the AHAC arena when she begins her show career next month.




A Cyrek

Caelius
Pasat
Celna
Catalyn
Noir
MS Catalyna

BT Mikathiya

Atticus
*Monogramm
Kawalkada
Aladeeta
*Aladdinn
Wendeeta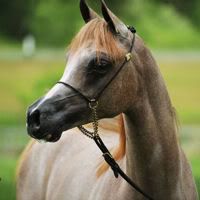 Progeny
None
Show Record
- 1171 AHAC POINTS ll AHAC LEGION OF MASTERS (++++)

- AHAC NOMINATED BREEDING ENTRY



AHAC 2009 Towerlands UK
Reserve Champion - Hunter Pleasure Futurity

AHAC Elran Cup 2009
Top Ten - Filly Futurity

AHAC 2009 Merrist Wood
Top Ten - Hunter Pleasure Futurity

AHAC 2009 Moroccon National Championships
Top Ten - Hunter Pleasure Futurity
Top Ten - Junior Breeding Mare 3-6 Breeders Sweepstakes

AHAC 2009 Norwegian National Championships
Top Ten - Filly Futurity
Top Ten - Hunter Pleasure Futurity
Top Ten - Mounted Native Costume Jr Horse

AHAC 2009 Saint Tropez Arabian Cup
Top Ten - Hunter Pleasure Futurity

AHAC 2009 Middle East Championships
Reserve Champion - Hunter Pleasure Futurity
Top Ten - Filly Futurity

AHAC 2009 Sharjah
Top Ten - Filly Futurity
Top Ten - Hunter Pleasure Futurity
Top Ten - Mounted Native Costume Jr Horse
Top Ten - Junior Breeding Mare 3-6 Breeders Sweepstakes

AHAC 2009 Verona National Championships
Top Ten - Hunter Pleasure Futurity
Top Ten - Junior Breeding Mare 3-6 Breeders Sweepstakes

AHAC 2009 European Championships Verona
Reserve Champion - Hunter Pleasure Futurity
Top Ten - Filly Futurity

AHAC 2009 Israeli Nationals
Champion - Filly Futurity
National Futurity Champion
Top Ten - Hunter Pleasure Futurity

AHAC 2009 Salon Du Cheval
Top Ten - Filly Futurity

AHAC 2009 Egypt International
Champion - Filly Futurity
International Futurity Champion
Top Ten - Hunter Pleasure Futurity

AHAC 2009 Brazilian Nationals
Reserve Champion - Hunter Pleasure Futurity
Reserve Champion - Junior Breeding Mare 3-6 Breeders Sweepstakes

AHAC 2010 Canadian Nationals
Champion - Hunter Pleasure Jr Horse
Top Ten - 4yr/o Mares
Top Ten - Mounted Native Costume Jr Horse
Top Ten - Junior Breeding Mare 3-6 Breeders Sweepstakes

AHAC 2010 Region I Championships
Reserve Champion - Classic Head Jr Mares
Top Ten - 4yr/o Mares
Top Ten - Junior Breeding Mare 3-6 Breeders Sweepstakes

AHAC 2010 Region II Championships
Top Ten - Mounted Native Costume Jr Horse

AHAC 2010 Abu Dhabi
Top Ten - Most Classic Jr Mare

AHAC 2010 Scottsdale
Top Ten - Classic Head Jr Mares
Top Ten - Hunter Pleasure Jr Horse

AHAC 2010 Voghera
Champion - Hunter Pleasure Jr Horse
Top Ten - Mounted Native Costume Jr Horse

AHAC 2010 Qatar International
Top Ten - 4yr/o Mares
Top Ten - Hunter Pleasure Jr Horse
Top Ten - Mounted Native Costume Jr Horse

AHAC 2010 Egyptian National Championships
Top Ten - 4yr/o Mares
Top Ten - Hunter Pleasure Jr Horse
Top Ten - Mounted Native Costume Jr Horse

AHAC 2010 Strohen International
Top Ten - 4yr/o Mares
Top Ten - Hunter Pleasure Jr Horse
Top Ten - Mounted Native Costume Jr Horse

AHAC 2010 Arabian Masters
Top Ten - 4yr/o Mares
Top Ten - Classic Head Jr Mares
Top Ten - Hunter Pleasure Jr Horse
Top Ten - Mounted Native Costume Jr Horse

AHAC 2010 Dubai International
Reserve Champion - Mounted Native Costime Jr Horse
Top Ten - 4yr/o Mares

AHAC 2010 US Nationals
Reserve Champion - Classic Head Jr Mares

AHAC 2010 Sharjah International
Reserve Champion - Most Classic Jr Mare
Top Ten - Classic Head Jr Mares
Top Ten - Hunter Pleasure Jr Horse
Top Ten - Mounted Native Costume Jr Horse

AHAC 2010 Arabian Breeders World Cup
Top Ten - Classic Head Jr Mares
Top Ten - Hunter Pleasure Jr Horse
Top Ten - Mounted Native Costume Jr Horse

AHAC 2010 Egyptian Event
Top Ten - Hunter Pleasure Jr Horse
Top Ten - Mounted Native Costume Jr Horse
Top Ten - Junior Breeding Mare 3-6 Breeders Sweepstakes

AHAC 2010 Travagliato
Champion - Most Classic Jr Mare
Reserve Champion - Hunter Pleasure Jr Horse
Top Ten - 4yr/o Mares

AHAC 2010 Wels International
Top Ten - 4yr/o Mares
Top Ten - Hunter Pleasure Jr Horse

AHAC 2010 Tulip Cup
Top Ten - Mounted Native Costume Jr Horse

AHAC 2010 Austrian National Championships
Top Ten - Hunter Pleasure Jr Horse
Top Ten - Mounted Native Costume Jr Horse

AHAC 2010 Buckeye
Champion - Hunter Pleasure Jr Horse

AHAC 2010 Orientalica
Champion - Most Classic Jr Mare

AHAC 2010 Mooslargue
Top Ten - 4yr/o Mares

AHAC 2010 Jordan National Championships
Top Ten - Hunter Pleasure Jr Horse
Top Ten - Mounted Native Costume Jr Horse

AHAC 2010 Czech National Championships
Top Ten - 4yr/o Mares
Top Ten - Hunter Pleasure Jr Horse
Top Ten - Mounted Native Costume Jr Horse

AHAC 2010 Emerald Trophy
Reserve Champion - 4yr/o Mares
Top Ten - Hunter Pleasure Jr Horse
Top Ten - Mounted Native Costume Jr Horse

AHAC 2010 Scandinavian Open Championships
Top Ten - 4yr/o Mares
Top Ten - Hunter Pleasure Jr Horse
Top Ten - Mounted Native Costume Jr Horse

AHAC 2010 Menton International
Champion - Most Classic Jr Mare
Top Ten - Hunter Pleasure Jr Horse
Top Ten - Mounted Native Costume Jr Horse

AHAC 2010 German Nationals
Champion - 4yr/o Mares
National Champion Junior Mare
Top Ten - Hunter Pleasure Jr Horse

AHAC 2010 Vilhelmsborg
Reserve Champion - Hunter Pleasure Jr Horse
Top Ten - 4yr/o Mares

AHAC 2010 Danish National Championships
Top Ten - 4yr/o Mares

AHAC 2010 British National Championships
Top Ten - Classic Head Jr Mares

AHAC 2010 St Petersburg Open
Reserve Champion - Mounted Native Costume Jr Horse
Top Ten - Classic Head Jr Mares

AHAC 2010 Brussels Arabian Trophy
Top Ten - 4yr/o Mares
Top Ten - Hunter Pleasure Jr Horse
Top Ten - Mounted Native Costume Jr Horse

AHAC 2010 Towerlands UK
Top Ten - Classic Head Jr Mares
Top Ten - Hunter Pleasure Jr Horse

AHAC 2010 All Nations Cup
Top Ten - Classic Head Jr Mares
Top Ten - Most Classic Jr Mare

AHAC Finnish National Championships 2010
Top Ten - Most Classic Jr Mare
Top Ten - Hunter Pleasure Jr Horse

AHAC Moroccan National Championships 2010
Champion - Hunter Pleasure Jr Horse
Top Ten - Most Classic Jr Mare

AHAC 2010 Norwegian National Championships
Top Ten - 4yr/o Mares
Top Ten - Most Classic Jr Mare
Top Ten - Hunter Pleasure Jr Horse
Top Ten - Mounted Native Costume Jr Horse

AHAC 2010 Middle East Championships
Top Ten - Mounted Native Costume Jr Horse

AHAC Saint Tropez Arabian Cup 2010
Top Ten - Classic Head Jr Mares

AHAC Egypt International 2010
Top Ten - 4yr/o Mares

AHAC Dutch National Championships 2010
Top Ten - 4yr/o Mares

AHAC European Championships Verona 2010
Reserve Champion - Classic Head Jr Mares
Top Ten - 4yr/o Mares
Top Ten - Hunter Pleasure Jr Horse
Top Ten - Mounted Native Costume Jr Horse

AHAC Verona National Championships 2010
Top Ten - Hunter Pleasure Jr Horse
Top Ten - Mounted Native Costume Jr Horse

AHAC Sharjah 2010
Champion - Mounted Native Costume Jr Horse
Top Ten - Hunter Pleasure Jr Horse

AHAC Salon Du Cheval 2010
Top Ten - Most Classic Jr Mare