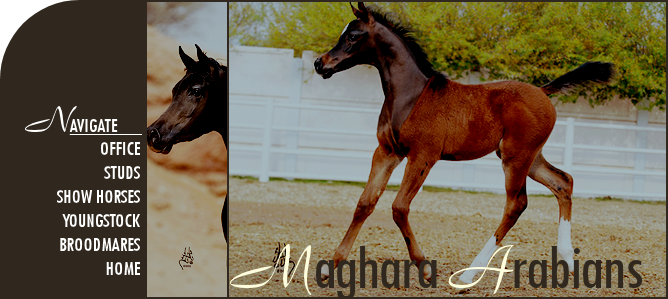 BT Dezyrnia++++/

2006 Chestnut Crabbet Arabian Mare
Competing in Sporthorse In-Hand, Sporthorse Under Saddle & Sporthorse Show Hack
BT Dezyrnia was purchased from Noel at WF Showgrounds from her 2007 April Foal Crop, she is a well bred filly with alot of potential in sporthorse events and in-hand. She has a nice conformation and a strong head, her facial dish really defines her as an arab and you just cant miss her energy and fun out in the paddock.

BT Dezyrnia is the first foal to have been sired by A Dezryck and we were proud to have such a stellar filly from the outcome. Her sire was bred by Ashke Arabians, a known SIM stable for a few years, and was stabled at Blackthorn Hills Farm for quite some time. After the birth of this filly we decided that Crabbets weren't were we wanted our breeding program to head and we sent A Dezryck back to his breeder, Kili. The fact that a quality filly was produced before the return makes the bloodlines this girl carries all the more valuable.
A Dezryck

Ibn Dezyra
Jaans Son
Bint Asil Dezyre/td>
Incanta SCA
Asil Legacy
Asil Dezyre

Markarazi

Creswick Markazi
Fenwick Regal Glow
Talquah Amira
Fenwick Ramara
Silver Spot
Renura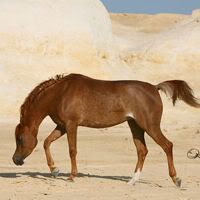 Progeny
None
Show Record
- 2174 AHAC POINTS ll AHAC LEGION OF SUPREME EXCELLENCE (++++/)

- AHAC NOMINATED MARE
- AHAC NOMINATED BREEDING ENTRY



BT Gharkwan Arabian Spectacular 2007
Reserve Champion - Yearling Fillies

Weatherlord Farm Classic Circut Show A
Top Ten - Classic Head Fillies

Weatherlord Farm Classic Circut Show B
Top Ten - Classic Head Fillies

AHAC Tulip Cup 2007
Top Ten - Yearling Fillies

AHAC Arabica 2007
Top Ten - Yearling Colts

AHAC Jordan National Championships 2007
Top Ten - Yearling Fillies

AHAC 2007 Czech National Championships
Champion - Yearling Fillies
National Reserve Champion Filly

AHAC 2007 Scandinavian Open Championships
Top Ten - Sporthorse Fillies In-Hand

AHAC 2007 Mooslargue
Top Ten - Yearling Fillies
Top Ten - Sporthorse Fillies In-Hand

AHAC 2007 Vilhelmsborg
Top Ten - Sporthorse Fillies In-Hand

AHAC 2007 British National Championships
Champion - Sporthorse Fillies In-Hand
Top Ten - Yearling Fillies

AHAC 2007 St. Petersburg Open
Top Ten - Classic Head Fillies
Top Ten - Sporthorse Fillies In-Hand

AHAC 2007 Towerlands UK
Top Ten - Yearling Fillies

AHAC 2007 Finnish National Championships
Top Ten - Yearling Fillies

AHAC 2007 Merrist Wood
Champion - Yearling Fillies
National Reserve Champion Filly
Top Ten - Sporthorse Fillies In-Hand

AHAC 2007 All Nations Cup
Champion - Yearling Fillies

AHAC 2007 Moroccon National Championships
Reserve Champion - Yearling Fillies
Top Ten - Classic Head Fillies

AHAC 2007 Norwegian National Championships
Top Ten - Yearling Fillies

AHAC 2007 Saint-Tropez Arabian Cup
Champion - Yearling Fillies
Champion Filly

AHAC 2007 European National Championships
Champion - Yearling Fillies
Top Ten - Produce of Dam
Top Ten - Sporthorse Fillies In-Hand

AHAC 2007 Middle East Championship
Top Ten - Yearling Fillies
Top Ten - Produce of Dam

AHAC 2007 Dutch National Championships
Top Ten - Produce of Dam

2007 Blackthorn Hills Homebred Invitational III
Top Ten - Weanling to 2yr/o Fillies

AHAC 2007 Egypt International
Top Ten - Produce of Dam

AHAC 2007 Brazilian National Championships
Champion - Yearling Fillies
National Reserve Champion Filly
Reserve Champion - Sporthorse Fillies In-Hand

AHAC Sharjah 2007
Top Ten - Produce of Dam

AHAC 2008 Region 1 Championships
Top Ten - 2yr/o Fillies

AHAC 2008 Canadian Nationals
Top Ten - 2yr/o Fillies
Top Ten - Sporthorse Fillies In-Hand

AHAC 2008 Region 2 Championships
Top Ten - Sporthorse Fillies In-Hand

AHAC 2008 Strohen International
Top Ten - 2yr/o Fillies

AHAC 2008 Sharjah International
Top Ten - Sporthorse Fillies In-Hand

AHAC 2008 US Nationals
Top Ten - 2yr/o Fillies Breeders Sweepstakes
Top Ten - Produce of Dam

AHAC Arabian Breeders World Cup 2008
Top Ten - 2yr/o Fillies Breeders Sweepstakes

AHAC 2007 Travagliato
Top Ten - 2yr/o Fillies

AHAC 2008 Austrian National Championships
Top Ten - 2yr/o Fillies

AHAC 2008 Tulip Cup
Top Ten - 2yr/o Fillies

AHAC 2008 Buckeye
Top Ten - 2yr/o Fillies
Top Ten - Sporthorse Fillies In-Hand

AHAC 2008 Arabica
Top Ten - Produce of Dam

AHAC 2008 German Nationals
Top Ten - Produce of Dam

AHAC 2008 Menton International
Top Ten - 2yr/o Fillies

AHAC 2008 Czech National Championships
Top Ten - 2yr/o Fillies

AHAC Emerald Trophy 2008
Top Ten - Produce of Dam
Top Ten - Sporthorse Fillies In-Hand

AHAC 2008 Asil Cup
Top Ten - Produce of Dam

AHAC Towerlands UK 2008
Top Ten - Sporthorse Fillies In-Hand

AHAC British National Championships 2008
Top Ten - 2yr/o Fillies

AHAC Danish National Championships 2008
Top Ten - 2yr/o Fillies

AHAC Elran Cup 2008
Top Ten - 2yr/o Fillies

AHAC Vilhelmsborg 2008
Top Ten - 2yr/o Fillies

AHAC Dutch Nationals 2008
Top Ten - 2yr/o Fillies

AHAC European Championships Verona 2008
Top Ten - Sporthorse Fillies In-Hand

AHAC St. Petersberg Open 2008
Top Ten - Produce of Dam

AHAC Salon Du Cheval 2008
Top Ten - 2yr.o Filly Breeders Sweepstakes

AHAC Sharjah 2008
Top Ten - 2yr/o Fillies

AHAC Region One Championships 2009
Top Ten - Sporthorse Under Saddle Futurity

AHAC Ajman National Show 2009
Top Ten - Filly Futurity

AHAC Scottsdale Arabian Horse Show 2009
Top Ten - Filly Futurity
Top Ten - Sporthorse Fillies In-Hand

AHAC Voghera 2009
Top Ten - Sporthorse Under Saddle Futurity
Top Ten - Sporthorse Show Hack Open

Blackthorn Hills 2009 Homebred Classic
Top Ten - 3yr/o In-Hand

AHAC Qatar International 2009
Top Ten - Sporthorse Under Saddle Futurity

AHAC 2009 Strohen International
Top Ten - Junior Breeding Mare 3-6 Breeders Sweepstakes

AHAC 2009 Arabian Breeders World Cup
Champion - Filly Futurity
International Futurity Reserve Champion
Top Ten - Sporthorse Show Hack Open

AHAC 2009 US Nationals
Top Ten - Filly Futurity
Top Ten - Junior Breeding Mare 3-6 Breeders Sweepstakes

AHAC 2009 Arabica
Champion - Sporthorse Under Saddle Futurity
Top Ten - Sporthorse Fillies In-Hand
Top Ten - Sporthorse Show Hack Open
Top Ten - Junior Breeding Mare 3-6 Breeders Sweepstakes

AHAC 2009 Buckeye
Top Ten - Junior Breeding Mare 3-6 Breeders Sweepstakes

AHAC 2009 Jordan National Championships
Champion - Filly Futurity
Champion - Sporthorse Fillies In-Hand
National Futurity Champion
Top Ten - Sporthorse Under Saddle Futurity
Top Ten - Sporthorse Show Hack Open
Top Ten - Junior Breeding Mare 3-6 Breeders Sweepstakes

AHAC 2009 Czech National Championships
Top Ten - Filly Futurity
Top Ten - Sporthorse Under Saddle Futurity
Top Ten - Junior Breeding Mare 3-6 Breeders Sweepstakes

AHAC 2009 German Nationals
Champion - Sporthorse Fillies In-Hand
Top Ten - Sporthorse Under Saddle Futurity
Top Ten - Junior Breeding Mare 3-6 Breeders Sweepstakes

AHAC 2009 Menton International
Top Ten - Sporthorse Fillies In-Hand
Top Ten - Sporthorse Under Saddle Futurity

AHAC 2009 Orientalica
Top Ten - Junior Breeding Mare 3-6 Breeders Sweepstakes

AHAC 2009 Emerald Trophy
Reserve Champion - Sporthorse Fillies In-Hand
Top Ten - Junior Breeding Mare 3-6 Breeders Sweepstakes

AHAC 2009 Scandinavian Open Championships
Top Ten - Sporthorse Fillies In-Hand
Top Ten - Junior Breeding Mare 3-6 Breeders Sweepstakes
Top Ten - Sweepstakes Nominated Junior Dams

AHAC 2009 Mooslargue
Top Ten - Sweepstakes Nominated Junior Dams

AHAC 2009 Danish National Championships
Reserve Champion - Sweepstakes Nominated Junior Dams

AHAC 2009 British National Championships
Champion - Filly Futurity
Top Ten - Junior Breeding Mare 3-6 Breeders Sweepstakes
Top Ten - Sweepstakes Nominated Junior Dams

AHAC 2009 Vilhelmsborg 2009
Top Ten - Junior Breeding Mare 3-6 Breeders Sweepstakes
Top Ten - Sweepstakes Nominated Junior Dams

AHAC 2009 St Petersburg Open
Top Ten - Sporthorse Fillies In-Hand
Top Ten - Sporthorse Under Saddle Futurity
Top Ten - Sweepstakes Nominated Junior Dams

AHAC 2009 Brussels Arabian Trophy
Top Ten - Sporthorse Under Saddle Futurity
Top Ten - Sporthorse Show Hack Open
Top Ten - Sweepstakes Nominated Junior Dams

AHAC 2009 Towerlands UK
Champion - Sporthorse Under Saddle Futurity
Top Ten - Sporthorse Show Hack Open
Top Ten - Junior Breeding Mare 3-6 Breeders Sweepstakes
Top Ten - Sweepstakes Nominated Junior Dams

AHAC Elran Cup 2009
Top Ten - Junior Breeding Mare 3-6 Breeders Sweepstakes
Top Ten - Sweepstakes Nominated Junior Dams

AHAC 2009 Finnish National Championships
Top Ten - Filly Futurity
Top Ten - Sweepstakes Nominated Junior Dams

AHAC 2009 All Nations Cup
Top Ten - Filly Futurity
Top Ten - Sweepstakes Nominated Junior Dams

AHAC 2009 Merrist Wood
Top Ten - Filly Futurity
Top Ten - Sporthorse Fillies In-Hand
Top Ten - Sweepstakes Nominated Junior Dams

AHAC 2009 Moroccon National Championships
Top Ten - Sporthorse Under Saddle Futurity
Top Ten - Sweepstakes Nominated Junior Dams

AHAC 2009 Norwegian National Championships
Top Ten - Filly Futurity
Top Ten - Sporthorse Under Saddle Futurity
Top Ten - Sweepstakes Nominated Junior Dams

AHAC 2009 Saint Tropez Arabian Cup
Champion - Sweepstakes Nominated Junior Dams
Top Ten - Sporthorse Fillies In-Hand
Top Ten - Sporthorse Under Saddle Futurity
Top Ten - Sporthorse Show Hack Open

AHAC 2009 Middle East Championships
Top Ten - Sporthorse Fillies In-Hand
Top Ten - Sporthorse Under Saddle Futurity
Top Ten - Sweepstakes Nominated Junior Dams

AHAC 2009 Sharjah
Top Ten - Sporthorse Fillies In-Hand
Top Ten - Junior Breeding Mare 3-6 Breeders Sweepstakes
Top Ten - Sweepstakes Nominated Junior Dams

AHAC 2009 Verona National Championships
Champion - Sweepstakes Nominated Junior Dams
Reserve Champion - Sporthorse Under Saddle Futurity

AHAC 2009 Israeli Nationals
Top Ten - Sporthorse Under Saddle Futurity
Top Ten - Sporthorse Show Hack Open

AHAC 2009 Dutch National Championships
Top Ten - Sweepstakes Nominated Junior Dams

AHAC 2009 Salon Du Cheval
Top Ten - Sweepstakes Nominated Junior Dams

AHAC 2009 Egypt International
Top Ten - Sporthorse Show Hack Open
Top Ten - Sweepstakes Nominated Junior Dams

AHAC 2009 Brazilian Nationals
Top Ten - Sporthorse Under Saddle Futurity
Top Ten - Junior Breeding Mare 3-6 Breeders Sweepstakes
Top Ten - Sweepstakes Nominated Junior Dams

AHAC 2010 Canadian Nationals
Reserve Champion - Sweepstakes Nominated Junior Dams
Top Ten - Sporthorse Under Saddle Jr Horse
Top Ten - Sporthorse Show Hack Open

AHAC 2010 Region I Champion
Champion - Junior Sporthorse Mares In-Hand
Regional Champion Sporthorse Mare/Filly
Reserve Champion - Sweepstakes Nominated Junior Dams

AHAC 2010 Region II Championships
Reserve Champion - Junior Sporthorse Mares In-Hand
Top Ten - Sporthorse Show Hack Open
Top Ten - Sweepstakes Nominated Junior Dams

AHAC 2010 Ajman
Top Ten - 4yr/o Mares

AHAC 2010 Abu Dhabi
Top Ten - 4yr/o Mares

AHAC 2010 Scottsdale
Top Ten - 4yr/o Mares

AHAC 2010 Voghera
Top Ten - Junior Sporthorse Mares In-Hand
Top Ten - Sporthorse Show Hack Open

AHAC 2010 Qatar International
Reserve Champion - Junior Sporthorse Mares In-Hand
Top Ten - Sporthorse Under Saddle Jr Horse
Top Ten - Sporthorse Show Hack Open

AHAC 2010 Egyptian National Championships
Top Ten - Junior Sporthorse Mares In-Hand
Top Ten - Sporthorse Under Saddle Jr Horse

AHAC 2010 Strohen International
Champion - Junior Sporthorse Mares In-Hand
Champion - Sporthorse Under Saddle Jr Horse
International Champion Sporthorse Mare/Filly
Top Ten - 4yr/o Mares
Top Ten - Sporthorse Show Hack Open

AHAC 2010 Arabian Masters
Top Ten - Sporthorse Show Hack Open

AHAC 2010 US Nationals
Top Ten - 4yr/o Mares
Top Ten - Junior Sporthorse Mares In-Hand
Top Ten - Sporthorse Under Saddle Jr Horse
Top Ten - Sporthorse Show Hack Open
Top Ten - Junior Breeding Mare 3-6 Breeders Sweepstakes
Top Ten - Sweepstakes Nominated Junior Dams

AHAC 2010 Dubai International
Reserve Champion - Sporthorse Show Hack Open
Top Ten - 4yr/o Mares
Top Ten - Junior Sporthorse Mares In-Hand

AHAC 2010 Sharjah International
Top Ten - 4yr/o Mares
Top Ten - Sporthorse Show Hack Open

AHAC 2010 Egyptian Event
Champion - Sporthorse Show Hack Open
Top Ten - Sweepstakes Nominated Junior Dams

AHAC 2010 Arabian Breeders World Cup
Top Ten - Sporthorse Under Saddle Jr Horse

AHAC 2010 Travagliato
Top Ten - 4yr/o Mares
Top Ten - Sporthorse Under Saddle Jr Horse
Top Ten - Sporthorse Show Hack Open

AHAC 2010 Wels International
Top Ten - Sporthorse Show Hack Open

AHAC 2010 Tulip Cup
Reserve Champion - Sporthorse Under Saddle Jr Horse
Top Ten - Junior Sporthorse Mares In-Hand

AHAC 2010 Austrian National Championships
Champion - Sporthorse Show Hack Open

AHAC 2010 Orientalica
Top Ten - 4yr/o Mares

AHAC 2010 Jordan National Championships
Top Ten - Junior Sporthorse Mares In-Hand

AHAC 2010 Czech National Championships
Top Ten - 4yr/o Mares
Top Ten - Junior Sporthorse Mares In-Hand
Top Ten - Sporthorse Show Hack Open

AHAC 2010 Emerald Trophy
Top Ten - 4yr/o Mares
Top Ten - Junior Sporthorse Mares In-Hand

AHAC 2010 Scandinavian Open Championships
Champion - Sporthorse Show Hack Open
Top Ten - 4yr/o Mares

AHAC 2010 German Nationals
Champion - SPorthorse Show Hack Open
Top Ten - Sporthorse Under Saddle Jr Horse

AHAC 2010 Vilhelmsborg
Top Ten - Sporthorse Show Hack Open

AHAC 2010 British National Championships
Top Ten - 4yr/o Mares

AHAC 2010 Brussels Arabian Trophy
Top Ten - 4yr/o Mares
Top Ten - Junior Sporthorse Mares In-Hand
Top Ten - Sporthorse Under Saddle Jr Horse
Top Ten - Sporthorse Show Hack Open

AHAC 2010 Asil Cup
Reserve Champion - 4yr/o Mares

AHAC 2010 Elran Cup
Top Ten - 4yr/o Mares

AHAC 2010 Towerlands UK
Top Ten - Sporthorse Show Hack Open

AHAC Finnish National Championships 2010
Top Ten - Junior Sporthorse Mares In-Hand
Top Ten - Sporthorse Under Saddle Jr Horse

AHAC Moroccan National Championships 2010
Top Ten - 4yr/o Mares
Top Ten - Sporthorse Under Saddle Jr Horse
Top Ten - Sporthorse Show Hack Open

AHAC 2010 Norwegian National Championships
Top Ten - Sporthorse Under Saddle Jr Horse
Top Ten - Sporthorse Show Hack Open

AHAC 2010 Middle East Championships
Reserve Champion - Sporthorse Under Saddle Jr Horse

AHAC Saint Tropez Arabian Cup 2010
Top Ten - 4yr/o Mares

AHAC Israeli Nationals 2010
Top Ten - 4yr/o Mares

AHAC Brazilian Nationals 2010
Top Ten - 4yr/o Mares

AHAC European Championships Verona 2010
Top Ten - Junior Sporthorse Mares In-Hand
Top Ten - Sporthorse Show Hack Open

AHAC Sharjah 2010
Top Ten - 4yr/o Mares
Top Ten - Junior Sporthorse Mares In-Hand
Top Ten - Sporthorse Under Saddle Jr Horse

AHAC Salon Du Cheval 2010
Top Ten - 4yr/o Mares