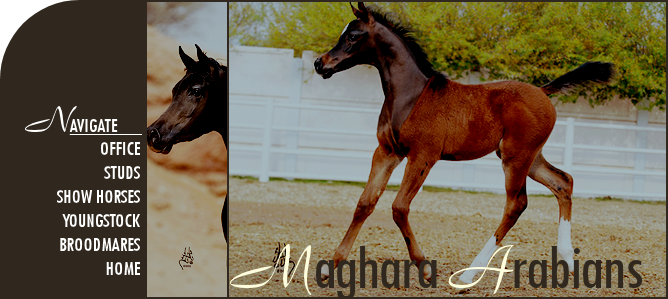 Ela Bint Azraff VI++++

1999 Black Domestic Arabian Mare
Competing in Sporthorse In-Hand & Sporthorse Show Hack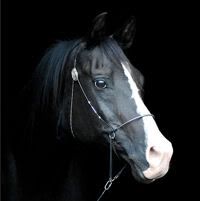 Ela Bint Azraff is a beautiful mare, she was purchased off Stephanie in Impulsion Sim and t hen later exported to our all-sim stable. She has been competing rather well in the AHAC since she has been with us and we are very proud of her achievements. Next year we hope to breed her for the first time in All-sim for a foal that will most likely be kept by ourselves, we cannot wait for this foal to come about and begin competing in the AHAC, we hope that the foal will be just like its dam and do well in Sporthorse events.

Buybacks to Stephanie of Vargas Inc [ISG]
Azraff Masree

Azraff
Bahyda
Aizsha
El Masree Barake
El Matrabb
Shoshana Maali

Kaprawa Wild Fyre

Kaprus
Probat
Kassawa
Wild Fyre Storm
Eskalibor
Unknown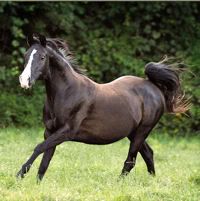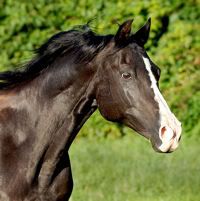 Progeny
Azaria M, 2006 Arabian x Paint Mare Sired by Catastrophe M
Elena M, 2009 Domestic Arabian Mare Sired by Berry Bazyli M
Show Record
- 1402 AHAC POINTS ll AHAC LEGION OF MASTERS (++++)



AHAC 2006 All Nations Cup
Top Ten - 7yr/o Mares

AHAC 2006 Region Two Championships
Top Ten - 7yr/o Mares

AHAC Tulip Cup 2006
Reserve Champion - 7yr/o Mares

AHAC 2006 Strohen International
Top Ten - 7yr/o Mares

AHAC 2006 Ajman
Top Ten - 7yr/o Mares

AHAC 2008 German Nationals
Top Ten - Most Classic Sr Mare

AHAC 2008 Czech National Championships
Top Ten - 9yr/o Mares
Top Ten - Senior Sporthorse Mares In-Hand
Top Ten - Sporthorse Show Hack Open

AHAC Emerald Trophy 2008
Champion - Senior Sporthorse Mares In-Hand
National Champion Sporthorse Mare/Filly

AHAC 2008 Asil Cup
Top Ten - 9yr/o Mares

AHAC Mooslargue 2008
Top Ten - Most Classic Sr Mare

AHAC Towerlands UK 2008
Top Ten - 9yr/o Mares
Top Ten - Most Classic Sr Mare
Top Ten - Sporthorse Show Hack Open

AHAC British National Championships 2008
Top Ten - Most Classic Sr Mare

AHAC Elran Cup 2008
Top Ten - Most Classic Sr Mare

AHAC Vilhelmsborg 2008
Top Ten - Classic Head Sr Mares
Top Ten - Most Classic Sr Mare

AHAC Dutch Nationals 2008
Top Ten - 9yr/o Mares

AHAC European Championships Verona 2008
Top Ten - 9yr/o Mares
Top Ten - Senior Sporthorse Mares In-Hand

AHAC St. Petersberg Open 2008
Top Ten - 8yr/o Mares
Top Ten - Sporthorse Show Hack Open

AHAC Sharjah 2008
Top Ten - Sporthorse Show Hack Open

AHAC Region One Championships 2009
Top Ten - Most Classic Sr Mare
Top Ten - Sporthorse SHow Hack Open

AHAC Abu Dhabi 2009
Top Ten - 10yr/o Mares

AHAC Scottsdale Arabian Horse Show 2009
Top Ten - 10yr/o Mares
Top Ten - Most Classic Sr Mare

AHAC Voghera 2009
Top Ten - 10yr/o Mares

AHAC Qatar International 2009
Top Ten - Sporthorse Show Hack Open

AHAC Egyptian National Championships 2009
Top Ten - Sporthorse Show Hack Open

AHAC 2009 Strohen International
Top Ten - 10yr/o Mares
Top Ten - Classic Head Sr Mares

AHAC 2009 Dubai International
Top Ten - 10yr/o Mares

AHAC Arabian Masters 2009
Reserve Champion - 10yr/o Mares

AHAC 2009 Sharjah International
Top Ten - 10yr/o Mares
Top Ten - Sporthorse Show Hack Open

AHAC 2009 Arabian Breeders World Cup
Top Ten - Most Classic Sr Mare

AHAC 2009 US Nationals
Top Ten - 10yr/o Mares

AHAC 2009 Wels International
Top Ten - 10yr/o Mares

AHAC 2009 Austrian National Championships
Top Ten - 10yr/o Mares

AHAC 2009 Buckeye
Reserve Champion - Senior Sporthorse Mares In-Hand
Top Ten - 10yr/o Mares
Top Ten - Sporthorse Show Hack Open

AHAC 2009 Jordan National Championships
Top Ten - 10yr/o Mares
Top Ten - Senior Sporthorse Mares In-Hand

AHAC 2009 Czech National Championships
Top Ten - 10yr/o Mares
Top Ten - Classic Head Sr Mares

AHAC 2009 German Nationals
Top Ten - 10yr/o Mares

AHAC 2009 Orientalica
Top Ten - 10yr/o Mares

AHAC 2009 Emerald Trophy
Top Ten - 10yr/o Mares
Top Ten - Senior Sporthorse Mares In-Hand

AHAC 2009 Scandinavian Open Championships
Champion - 10yr/o Mares
Top Ten - Sporthorse Show Hack Open

AHAC 2009 Mooslargue
Champion - 10yr/o Mares

AHAC 2009 Danish National Championships
Champion - 10yr/o Mares
National Champion Senior Mare

AHAC 2009 British National Championships
Top Ten - 10yr/o Mares

AHAC 2009 Vilhelmsborg
Top Ten - Classic Head Sr Mares
Top Ten - Senior Sporthorse Mares In-Hand
Top Ten - Sporthorse Show Hack Open

AHAC 2009 Asil Cup
Top Ten - Classic Head Sr Mares

AHAC 2009 Brussels Arabian Trophy
Top Ten - 10yr/o Mares

AHAC 2009 Towerlands UK
Top Ten - 10yr/o Mares

AHAC Elran Cup 2009
Top Ten - 10yr/o Mares

AHAC 2009 All Nations Cup
Top Ten - 10yr/o Mares

AHAC 2009 Moroccon National Championships
Top Ten - 10yr/o Mares

AHAC 2009 Norwegian National Championships
Top Ten - 10yr/o Mares
Top Ten - Most Classic Sr Mare
Top Ten - Sporthorse Show Hack Open

AHAC 2009 Middle East Championships
Champion - Most Classic Sr Mare

AHAC 2009 Sharjah
Champion - Most Classic Sr Mare
Most Classic Arabian
Top Ten - 10yr/o Mares
Top Ten - Sporthorse Show Hack Open

AHAC 2009 Verona National Championships
Top Ten - 10yr/o Mares
Top Ten - Most Classic Sr Mare
Top Ten - Senior Sporthorse Mares In-Hand
Top Ten - Sporthorse Show Hack Open

AHAC 2009 European Championships Verona
Top Ten - 10yr/o Mares
Top Ten - Most Classic Sr Mare
Top Ten - Sporthorse Show Hack Open

AHAC 2009 Israeli Nationals
Top Ten - 10yr/o Mares

AHAC 2009 Dutch National Championships
Top Ten - 10yr/o Mares
Top Ten - Classic Head Sr Mares

AHAC 2009 Salon Du Cheval
Top Ten - 10yr/o Mares
Top Ten - Most Classic Sr Mare

AHAC 2009 Egypt International
Champion - Most Classic Sr Mare
Top Ten - Classic Head Sr Mares
Top Ten - Senior Sporthorse Mares In-Hand

AHAC 2009 Brazilian Nationals
Top Ten - Classic Head Sr Mares

AHAC 2010 Canadian Nationals
Top Ten - Classic Head Sr Mares
Top Ten - Senior Sporthorse Mares In-Hand
Top Ten - Sporthorse Show Hack Open

AHAC 2010 Region I Championships
Top Ten - 11-15yr/o Mares
Top Ten - Sporthorse Show Hack Open

AHAC 2010 Region II Championships
Champion - Sporthorse Show Hack Open
Top Ten - Senior Sporthorse Mares In-Hand

AHAC 2010 Abu Dhabi
Top Ten - Most Classic Sr Mare

AHAC 2010 Scottsdale
Top Ten - 11-15yr/o Mares
Top Ten - Most Classic Sr Mare
Top Ten - Sporthorse Show Hack Open

AHAC 2010 Voghera
Top Ten - Classic Head Sr Mares
Top Ten - Most Classic Sr Mare
Top Ten - Senior Sporthorse Mares In-Hand
Top Ten - Sporthorse Show Hack Open

AHAC 2010 Egyptian National Championships
Reserve Champion - Sporthorse Show Hack Open
Top Ten - Most Classic Sr Mare

AHAC 2010 Strohen International
Top Ten - 11-15yr/o Mares
Top Ten - Sporthorse Show Hack Open

AHAC 2010 Arabian Masters
Top Ten - Classic Head Sr Mares
Top Ten - Senior Sporthorse Mares In-Hand
Top Ten - Sporthorse Show Hack Open

AHAC 2010 US Nationals
Champion - Sporthorse Show Hack Open

AHAC 2010 Dubai International
Top Ten - 11-15yr/o Mares
Top Ten - Most Classic Sr Mare
Top Ten - Senior Sporthorse Mares In-Hand
Top Ten - Sporthorse Show Hack Open

AHAC 2010 Arabian Breeders World Cup
Champion - Sporthorse Show Hack Open
Top Ten - 11-15yr/o Mares
Top Ten - Classic Head Sr Mares

AHAC 2010 Egyptian Event
Top Ten - 11-15yr/o Mares
Top Ten - Sporthorse Show Hack Open

AHAC 2010 Travagliato
Top Ten - 11-15yr/o Mares
Top Ten - Sporthorse Show Hack Open

AHAC 2010 Wels International
Champion - 11-15yr/o Mares

AHAC 2010 Tulip Cup
Top Ten - Sporthorse Show Hack Open

AHAC 2010 Buckeye
Champion - Sporthorse Show Hack Open
Top Ten - Most Classic Sr Mare

AHAC 2010 Egyptian Classic Cup
Reserve Champion - Most Classic Sr Mare

AHAC 2010 Mooslargue
Top Ten - Most Classic Sr Mare

AHAC 2010 Jordan National Championships
Champion - Classic Head Sr Mares
Top Ten - Senior Sporthorse Mares In-Hand

AHAC 2010 Czech National Championships
Top Ten - Most Classic Sr Mare
Top Ten - Sporthorse Show Hack Open

AHAC 2010 Scandinavian Open Championships
Top Ten - Most Classic Sr Mare
Top Ten - Sporthorse Show Hack Open

AHAC 2010 Menton International
Top Ten - 11-15yr/o Mares
Top Ten - Senior Sporthorse Mares In-Hand
Top Ten - Sporthorse Show Hack Open

AHAC 2010 German Nationals
Champion - Senior Sporthorse Mares In-Hand

AHAC 2010 St Petersburg Open
Reserve Champion - Senior Sporthorse Mares In-Hand
Top Ten - Classic Head Sr Mares
Top Ten - Sporthorse Show Hack Open

AHAC 2010 Towerlands UK
Champion - Classic Head Sr Mares
Top Ten - 11-15yr/o Mares
Top Ten - Sporthorse Show Hack Open

AHAC 2010 All Nations Cup
Top Ten - Classic Head Sr Mares

AHAC Moroccan National Championships 2010
Reserve Champion - Sporthorse Show Hack Open

AHAC 2010 Norwegian National Championships
Top Ten - Sporthorse Show Hack Open

AHAC 2010 Middle East Championships
Reserve Champion - 11-15yr/o Mares
Top Ten - Sporthorse Show Hack Open

AHAC 2010 US Sporthorse Nationals
Top Ten - Senior Sporthorse Mares In-Hand

AHAC Israeli Nationals 2010
Top Ten - Classic Head Sr Mares

AHAC Egypt International 2010
Champion - 11-15yr/o Mares

AHAC Dutch National Championships 2010
Top Ten - 11-15yr/o Mares
Top Ten - Sporthorse Show Hack Open

AHAC European Championships Verona 2010
Top Ten - Sporthorse Show Hack Open

AHAC Verona National Championships 2010
Top Ten - Sporthorse Show Hack Open

AHAC Sharjah 2010
Top Ten - 11-15yr/o Mares