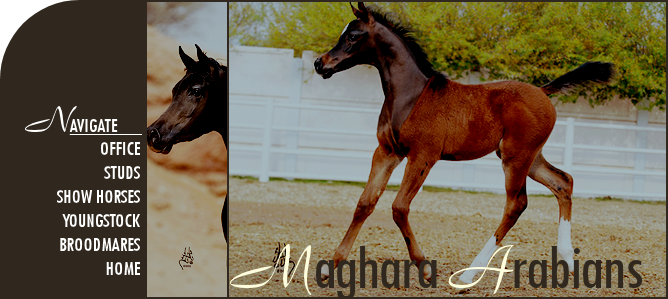 Eliasz M++++

2008 Grey Polish Arabian Colt
Competing in Sporthorse In-Hand, Sporthorse Under Saddle & Introductory Dressage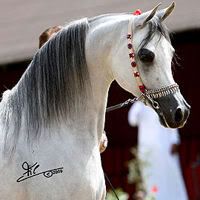 Eliasz M, what more can we say, he is just absolutly stunning. He is the second foal out of BT Elwira and we are proud to say that we here at Maghara Arabians bred this beautiful colt, with the help of course from Golden Eagle Farms own stallion Kazimierz, who is a Legion of Excellence titled stallion with alot more in him at only five years of age. This colt will be showing in Halter right up until he is of Futurity age when he will begin his training for introductory Dressage. When he is four years old he will begin to show more competitively in dressage and also produce his first foals. We hope that he will stay at Maghara Arabians for a long time after he has retired from showing with the AHAC title Legion of Masters.

Kazimierz

Lukien
Karmin
Algonkina
*Glomek
Giermek
Gorbi

BT Elwira

Lukasz
Dervatiw Gwyddion
Pieparta
BT Erykah
Atticus
Farion Rafaar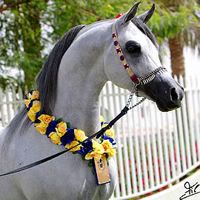 Progeny
None
Show Record
- 1838 AHAC POINTS ll AHAC LEGION OF MASTERS (++++)
- 333 AHAC ROAD TO THE LEGIONS POINTS

- AHAC NOMINATED BREEDING ENTRY
- AHAC ROAD TO THE LEGIONS TOP TEN COLT 2008



AHAC 2008 Region 1 Championships
Top Ten - 2008 Road to the Legions Colt

AHAC 2008 Canadian Nationals
Top Ten - 2008 Road to the Legions Colt

AHAC 2008 Region 2 Championships
Top Ten - 2008 Road to the Legions Colt

AHAC Ajman National Show 2008
Top Ten - 2008 Road to the Legions Colt

AHAC Abu Dhabi 2008
Champion - 2008 Road to the Legions Colt

AHAC 2008 Egyptian National Championships
Top Ten - 2008 Road to the Legions Colt

AHAC 2008 Strohen International
Top Ten - 2008 Road to the Legions Colt

AHAC 2008 Arabian Masters
Top Ten - 2008 Road to the Legions Colt

AHAC 2008 Sharjah International
Top Ten - 2008 Road to the Legions Colt

AHAC Arabian Breeders World Cup 2008
Champion - Weanling Colt Breeders Sweepstakes
Top Ten - 2008 Road to the Legions Colt

AHAC 2008 US Nationals
Reserve Champion - 2008 Road to the Legions Colt
Reserve Champion - Weanling Colt Breeders Sweepstakes

AHAC 2008 Travagliato
Top Ten - 2008 Road to the Legions Colt

AHAC 2008 Tulip Cup
Top Ten - 2008 Road to the Legions Colt

AHAC 2008 German Nationals
Top Ten - 2008 Road to the Legions Colt

AHAC Czech Nationals 2008
Reserve Champion - 2008 Road to the Legions Colt

AHAC Emerald Trophy 2008
Reserve Champion - 2008 Road to the Legions Colt

AHAC Danish Nationals 2008
Top Ten - 2008 Road to the Legions Colt

AHAC Vilhelmsborg 2008
Top Ten - 2008 Road to the Legions Colt

AHAC British Nationals 2008
Champion - 2008 Road to the Legions Colt

AHAC Asil Cup 2008
Top Ten - 2008 Road to the Legions Colt

AHAC Brussels Arabian Trophy 2008
Top Ten - 2008 Road to the Legions Colt

AHAC Elran Cup 2008
Top Ten - 2008 Road to the Legions Colt

AHAC Towerlands UK 2008
Top Ten - 2008 Road to the Legions Colt

AHAC Russian Nationals 2008
Top Ten - 2008 Road to the Legions Colt

AHAC Finnish Nationals 2008
Top Ten - 2008 Road to the Legions Colt

AHAC Merrist Wood 2008
Top Ten - 2008 Road to the Legions Colt

AHAC All Nations Cup 2008
Top Ten - 2008 Road to the Legions Colt

AHAC Morrocan Nationals 2008
Top Ten - 2008 Road to the Legions Colt

AHAC US Sporthorse Nationals 2008
Top Ten - 2008 Road to the Legions Colt

AHAC Middle East Championships 2008
Top Ten - 2008 Road to the Legions Colt

AHAC Dutch Nationals 2008
Champion - 2008 Road to the Legions Colt

AHAC European Championships Verona 2008
Top Ten - 2008 Road to the Legions Colt

AHAC Egyptian International 2008
Top Ten - 2008 Road to the Legions Colt

AHAC Brazilian Nationals 2008
Top Ten - 2008 Road to the Legions Colt

AHAC Verona National Championships 2008
Top Ten - 2008 Road to the Legions Colt

AHAC Salon Du Cheval 2008
Champion - 2008 Road to the Legions Colt

AHAC Sharjah 2008
Top Ten - 2008 Road to the Legions Colt

AHAC Region One Championships 2009
Top Ten - Yearling Colts

AHAC Ajman National Show 2009
Top Ten - Yearling Colts

AHAC 2009 Dubai International
Top Ten - Yearling Colt Breeders Sweepstakes

AHAC Arabian Masters 2009
Champion - Yearling Colt Breeders Sweepstakes

AHAC 2009 Strohen International
Top Ten - Yearling Colts
Top Ten - Yearling Colt Breeders Sweepstakes

AHAC 2009 Arabian Breeders World Cup
Top Ten - Yearling Colts
Top Ten - Yearling Colt Breeders Sweepstakes

AHAC 2009 Sharjah
Champion - Yearling Colts
Champion - Yearling Colt Breeders Sweepstakes
Top Ten - Sporthorse Colts In-Hand

AHAC 2009 US Nationals
Reserve Champion - Yearling Colt Breeders Sweepstakes

AHAC Travagliato 2009
Champion - Most Classic Colt
Top Ten - Yearling Colt Breeders Sweepstakes

AHAC 2009 Wels International
Champion - Yearling Colt Breeders Sweepstakes
Top Ten - Yearling Colts
Top Ten - Classic Head Colts

AHAC 2009 Tulip Cup
Top Ten - Yearling Colts
Top Ten - Yearling Colt Breeders Sweepstakes

AHAC 2009 Austrian National Championships
Champion - Yearling Colts
National Champion Colt
Top Ten - Most Classic Colt
Top Ten - Yearling Colt Breeders Sweepstakes

AHAC 2009 Arabica
Top Ten - Yearling Colt Breeders Sweepstakes

AHAC 2009 Buckeye
Reserve Champion - Yearling Colt Breeders Sweepstakes

AHAC 2009 Jordan National Championships
Top Ten - Yearling Colt Breeders Sweepstakes

AHAC 2009 Czech National Championships
Top Ten - Yearling Colts
Top Ten - Yearling Colt Breeders Sweepstakes

AHAC 2009 German Nationals
Top Ten - Yearling Colts
Top Ten - Yearling Colt Breeders Sweepstakes

AHAC 2009 Menton International
Top Ten - Yearling Colts
Top Ten - Yearling Colt Breeders Sweepstakes

AHAC 2009 Orientalica
Top Ten - Yearling Colts
Top Ten - Yearling Colt Breeders Sweepstakes

AHAC 2009 Scandinavian Open Championships
Top Ten - Yearling Colt Breeders Sweepstakes

AHAC 2009 Mooslargue
Top Ten - Yearling Colts
Top Ten - Yearling Colt Breeders Sweepstakes

AHAC 2009 Danish National Championships
Top Ten - Classic Head Colts
Top Ten - Yearling Colt Breeders Sweepstakes

AHAC 2009 British National Championships
Top Ten - Classic Head Colts
Top Ten - Yearling Colt Breeders Sweepstakes

AHAC 2009 Vilhelmsborg
Reserve Champion - Yearling Colts
Top Ten - Classic Head Colts
Top Ten - Sporthorse Colts In-Hand
Top Ten - Yearling Colt Breeders Sweepstakes

AHAC 2009 St Petersburg Open
Top Ten - Most Classic Colt
Top Ten - Sporthorse Colts In-Hand
Top Ten - Yearling Colt Breeders Sweepstakes

AHAC 2009 Asil Cup
Champion - Most Classic Colt
Top Ten - Yearling Colt Breeders Sweepstakes

AHAC 2009 Brussels Arabian Trophy
Top Ten - Most Classic Colt
Top Ten - Yearling Colt Breeders Sweepstakes

AHAC 2009 Towerlands UK
Reserve Champion - Most Classic Colt
Top Ten - Yearling Colt Breeders Sweepstakes

AHAC Elran Cup 2009
Champion - Yearling Colt Breeders Sweepstakes
Top Ten - Yearling Colts
Top Ten - Classic Head Colts

AHAC 2009 Finnish National Championships
Reserve Champion - Classic Head Colts
Reserve Champion - Yearling Colt Breeders Sweepstakes

AHAC 2009 All Nations Cup
Top Ten - Yearling Colts
Top Ten - Yearling Colt Breeders Sweepstakes

AHAC 2009 Merrist Wood
Top Ten - Yearling Colts
Top Ten - Sporthorse Colts In-Hand
Top Ten - Yearling Colt Breeders Sweepstakes

AHAC 2009 Moroccon National Championships
Champion - Yearling Colts
National Champion Colt
Top Ten - Classic Head Colts
Top Ten - Yearling Colt Breeders Sweepstakes

AHAC 2009 Norwegian National Championships
Top Ten - Yearling Colts
Top Ten - Yearling Colt Breeders Sweepstakes

AHAC 2009 Saint Tropez Arabian Cup
Champion - Classic Head Colts
Most Classic Head
Top Ten - Yearling Colts
Top Ten - Sporthorse Colts In-Hand
Top Ten - Yearling Colt Breeders Sweepstakes

AHAC 2009 Middle East Championships
Champion - Classic Head Colts
Reserve Champion - Yearling Colt Breeders Sweepstakes
Top Ten - Most Classic Colt

AHAC 2009 Sharjah
Top Ten - Most Classic Colt
Top Ten - Sporthorse Colts In-Hand
Top Ten - Yearling Colt Breeders Sweepstakes

AHAC 2009 Verona National Championships
Top Ten - Most Classic Colt
Top Ten - Yearling Colt Breeders Sweepstakes

AHAC 2009 Israeli Nationals
Top Ten - Classic Head Colts

AHAC 2009 Dutch National Championships
Reserve Champion - Yearling Colt Breeders Sweepstakes

AHAC 2009 Salon Du Cheval
Champion - Yearling Colt Breeders Sweepstakes
Top Ten - Yearling Colts
Top Ten - Classic Head Colts

AHAC 2009 Egypt International
Reserve Champion - Most Classic Colt
Reserve Champion - Yearling Colt Breeders Sweepstakes
Top Ten - Yearling Colts

AHAC 2009 Brazilian Nationals
Champion - Yearling Colts
National Champion Colt
Top Ten - Classic Head Colts
Top Ten - Yearling Colt Breeders Sweepstakes

AHAC 2010 Canadian Nationals
Top Ten - Sporthorse Colts In-Hand
Top Ten - 2yr/o Colt Breeders Sweepstakes

AHAC 2010 Region I Championships
Top Ten - 2yr/o Colts
Top Ten - 2yr/o Colt Breeders Sweepstakes

AHAC 2010 Region II Championships
Top Ten - Sporthorse Colts In-Hand
Top Ten - 2yr/o Colt Breeders Sweepstakes

AHAC 2010 Scottsdale
Reserve Champion - 2yr/o Colts
Top Ten - Sporthorse Colts In-Hand

AHAC 2010 Qatar International
Top Ten - 2yr/o Colts

AHAC 2010 Egyptian National Championships
Champion - 2yr/o Colts
National Champion Colt
Top Ten - Sporthorse Colts In-Hand

AHAC 2010 Strohen International
Top Ten - 2yr/o Colts

AHAC 2010 US Nationals
Top Ten - 2yr/o Colt Breeders Sweepstakes

AHAC 2010 Dubai International
Top Ten - 2yr/o Colts
Top Ten - Sporthorse Colts In-Hand

AHAC 2010 Sharjah International
Top Ten - 2yr/o Colts
Top Ten - Sporthorse Colts In-Hand

AHAC 2010 Egyptian Event
Top Ten - Sporthorse Colts In-Hand
Top Ten - 2yr/o Colts Breeders Sweepstakes

AHAC 2010 Arabian Breeders World Cup
Top Ten - 2yr/o Colts

AHAC 2010 Egyptian Event
Top Ten - Sporthorse Colts In-Hand
Top Ten - 2yr/o Colt Breeders Sweepstakes

AHAC 2010 Travagliato
Reserve Champion - Sporthorse Colts In-Hand
Top Ten - 2yr/o Colts

AHAC 2010 Wels International
Top Ten - 2yr/o Colts

AHAC 2010 Tulip Cup
Reserve Champion - 2yr/o Colts

AHAC 2010 Austrian National Championships
Top Ten - 2yr/o Colts

AHAC 2010 Buckeye
Top Ten - 2yr/o Colts
Top Ten - Sporthorse Colts In-Hand

AHAC 2010 Arabica
Top Ten - 2yr/o Colts

AHAC 2010 Orientalica
Top Ten - 2yr/o Colts

AHAC 2010 Egyptian Classic Cup
Champion - 2yr/o Colts
National Reserve Champion Colt

AHAC 2010 Jordan National Championships
Top Ten - 2yr/o Colts

AHAC 2010 Czech National Championships
Champion - Sporthorse Colts In-Hand
National Champion Sporthorse Stallion/Colt

AHAC 2010 Emerald Trophy
Reserve Champion - 2yr/o Colts
Top Ten - Sporthorse Colts In-Hand

AHAC 2010 Scandinavian Open Championships
Top Ten - 2yr/o Colts

AHAC 2010 Menton International
Top Ten - 2yr/o Colts

AHAC 2010 German Nationals
Top Ten - Sporthorse Colts In-Hand

AHAC 2010 Vilhelmsborg
Top Ten - 2yr/o Colts

AHAC 2010 St Petersburg Open
Champion - 2yr/o Colts
International Reserve Champion Colt
Top Ten - Sporthorse Colts In-Hand

AHAC 2010 Brussels Arabian Trophy
Top Ten - 2yr/o Colts

AHAC 2010 Asil Cup
Top Ten - 2yr/o Colts

AHAC 2010 Elran Cup
Reserve Champion - 2yr/o Colts
International Reserve Champion Colt

AHAC 2010 Towerlands UK
Top Ten - Sporthorse Colts In-Hand

AHAC 2010 Merrist Wood
Reserve Champion - 2yr/o Colts

AHAC 2010 All Nations Cup
Top Ten - 2yr/o Colts

AHAC Finnish National Championships 2010
Top Ten - 2yr/o Colts

AHAC Moroccan National Championships 2010
Top Ten - 2yr/o Colts

AHAC 2010 Norwegian National Championships
Top Ten - 2yr/o Colts

AHAC 2010 Middle East Championships
Champion - Sporthorse Colts In-Hand