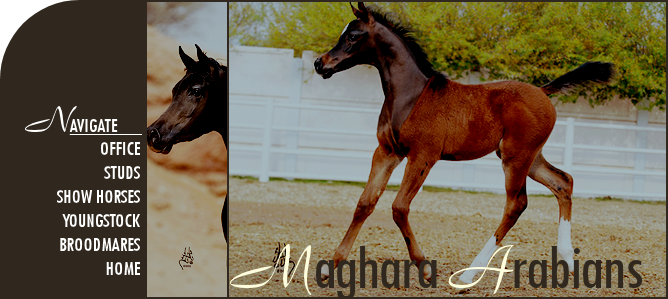 Emeryk M++++

2005 Bay Polish Arabian Gelding
Competing in Sporthorse In-Hand, Sporthorse Under Saddle & 2nd Level Dressage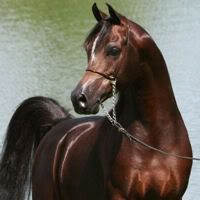 When Emeryk M was first born, he was a very spiteful colt not at all like his sire, and would bite and kick out at the fillies and even the other colts, as he got older he became more uncontrollable and would be in a stall and just bite at the wood andkick the walls, at one stage he kicked and made the door of his stall come open where a stable hand hadn't quite got the lock accross enough, he came charging out of the stall and ended up in a neighbors paddock where he wasn't found for a few hours, when we found him he was tangled in a wire fence kicking and trying to bite the wire away. After that incedent we decided to get him gelded, we didn't think it would really do anything for him but he seemed to calm down a little and become more controllable, we dicided that he would be sold to a home where he would be shown in sporthorse events and become an awesome show gelding, but also unable to produce foals. We didn't think it was right for this guy to be able to produce any foals at the chance he would pass his temprement onto his offspring and put people at danger if they weren't controlled properly.

Fhantasy Ovation

Applauz
El Paso
Andalusia
Fantazia
Aladdinn
Pouilly Fussie

BT Entropian

*Census
Gennesis
Zamiana
Eurficyt
Cytadel
*Eufilina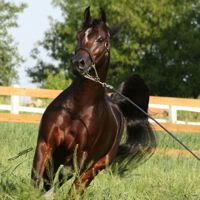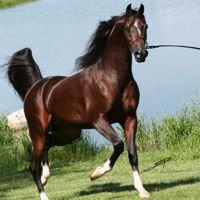 Progeny
Show Record
- 1446 AHAC POINTS ll AHAC LEGION OF MASTERS (++++)

- AHAC NOMINATED BREEDING ENTRY



AHAC Egypt International 2008
Champion - Gelding Futurity
International Futurity Reserve Champion

AHAC 2009 Saint Tropez Arabian Cup
Top Ten - Most Classic Gelding
Top Ten - Junior Sporthorse Geldings In-Hand
Top Ten - 2nd Level Dressage
Top Ten - All Aged Geldings Breeders Sweepstakes

AHAC 2009 Middle East Championships
Champion - Junior Sporthorse Geldings In-Hand
Reserve Champion - All Aged Geldings Breeders Sweepstakes
Top Ten - Champion Gelding, Reserve and Top Ten
Top Ten - Produce of Dam
Top Ten - Classic Head Geldings
Top Ten - Most Classic Gelding
Top Ten - 2nd Level Dressage

AHAC 2009 Sharjah
Champion - Classic Head Geldings
Champion - All Aged Geldings Breeders Sweepstakes
Top Ten - Champion Gelding, Reserve and Top Ten
Top Ten - Most Classic Gelding
Top Ten - Junior Sporthorse Geldings In-Hand

AHAC 2009 Verona National Championships
Champion - All Aged Geldings Breeders Sweepstakes
Reserve Champion - Junior Sporthorse Geldings In-Hand
Top Ten - Champion Gelding, Reserve and Top Ten
Top Ten - Get of Sire
Top Ten - Classic Head Geldings
Top Ten - Most Classic Gelding
Top Ten - Sporthorse Under Saddle Jr Horse
Top Ten - 2nd Level Dressage

AHAC 2009 European Championships Verona
Top Ten - Champion Gelding, Reserve and Top Ten
Top Ten - Get of Sire
Top Ten - Produce of Dam
Top Ten - Classic Head Geldings
Top Ten - Most Classic Gelding
Top Ten - Junior Sporthorse Geldings In-Hand

AHAC 2009 Israeli Nationals
Champion - 2nd Level Dressage
Top Ten - Champion Gelding, Reserve and Top Ten
Top Ten - Produce of Dam
Top Ten - Classic Head Geldings
Top Ten - Most Classic Gelding
Top Ten - Junior Sporthorse Geldings In-Hand
Top Ten - Sporthorse Under Saddle Jr Horse

AHAC 2009 Dutch National Championships
Top Ten - Champion Gelding, Reserve and Top Ten
Top Ten - Classic Head Geldings
Top Ten - Most Classic Gelding
Top Ten - All Aged Geldings Breeders Sweepstakes

AHAC 2009 Salon Du Cheval
Champion - All Aged Geldings Breeders Sweepstakes
Reserve Champion - Most Classic Gelding
Top Ten - Champion Gelding, Reserve and Top Ten
Top Ten - Produce of Dam
Top Ten - Classic Head Geldings

AHAC 2009 Egypt International
Champion - Classic Head Geldings
Champion - All Aged Geldings Breeders Sweepstakes
Top Ten - Champion Gelding, Reserve and Top Ten
Top Ten - Produce of Dam
Top Ten - Most Classic Gelding
Top Ten - Junior Sporthorse Geldings In-Hand

AHAC 2009 Brazilian Nationals
Champion - Get of Sire
Champion - All Aged Geldings Breeders Sweepstakes
Top Ten - Champion Gelding, Reserve and Top Ten
Top Ten - Classic Head Geldings
Top Ten - Most Classic Gelding
Top Ten - Junior Sporthorse Geldings In-Hand
Top Ten - 2nd Level Dressage

AHAC 2010 Canadian Nationals
Champion - Champion Gelding, Reserve and Top Ten
Reserve Champion - All Aged Geldings Breeders Sweepstakes
Top Ten - Produce of Dam
Top Ten - Classic Head Geldings
Top Ten - Most Classic Gelding
Top Ten - Junior Sporthorse Geldings In-Hand

AHAC 2010 Region I Championships
Champion - All Aged Geldings Breeders Sweepstakes
Reserve Champion - Classic Head Geldings
Top Ten - Champion Gelding, Reserve and Top Ten
Top Ten - Get of Sire
Top Ten - Produce of Dam
Top Ten - Most Classic Gelding
Top Ten - Junior Sporthorse Geldings In-Hand
Top Ten - 2nd Level Dressage

AHAC 2010 Region II Championships
Champion - All Aged Geldings Breeders Sweepstakes
Top Ten - Champion Gelding, Reserve and Top Ten
Top Ten - Get of Sire
Top Ten - Classic Head Geldings
Top Ten - Most Classic Gelding
Top Ten - Junior Sporthorse Geldings In-Hand
Top Ten - Sporthorse Under Saddle Jr Horse

AHAC 2010 Ajman
Top Ten - Champion Gelding, Reserve and Top Ten
Top Ten - Classic Head Geldings
Top Ten - Most Classic Gelding

AHAC 2010 Abu Dhabi
Champion - Classic Head Geldings
Top Ten - Champion Gelding, Reserve and Top Ten
Top Ten - Get of Sire
Top Ten - Most Classic Gelding

AHAC 2010 Scottsdale
Top Ten - Champion Gelding, Reserve and Top Ten
Top Ten - Get of Sire
Top Ten - Produce of Dam
Top Ten - Classic Head Geldings
Top Ten - Most Classic Gelding
Top Ten - Junior Sporthorse Geldings In-Hand

AHAC 2010 Voghera
Top Ten - Champion Gelding, Reserve and Top Ten
Top Ten - Get of Sire
Top Ten - Classic Head Geldings
Top Ten - Most Classic Gelding
Top Ten - Junior Sporthorse Geldings In-Hand
Top Ten - 2nd Level Dressage

AHAC 2010 Qatar International
Top Ten - Champion Gelding, Reserve and Top Ten
Top Ten - Get of Sire
Top Ten - Classic Head Geldings
Top Ten - Most Classic Gelding
Top Ten - Junior Sporthorse Geldings In-Hand
Top Ten - 2nd Level Dressage

AHAC 2010 Egyptian National Championships
Reserve Champion - Classic Head Geldings
Reserve Champion - Junior Sporthorse Geldings In-Hand
Top Ten - Champion Gelding, Reserve and Top Ten
Top Ten - Get of Sire
Top Ten - Most Classic Gelding

AHAC 2010 Strohen International
Champion - Classic Head Geldings
Reserve Champion - Most Classic Gelding
Reserve Champion - Junior Sporthorse Geldings In-Hand
Top Ten - Champion Gelding, Reserve and Top Ten
Top Ten - Get of Sire
Top Ten - Sporthorse Under Saddle Jr Horse

AHAC 2010 Arabian Masters
Champion - Most Classic Gelding
Top Ten - Champion Gelding, Reserve and Top Ten
Top Ten - Get of Sire
Top Ten - Produce of Dam
Top Ten - Classic Head Geldings
Top Ten - Junior Sporthorse Geldings In-Hand

AHAC 2010 US Nationals
Champion - All Aged Geldings Breeders Sweepstakes
Reserve Champion - Sporthorse Under Saddle Jr Horse
Top Ten - Champion Gelding, Reserve and Top Ten
Top Ten - Produce of Dam
Top Ten - Classic Head Geldings
Top Ten - Most Classic Gelding
Top Ten - Junior Sporthorse Geldings In-Hand
Top Ten - Second Level Dressage

AHAC 2010 Dubai International
Champion - Most Classic Gelding
Reserve Champion - Junior Sporthorse Geldings In-Hand
Top Ten - Champion Gelding, Reserve and Top Ten
Top Ten - Get of Sire
Top Ten - Classic Head Geldings

AHAC 2010 Sharjah International
Champion - Champion Gelding, Reserve and Top Ten
Champion - Junior Sporthorse Geldings In-Hand
Top Ten - Get of Sire
Top Ten - Produce of Dam
Top Ten - Classic Head Geldings
Top Ten - Most Classic Gelding
Top Ten - Second Level Dressage

AHAC 2010 Egyptian Event
Champion - All Aged Geldings Breeders Sweepstakes
Reserve Champion - Produce of Dam
Reserve Champion - Most Classic Gelding
Top Ten - Champion Gelding, Reserve and Top Ten
Top Ten - Get of Sire
Top Ten - Classic Head Geldings
Top Ten - Junior Sporthorse Geldings In-Hand
Top Ten - Sporthorse Under Saddle Jr Horse
Top Ten - Second Level Dressage

AHAC 2010 Arabian Breeders World Cup
Top Ten - Champion Gelding, Reserve and Top Ten
Top Ten - Get of Sire
Top Ten - Classic Head Geldings
Top Ten - Most Classic Gelding
Top Ten - Junior Sporthorse Geldings In-Hand
Top Ten - 2nd Level Dressage