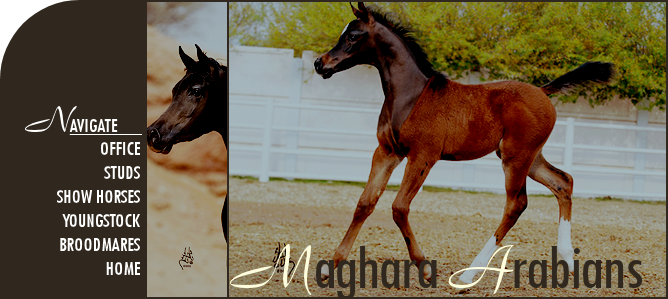 Emilia M++++

2009 Grey Polish Arabian Filly
Competing in Sporthorse In-Hand, Sporthorse Under Saddle & Hunter Hack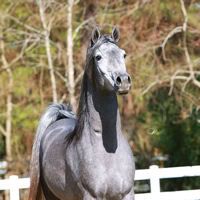 Emilia is the very first 2009 filly to be born at Maghara Arabians, she is the first foal sired by El Graphico M who is a beautiful polish stallion who has been chosen to take over Fhantasy Ovation's role as our herd sire, we hope that this filly will promote hos breeding career and he will produce more foals of this same quality. Emilia is also the second foal out of our Blackthorn hills bred mare BT Entropian who's first foal was a very feisty colt who we later gelded. We have entered this filly into the AHAC Road to the Legions program held at WF Show Grounds where last year Eliasz M came in as a top ten colt.
El Graphico M

*Graphic
Prom
Garonna
El Europa
Echo Magnifficoo
Victorianna

BT Entropian

*Census
Gennesis
Zamiana
Eurficyt
Cytadel
*Eufilina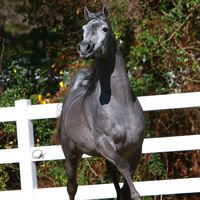 Progeny
None
Show Record
- 1674 AHAC POINTS ll AHAC LEGION OF MASTERS (++++)
- 290 AHAC ROAD TO THE LEGIONS POINTS

- AHAC NOMINATED BREEDING ENTRY



AHAC 2009 Canadian Nationals
Top Ten - Road to the Legions Fillies

AHAC 2009 Region 1 Championships
Top Ten - Road to the Legions Fillies

AHAC 2009 Region 2 Championships
Top Ten - Road to the Legions Fillies

AHAC Ajman National Show 2009
Top Ten - Road to the Legions Fillies

AHAC Abu Dhabi 2009
Top Ten - Road to the Legions Fillies

AHAC Scottsdale Arabian Horse Show 2009
Reserve Champion - Road to the Legions Fillies

AHAC Voghera 2009
Top Ten - Road to the Legions Fillies

AHAC Qatar International 2009
Top Ten - Road to the Legions Fillies

AHAC Egyptian National Championships 2009
Top Ten - Road to the Legions Fillies

AHAC 2009 Dubai International
Top Ten - Weanling Fillies
Top Ten - Weanling Filly Breeders Sweepstakes
Top Ten - Road to the Legions Fillies

AHAC Arabian Masters 2009
Top Ten - Weanling Fillies
Top Ten - Weanling Filly Breeders Sweepstakes
Top Ten - Road to the Legions Fillies

AHAC 2009 Strohen International
Champion - Weanling Filly Breeders Sweepstakes
Top Ten - Road to the Legions Fillies

AHAC 2009 Arabian Breeders World Cup
Top Ten - Weanling Filly Breeders Sweepstakes
Top Ten - Road to the Legions Fillies

AHAC 2009 Sharjah
Champion - Weanling Fillies
International Reserve Champion Filly
Top Ten - Weanling Filly Breeders Sweepstakes
Top Ten - Road to the Legions Fillies

AHAC 2009 US Nationals
Top Ten - Weanling Fillies
Top Ten - Weanling Filly Breeders Sweepstakes
Top Ten - Road to the Legions Fillies

AHAC 2009 Egyptian Event
Top Ten - Road to the Legions Fillies

AHAC Travagliato 2009
Top Ten - Weanling Fillies
Top Ten - Weanling Filly Breeders Sweepstakes
Top Ten - Road to the Legions Fillies

AHAC 2009 Wels International
Champion - Weanling Filly Breeders Sweepstakes
Top Ten - Weanling Fillies
Top Ten - Road to the Legions Fillies

AHAC 2009 Tulip Cup
Top Ten - Weanling Filly Breeders Sweepstakes
Top Ten - Road to the Legions Fillies

AHAC 2009 Austrian National Championships
Top Ten - Road to the Legions Fillies

AHAC 2009 Arabica
Champion - Weanling Filly Breeders Sweepstakes
Top Ten - Road to the Legions Fillies

AHAC 2009 Buckeye
Champion - Road to the Legions Fillies

AHAc 2009 Orientalica
Champion - Weanling Fillies
International Champion Filly
Reserve Champion - Weanling Filly Breeders Sweepstakes
Top Ten - Road to the Legions Fillies

AHAC 2009 Jordan National Championships
Top Ten - Weanling Fillies
Top Ten - Weanling Filly Breeders Sweepstakes
Top Ten - Road to the Legions Fillies

AHAC 2009 Czech National Championships
Champion - Weanling Filly Breeders Sweepstakes
Top Ten - Road to the Legions Fillies

AHAC 2009 German Nationals
Top Ten - Weanling Fillies
Top Ten - Weanling Filly Breeders Sweepstakes
Top Ten - Road to the Legions Fillies

AHAC 2009 Menton International
Top Ten - Weanling Fillies
Top Ten - Weanling Filly Breeders Sweepstakes

AHAC 2009 Emerald Trophy
Top Ten - Weanling Filly Breeders Sweepstakes
Top Ten - Road to the Legions Fillies

AHAC 2009 Scandinavian Open Championships
Champion - Weanling Filly Breeders Sweepstakes
Top Ten - Road to the Legions Fillies

AHAC 2009 Emerald Egyptian Event
Top Ten - Road to the Legions Fillies

AHAC 2009 Mooslargue
Champion - Weanling Filly Breeders Sweepstakes
Top Ten - Weanling Fillies
Top Ten - Road to the Legions Fillies

AHAC 2009 Danish National Championships
Top Ten - Weanling Fillies
Top Ten - Weanling Filly Breeders Sweepstakes
Top Ten - Road to the Legions Fillies

AHAC 2009 Vilhelmsborg
Reserve Champion - Weanling Fillies Breeders Sweepstakes
Top Ten - Road to the Legions Fillies

AHAC 2009 British National Championships
Top Ten - Weanling Fillies
Top Ten - Weanling Filly Breeders Sweepstakes
Top Ten - Road to the Legions Fillies

AHAC 2009 Egyptian Event Europe
Reserve Champion - Road to the Legions Fillies

AHAC 2009 St Petersburg Open
Top Ten - Weanling Filly Breeders Sweepstakes
Top Ten - Road to the Legions Fillies

AHAC 2009 Asil Cup
Top Ten - Weanling Filly Breeders Sweepstakes

AHAC 2009 Brussels Arabian Trophy
Top Ten - Weanling Filly Breeders Sweepstakes

AHAC 2009 Towerlands UK
Top Ten - Weanling Filly Breeders Sweepstakes

AHAC Elran Cup 2009
Champion - Weanling Filly Breeders Sweepstakes
Top Ten - Weanling Fillies

AHAC 2009 Finnish National Championships
Top Ten - Weanling Filly Breeders Sweepstakes

AHAC 2009 All Nations Cup
Top Ten - Weanling Filly Breeders Sweepstakes

AHAC 2009 Merrist Wood
Top Ten - Weanling Filly Breeders Sweepstakes

AHAC 2009 Moroccon National championships
Top Ten - Weanling Fillies
Top Ten - Weanling Filly Breeders Sweepstakes

AHAC 2009 Norwegian National Championships
Top Ten - Weanling Fillies
Top Ten - Weanling Filly Breeders Sweepstakes

AHAC 2009 Saint Tropez Arabian Cup
Top Ten - Weanling Filly Breeders Sweepstakes

AHAC 2009 Middle East Championships
Top Ten - Produce of Dam
Top Ten - Weanling Filly Breeders Sweepstakes

AHAC 2009 Sharjah
Top Ten - Weanling Fillies
Top Ten - Weanling Filly Breeders Sweepstakes

AHAC 2009 Verona National Championships
Top Ten - Weanling Fillies
Top Ten - Weanling Filly Breeders Sweepstakes

AHAC 2009 European Championships Verona
Top Ten - Produce of Dam

AHAC 2009 Israeli Nationals
Top Ten - Produce of Dam

AHAC 2009 Dutch National Championships
Top Ten - Weanling Filly Breeders Sweepstakes

AHAC 2009 Salon Du Cheval
Top Ten - Produce of Dam
Top Ten - Weanling Filly Breeders Sweepstakes

AHAC 2009 Egypt International
Champion - Weanling Filly Breeders Sweepstakes
Top Ten - Produce of Dam

AHAC 2009 Brazilian Nationals
Champion - Weanling Filly Breeders Sweepstakes

AHAC 2010 Canadian Nationals
Reserve Champion - Yearling Fillies
National Reserve Champion Filly
Top Ten - Produce of Dam
Top Ten - Classic Head Fillies
Top Ten - Yearling Filly Breeders Sweepstakes

AHAC 2010 Region I Championships
Top Ten - Yearling Fillies
Top Ten - Produce of Dam
Top Ten - Most Classic Filly
Top Ten - Sporthorse Fillies In-Hand
Top Ten - Yearling Filly Breeders Sweepstakes

AHAC 2010 Region II Championships
Top Ten - Sporthorse Fillies In-Hand
Top Ten - Yearling Filly Breeders Sweepstakes

AHAC 2010 Ajman
Top Ten - Yearling Fillies

AHAC 2010 Abu Dhabi
Champion - Most Classic Filly

AHAC 2010 Scottsdale
Champion - Classic Head Fillies
Top Ten - Produce of Dam
Top Ten - Sporthorse Fillies In-Hand

AHAC 2010 Voghera
Top Ten - Yearling Fillies
Top Ten - Most Classic Filly

AHAC 2010 Qatar International
Top Ten - Yearling Fillies
Top Ten - Sporthorse Fillies In-Hand

AHAC 2010 Egyptian National Championships
Top Ten - Yearling Fillies
Top Ten - Classic Head Fillies

AHAC 2010 Strohen International
Reserve Champion - Sporthorse Fillies In-Hand

AHAC 2010 Arabian Masters
Reserve Champion - Classic Head Fillies
Top Ten - Yearling Fillies
Top Ten - Produce of Dam
Top Ten - Sporthorse Fillies In-Hand

AHAC 2010 US Nationals
Reserve Champion - Yearling Filly Breeders Sweepstakes
Top Ten - Produce of Dam
Top Ten - Sporthorse Fillies In-Hand

AHAC 2010 Dubai International
Reserve Champion - Most Classic Filly
Top Ten - Yearling Fillies
Top Ten - Sporthorse Fillies In-Hand

AHAC 2010 Sharjah International
Top Ten - Produce of Dam
Top Ten - Classic Head Fillies

AHAC 2010 Egyptian Event
Champion - Yearling Filly Breeders Sweepstakes
Reserve Champion - Produce of Dam
Top Ten - Yearling Fillies
Top Ten - Most Classic Filly

AHAC 2010 Travagliato
Top Ten - Produce of Dam
Top Ten - Classic Head Fillies

AHAC 2010 Tulip Cup
Top Ten - Produce of Dam

AHAC 2010 Austrian National Championships
Champion - Produce of Dam
Top Ten - Yearling Fillies
Top Ten - Sporthorse Fillies In-Hand

AHAC 2010 Buckeye
Top Ten - Produce of Dam

AHAC 2010 Arabica
Top Ten - Yearling Fillies
Top Ten - Most Classic Filly

AHAC 2010 Orientalica
Top Ten - Yearling Fillies

AHAC 2010 Egyptian Classic Cup
Champion - Produce of Dam
Top Ten - Yearling Fillies

AHAC 2010 Mooslargue
Top Ten - Yearling Fillies

AHAC 2010 Jordan National Championships
Top Ten - Yearling Fillies
Top Ten - Produce of Dam

AHAC 2010 Czech National Championships
Top Ten - Yearling Fillies
Top Ten - Produce of Dam

AHAC 2010 Emerald Trophy
Top Ten - Yearling Fillies
Top Ten - Produce of Dam

AHAC 2010 Scandinavian Open Championships
Top Ten - Sporthorse Fillies In-Hand

AHAC 2010 Menton International
Champion - Produce of Dam
Top Ten - Yearling Fillies

AHAC 2010 German Nationals
Top Ten - Yearling Fillies

AHAC 2010 Vilhelmsborg
Reserve Champion - Produce of Dam

AHAC 2010 Danish National Championships
Top Ten - Produce of Dam

AHAC 2010 British National Championships
Top Ten - Produce of Dam

AHAC 2010 St Petersburg Open
Top Ten - Sporthorse Fillies In-Hand

AHAC 2010 Brussels Arabian Trophy
Top Ten - Produce of Dam
Top Ten - Sporthorse Fillies In-Hand

AHAC 2010 Asil Cup
Top Ten - Yearling Fillies
Top Ten - Produce of Dam

AHAC 2010 Towerlands UK
Top Ten - Yearling Fillies
Top Ten - Most Classic Filly

AHAC 2010 Merrist Wood
Top Ten - Produce of Dam

AHAC 2010 All Nations Cup
Top Ten - Produce of Dam

AHAC Finnish National Championships 2010
Top Ten - Yearling Fillies

AHAC Moroccan National Championships 2010
Top Ten - Produce of Dam

AHAC 2010 Norwegian National Championships
Top Ten - Produce of Dam
Top Ten - Most Classic Filly

AHAC 2010 Middle East Championships
Top Ten - Produce of Dam
Top Ten - Sporthorse Fillies In-Hand

AHAC Saint Tropez Arabian Cup 2010
Top Ten - Yearling Fillies
Top Ten - Produce of Dam