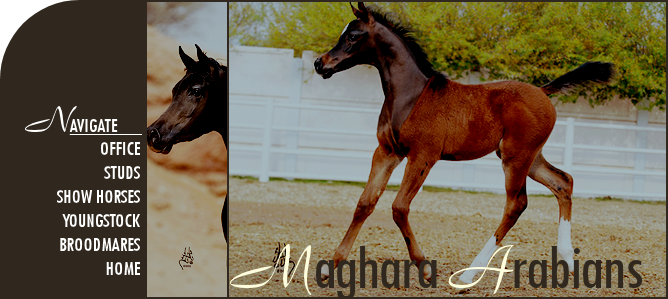 C Genwioa++++

2008 Chestnut Polish Arabian Filly
Competing in Western Pleasure & Trail
Genwioa is an absolutly stunning filly, she is the newest 2008 filly to come to Maghara Arabians and is the first homebred filly from the prominent Arabian farm Czarkov Stud. Her sire is a successful Western Pleasure and Trail horse so we plan of showing Genwioa in these same events when she is of age, but in the mean time she will be showing in Halter events and be competing against some beautiful foals in the weanling, yearling and 2yr/o classes. When she is older and has an awesome show record under her belt, she will be retired to brood and be able to produce only a select number of foals sired by some of our most sucessful stallions.

*Przemyst

Cytadel
*Deficyt
*Carawella
Parana
Probat
Partita

Gwidiana

Casino
Mamluk
Cantata
Groja
Grojor
Corka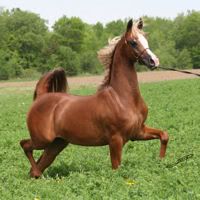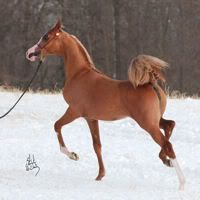 Progeny
None
Show Record
- 1228 AHAC POINTS ll AHAC LEGION OF MASTERS (++++)

- AHAC NOMINATED BREEDING ENTRY



AHAC 2008 Arabica
Top Ten - Weanling Fillies

Pheonix Halter Show 2008
Top Ten - Weanling Fillies

AHAC 2008 Asil Cup
Top Ten - Weanling Fillies

AHAC British National Championships 2008
Champion - Weanling Fillies
National Reserve Champion Filly
Top Ten - Classic Head Fillies

AHAC Finnish National Championships 2008
Top Ten - Weanling Fillies

AHAC Vilhelmsborg 2008
Top Ten - Most Classic Filly

AHAC Polish National Show
Top Ten - Weanling Fillies

AHAC European Championships Verona 2008
Top Ten - Weanling Fillies

AHAC St Petersberg Open 2008
Top Ten - Weanling Fillies

AHAC Sharjah 2008
Top Ten - Classic Head Fillies

AHAC Region One Championships 2009
Top Ten - Yearling Fillies

AHAC Ajman National Show 2009
Top Ten - Yearling Fillies

AHAC 2009 Dubai International
Top Ten - Yearling Filly Breeders Sweepstakes

AHAC Arabian Masters 2009
Top Ten - Yearling Fillies
Top Ten - Yearling Filly Breeders Sweepstakes

AHAC 2009 Strohen International
Top Ten - Yearling Filly Breeders Sweepstakes

AHAC 2009 Arabian Breeders World Cup
Top Ten - Yearling Filly Breeders Sweepstakes

AHAC 2009 Sharjah
Top Ten - Yearing Filly Breeders Sweepstakes

AHAC 2009 Wels International
Top Ten - Yearling Fillies

AHAC 2009 Tulip Cup
Top Ten - Yearling Fillies
Top Ten - Yearling Filly Breeders Sweepstakes

AHAC 2009 Arabica
Champion - Most Classic Filly
Reserve Champion - Yearling Filly Breeders Sweepstakes

AHAC 2009 Buckeye
Top Ten - Yearling Filly Breeders Sweepstakes

AHAC 2009 Jordan National Championships
Top Ten - Yearling Filly Breeders Sweepstakes

AHAC 2009 Czech National Championships
Reserve Champion - Yearling Filly Breeders Sweepstakes
Top Ten - Yearling Fillies

AHAC 2009 German Nationals
Top Ten - Yearling Fillies
Top Ten - Classic Head Fillies

AHAC 2009 Menton International
Top Ten - Most Classic Filly
Top Ten - Yearling Filly Breeders Sweepstakes

AHAC 2009 Orientalica
Top Ten - Classic Head Fillies
Top Ten - Yearling Filly Breeders Sweepstakes

AHAC 2009 Emerald Trophy
Top Ten - Yearling Filly Breeders Sweepstakes

AHAC 2009 Scandinavian Open Championships
Top Ten - Yearling Filly Breeders Sweepstakes

AHAC 2009 Mooslargue
Top Ten - Classic Head Fillies
Top Ten - Yearling Filly Breeders Sweepstakes

AHAC 2009 Danish National Championships
Champion - Yearling Fillies
Reserve Champion - Classic Head Fillies
Reserve Champion - Most Classic Filly

AHAC 2009 Vilhelmsborg 2009
Top Ten - Yearling Filly Breeders Sweepstakes

AHAC 2009 St Petersburg Open
Top Ten - Classic Head Fillies
Top Ten - Yearling Filly Breeders Sweepstakes

AHAC 2009 Asil Cup
Top Ten - Yearling Fillies

AHAC 2009 Brussels Arabian Trophy
Top Ten - Yearling Fillies

AHAC 2009 Towerlands UK
Top Ten - Yearling Filly Breeders Sweepstakes

AHAC Elran Cup 2009
Top Ten - Yearling Filly Breeders Sweepstakes

AHAC 2009 Finnish National Championships
Top Ten - Yearling Fillies
Top Ten - Classic Head Fillies
Top Ten - Yearling Filly Breeders Sweepstakes

AHAC 2009 All Nations Cup
Top Ten - Yearling Fillies
Top Ten - Yearling Filly Breeders Sweepstakes

AHAC 2009 Merrist Wood
Top Ten - Yearling Filly Breeders Sweepstakes

AHAC 2009 Moroccon National Championships
Top Ten - Classic Head Fillies
Top Ten - Yearling Filly Breeders Sweepstakes

AHAC 2009 Norwegian National Championships
Top Ten - Yearling Fillies
Top Ten - Most Classic Filly
Top Ten - Yearling Filly Breeders Sweepstakes

AHAC 2009 Saint Tropez Arabian Cup
Top Ten - Yearling Filly Breeders Sweepstakes

AHAC 2009 Middle East Championships
Top Ten - Yearling Fillies
Top Ten - Classic Head Fillies
Top Ten - Yearling Filly Breeders Sweepstakes

AHAC 2009 Sharjah
Reserve Champion - Yearling Fillies
Top Ten - Classic Head Fillies
Top Ten - Yearling Filly Breeders Sweepstakes

AHAC 2009 Verona National Championships
Reserve Champion - Yearling Fillies
Top Ten - Most Classic Filly
Top Ten - Yearling Filly Breeders Sweepstakes

AHAC 2009 European Championship Verona
Top Ten - Yearling Fillies

AHAC 2009 Dutch National Championships
Champion - Yearling Filly Breeders Sweepstakes
Top Ten - Most Classic Filly

AHAC 2009 Salon Du Cheval
Top Ten - Yearling Fillies
Top Ten - Yearling Filly Breeders Sweepstakes

AHAC 2009 Egypt International
Top Ten - Most Classic Filly
Top Ten - Yearling Filly Breeders Sweepstakes

AHAC 2009 Brazilian Nationals
Top Ten - Yearling Fillies
Top Ten - Most Classic Filly
Top Ten - Yearling Filly Breeders Sweepstakes

AHAC 2010 Canadian Nationals
Top Ten - 2yr/o Fillies
Top Ten - Most Classic Filly
Top Ten - 2yr/o Filly Breeders Sweepstakes

AHAC 2010 Region I Championships
Top Ten - 2yr/o Fillies
Top Ten - 2yr/o Filly Breeders Sweepstakes

AHAC 2010 Region II Championships
Top Ten - 2yr/o Filly Breeders Sweepstakes

AHAC 2010 Abu Dhabi
Top Ten - 2yr/o Fillies

AHAC 2010 Qatar International
Top Ten - 2yr/o Fillies

AHAC 2010 Strohen International
Top Ten - 2yr/o Fillies

AHAC 2010 Arabian Masters
Reserve Champion - 2yr/o Fillies
Top Ten - Most Classic Filly

AHAC 2010 US Nationals
Reserve Champion - Classic Head Fillies
Top Ten - Most Classic Filly
Top Ten - 2yr/o Filly Breeders Sweepstakes

AHAC 2010 Egyptian Event
Top Ten - Most Classic Filly
Top Ten - 2yr/o Filly Breeders Sweepstakes

AHAC 2010 Wels International
Top Ten - 2yr/o Fillies
Top Ten - Most Classic Filly

AHAC 2010 Tulip Cup
Reserve Champion - 2yr/o Fillies
Reserve Champion - Most Classic Filly

AHAC 2010 Buckeye
Top Ten - 2yr/o Fillies
Top Ten - Most Classic Filly

AHAC 2010 Arabica
Top Ten - 2yr/o Fillies
Top Ten - Classic Head Fillies

AHAC 2010 Orientalica
Top Ten - 2yr/o Fillies
Top Ten - Classic Head Fillies

AHAC 2010 Mooslargue
Top Ten - 2yr/o Fillies

AHAC 2010 Jordan National Championships
Top Ten - 2yr/o Fillies

AHAC 2010 Scandinavian Open Championships
Top Ten - 2yr/o Fillies
Top Ten - Classic Head Fillies

AHAC 2010 Menton International
Top Ten - 2yr/o Fillies

AHAC 2010 German Nationals
Reserve Champion - 2yr/o Fillies
Top Ten - Classic Head Fillies

AHAC 2010 British National Championships
Top Ten - 2yr/o Fillies

AHAC 2010 St Petersburg Open
Champion - Classic Head Fillies

AHAC 2010 Brussels Arabian Trophy
Top Ten - Most Classic Filly

AHAC 2010 Asil Cup Top Ten - Classic Head Fillies

AHAC 2010 Elran Cup
Champion - Most Classic Filly

AHAC 2010 Towerlands UK
Top Ten - 2yr/o Fillies

AHAC 2010 Merrist Wood
Reserve Champion - Classic Head Fillies

AHAC Finnish National Championships 2010
Top Ten - 2yr/o Fillies

AHAC Moroccan National Championships 2010
Top Ten - 2yr/o Fillies

AHAC 2010 Middle East Championships
Reserve Champion - Most Classic Filly
Top Ten - 2yr/o Fillies

AHAC 2010 Norwegian National Championships
Champion - 2yr/o Fillies
National Futurity Reserve Champion
Top Ten - Classic Head Fillies
Top Ten - Most Classic Filly

AHAC Saint Tropez Arabian Cup 2010
Top Ten - 2yr/o Fillies

AHAC Israeli Nationals 2010
Top Ten - 2yr/o Fillies

AHAC Brazilian Nationals 2010
Top Ten - Classic Head Fillies

AHAC Egypt International 2010
Top Ten - 2yr/o Fillies
Top Ten - Most Classic Filly

AHAC Dutch National Championships 2010
Top Ten - Classic Head Fillies

AHAC European Championships Verona 2010
Top Ten - 2yr/o Fillies

AHAC Verona National Championships 2010
Top Ten - 2yr/o Fillies

AHAC Salon Du Cheval 2010
Top Ten - 2yr/o Fillies