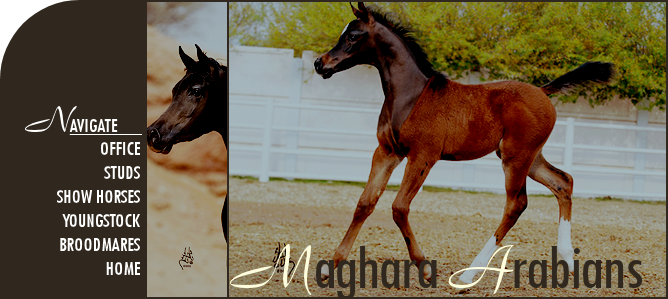 Gerwazy M+

2010 Grey Domestic Arabian Colt
Competing in English Pleasure & Ladies English Sidesaddle
Gerwazy M is another Bint Gypsie Bey grand child, but Gerwazy is only the second grandson, the first being a colt owned by Godolphin Stables out of Gypsie Traveller. We are very proud of all these Bint Gypsie Bey foals and has proven herself as an amazing dam with all her foals showing very well within the AHAC. We hope that this new colt will show where he comes from and prove that all Bint Gypsie Bey's progeny are amazing things and forces to be reckoned with.




O Pyzazz

Cyprian
Erros
ASAF Saara
Pelagia
Cammoion
Peptyka

Gypsie Bint Adio M

Adio
G Nazeer Al Rayyan
KWB Sharasna
Bint Gypsie Bey
Bask Knight
Yalla Bint Halim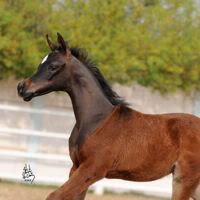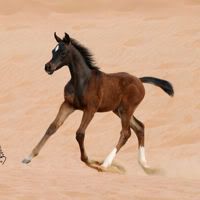 Progeny
None
Show Record
- 282 AHAC POINTS ll AHAC LEGION OF HONOUR (+)



AHAC 2010 Canadian Nationals
Top Ten - Weanling Colts

AHAC 2010 Region I Championships
Top Ten - Weanling Colts

AHAC 2010 Region II Championships
Reserve Champion - Weanling Colts

AHAC 2010 Ajman
Top Ten - Weanling Colts

AHAC 2010 Abu Dhabi
Top Ten - Weanling Colts

AHAC 2010 Scottsdale
Top Ten - Weanling Colts

AHAC 2010 Voghera
Top Ten - Weanling Colts

AHAC 2010 Qatar International
Top Ten - Weanling Colts

AHAC 2010 Strohen International
Reserve Champion - Weanling Colts
International Reserve Champion Colt

AHAC 2010 Arabian Masters
Top Ten - Weanling Colts

AHAC 2010 US Nationals
Top Ten - Weanling Colts

AHAC 2010 Dubai International
Top Ten - Weanling Colts

AHAC 2010 Egyptian Event
Reserve Champion - Weanling Colts

AHAC 2010 Arabian Breeders World Cup
Top Ten - Weanling Colts

AHAC 2010 Eqyptian Event
Reserve Champion - Weanling Colts

AHAC 2010 Travagliato
Top Ten - Weanling Colts

AHAC 2010 Wels International
Champion - Weanling Colts

AHAC 2010 Egyptian Classic Cup
Top Ten - Weanling Colts

AHAC 2010 Mooslargue
Top Ten - Weanling Colts

AHAC 2010 Jordan National Championships
Champion - Weanling Colts

AHAC 2010 German Nationals
Top Ten - Weanling COlts

AHAC 2010 Danish National Championships
Top Ten - Weanling Colts

AHAC 2010 British National Championships
Reserve Champion - Weanling Colts

AHAC 2010 St Petersburg Open 2010
Top Ten - Weanling Colts

AHAC 2010 Elran Cup
Top Ten - Weanling Colts

AHAC Finnish National Championships 2010
Champion - Weanling Colts

AHAC Moroccan National Championships 2010
Top Ten - Weanling Colts

AHAC 2010 Norwegian National Championships
Reserve Champion - Weanling Colts

AHAC 2010 Middle East Championships
Top Ten - Weanling Colts

AHAC Saint Tropez Arabian Cup 2010
Top Ten - Weanling Colts