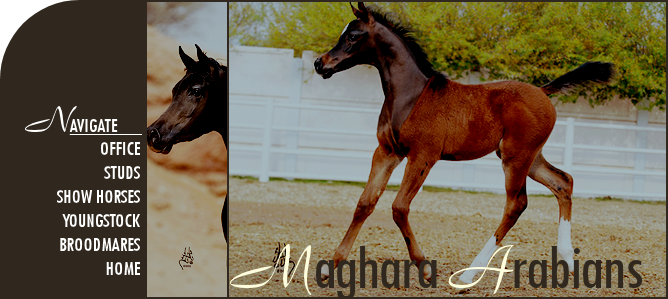 S Graphix++++

2006 Grey Domestic Arabian Stallion
Competing in Hunter Pleasure & Western Pleasure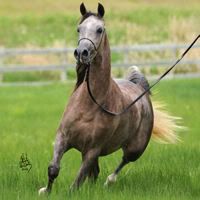 S Graphix is the newest addition to our stallion string at Maghara Arabians, we seen this boy up for sale and tried to restrain from purchasing him, but we couldn't hold off and bought this boy with us to Maghara Arabians. He is sired by Golden Eagle Farms Polish Stallion *Graphic who has also sired one of our own homebred stallions El Graphico M who has been doing wonderfully within the AHAC now a legion of Excellence titled stallion. We hope that this new boy will continue just like his half brother and be a force to be reckoned with in the future.




*Graphic

Prom
Etogram
Promesa
Garonna
Fanatyk
Gizela

CPH Hollowgram Power

AM Power Raid
AM Double Dream
HH Maid Marion
Head Hollowgram
Headstrong
Hollowgram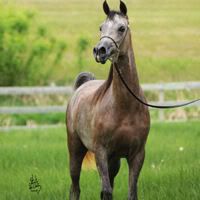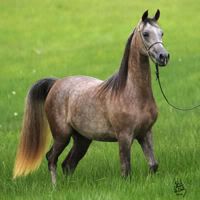 Progeny
None
Show Record
- 1932 AHAC POINTS ll AHAC LEGION OF MASTERS (++++)



AHAC Salon du Cheval 2007
Top Ten - Weanling Colts

AHAC Golden Eagle December Show 2007
Champion - Weanling Colts
Top Ten - Classic Head Colts

AHAC SAI's December Arabian Show I 2007
Champion - Weanling Colts
Top Ten - Classic Head Colts

AHAC Jingle Bells Arabian Show 2007
Top Ten - Weanling Colts
Top Ten - Classic Head Colts

SAI's December Arabian Show II 2007
Reserve Champion - Weanling Colts
Reserve Champion - Classic Head Colts

AHAC Sharjah 2007
Top Ten - Classic Head Colts

AHAC SAI's January Arabian Show I 2008
Top Ten - 1YO Colts
Top Ten - Classic Head Colts
Top Ten - Most Classic Colt

AHAC SAI's January Arabian Show II 2008
Champion - Classic Head Colts
Top Ten - 1YO Colts
Top Ten - Most Classic Colt

AHAC SAI's January Arabian Show III 2008
Champion - 1YO Colts
Reserve Champion Colt
Top Ten - Classic Head Colts
Top Ten - Most Classic Colt

AHAC SAI's January Arabian Show IV 2008
Reserve Champion - 1YO Colts
Top Ten - Classic Head Colts
Top Ten - Most Classic Colt

AHAC SAI's January Arabian Show V 2008
Top Ten - 1YO Colts
Top Ten - Classic Head Colts
Top Ten - Most Classic Colt

AHAC Winter Mix Arabian Show 2008
Top Ten - 1YO Colts
Top Ten - Classic Head Colts
Top Ten - Most Classic Colt

AHAC SAI's January Arabian Show VI 2008
Top Ten in 1YO Colts
Top Ten in Most Classic Colt

AHAC Carnival Ride Halter Show 2008
Reserve Champion - Classic Head Colts
Top Ten - 1YO Colts
Top Ten - Most Classic Colt

AHAC Region 2 Championships 2008
Top Ten - 1YO Colts
Top Ten - Classic Head Colts

AHAC SAI's February Arabian Show I 2008
Top Ten - 1YO Colts

AHAC Weatherlord Youngstock Tourney - Show A 2008
Top Ten - 1YO Colts

AHAC Weatherlord Youngstock Tourney - Show B 2008
Top Ten - 1YO Colts

AHAC Golden Eagle February Halter Show 2008
Top Ten - 1YO Colts
Top Ten - Classic Head Colts

AHAC Feels Like Spring Arabian Showcase 2008
Top Ten - 1YO Colts
Top Ten - Most Classic Colt

AHAC Weatherlord Youngstock Tourney - Show C 2008
Top Ten - 1YO Colts

AHAC Weatherlord Youngstock Tourney - Show D 2008
Top Ten - 1YO Colts

AHAC Maghara Arabian Halter Show 2008
Top Ten - 1YO Colts
Top Ten - Classic Head Colts

AHAC ARS February Halter Show 2008
Top Ten - 1YO Colts
Top Ten - Most Classic Colt

AHAC SAI's February Arabian Show II 2008
Top Ten - 1YO Colts
Reserve Champion - Most Classic Colt

AHAC Abu Dhabi 2008
Top Ten - 1YO Colts
Top Ten - Classic Head Colts
Top Ten - Produce of Dam

AHAC Jamilah Arabians Opening Show 2008
Top Ten - 1YO Colts
Top Ten - Produce of Dam
Top Ten - Classic Head Colts
Top Ten - Most Classic Colt

AHAC SAI's February Arabian Show III 2008
Reserve Champion - 1YO Colts
Top Ten - Produce of Dam
Top Ten - Most Classic Colt

AHAC Spring Performance Showcase 2008 Top Ten - 1YO Colts
Top Ten - Produce of Dam
Top Ten - Most Classic Colt

AHAC Egyptian National Championships 2008
Top Ten - Produce of Dam

AHAC Arabian Masters 2008
Top Ten - 1YO Colts

AHAC Weatherlord Youngstock Tourney - Show E 2008
Champion - 1YO Colts

AHAC Weatherlord Youngstock Tourney - Show F 2008
Champion - 1YO Colts
Reserve Champion Colt

AHAC 2008 Sharjah International
Top Ten - Produce of Dam

AHAC SAI's Easter Arabian Spectacular 2008
Top Ten - 1YO Colts
Top Ten - Produce of Dam
Top Ten - Most Classic Colt

AHAC April Fools Halter Show 2008
Reserve Champion - 1YO Colts
Top Ten - Produce of Dam
Top Ten - Classic Head Colts
Top Ten - Most Classic Colt

AHAC Arabian Breeders World Cup 2008
Top Ten - Most Classic Colt

AHAC Weatherlord Youngstock Tourney - Qualifier II 2008
Top Ten - 1YO Colts

AHAC Julys Fireworks Performance Series I 2008
Top Ten - 2YO Colts
Top Ten - Classic Head Colts
Top Ten - Most Classic Colt

AHAC Julys Fireworks Performance Series II 2008
Champion - 2YO Colts
Champion Colt
Top Ten - Classic Head Colts
Top Ten - Most Classic Colt

AHAC Julys Fireworks Performance Series III 2008
Top Ten - 2YO Colts

AHAC Jordan Nationals 2008
Top Ten - 2YO Colts

AHAC SAI's July Arabian Show I 2008
Top Ten - 2YO Colts
Top Ten - Most Classic Colt

AHAC Asil Cup 2008
Top Ten - 2YO Colts
Top Ten - Most Classic Colt

AHAC Emerald Trophy 2008
Top Ten - Most Classic Colt

AHAC SAI's August Arabian Show II 2008
Reserve Champion - Most Classic Colt
Top Ten - 2YO Colts

AHAC German Nationals 2008
Top Ten - 2YO Colts

AHAC SAI's August Arabian Show I 2008
Top Ten - 2YO Colts
Top Ten - Most Classic Colt

AHAC Del Scion Classic 2008
Reserve Champion - 2YO Colts
Reserve Champion Colt
Top Ten - Most Classic Colts

AHAC Norwegian National Championships 2008
Reserve Champion - 2YO Colts

AHAC Vilhelmsborg 2008
Top Ten - 2YO Colts

AHAC Affinity Series I 2008
Reserve Champion - 2YO Colts
Reserve Champion Colts

AHAC Del Scion Arabian Event 2008
Reserve Champion - 2YO Colts
Top Ten - Classic Head Colts
Top Ten - Most Classic Colt

AHAC Affinity Legions Halter Exhibit 2008
Top Ten - 2YO Colts
Top Ten - Classic Head Colts
Top Ten - Most Classic Colt

AHAC SAI's September Arabian Show I 2008
Reserve Champion - 2YO Colts
Top Ten - Most Classic Colt

AHAC Affinity Arabian Horse Halter Event 2008
Top Ten - 2YO Colts
Top Ten - Most Classic Colt

AHAC Angel Arabians Halter Show 2008
Top Ten - 2YO Colts
Top Ten - Classic Head Colts
Top Ten - Most Classic Colt

AHAC Affinity Arabian Classic 2008
Top Ten - 2YO Colts
Top Ten - Most Classic Colt

AHAC Danish National Championships 2008
Top Ten - 2YO Colts

AHAC Mooslargue 2008
Top Ten - 2YO Colts

AHAC Callisto Arabians San Pasqual Event 2008
Top Ten - 2YO Colts
Top Ten - Classic Head Colts

AHAC Sharjah 2008
Top Ten - 2YO Colts
Top Ten - Classic Head Colts

AHAC Moulin Arabians Premier Show 2008
Champion - 2YO Colts
Top Ten - Classic Head Colts
Top Ten - Most Classic Colt

AHAC Callisto Arabians Winter Exhibit 2008
Champion - 2YO Colts
Champion Colt
Top Ten - Classic Head Colts

AHAC Winter Arabian's Winter Halter Show 2008
Top Ten - 2YO Colts

AHAC Egypt International 2008
Top Ten - 2YO Colts

AHAC European Championships Verona 2008
Champion - Most Classic Colt
Most Classic Arabian
Top Ten - 2YO Colts
Top Ten - Classic Head Colts

AHAC Voghera 2009
Champion - 2YO Colts
Regional Champion Colt

AHAC Scottsdale Arabian Horse Show 2009
Top Ten - 2YO Colts
Top Ten - Classic Head Colts

AHAC SAI's January Arabian Show II 2009
Top Ten - 2YO Colts
Top Ten - Classic Head Colts

AHAC SAI's January Arabian Show I 2009
Reserve Champion - 2YO Colts
Top Ten - Most Classic Colt

AHAC SAI's February Arabian Show I 2009
Top Ten - 2YO Colts

AHAC Egyptian Nationals 2009
Top Ten - Classic Head Colts

AHAC Qatar International 2009
Top Ten - 2YO Colts
Top Ten - Most Classic Colt

AHAC Arabian Masters 2009
Top Ten - Colt Futurity

AHAC Dubai International 2009
Top Ten - Colt Futurity

AHAC Arabian Masters 2009
Top Ten - Colt Futurity

AHAC 2009 Sharjah
Reserve Champion - Hunter Plasure Futurity
Top Ten - Colt Futurity
Top Ten - Most Classic Colt

AHAC 2009 Arabian Breeders World Cup
Top Ten - Hunter Pleasure Futurity
Top Ten - Western Pleasure Futurity

AHAC 2009 US Nationals
Reserve Champion - Western Pleasure Futurity
Top Ten - Hunter Pleasure Futurity

AHAC Travagliato 2009
Top Ten - Cot Futurity

AHAC 2009 Austrian National Championships
Top Ten - Colt Futurity
Top Ten - Classic Head Colts
Top Ten - Most Classic Colt

AHAC 2009 Arabica
Top Ten - Hunter Pleasure Futurity
Top Ten - Western Pleasure Futurity

AHAC 2009 Buckeye
Champion - Hunter Pleasure Futurity
Top Ten - Western Pleasure Futurity

AHAC 2009 St Petersburg Open
Reserve Champion - Hunter Pleasure Futurity
Top Ten - Western Pleasure Futurity

AHAC 2009 Brussels Arabian Trophy
Champion - Colt Futurity
National Futurity Reserve Champion
Top Ten - Hunter Pleasure Futurity
Top Ten - Western Pleasure Futurity

AHAC 2009 Towerlands UK
Top Ten - Colt Futurity
Top Ten - Hunter Pleasure Futurity
Top Ten - Western Pleasure Futurity

AHAC 2009 Merrist Wood
Reserve Champion - Hunter Pleasure Futurity
Top Ten - Colt Futurity
Top Ten - Western Pleasure Futurity

AHAC 2009 Moroccon National Championships
Top Ten - Colt Futurity
Top Ten - Hunter Pleasure Futurity
Top Ten - Western Pleasure Futurity

AHAC 2009 Norwegian National Championships
Champion - Hunter Pleasure Futurity
Reserve Champion - Western Pleasure Futurity

AHAC 2009 Saint Tropez Arabian Cup
Reserve Champion - Colt Futurity
Reserve Champion - Hunter Pleasure Futurity
Top Ten - Western Pleasure Futurity

AHAC 2009 Middle East Championships
Champion - Hunter Pleasure Futurity
Top Ten - Colt Futurity

AHAC 2009 Sharjah
Reserve Champion - Colt Futurity
Top Ten - Hunter Pleasure Futurity
Top Ten - Western Pleasure Futurity

AHAC 2009 Verona National Championships
Top Ten - Hunter Pleasure Futurity

AHAC 2009 European Championships Verona
Champion - Western Pleasure Futurity
Top Ten - Colt Futurity
Top Ten - Hunter Pleasure Futurity

AHAC 2009 Israeli Nationals
Top Ten - Colt Futurity
Top Ten - Hunter Pleasure Futurity

AHAC 2009 Egypt International
Top Ten - Colt Futurity
Top Ten - Hunter Pleasure Futurity

AHAC 2009 Brazilian Nationals
Top Ten - Colt Futurity
Top Ten - Hunter Pleasure Futurity
Top Ten - Western Pleasure Futurity

AHAC 2010 Canadian Nationals
Top Ten - Western Pleasure Jr Horse

AHAC 2010 Region I Championships
Top Ten - 4yr/o Stallions
Top Ten - Hunter Pleasure Jr Horse

AHAC 2009 Region II Championships
Top Ten - 4yr/o Stallions
Top Ten - Classic Head Jr Stallions
Top Ten - Hunter Pleasure Jr Horse
Top Ten - Western Pleasure Jr Horse

AHAC 2010 Ajman
Top Ten - 4yr/o Stallions

AHAC 2010 Abu Dhabi
Top Ten - 4yr/o Stallions

AHAC 2010 Scottsdale
Champion - Hunter Pleasure Jr Horse
Top Ten - Most Classic Jr Stallion
Top Ten - Western Pleasure Jr Horse

AHAC 2010 Voghera
Reserve Champion - Hunter Pleasure Jr Horse
Top Ten - 4yr/o Stallions
Top Ten - Classic Head Jr Stallions

AHAC 2010 Qatar International
Top Ten - Western Pleasure Jr Horse

AHAC 2010 Egyptian National Championships
Top Ten - 4yr/o Stallions

AHAC 2010 Strohen International
Top Ten - 4yr/o Stallions
Top Ten - Most Classic Jr Stallion
Top Ten - Hunter Pleasure Jr Horse
Top Ten - Western Pleasure Jr Horse

AHAC 2010 Arabian Masters
Top Ten - 4yr/o Stallions
Top Ten - Most Classic Jr Stallion
Top Ten - Hunter Pleasure Jr Horse

AHAC 2010 US Nationals
Reserve Champion - Hunter Pleasure Jr Horse
Top Ten - Classic Head Jr Stallions
Top Ten - Western Pleasure Jr Horse

AHAC 2010 Dubai International
Top Ten - 4yr/o Stallions
Top Ten - Hunter Pleasure Jr Horse

AHAC 2010 Sharjah International
Champion - 4yr/o Stallions
International Champion Junior Stallion
Top Ten - Classic Head Jr Stallions
Top Ten - Western Pleasure Jr Horse

AHAC 2010 Arabian Breeders World Cup
Top Ten - Hunter Pleasure Jr Horse

AHAC 2010 Egyptian Event
Top Ten - 4yr/o Mares
Top Ten - Most Classic Jr Stallion

AHAC 2010 Travagliato
Champion - Western Pleasure Jr Horse
Top Ten - 4yr/o Mares

AHAC 2010 Wels International
Top Ten - Classic Head Jr Stallions

AHAC 2010 Tulip Cup
Champion - Western Pleasure Jr Horse
Top Ten - 4yr/o Stallions

AHAC 2010 Austrian National Championships
Top Ten - Hunter Pleasure Jr Horse
Top Ten - Western Pleasure Jr Horse

AHAC 2010 Buckeye
Champion - Most Classic Jr Stallion
Reserve Champion - Classic Head Jr Stallions

AHAC 2010 Arabica
Top Ten - 4yr/o Mares

AHAC 2010 Mooslargue
Top Ten - Most Classic Jr Stallion

AHAC 2010 Jordan National Championships
Top Ten - 4yr/o Stallions
Top Ten - Hunter Pleasure Jr Horse

AHAC 2010 Czech National Championships
Champion - Western Pleasure Jr Horse
Top Ten - 4yr/o Stallions
Top Ten - Hunter Pleasure Jr Horse

AHAC 2010 Emerald Trophy
Reserve Champion - Classic Head Jr Stallions
Top Ten - 4yr/o Stallions
Top Ten - Hunter Pleasure Jr Horse
Top Ten - Western Pleasure Jr Horse

AHAC 2010 Scandinavian Open Championships
Top Ten - 4yr/o Stallions

AHAC 2010 Menton International
Top Ten - 4yr/o Stallions
Top Ten - Hunter Pleasure Jr Horse
Top Ten - Western Pleasure Jr Horse

AHAC 2010 German Nationals
Top Ten - Classic Head Jr Stallions
Top Ten - Hunter Pleasure Jr Horse

AHAC 2010 Vilhelmsborg
Top Ten - Hunter Pleasure Jr Horse

AHAC 2010 Danish National Championships
Top Ten - 4yr/o Stallions
Top Ten - Most Classic Jr Stallion

AHAC 2010 St Petersburg Open
Top Ten - 4yr/o Stallions
Top Ten - Hunter Pleasure Jr Horse

AHAC 2010 Brussels Arabian Trophy
Top Ten - 4yr/o Stallions
Top Ten - Most Classic Jr Stallion

AHAC 2010 Asil Cup
Top Ten - Classic Head Jr Stallions
Top Ten - Most Classic Jr Stallion

AHAC 2010 Elran Cup
Top Ten - 4yr/o Stallions

AHAC 2010 Towerlands UK
Top Ten - 4yr/o Stallions
Top Ten - Classic Head Jr Stallions
Top Ten - Hunter Pleasure Jr Horse
Top Ten - Western Pleasure Jr Horse

AHAC 2010 Merrist Wood
Top Ten - Classic Head Jr Stallions

AHAC 2010 All Nations Cup
Top Ten - 4yr/o Stallions
Top Ten - Classic Head Jr Stallions

AHAC Finnish National Championships 2010
Reserve Champion - 4yr/o Stallions

AHAC Moroccan National Championships 2010
Top Ten - Hunter Pleasure Jr Horse

AHAC 2010 Norwegian National Championships
Reserve Champion - Hunter Pleasure Jr Horse
Top Ten - 4yr/o Stallions

AHAC 2010 Middle East Championships
Top Ten - Hunter Pleasure Jr Horse
Top Ten - Western Pleasure Jr Horse

AHAC Saint Tropez Arabian Cup 2010
Top Ten - 4yr/o Stallions

AHAC Brazilian Nationals 2010
Top Ten - 4yr/o Stallions

AHAC Egypt International 2010
Top Ten - Classic Head Jr Stallions

AHAC Dutch National Championships 2010
Reserve Champion - Classic Head Jr Stallions
Top Ten - 4yr/o Stallions
Top Ten - Hunter Pleasure Jr Horse

AHAC European Championships Verona 2010
Champion - Classic Head Jr Stallions
Top Ten - 4yr/o Stallions

AHAC Verona National Championships 2010
Top Ten - Hunter Pleasure Jr Horse
Top Ten - Western Pleasure Jr Horse

AHAC Sharjah 2010
Reserve Champion - Most Classic Jr Stallion

AHAC Salon du Cheval 2010
Top Ten - 4yr/o Stallions