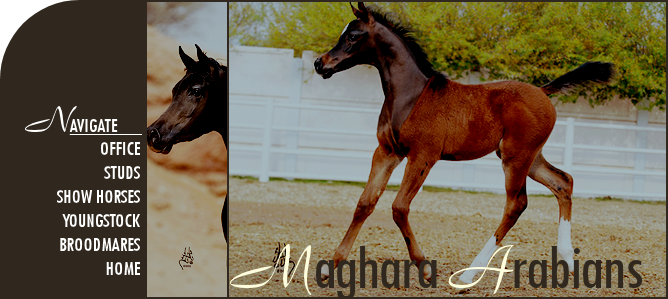 Gypsie Traveller M++++//

2003 Grey Domestic Arabian Mares
Competing in English Pleasure & Ladies English Sidesaddle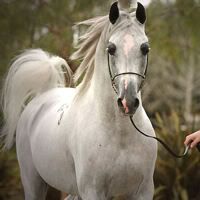 Gypsie Traveller is a stunning mare, she is sired by Chelsea's Stallion Cyprian who is a Legion of Merit Champion himself and she is out of our very own legion of supreme honour champion Bint Gypsie Bey who was bought a year ago from the AHAC Promotional auction. We are now proud to say that Gypsie Traveller is doing fantastically in the showring with over 600 points and a Legion of Supreme Merit title in the AHAC. This mare has not yet been bred but we hope to introduc her first foal to the showing world next year when she will be five and hopefully not to far off her legion of Masters Title, once she has reached this title she will be retired to brood to produce some awesome foals. Gypsie Traveller is a calm filly who will spend most of her time standing under a tree grazing or walking the paddocks with her mother. She is doing reasonably well in the show ring having been entered in a couple of shows. Gypsie Traveller doesn't like to be in the arena working but when it is all about her in the show ring she is all for it and will work till her heart is content.




Cyprian

Erros
El Paso
Eskapada
Saf Saara
Enoss
EW Samantha

Bint Gypsie Bey

Bask Knight
Bask
Sweet Gypsie Rose
Yalla Bint Halim
DA Shah Halim
Yalla Bint Nishan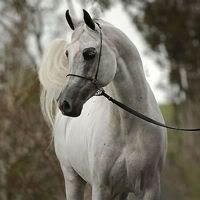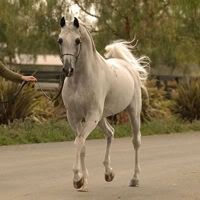 Progeny
Gaardynia M, 2007 Domestic Arabian Mare Sired by Omar Rayhan RS
GS Hassan+++, 2008 Domestic Arabian Colt Sired by Revielle
Show Record
- 3602 AHAC POINTS ll AHAC LEGION OF SUPREME MASTERS (++++//)

- AHAC NOMINATED BREEDING ENTRY



AHAC Scandinavian Open 2006
Top Ten - Weanling Fillies

AHAC Emerald Trophy 2006
Top Ten - Weanling Fillies

AHAC 2007 Canadian Nationals
Top Ten - Yearling Fillies

AHAC 2007 Ajman
Reserve Champion - Yearling Fillies

AHAC 2007 Scottsdale Show
Top Ten - Yearling Fillies

AHAC 2007 Qatar International
Champion - Classic Head Mares
Champion - English Pleasure Jr Horse
Champion - Ladies English Sidesaddle
Top Ten - Park Jr Horse
Top Ten - Park Harness Jr Horse
Top Ten - 4yr/o Mares

AHAC 2007 Egyptian National Championships
Top Ten - 4yr/o Mare
Top Ten - Classic Head Fillies
Top Ten - English Pleasure Jr Horse
Top Ten - Ladies English Sidesaddle

BT Gharkwan Arabian Spectacular 2007
Top Ten - 4yr/o Mares

Weatherlord Farm Classic Circuit Show A
Top Ten - Classic Head Mares

Weatherlord Farm Classic Circuit Show B
Top Ten - Classic Head Mares

AHAC Wels International 2007
Top Ten - 4yr/o Mares

AHAC Tulip Cup 2007
Champion - 4yr/o Mares
International Champion Junior Mare

AHAC 2007 Austrian National Championships
Top Ten - 4yr/o Mares

AHAC Arabica 2007
Top Ten - 4yr/o Mares

AHAC Orientcala 2007
Top Ten - 4yr/o Mares

AHAC Jordan National Championships
Top Ten - Classic Head Mares
Top Ten - English Pleasure Jr Horse
Top Ten - Park Jr Horse
Top Ten - Park Harness Jr Horse
Top Ten - Ladies English Side Saddle

AHAC 2007 Czech National Championship
Champion - Ladies English Sidesaddle
Reserve Champion - Park Jr Horse
Top Ten - Park Harness Jr Horse

AHAC 2007 Menton International
Reserve Champion - Park Harness Jr Horse
Top Ten - Park Jr Horse

AHAC 2007 Scandinavian Open Championships
Reserve Champion - Park Jr Horse
Top Ten - Produce of Dam
Top Ten - Park Harness Jr Horse
Top Ten - Ladies English Side Saddle

AHAC 2007 Mooslargue
Champion - Park Jr Horse
Champion - Park Harness Jr Horse
Top Ten - Produce of Dam
Top Ten - English Pleasure Jr Horse

AHAC 2007 Vilhelmsborg
Champion - English Pleasure Jr Horse
Top Ten - 4yr/o Mares
Top Ten - Park Jr Horse
Top Ten - Park Harness Jr Horse

AHAC 2007 British National Championships
Reserve Champion - Park Harness Jr Horse
Top Ten - 4yr/o Mares
Top Ten - Park Jr Horse

AHAC 2007 Asil Cup
Top Ten - 4yr/o Mares
Top Ten - Produce of Dam

AHAC 2007 St. Petersburg Open
Champion - Ladies English Sidesaddle
Reserve Champion - Park Harness Jr Horse
Top Ten - 4yr/o Mares
Top Ten - Produce of Dam
Top Ten - English Pleasure Jr Horse
Top Ten - Park Jr Horse

AHAC 2007 Towerlands UK
Top Ten - Produce of Dam

AHAC 2007 Finnish National Championships
Champion - Produce of Dam

AHAC Elran Cup 2007
Top Ten - 4yr/o Mares

AHAC 2007 Merrist Wood
Champion - 4yr/o Mares
Reserve Champion - Park Jr Horse
Reserve Champion - Ladies English Sidesaddle
Top Ten - Produce of Dam
Top Ten - English Pleasure Jr Horse
Top Ten - Park Harness Jr Horse

AHAC 2007 All Nations Cup
Top Ten - Produce of Dam

AHAC 2007 Moroccon National Championships
Top Ten - Produce of Dam
Top Ten - English Pleasure Jr Horse
Top Ten - Park Jr Horse
Top Ten - Park Harness Jr Horse

Arab/Half Arab Saddleseat & Pleasure Showcase
Champion - Park Jr Horse
Champion - Park Harness Jr Horse
Top Ten - English Pleasure Jr Horse
Top Ten - Ladies English Sidesaddle

AHAC 2007 Saint-Tropez Arabian Cup
Top Ten - 4yr/o Mares

AHAC 2007 Polish National Show
Top Ten - 4yr/o Mares
Top Ten - Produce of Dam
Top Ten - Libery Jr Mares

AHAC 2007 European National Championships
Top Ten - English Pleasure Jr Horse
Top Ten - Ladies English Sidesaddle

AHAC 2007 Middle East Championships
Champion - Produce of Dam
Top Ten - Ladies English Sidesaddle
Top Ten - English Pleasure Jr Horse

AHAC 2007 Dutch National Championships
Top Ten - 4yr/o Mares

AHAC 2007 Israeli Nationals
Top Ten - Produce of Dam

AHAC 2007 Egypt International
Top Ten - Ladies English Sidesaddle

AHAC 2007 Brazilian National Championships
Champion - Produce of Dam
Top Ten - English Pleasure Jr Horse

AHAC Sharjah 2007
Top Ten - 4yr/o Mares
Top Ten - Ladies English Sidesaddle

AHAC 2008 Canadian Nationals
Top Ten - 5yr/o Mares
Top Ten - English Pleasure Jr Horse

AHAC 2008 Region 2 Championships
Reserve Champion - Produce of Dam
Top Ten - Ladies English Sidesaddle

AHAC Scottsdale Arabian Horse Show 2008
Reserve Champion - Ladies English Sidesaddle

AHAC 2008 Strohen International
Top Ten - 5yr/o Mares

AHAC 2008 Sharjah International
Top Ten - 5yr/o Mares

AHAC Arabian Breeders World Cup 2008
Top Ten - Produce of Dam
Top Ten - English Pleasure Jr Horse

AHAC 2008 US Nationals
Top Ten - Produce of Dam
Top Ten - Ladies English Sidesaddle

AHAC 2008 Travagliato
Champion - Produce of Dam

AHAC 2008 Wels International
Top Ten - 5yr/o Mares

AHAC 2008 Austrian National Championships
Top Ten - Produce of Dam

AHAC 2008 Tulip Cup
Top Ten - 5yr/o Mares
Top Ten - Get of Sire

AHAC 2008 Buckeye
Top Ten - 5yr/o Mares
Top Ten - Produce of Dam
Top Ten - Ladies English Sidesaddle

AHAC 2008 Arabica
Top Ten - Get of Sire

AHAC Orientalica 2008
Top Ten - 5yr/o Mares
Top Ten - Produce of Dam

2008 AHAC Jordan Nationals
Reserve Champion - English Pleasure Jr Horse
Reserve Champion - Ladies English Sidesaddle
Top Ten - 5yr/o Mares

AHAC 2008 German Nationals
Top Ten - Get of Sire
Top Ten - Ladies English Sidesaddle

AHAC 2008 Menton International
Top Ten - Produce of Dam
Top Ten - English Pleasure Jr Horse

AHAC 2008 Czech National Championships
Top Ten - Produce of Dam
Top Ten - Ladies English Sidesaddle

AHAC Emerald Trophy 2008
Top Ten - 5yr/o Mares
Top Ten - Ladies English Sidesaddle

AHAC 2008 Asil Cup
Top Ten - Produce of Dam

AHAC Mooslargue 2008
Top Ten - Produce of Dam

AHAC Brussels Arabian Trophy 2008
Champion - 5yr/o Mares
National Champion Junior Mare
Top Ten - Produce of Dam

AHAC Towerlands UK 2008
Top Ten - Get of Sire
Top Ten - Produce of Dam

AHAC British National Championships 2008
Top Ten - 5yr/o Mares

AHAC Finnish National Championships 2008
Top Ten - Produce of Dam

AHAC Elran Cup 2008
Top Ten - 5yr/o Mares
Top Ten - Produce of Dam

AHAC Vilhelmsborg 2008
Top Ten - Produce of Dam

AHAC European Championships Verona 2008
Top Ten - 5yr/o Mares
Top Ten - Produce of Dam
Top Ten - English Pleasure Jr Horse
Top Ten - Ladies English Sidesaddle

AHAC Salon Du Cheval 2008
Reserve Champion - Produce of Dam

AHAC Sharjah 2008
Top Ten - 5yr/o Mares
Top Ten - Produce of Dam

AHAC Region I Championships 2009
Reserve Champion - 6yr/o Mares
Regional Reserve Champion Junior Mare

AHAC Ajman NAtional Show 2009
Reserve Champion - 6yr/o Mares
Top Ten - English Pleasure Jr Horse

AHAC Scottsdale Arabian Horse Show 2009
Top Ten - Get of Sire
Top Ten - English Pleasure Jr Horse

AHAC Voghera 2009
Champion - Get of Sire

AHAC Qatar International 2009
Reserve Champion - Get of Sire
Top Ten - Ladies English Pleasure

AHAC Egyptian National Championships 2009
Top Ten - Ladies English Sidesaddle

AHAC 2009 Strohen International
Champion - Junior Breeding Mare 3-6 Breeders Sweepstakes
Top Ten - Get of Sire

AHAC 2009 Dubai International
Top Ten - Junior Breeding Mare 3-6 Breeders Sweepstakes

AHAC Arabian Masters 2009
Top Ten - 6yr/o Mares
Top Ten - Get of Sire
Top Ten - Produce of Dam
Top Ten - Junior Breeding Mare 3-6 Breeders Sweepstakes

AHAC 2009 Sharjah
Top Ten - Get of Sire
Top Ten - Produce of dam
Top Ten - Ladies English Sidesaddle

AHAC 2009 Arabian Breeders World Cup
Champion - Junior Breeding Mare 3-6 Breeders Sweepstakes
Top Ten - Get of Sire
Top Ten - Produce of Dam
Top Ten - English Pleasure Jr Horse
Top Ten - Ladies English Sidesaddle

AHAC 2009 US Nationals
Top Ten - English Pleasure Jr Horse
Top Ten - Ladies English Sidesaddle

AHAC Travagliato 2009
Champion - Get of Sire
Top Ten - 6yr/o Mares

AHAC 2009 Wels International
Champion - Junior Breeding Mare 3-6 Breeders Sweepstakes
Top Ten - 6yr/o Mares

AHAC 2009 Tulip Cup
Champion - 6yr/o Mares

AHAC 2009 Austrian National Championships
Champion - 6yr/o Mares
Reserve Champion - Get of Sire

AHAC 2009 Arabica
Top Ten - Get of Sire
Top Ten - Produce of Dam

AHAC 2009 Buckeye
Reserve Champion - Junior Breeding Mare 3-6 Breeders Sweepstakes

AHAC 2009 Jordan National Championships
Top Ten - 6yr/o Mares
Top Ten - Get of Sire
Top Ten - Produce of Dam

AHAC 2009 Czech National Championships
Top Ten - Get of Sire
Top Ten - Produce of Dam
Top Ten - English Pleasure Jr Horse
Top Ten - Junior Breeding Mare 3-6 Breeders Sweepstakes

AHAC 2009 German Nationals
Reserve Champion - 6yr/o Mares
Top Ten - Get of Sire
Top Ten - Junior Breeding Mare 3-6 Breeders Sweepstakes

AHAC 2009 Menton International
Champion - Produce of Dam
Champion - Junior Breeding Mare 3-6 Breeders Sweepstakes
Top Ten - Get of Sire

AHAC 2009 Emerald Trophy
Champion - Get of Sire
Reserve Champion - English Pleasure Jr Horse
Top Ten - Ladies English Sidesaddle
Top Ten - Junior Breeding Mare 3-6 Breeders Sweepstakes

AHAC 2009 Scandinavian Open Championships
Top Ten - Get of Sire
Top Ten - Produce of Dam
Top Ten - English Pleasure Jr Horse
Top Ten - Ladies English Sidesaddle
Top Ten - Junior Breeding Mare 3-6 Breeders Sweepstakes

AHAC 2009 Mooslargue
Top Ten - 6yr/o Mares
Top Ten - Junior Breeding Mare 3-6 Breeders Sweepstakes

AHAC 2009 Danish National Championships
Top Ten - 6yr/o Mares
Top Ten - Produce of Dam
Top Ten - Junior Breeding Mare 3-6 Breeders Sweepstakes

AHAC 2009 St Petersburg Open
Top Ten - Get of Sire
Top Ten - Produce of Dam
Top Ten - Junior Breeding Mare 3-6 Breeders Sweepstakes

AHAC 2009 Asil CUp
Champion - 6yr/o Mares
Reserve Champion - Produce of Dam
International Reserve Champion Junior Mare

AHAC 2009 Brussels Arabian Trophy
Top Ten - 6yr/o Mares
Top Ten - Get of Sire
Top Ten - English Pleasure Jr Horse
Top Ten - Ladies English Sidesaddle
Top Ten - Junior Breeding Mare 3-6 Breeders Sweepstakes

AHAC 2009 Towerlands UK
Top Ten - 6yr/o Mares
Top Ten - Get of Sire
Top Ten - Produce of Dam

AHAC Elran Cup 2009
Top Ten - 6yr/o Mares
Top Ten - Get of Sire

AHAC 2009 Finnish National Championships
Champion - Produce of Dam
Top Ten - 6yr/o Mares
Top Ten - Get of Sire
Top Ten - Junior Breeding Mare 3-6 Breeders Sweepstakes

AHAC 2009 All Nations Cup
Top Ten - Get of Sire
Top Ten - Produce of Dam

AHAC 2009 Merrist Wood
Champion - Get of Sire
Top Ten - Produce of Dam

AHAC 2009 Moroccon National Championships
Top Ten - Produce of Dam

AHAC 2009 Norwegian National Championships
Top Ten - Produce of Dam

AHAC 2009 Saint Tropez Arabian Cup
Champion - 6yr/o Mares
International Champion Junior Mare
Top Ten - Produce of Dam

AHAC 2009 Middle East Championships
Top Ten - Get of Sire
Top Ten - English Pleasure Jr Horse
Top Ten - Ladies English Sidesaddle

AHAC 2009 Sharjah International
Top Ten - 6yr/o Mares
Top Ten - Produce of Dam

AHAC 2009 Verona National Championships
Champion - Junior Breeding Mare 3-6 Breeders Sweepstakes
Top Ten - Produce of Dam

AHAC 2009 European Championships Verona
Top Ten - Get of Sire
Top Ten - Produce of Dam
Top Ten - English Pleasure Jr Horse
Top Ten - Ladies English Sidesaddle

AHAC 2009 Israeli Nationals
Champion - Get of Sire
Reserve Champion - Produce of Dam

AHAC 2009 Dutch National Championships
Top Ten - Produce of Dam
Top Ten - Junior Breeding Mare 3-6 Breeders Sweepstakes

AHAC 2009 Salon Du Cheval
Top Ten - Get of Sire
Top Ten - Produce of Dam

AHAC 2009 Egypt International
Reserve Champion - Produce of Dam
Top Ten - 6yr/o Mares
Top Ten - Ladies English Sidesaddle
Top Ten - Junior Breeding Mare 3-6 Breeders Sweepstakes

AHAC 2009 Brazilian Nationals
Top Ten - Junior Breeding Mare 3-6 Breeders Sweepstakes

AHAC 2010 Canadian Nationals
Reserve Champion - English Pleasure Jr Horse
Reserve Champion - Junior Breeding Mare 3-6 Breeders Sweepstakes
Top Ten - 6yr/o Mares
Top Ten - Get of Sire
Top Ten - Produce of Dam

AHAC 2010 Region I Championships
Champion - 6yr/o Mares
Champion - Produce of Dam
Regional Reserve Champion Junior Mare
Top Ten - Get of Sire
Top Ten - English Pleasure Jr Horse
Top Ten - Ladies English Sidesaddle
Top Ten - Junior Breeding Mare 3-6 Breeders Sweepstakes

AHAC 2010 Region II Championships
Top Ten - Junior Breeding Mare 3-6 Breeders Sweepstakes

AHAC 2010 Ajman
Top Ten - Get of Sire
Top Ten - Produce of Dam

AHAC 2010 Abu Dhabi
Champion - Get of Sire
Reserve Champion - Produce of Dam

AHAC 2010 Scottsdale
Top Ten - 6yr/o Mares
Top Ten - Get of Sire
Top Ten - English Pleasure Jr Horse
Top Ten - Ladies English Sidesaddle

AHAC 2010 Voghera
Reserve Champion - Ladies English Sidesaddle
Top Ten - 6yr/o Mares
Top Ten - English Pleasure Jr Horse

AHAC 2010 Qatar International
Top Ten - Produce of Dam
Top Ten - English Pleasure Jr Horse
Top Ten - Ladies English Sidesaddle

AHAC 2010 Egyptian National Championships
Champion - English Pleasure Jr Horse
Top Ten - 6yr/o Mares
Top Ten - Get of Sire
Top Ten - Ladies English Sidesaddle

AHAC 2010 Strohen International
Top Ten - 6yr/o Mares
Top Ten - Produce of Dam
Top Ten - English Pleasure Jr Horse

AHAC 2010 Arabian Masters
Champion - Get of Sire
Top Ten - 6yr/o Mares
Top Ten - Produce of Dam
Top Ten - English Pleasure Jr Horse

AHAC 2010 Dubai International
Champion - Ladies English Sidesaddle
Top Ten - Get of Sire
Top Ten - Produce of Dam
Top Ten - English Pleasure Jr Horse

AHAC 2010 US Nationals
Champion - Ladies English Sidesaddle
Top Ten - Get of Sire
Top Ten - Produce of Dam
Top Ten - English Pleasure Jr Horse

AHAC 2010 Sharjah International
Top Ten - 6yr/o Mares
Top Ten - Get of Sire
Top Ten - Produce of Dam
Top Ten - Ladies English Sidesaddle

AHAC 2010 Arabian Breeders World Cup
Reserve Champion - 6yr/o Mares
Top Ten - Get of Sire
Top Ten - Produce of Dam

AHAC 2010 Egyptian Event
Top Ten - Get of Sire
Top Ten - Ladies English Sidesaddle

AHAC 2010 Travagliato
Top Ten - 6yr/o Mares
Top Ten - Get of Sire
Top Ten - Produce of Dam

AHAC 2010 Wels International
Reserve Champion - Ladies English Sidesaddle
Top Ten - Get of Sire
Top Ten - English Pleasure Jr Horse

AHAC 2010 Tulip Cup
Top Ten - 6yr/o Mares
Top Ten - English Pleasure Jr Horse
Top Ten - Ladies English Sidesaddle

AHAC 2010 Austrian National Championships
Top Ten - Ladies English Sidesaddle

AHAC 2010 Buckeye
Top Ten - English Pleasure Jr Horse
Top Ten - Ladies English Sidesaddle

AHAC 2010 Orientalica
Reserve Champion - Get of Sire
Top Ten - Produce of Dam

AHAC 2010 Mooslargue
Top Ten - Get of Sire

AHAC 2010 Jordan National Championships
Top Ten - Produce of Dam
Top Ten - English Pleasure Jr Horse
Top Ten - Ladies English Sidesaddle

AHAC 2010 Czech National Championships
Top Ten - 6yr/o Mares
Top Ten - English Pleasure Jr Horse
Top Ten - Ladies English Sidesaddle

AHAC 2010 Emerald Trophybr> Champion - Get of Sire
Top Ten - 6yr/o Mares
Top Ten - English Pleasure Jr Horse
Top Ten - Ladies English Sidesaddle

AHAC 2010 Scandinavian Open Championships
Top Ten - Get of Sire
Top Ten - Produce of Dam
Top Ten - Ladies English Sidesaddle

AHAC 2010 Menton International
Reserve Champion - Produce of Dam
Top Ten - Get of Sire
Top Ten - Ladies English Sidesaddle

AHAC 2010 German Nationals
Champion - Get of Sire
Top Ten - 6yr/o Mares
Top Ten - Produce of Dam

AHAC 2010 Vilhelmsborg
Top Ten - 6yr/o Mares
Top Ten - Produce of Dam
Top Ten - English Pleasure Jr Horse
Top Ten - Ladies English Sidesaddle

AHAC 2010 Danish National Championships
Top Ten - 6yr/o Mares
Top Ten - Get of Sire

AHAC 2010 St Petersburg Open
Top Ten - 6yr/o Mares
Top Ten - Get of Sire
Top Ten - Produce of Dam

AHAC 2010 Brussels Arabian Trophy
Top Ten - Get of Sire
Top Ten - English Pleasure Jr Horse

AHAC 2010 Asil Cup
Top Ten - Get of Sire
Top Ten - Produce of Dam

AHAC 2010 Elran Cup
Champion - Produce of Dam
Top Ten - 6yr/o Mares
Top Ten - Get of Sire

AHAC 2010 Towerlands UK
Champion - Get of Sire
Top Ten - Produce of Dam
Top Ten - English Pleasure Jr Horse
Top Ten - Ladies English Sidesaddle

AHAC 2010 Merrist Wood
Top Ten - 6yr/o Mares
Top Ten - Get of Sire

AHAC 2010 All Nations Cup
Top Ten - Get of Sire
Top Ten - Produce of Dam

AHAC Finnish National Championships 2010
Champion - 6yr/o Mares
National Champion Junior Mare
Reserve Champion - English Pleasure Jr Horse
Top Ten - Produce of Dam

AHAC Moroccan National Championships 2010
Top Ten - 6yr/o Mares
Top Ten - English Pleasure Jr Horse
Top Ten - Ladies English Sidesaddle

AHAC 2010 Norwegian National Championships
Reserve Champion - Ladies English Sidesaddle
Top Ten - Get of Sire
Top Ten - English Pleasure Jr Horse

AHAC 2010 Middle East Championships
Top Ten - Get of Sire
Top Ten - English Pleasure Jr Horse

AHAC Saint Tropez Arabian Cup 2010
Top Ten - 6yr/o Mares
Top Ten - Get of Sire
Top Ten - Produce of Dam

AHAC Israeli Nationals 2010
Top Ten - Get of Sire
Top Ten - Produce of Dam

AHAC Brazilian Nationals 2010
Top Ten - Get of Sire

AHAC Egypt International 2010
Reserve Champion - Produce of Dam
Top Ten - Get of Sire

AHAC Dutch National Championship 2010
Champion - 6yr/o Mares
Champion - Produce of Dam
Top Ten - Get of Sire

AHAC European Championships Verona 2010
Top Ten - 6yr/o Mares
Top Ten - Get of Sire
Top Ten - Produce of Dam

AHAC Verona National Championships 2010
Reserve Champion - Get of Sire
Top Ten - Produce of Dam

AHAC Sharjah 2010
Champion - Get of Sire
Reserve Champion - 6yr/o Mares
Top Ten - English Pleasure Jr Horse

AHAC Salon Du Cheval 2010
Top Ten - 6yr/o Mares
Top Ten - Get of Sire