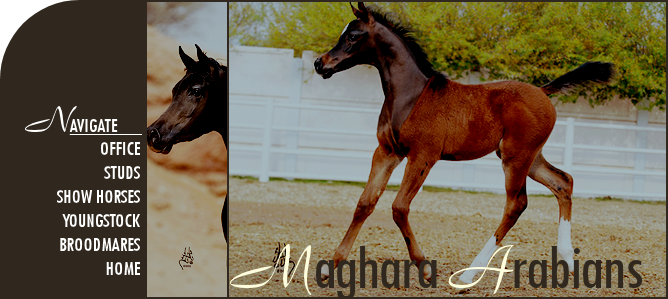 Imitation A+//

2006 Chestnut Polish Arabian Stallion
Competing in Sporthorse In-Hand, Sporthorse Under Saddle & Green Jumper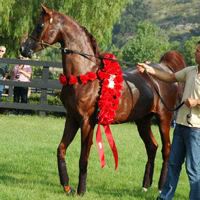 Imitation A is a beautiful young stallion who was purchased in mid 2008 from Merrie who primarily breeds Arabians in Impulsion Sim Game. We were very honoured to be able to purchase Imitation from her and bring him into the All-Sim world to compete with our other horses within the AHAC. He has just recieved his first titled and is now a Legion of Honour titled horse. We hope he will continue showing well and produce some beautiful foals at the end of this year or next year.




Rembrandt FA

*Eminence PASB
Unknown
Unknown
*Solace
*Wojslaw PASB
Unknown

Minka TH

*Gawain
Unknown
Unknown
Estolka
Gaypolka
Unknown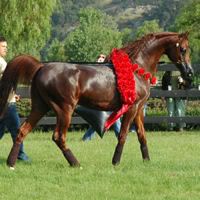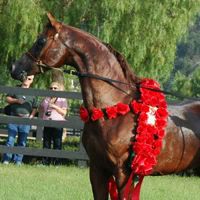 Progeny
None
Show Record
- 898 AHAC POINTS ll AHAC LEGION OF EXCELLENCE (+//)



Pheonix Halter Show 2008
Top Ten - 2yr/o Colts

AHAC 2008 Orientalica
Top Ten - 2yr/o Colts

2008 AHAC Jordan Nationals
Champion - 2yr/o Colts
National Reserve Champion Colt

AHAC 2008 Czech National Championships
Top Ten - 2yr/o Colts

AHAC 2008 German Nationals
Top Ten - Sporthorse Colts In-Hand

AHAC Emerald Trophy 2008
Top Ten - 2yr/o Colts

AHAC Brussels Arabian Trophy 2008
Top Ten - Sporthorse Colts In-Hand

AHAC Towerlands UK 2008
Top Ten - Sporthorse Colts In-Hand

AHAC Finnish National Championships 2008
Top Ten - 2yr/o Colts

AHAC Elran Cup 2008
Top Ten - 2yr/o Colts

AHAC Polish National Show 2008
Top Ten - 2yr/o Colts

AHAC Dutch Nationals 2008
Top Ten - 2yr/o Colts

AHAC European Championships Verona 2008
Top Ten - 2yr/o Colts
Top Ten - Sporthorse Colts In-Hand

AHAC Sharjah 2008
Top Ten - 2yr/o Colts

AHAC Region One Championships 2009
Top Ten - Colt Futurity
Top Ten - Sporthorse Colts In-Hand

AHAC Voghera 2009
Top Ten - Sporthorse Colts In-Hand

AHAC Egyptian National Championships 2009
Top Ten - Sporthorse Colts In-Hand

AHAC 2009 Sharjah International
Top Ten - Colt Futurity

AHAC 2009 Arabian Breeders World Cup
Top Ten - Sporthorse Colts In-Hand
Top Ten - Green Jumper

AHAC 2009 US Nationals
Top Ten - Colt Futurity

AHAC Travagliato 2009
Top Ten - Colt Futurity

AHAC 2009 Wels International
Top Ten - Colt Futurity

AHAC 2009 Austrian National Championships
Champion - Colt Futurity
National Futurity Reserve Champion

AHAC 2009 Arabica
Champion - Green Jumper
Top Ten - Sporthorse Under Saddle Futurity

AHAC 2009 Buckeye
Top Ten - Sporthorse Colts In-Hand
Top Ten - Green Jumper

AHAC 2009 Jordan National Championships
Top Ten - Colt Futurity
Top Ten - Sporthorse Colts In-Hand
Top Ten - Sporthorse Under Saddle Futurity

AHAC 2009 Czech National Championships
Top Ten - Colt Futurity
Top Ten - Green Jumper

AHAC 2009 German Nationals
Champion - Colt Futurity
Champion - Sporthorse Under Saddle Futurity
National Futurity Reserve Champion
Top Ten - Green Jumper

AHAC 2009 Emerald Trophy
Top Ten - Colt Futurity
Top Ten - Green Jumper

AHAC 2009 Mooslargue
Top Ten - Colt Futurity

AHAC 2009 Danish National Championships
Reserve Champion - Colt Futurity

AHAC 2009 Vilhelmsborg
Top Ten - Colt Futurity

AHAC 2009 St Petersburg Open
Champion - Sporthorse Colts In-Hand

AHAC 2009 Asil Cup
Top Ten - Colt Futurity

AHAC 2009 Towerlands UK
Top Ten - Green Jumper

AHAC 2009 Finnish National Championships
Top Ten - Colt Futurity

AHAC 2009 Merrist Wood
Top Ten - Green Jumper

AHAC 2009 Moroccon National Championships
Top Ten - Green Jumper

AHAC 2009 Saint Tropez Arabian Cup
Top Ten - Sporthorse Under Saddle Futurity
Top Ten - Green Jumper

AHAC 2009 Middle East Championships
Champion - Sporthorse Under Saddle Futurity
Top Ten - Colt Futurity
Top Ten - Green Jumper

AHAC 2009 Verona National Championships
Reserve Champion - Colt Futurity
National Futurity Reserve Champion
Top Ten - Sporthorse Under Saddle Futurity
Top Ten - Green Jumper

AHAC 2009 European Championships Verona
Top Ten - Sporthorse Under Saddle Futurity

AHAC 2009 Israeli Nationals
Top Ten - Sporthorse Colts In-Hand
Top Ten - Green Jumper

AHAC 2009 Egypt International
Top Ten - Sporthorse Colts In-Hand
Top Ten - Sporthorse Under Saddle Futurity

AHAC 2009 Brazilian Nationals
Champion - Green Jumper
Top Ten - Colt Futurity

AHAC 2010 Canadian Nationals
Top Ten - 4yr/o Stallions
Top Ten - Junior Sporthorse Stallions In-Hand

AHAC 2010 Region I Championships
Champion - 4yr/o Stallions
Champion - Classic Head Jr Stallions
Top Ten - Junior Sporthorse Stallions In-Hand

AHAC 2010 Region II Championships
Top Ten - Most Classic Jr Stallion
Top Ten - Junior Sporthorse Stallions In-Hand

AHAC 2010 Ajman
Reserve Champion - 4yr/o Stallions

AHAC 2010 Abu Dhabi
Top Ten - 4yr/o Stallions

AHAC 2010 Voghera
Top Ten - Junior Sporthorse Stallions In-Hand
Top Ten - Sporthorse Under Saddle Jr Horse

AHAC 2010 Qatar International
Top Ten - 4yr/o Stallions
Top Ten - Classic Head Jr Stallions
Top Ten - Most Classic Jr Stallion
Top Ten - Junior Sporthorse Stallions In-Hand

AHAC 2010 Egyptian National Championships
Top Ten - 4yr/o Stallions
Top Ten - Sporthorse Under Saddle Jr Horse

AHAC 2010 Strohen International
Top Ten - 4yr/o Stallions
Top Ten - Junior Sporthorse Stallions In-Hand

AHAC 2010 Arabian Masters
Top Ten - 4yr/o Stallions
Top Ten - Most Classic Jr Stallion
Top Ten - Sporthorse Under Saddle Jr Horse

AHAC 2010 US Nationals
Top Ten - 4yr/o Stallions
Top Ten - Classic Head Jr Stallions
Top Ten - Most Classic Jr Stallion

AHAC 2010 Dubai International
Top Ten - 4yr/o Stallions
Top Ten - Sporthorse Under Saddle Jr Horse

AHAC 2010 Sharjah International
Top Ten - 4yr/o Stallions
Top Ten - Most Classic Jr Stallion
Top Ten - Junior Sporthorse Stallions In-Hand

AHAC 2010 Egyptian Event
Top Ten - 4yr/o Stallions
Top Ten - Most Classic Jr Stallion
Top Ten - Junior Sporthorse Stallions In-Hand
Top Ten - Sporthorse Under Saddle Jr Horse

AHAC 2010 Arabian Breeders World Cup
Champion - Junior Sporthorse Stallions In-Hand