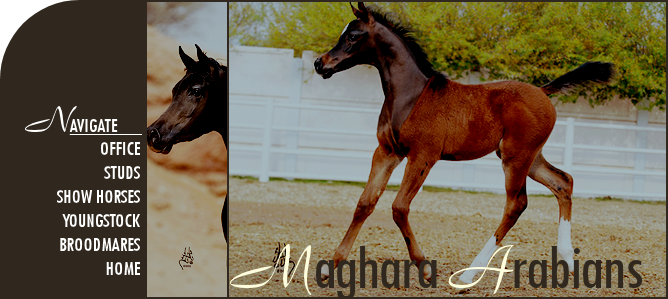 Khristopher M++++//

2001 Bay Polish Arabian Stallion
Competing in 1st Level Dressage & Mid-Level Jumper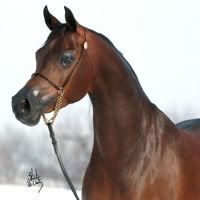 I've always admired Fhantasy Ovation from afar, that when we got the chance to breed to him we snapped it up immediately! A homebred from Maghara Arabians, Khristopher or Khris has come out as a breathtaking carbon copy of his sire without the cantankerous attitude. Khristopher is a very fancy stallion that just LOVES to show off. He may not have any striking white markings but even without that he always seems to stand out among our other Arabians with his head held high and chest puffed out. He always holds himself well, and when he moves its just magical. He has a long ground eating stride, grace, and that typical look at me aura. You can't help but look at him, its just a wierd effect he has on people. Our second Polish stallion, standing alongside Zale, Khristopher is one of the best purchases we have ever made! We can clearly see why the Polish Arabian is so sought after, they are absolutely enchanting, and Khristopher holds true to that.
Fhantasy Ovation

Applauz
El Paso
Andalusia
Fantazha
Aladdinn
Pouilly Fussie

Peirczar

Alcazar
Aladdinn
Flama
Pierzga
Negatiw
Piewica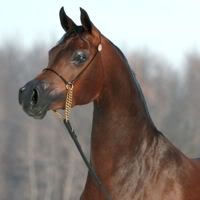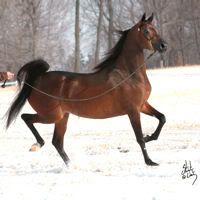 Progeny
Akmal Krystallight, 2009 Domestic Arabian Filly out of Silver Satin

Show Record
- 3500 AHAC POINTS ll AHAC LEGION OF SUPREME MASTERS (++++//)

- AHAC NOMINATED BREEDING ENTRY



AHAC 2007 Mooslargue
Champion - 6yr/o Stallions
International Reserve Champion Senior Stallion

AHAC 2007 Vilhelmsborg
Top Ten - 6yr/o Stallions

AHAC Danish National Championships 2007
Top Ten - 6yr/o Stallions

AHAC 2007 British National Championships
Top Ten - 6yr/o Stallions

Southern Acres Inc Arabian Show I
Reserve Champion - 6yr/o Stallions

AHAC 2007 Asil Cup
Reserve Champion - 6yr/o Stallions

AHAC 2007 St. Petersburg Open
Reserve Champion - 6yr/o Stallions

AHAC 2007 Brussels Arabian Trophy
Champion - 6yr/o Stallions
National Reserve Champion Junior Stallion

AHAC 2007 Towerlands UK
Top Ten - 6yr/o Stallions

AHAC 2007 Finnish National Championships
Top Ten - 6yr/o Stallions

Everlast Halter Show 2007
Top Ten - 6yr/o Stallions

Royalty Stables AHAC Sporthorse Show
Top Ten - 2nd Level Dressage
Top Ten - High Jumper

AHAC Elran Cup 2007
Champion - 6yr/o Stallions
International Reserve Champion Junior Stallion

AHAC 2007 Merrist Wood
Top Ten - 6yr/o Stallions
Top Ten - 2nd Level Dressage
Top Ten - High Jumper

AHAC 2007 All Nations Cup
Top Ten - 6yr/o Stallions

Kingsgate Arabian Show
Top Ten - 6yr/o Stallions

Bearly Inc A/HA Show
Reserve Champion - 6yr/o Stallions

AHAC 2007 Moroccon National Championships
Top Ten - 2nd Level Dressage
Top Ten - High Jumper

AHAC 2007 Saint-Tropez Arabian Cup
Top Ten - 6yr/o Stallions
Top Ten - Classic Head Stallions

2007 Aruba Rose Halter Show
Top Ten - 6yr/o Stallions
Top Ten - Classic Head Stallions

Adiva's August Arabian Show
Reserve Champion - 6yr/o Stallions

AHAC 2007 Polish National Show
Top Ten - Classic Head Stallions

AHAC 2007 Middle East Championships
Champion - High Jumper
Top Ten - 6yr/o Stallions
Top Ten - Junior Sporthorse Stallions In-Hand

AHAC 2007 Egypt International
Top Ten - 2nd Level Dressage
Top Ten - High Jumper

P Back in the AHAC 2007
Reserve Champion - 6yr/o Stallions

2007 Dynamite November Show
Top Ten - 6yr/o Stallions
Top Ten - 2nd Level Dressage
Top Ten - High Jumper

2007 December Show
Champion - 6yr/o Stallions
Champion - High Jumper
Reserve Champion - 2nd Level Dressage

SAI's December Arabian Show I 2007
Champion - 6yr/o Stallions
Champion - 2nd Level Dressage
Reserve Champion Junior Stallions

AHAC 2007 Brazilian National Championships
Top Ten - 2nd Level Dressage
Top Ten - High Jumper

AHAC 2008 Travagliato
Top Ten - 7yr/o Stallions

Pheonix Halter Show
Top Ten - 7yr/o Stallions
Top Ten - Get of Sire

AHAC 2008 Tulip Cup
Top Ten - 7yr/o Stallions

AHAC 2008 Buckeye
Top Ten - 7yr/o Stallions
Top Ten - 1st Level Dressage

AHAC 2008 Arabica
Top Ten - 7yr/o Stallions

AHAC 2008 Orienticala
Top Ten - 7yr/o Stallions
Top Ten - Get of Sire

2008 AHAC Jordan Nationals
Reserve Champion - Mid-Level Jumper
Top Ten - Get of Sire

AHAC 2008 German Nationals
Reserve Champion - Mid-Level Jumper
Top Ten - 7yr/o Stallions

AHAC 2008 Menton International
Top Ten - Mid-Level Jumper

AHAC 2008 Czech National Championships
Reserve Champion - Mid-Level Jumper
Top Ten - 1st Level Dressage

AHAC Mooslargue 2008
Top Ten - Get of Sire

AHAC Brussels Arabian Trophy 2008
Top Ten - 7yr/o Stallions
Top Ten - Mid-Level Dressage

AHAC Towerlands UK 2008
Top Ten - Mid-Level Dressage

AHAC British National Championships 2008
Top Ten - 7yr/o Stallions

AHAC Danish National Championships 2008
Top Ten - 7yr/o Stallions

AHAC Elran Cup 2008
Top Ten - Get of Sire

AHAC Vilhelmsborg 2008
Top Ten - 7yr/o Stallions
Top Ten - Get of Sire
Top Ten - Mid-Level Dressage

AHAC Polish National Show 2008
Top Ten - 7yr/o Stallions

AHAC Dutch Nationals 2008
Champion - Get of Sire
Top Ten - 7yr/o Stallions

AHAC European Championships Verona 2008
Champion - First Level Dressage
Top Ten - Get of Sire
Top Ten - Mid-Level Jumper

2008 AHAC Jordan Nationals
Reserve Champion - Mid-Level Dressage
Top Ten - Get of Sire

AHAC St. Petersburg Open 2008
Top Ten - 7yr/o Stallions
Top Ten - First Level Dressage
Top Ten - Mid-Level Dressage

AHAC Sharjah 2008
Top Ten - 7yr/o Stallions
Top Ten - Mid-Level Dressage

AHAC Region One Championships 2009
Top Ten - 8yr/o Stallions
Top Ten - Freestyle Dressage Sr Horses
Top Ten - Mid-Level Dressage

AHAC Ajman National Show 2009
Top Ten - Get of Sire
Top Ten - 1st Level Dressage

AHAC Voghera 2009
Top Ten - 8yr/o Stallions
Top Ten - 1st Level Dressage

AHAC Scottsdale Arabian Horse Show 2009
Champion - 8yr/o Stallions
Top Ten - Get of Sire

AHAC Egyptian National Championships 2009
Top Ten - Get of Sire

AHAC Abu Dhabi 2009
Top Ten - Get of Sire

AHAC 2009 Dubai International
Top Ten - 8yr/o Stallions
Top Ten - Senior Breeding Stallion 7-up Breeders Sweepstakes

AHAC Arabian Masters 2009
Top Ten - Senior Breeding Stallion 7-up Breeders Sweepstakes

AHAC 2009 Strohen International
Top Ten - Senior Breeding Stallion 7-up Breeders Sweepstakes

AHAC 2009 US Nationals
Champion - Freestyle Dressage Sr Horses
Champion - Senior Breeding Stallion 7-up Breeders Sweepstakes
Top Ten - Get of Sire

AHAC Travagliato 2009
Top Ten - 8yr/o Stallions
Top Ten - Senior Breeding Stallion 7-up Breeders Sweepstakes

AHAC 2009 Wels International
Top Ten - 8yr/o Stallions
Top Ten - Get of Sire
Top Ten - Senior Breeding Stallion 7-up Breeders Sweepstakes

AHAC 2009 Sharjah International
Champion - Get of Sire
Champion - Classic Head Sr Stallions
Champion - Senior Breeding Stallion 7-up Breeders Sweepstakes
Top Ten - 8yr/o Stallions

AHAC 2009 Arabian Breeders World Cup
Top Ten - Classic Head Sr Stallions
Top Ten - Mid-Level Dressage
Top Ten - Senior Breeding Stallion 7-up Breeders Sweepstakes

AHAC 2009 Tulip Cup
Champion - 8yr/o Stallions
Top Ten - Senior Breeding Stallion 7-up Breeders Sweepstakes

AHAC 2009 Arabica
Champion - Mid-Level Jumper
Top Ten - 8yr/o Stallions
Top Ten - 1st Level Dressage
Top Ten - Senior Breeding Stallion 7-up Breeders Sweepstakes

AHAC 2009 Buckeye
Top Ten - Mid-Level Jumper
Top Ten - Senior Breeding Stallion 7-up Breeders Sweepstakes

AHAC 2009 Austrian National Championships
Top Ten - 8yr/o Stallions
Top Ten - Get of Sire
Top Ten - Most Classic Sr Stallion
Top Ten - Senior Breeding Stallion 7-up Breeders Sweepstakes

AHAC 2009 Jordan National Championships
Top Ten - 1st Level Dressage
Top Ten - Freestyle Dressage Sr Horses
Top Ten - Senior Breeding Stallion 7-up Breeders Sweepstakes

AHAC 2009 Czech National Championships
Top Ten - 8yr/o Stallions
Top Ten - Classic Head Sr Stallions
Top Ten - 1st Level Dressage
Top Ten - Senior Breeding Stallion 7-up Breeders Sweepstakes

AHAC 2009 German Nationals
Champion - Get of Sire
Champion - Senior Breeding Stallion 7-up Breeders Sweepstakes
Top Ten - 8yr/o Stallions
Top Ten - Most Classic Sr Stallion
Top Ten - Freestyle Dressage Sr Horses
Top Ten - Mid-Level Jumper

AHAC 2009 Menton International
Champion - Senior Breeding Stallion 7-up Breeders Sweepstakes
Reserve Champion - Most Classic Sr Stallion
Top Ten - 8yr/o Stallions
Top Ten - Mid-Level Jumper

AHAC 2009 Orientalica
Top Ten - Senior Breeding Stallion 7-up Breeders Sweepstakes

AHAC 2009 Emerald Trophy
Top Ten - 8yr/o Stallions
Top Ten - 1st Level Dressage
Top Ten - Mid-Level Jumper
Top Ten - Senior Breeding Stallion 7-up Breeders Sweepstakes

AHAC 2009 Scandinavian Open Championships
Top Ten - Get of Sire
Top Ten - Mid-Level Jumper
Top Ten - Senior Breeding Stallion 7-up Breeders Sweepstakes

AHAC 2009 Mooslargue
Top Ten - 8yr/o Stallions
Top Ten - Get of Sire
Top Ten - Most Classic Sr Stallion
Top Ten - Senior Breeding Stallion 7-up Breeders Sweepstakes

AHAC 2009 Danish National Championships
Top Ten - 8yr/o Stallions
Top Ten - Senior Breeding Stallion 7-up Breeders Sweepstakes

AHAC 2009 British National Championships
Top Ten - Senior Breeding Stallion 7-up Breeders Sweepstakes

AHAC 2009 Vilhelmsborg
Reserve Champion - Senior Breeding Stallion 7-up Breeders Sweeptakes
Top Ten - 8yr/o Stallions
Top Ten - Classic Head Sr Stallions
Top Ten - Mid-Level Jumper

AHAC 2009 St Petersburg Open
Reserve Champion - Mid-Level Jumper
Top Ten - Freestyle Dressage Sr Horses
Top Ten - Senior Breeding Stallion 7-up Breeders Sweepstakes

AHAC 2009 Asil Cup
Reserve Champion - Senior Breeding Stallion 7-up Breeders Sweepstakes
Top Ten - 8yr/o Stallions

AHAC 2009 Brussels Arabian Trophy
Champion - Senior Breeding Stallion 7-up Breeders Sweepstakes
Top Ten - 8yr/o Stallions
Top Ten - Mid-Level Jumper

AHAC 2009 Towerlands UK
Champion - Get of Sire
Champion - 1st Level Dressage
Top Ten - 8yr/o Stallions
Top Ten - Senior Breeding Stallion 7-up Breeders Sweepstakes

AHAC Elran Cup 2009
Reserve Champion - Most Classic Sr Stallion
Top Ten - 8yr/o Stallions
Top Ten - Get of Sire
Top Ten - Classic Head Sr Stallions
Top Ten - Senior Breeding Stallion 7-up Breeders Sweepstakes

AHAC 2009 Finnish National Championships
Reserve Champion - Senior Breeding Stallion 7-up Breeders Sweepstakes
Top Ten - 8yr/o Stallions

AHAC 2009 All Nations Cup
Top Ten - Get of Sire
Top Ten - Senior Breeding Stallion 7-up Breeders Sweepstakes

AHAC 2009 Merrist Wood
Champion - Classic Head Sr Stallions
Reserve Champion - Freestyle Dressage Sr Horses
Top Ten - 8yr/o Stallions
Top Ten - Get of Sire
Top Ten - Mid-Level Jumper
Top Ten - High Jumper
Top Ten - Senior Breeding Stallion 7-up Breeders Sweepstakes

AHAC 2009 Moroccon National Championships
Champion - 8yr/o Stallions
Reserve Champion - Senior Breeding Stallion 7-up Breeders Sweepstakes
National Reserve Champion Senior Stallion
Top Ten - Get of Sire
Top Ten - Mid-Level Jumper
Top Ten - High Jumper

AHAC 2009 Norwegian National Championships
Top Ten - 8yr/o Stallions
Top Ten - Classic Head Sr Stallions
Top Ten - Senior Breeding Stallion 7-up Breeders Sweepstakes

AHAC 2009 Saint Tropez Arabian Cup
Top Ten - Classic Head Sr Stallions
Top Ten - 1st Level Dressage
Top Ten - Senior Breeding Stallion 7-up Breeders Sweepstakes

AHAC 2009 Middle East Championships
Top Ten - Classic Head Sr Stallions
Top Ten - Mid-Level Jumper
Top Ten - Senior Breeding Stallion 7-up Breeders Sweepstakes

AHAC 2009 Sharjah
Top Ten - 8yr/o Stallions
Top Ten - Freestyle Dressage Sr Horses
Top Ten - Senior Breeding Stallion 7-up Breeders Sweepstakes

AHAC 2009 Verona National Championships
Top Ten - 8yr/o Stallions
Top Ten - Get of Sire
Top Ten - 1st Level Dressage
Top Ten - Senior Breeding Stallion 7-up Breeders Sweepstakes

AHAC 2009 European Championships Verona
Top Ten - Get of Sire
Top Ten - Classic Head Sr Stallions
Top Ten - Most Classic Sr Stallion
Top Ten - Mid-Level Jumper

AHAC 2009 Israeli Nationals
Champion - Freestyle Dressage Sr Horses
Top Ten - 8yr/o Stallions

AHAC 2009 Dutch National Championships
Top Ten - 8yr/o Stallions
Top Ten - Senior Breeding Stallion 7-up Breeders Sweepstakes

AHAC 2009 Salon Du Cheval
Top Ten - 8yr/o Stallions
Top Ten - Senior Breeding Stallion 7-up Breeders Sweepstakes

AHAC 2009 Egypt International
Top Ten - 1st Level Dressage
Top Ten - Mid-Level Jumper
Top Ten - Senior Breeding Stallion 7-up Breeders Sweepstakes

AHAC 2009 Brazilian Nationals
Champion - Get of Sire
Top Ten - Freestyle Dressage Sr Horses
Top Ten - Mid-Level Jumper
Top Ten - Senior Breeding Stallion 7-up Breeders Sweepstakes

AHAC 2010 Canadian Nationals
Champion - 9yr/o Stallions
National Champion Senior Stallion
Top Ten - 2nd Level Dressage
Top Ten - Senior Breeding Stallion 7-up Breeders Sweepstakes

AHAC 2010 Region I Championships
Reserve Champion - 9yr/o Stallions
Top Ten - Get of Sire
Top Ten - Senior Breeding Stallion 7-up Breeders Sweepstakes

AHAC 2010 Region II Championships
Reserve Champion - 2nd Level Dressage
Top Ten - 9yr/o Stallions
Top Ten - Get of Sire
Top Ten - High Jumper
Top Ten - Senior Breeding Stallion 7-up Breeders Sweepstakes

AHAC 2010 Ajman
Top Ten - 9yr/o Stallions
Top Ten - Classic Head Sr Stallions
Top Ten - Most Classic Sr Stallion

AHAC 2010 Abu Dhabi
Top Ten - 9yr/o Stallions
Top Ten - Get of Sire

AHAC 2010 Scottsdale
Reserve Champion - Most Classic Sr Stallion
Top Ten - 9yr/o Stallions
Top Ten - Get of Sire
Top Ten - High Jumper

AHAC 2010 Voghera
Reserve Champion - High Jumper
Top Ten - 9yr/o Stallions
Top Ten - Get of Sire
Top Ten - Classic Head Sr Stallions

AHAC 2010 Qatar International
Champion - 9yr/o Stallions
Top Ten - Get of Sire
Top Ten - 2nd Level Dressage
Top Ten - High Jumper

AHAC 2010 Egyptian National Championships
Champion - 9yr/o Stallions
Champion - Classic Head Sr Stallions
Top Ten - Get of Sire
Top Ten - Most Classic Sr Stallion
Top Ten - 2nd Level Dressage
Top Ten - High Jumper

AHAC 2010 Strohen International
Top Ten - 9yr/o Stallions
Top Ten - Get of Sire
Top Ten - High Jumper

AHAC 2010 Arabian Masters
Champion - Most Classic Sr Stallion
Reserve Champion - High Jumer
Top Ten - 9yr/o Stallions
Top Ten - Get of Sire
Top Ten - 2nd Level Dressage

AHAC 2010 US Nationals
Reserve Champion - 2nd Level Dressage
Top Ten - 9yr/o Stallions
Top Ten - Most Classic St Stallion
Top Ten - High Jumper
Top Ten - Senior Breeding Stallion 7-up Breeders Sweepstakes

AHAC 2010 Dubai International
Top Ten - 9yr/o Stallions
Top Ten - Get of Sire
Top Ten - High Jumper

AHAC 2010 Sharjah International
Champion - 2nd Level Dressage
Top Ten - 9yr/o Stallions
Top Ten - Get of Sire
Top Ten - High Jumper

AHAC 2010 Egyptian Event
Top Ten - 9yr/o Stallions
Top Ten - Get of Sire
Top Ten - Classic Head Sr Stallions
Top Ten - 2nd Level Dressage
Top Ten - High Jumper

AHAC 2010 Arabian Breeders World Cup
Top Ten - 9yr/o Stallions
Top Ten - Get of Sire
Top Ten - 2nd Level Dressage
Top Ten - High Jumper

AHAC 2010 Egyptian Event
Top Ten - 9yr/o Stallions
Top Ten - Get of Sire
Top Ten - Classic Head Sr Stallions
Top Ten - 2nd Level Dressage
Top Ten - High Jumper

AHAC 2010 Travagliato
Champion - 9yr/o Stallions
Champion - Classic Head Sr Stallions
International Reserve Champion Senior Stallion
Top Ten - Get of Sire
Top Ten - Most Classic Sr Stallion
Top Ten - 2nd Level Dressage
Top Ten - High Jumper

AHAC 2010 Wels International
Top Ten - 9yr/o Stallions
Top Ten - 2nd Level Dressage
Top Ten - High Jumper

AHAC 2010 Tulip Cup
Reserve Champion - 9yr/o Stallions

AHAC 2010 Austrian National Championships
Top Ten - 9yr/o Stallions
Top Ten - Get of Sire

AHAC 2010 Buckeye
Top Ten - 9yr/o Stallions
Top Ten - Get of Sire
Top Ten - High Jumper

AHAC 2010 Arabica
Top Ten - 9yr/o Stallions

AHAC 2010 Orientalica
Top Ten - 9yr/o Stallions

AHAC 2010 Egyptian Classic CUp
Reserve Champion - 9yr/o Stallions

AHAC 2010 Mooslargue
Champion - Most Classic Sr Stallion
Reserve Champion - 9yr/o Stallions
Reserve Champion - Get of Sire

AHAC 2010 Jordan National Championships
Champion - 9yr/o Stallions
National Champion Senior Stallions
Reserve Champion - High Jumper
Top Ten - Get of Sire
Top Ten - 2nd Level Dressage

AHAC 2010 Czech National Championships
Reserve Champion - High Jumper
Top Ten - 9yr/o Stallions

AHAC 2010 Emerald Trophy
Top Ten - 9yr/o Stallions
Top Ten - Get of Sire
Top Ten - Classic Head Sr Stallions
Top Ten - High Jumper

AHAC 2010 Scandinavian Open Championships
Reserve Champion - Most Classic Sr Stallion
Top Ten - 9yr/o Stallions
Top Ten - Get of Sire
Top Ten - High Jumper

AHAC 2010 Menton International
Champion - 9yr/o Stallions
International Reserve Champion Senior Stallion
Top Ten - 2nd Level Dressage
Top Ten - High Jumper

AHAC 2010 German Nationals
Top Ten - 9yr/o Stallions
Top Ten - Get of Sire
Top Ten - High Jumper

AHAC 2010 Vilhelmsborg
Champion - 9yr/o Stallions
Top Ten - 2nd Level Dressage
Top Ten - High Jumper

AHAC 2010 Danish National Championships
Top Ten - 9yr/o Stallions

AHAC 2010 British National Championships
Champion - 9yr/o Stallions

AHAC 2010 St Petersburg Open
Reserve Champion - Most Classic Sr Stallion
Reserve Champion - High Jumper

AHAC 2010 Brussels Arabian Trophy
Top Ten - 9yr/o Stallions
Top Ten - Get of Sire
Top Ten - High Jumper

AHAC 2010 Asil Cup
Top Ten - 9yr/o Stallions
Top Ten - Get of Sire

AHAC 2010 Elran Cup
Reserve Champion - 9yr/o Stallions
Top Ten - Get of Sire
Top Ten - Most Classic Sr Stallions

AHAC 2010 Towerlands UK
Top Ten - 9yr/o Stallions
Top Ten - Get of Sire
Top Ten - 2nd Level Dressage
Top Ten - High Jumper

AHAC 2010 Merrist Wood
Top Ten - 9yr/o Stallions
Top Ten - Most Classic Sr Stallion

AHAC 2010 All Nations Cup
Reserve Champion - 9yr/o Stallions

AHAC Finnish National Championships 2010
Top Ten - 9yr/o Stallions
Top Ten - Get of Sire
Top Ten - High Jumper

AHAC Moroccan National Championships 2010
Reserve Champion - High Jumper
Top Ten - 9yr/o Stallions

Niphredil Arabians Opening Classic
Top Ten - 9yr/o Stallions
Top Ten - Get of Sire

AHAC 2010 Norwegian National Championships
Champion - High Jumper
Top Ten - 9yr/o Stallions
Top Ten - Get of Sire

AHAC 2010 Middle East Championships
Top Ten - 9yr/o Stallions
Top Ten - Get of Sire
Top Ten - High Jumper

AHAC Saint Tropez Arabian Cup 2010
Top Ten - 9yr/o Stallions
Top Ten - Get of Sire

AHAC 2010 US Sporthorse Nationals
Reserve Champion - High Jumper

AHAC Israeli Nationals 2010
Champion - 9yr/o Stallions
Top Ten - Get of Sire
Top Ten - Classic Head Sr Stallions

AHAC Brazilian Nationals 2010
Top Ten - 9yr/o Stallions
Top Ten - Get of Sire

AHAC Egypt International 2010
Top Ten - 9yr/o Stallions
Top Ten - Get of Sire
Top Ten - Classic Head Sr Stallions
Top Ten - Most Classic Sr Stallion

AHAC Dutch National Championships 2010
Champion - Get of Sire
Top Ten - 9yr/o Stallions
Top Ten - High Jumper

AHAC European Championships Verona 2010
Reserve Champion - 9yr/o Stallions
Reserve Champion - Classic Head Sr Stallions
Top Ten - Get of Sire
Top Ten - Most Classic Sr Stallion
Top Ten - 2nd Level Dressage
Top Ten - High Jumper

AHAC Verona National Championships 2010
Reserve Champion - 9yr/o Stallions
Top Ten - Get of Sire
Top Ten - High Jumper

AHAC Sharjah 2010
Top Ten - 9yr/o Stallions
Top Ten - Get of Sire
Top Ten - 2nd Level Dressage
Top Ten - High Jumper