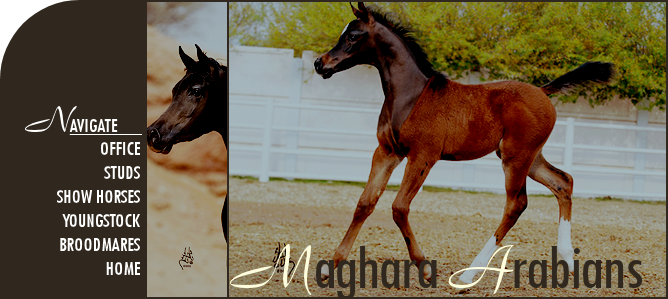 Otilusz M+//

2006 Chestnut Polish Arabian Mare
Competing in Introductory Dressage & Green Jumper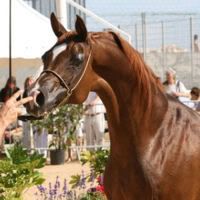 Otilusz is the newest addition to Maghara's AHAC show string, she is sired by a beautiful Polish stallion Sergiusz who is an AHAC Legion of Supreme Excellence titled stallion and owned by Melissa of Golden Eagle Farms. When we seen this stallion up for stud, we jumped at the chance to be able to breed this stallion to our own beautiful Fhantasy Ovation mare Elgwir Oles Fhantasy. We hope that this new filly will be a great asset to our show string and be just as successful as her sire and dam.




Sergiusz

Atticus
Monogramm
Kawlkada
Striking Sonata
Strike
WM Spanish Sonata

Elgwir Oles Fhantasy

Fhantasy Ovation
Applauz
Fantazia
Olesia
Ecaho
Orana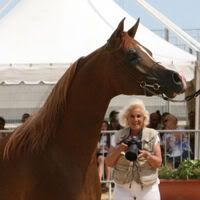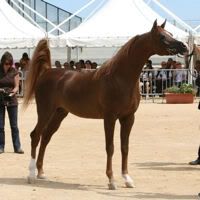 Progeny
None
Show Record
- 924 AHAC POINTS ll AHAC LEGION OF EXCELLENCE (+//)



AHAC 2009 Brussels Arabian Trophy
Top Ten - Introductory Dressage

AHAC 2009 Towerlands UK
Top Ten - Training Level Dressage

AHAC Elran Cup 2009
Top Ten - Filly Futurity

AHAC 2009 All Nations Cup
Top Ten - Filly Futurity

AHAC 2009 Merrist Wood
Top Ten - Introductory Dressage

AHAC 2009 Moroccon National Championships
Reserve Champion - Green Jumper
Top Ten - Filly Futurity

AHAC 2009 Norwegian National Championships
Top Ten - Green Jumper

AHAC 2009 Saint Tropez Arabian Cup
Champion - Green Jumper
Reserve Champion - Introductory Dressage

AHAC 2009 Sharjah
Reserve Champion - Filly Futurity
Reserve Champion - Green Jumper
National Futurity Reserve Champion

AHAC 2009 Verona National Championships
Top Ten - Filly Futurity
Top Ten - Introductory Dressage

AHAC 2009 Israeli Nationals
Champion - Green Jumper
Top Ten - Introductory Dressage

AHAC 2009 Salon Du Cheval
Reserve Champion - Filly Futurity

AHAC 2009 Egypt International
Top Ten - Filly Futurity

AHAC 2009 Brazilian Nationals
Top Ten - Filly Futurity
Top Ten - Green Jumper

AHAC 2010 Canadian Nationals
Reserve Champion - Green Jumper
Top Ten - 4yr/o Mares
Top Ten - Classic Head Jr Mares
Top Ten - Training Level Dressage

AHAC 2010 Region I Championships
Champion - Most Classic Jr Mare
Top Ten - 4yr/o Mares
Top Ten - Training Level Dressage
Top Ten - Green Jumper

AHAC 2010 Region II Championships
Champion - Most Classic Jr Mare
Top Ten - Training Level Dressage
Top Ten - Green Jumper

AHAC 2010 Ajman
Top Ten - 4yr/o Mares

AHAC 2010 Scottsdale
Top Ten - Training Level Dressage
Top Ten - Green Jumper

AHAC 2010 Voghera
Top Ten - Training Level Dressage

AHAc 2010 Qatar International
Top Ten - Classic Head Jr Mares
Top Ten - Most Classic Jr Mare
Top Ten - Training Level Dressage

AHAC 2010 Egyptian National Championships
Champion - 4yr/o Mares
Top Ten - Training Level Dressage

AHAC 2010 Strohen International
Reserve Champion - 4yr/o Mares
Top Ten - Most Classc Jr Mares
Top Ten - Training Level Dressage
Top Ten - Green Jumper

AHAC 2010 US Nationals
Top Ten - 4yr/o Mares
Top Ten - Training Level Dressage
Top Ten - Green Jumper

AHAC 2010 Dubai International
Reserve Champion - Green Jumper
Top Ten - Classic Head Jr Mares
Top Ten - Training Level Dressage

AHAC 2010 Sharjah International
Top Ten - Classic Head Jr Mares
Top Ten - Green Jumper

AHAC 2010 Arabian Breeders World Cup
Top Ten - Classic Head Jr Mares

AHAC 2010 Egyptian Event
Reserve Champion - 4yr/o Mares
Top Ten - Classic Head Jr Mares
Top Ten - Most Classic Jr Mare
Top Ten - Green Jumper

AHAC 2010 Travagliato
Reserve Champion - Classic Head Jr Mares
Reserve Champion - Training Level Dressage
Top Ten - Most Classic Jr Mare
Top Ten - Green Jumper

AHAC 2010 Wels International
Top Ten - Green Jumper

AHAC 2010 Tulip Cup
Top Ten - Classic Head Jr Mares
Top Ten - Green Jumper

AHAC 2010 Austrian National Championships
Top Ten - 4yr/o Mares
Top Ten - Green Jumper

AHAC 2010 Buckeye
Top Ten - 4yr/o Mares
Top Ten - Most Classic Jr Mares
Top Ten - Training Level Dressage

AHAC 2010 Egyptian Classic Cup
Top Ten - 4yr/o Mares

AHAC 2010 Czech National Championships
Top Ten - Training Level Dressage

AHAC 2010 Emerald Trophy
Reserve Champion - Most Classic Jr Mare
Top Ten - 4yr/o Mares

AHAC 2010 Scandinavian Open Championships
Top Ten - 4yr/o Mares
Top Ten - Green Jumper

AHAC 2010 Menton International
Top Ten - Green Jumper

AHAC 2010 German Nationals
Champion - Most Classic Jr Mare
Top Ten - 4yr/o Mares
Top Ten - Training Level Dressage
Top Ten - Green Jumper

AHAC 2010 Vilhelmsborg
Top Ten - Green Jumper

AHAC 2010 British National Championships
Top Ten - 4yr/o Mares
Top Ten - Classic Head Jr Mares

AHAC 2010 St Petersburg Open
Top Ten - Most Classic Jr Mare
Top Ten - Training Level Dressage

AHAC 2010 Towelands UK
Top Ten - Training Level Dressage

AHAC Finnish National Championships 2010
Top Ten - Most Classic Jr Mare
Top Ten - Training Level Dressage
Top Ten - Green Jumper

AHAC Moroccan National Championships 2010
Top Ten - 4yr/o Mares
Top Ten - Green Jumper

AHAC 2010 Norwegian National Championships
Top Ten - Training Level Dressage

AHAC 2010 Middle East Championships
Top Ten - Training Level Dressage

AHAC Saint Tropez Arabian Cup 2010
Top Ten - 4yr/o Mares
Top Ten - Classic Head Jr Mares
Top Ten - Most Classic Jr Mare

AHAC Brazilian Nationals 2010
Top Ten - Classic Head Jr Mares

AHAC Egypt International 2010
Top Ten - Classic Head Jr Mares

AHAC Dutch National Championships 2010
Reserve Champion - Most Classic Jr Mare
Top Ten - 4yr/o Mares
Top Ten - Classic Head Jr Mares

AHAC European Championships Verona 2010
Top Ten - Most Classic Jr Mare

AHAC Verona National Championships 2010
Top Ten - 4yr/o Mares
Top Ten - Training Level Dressage

AHAC Sharjah 2010
Top Ten - Green Jumper

AHAC Salon Du Cheval 2010
Top Ten - 4yr/o Mares