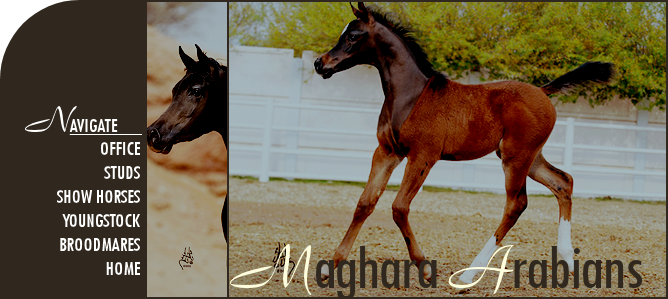 Pelator O++++

2006 Bay Polish Arabian Mare
Competing in Sporthorse In-Hand, Sporthorse Under Saddle & Introductory Dressage
Pelator is a beautiful young mare with a great chance of becoming one of the best mares in the AHAC. She is sired by Oak Nereeno's own stallion Furak Riat and out of their beautiful mare Pelagia. We jumped at chance to be able to purchase this beautiful filly when she was just a 2yr/o unshown filly, She has been shown quite extensivly since the time of her purchase and she is now a Legion of Supreme Merit titled futurity mare, with many champion and reserve champion places under her belt.




Furak Riat

Furiat
Monogramm
Furora
Alkalia
Probat
Alka

Pelagia

Cammotion
Promotion
Capua
Peptyka
Strike
Poznan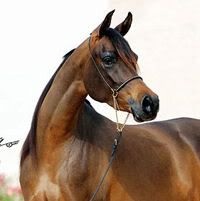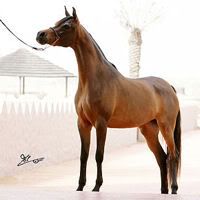 Progeny
None
Show Record
- 1442 AHAC POINTS ll AHAC LEGION OF MASTERS (++++)

- AHAC NOMINATED BREEDING ENTRY



AHAC 2008 Region 2 Championships
Top Ten - Most Classic Fillies
Top Ten - Sporthorse Fillies In-Hand

Maghara Arabian Halter Show 2008
Top Ten - 2yr/o Fillies
Top Ten - Classic Head Fillies

AHAC Ajman National Show 2008
Top Ten - Sporthorse Fillies In-Hand

AHAC Abu Dhabi 2008
Top Ten - Most Classic Filly

AHAC Scottsdale Arabian Horse Show 2008
Top Ten - 2yr/o Fillies

AHAC 2008 Egyptian National Championships
Top Ten - Sporthorse Fillies In-Hand

AHAC 2008 Dubai International
Top Ten - 2yr/o Fillies
Top Ten - Most Classic Filly

AHAC 2008 Arabian Masters
Top Ten - 2yr/o Fillies

AHAC 2008 Sharjah International
Top Ten - Classic Head Fillies
Top Ten - Sporthorse Fillies In-Hand

AHAC Arabian Breeders World Cup 2008
Top Ten - Weanling Filly Breeders Sweepstakes
Top Ten - Classic Head Fillies
Top Ten - Most Classic Filly
Top Ten - Sporthorse Fillies In-Hand

AHAC 2008 US Nationals
Reserve Champion - Weanling Filly Breeders Sweepstakes

AHAC 2008 Buckeye
Top Ten - Sporthorse Fillies In-Hand

Pheonix Halter Show 2008
Champion - Classic Head Fillies
Top Ten - 2yr/o Fillies
Top Ten - Most Classic Filly

2008 AHAC Jordan Nationals
Top Ten - Classic Head Fillies
Top Ten - Most Classic Filly
Top Ten - Sporthorse Fillies In-Hand

AHAC 2008 German Nationals
Top Ten - 2yr/o Fillies

AHAC 2008 Menton International
Top Ten - 2yr/o Fillies
Top Ten - Classic Head Fillies
Top Ten - Sporthorse Fillies In-Hand

AHAC Emerald Trophy 2008
Top Ten - 2yr/o Fillies
Top Ten - Most Classic Filly

AHAC 2008 Asil Cup
Top Ten - Classic Head Fillies

AHAC Mooslargue 2008
Top Ten - Classic Head Fillies

AHAC Towerlands UK 2008
Top Ten - 2yr/o Fillies

AHAC British National Championships 2008
Champion - 2yr/o Fillies
Reserve Champion - Produce of Dam

AHAC Finnish National Championships 2008
Top Ten - 2yr/o Fillies

AHAC Vilhelmsborg 2008
Champion - 2yr/o Fillies
International Reserve Champion Filly
Top Ten - Produce of Dam
Top Ten - Classic Head Fillies

AHAC Polish National Show
Champion - 2yr/o Fillies
Top Ten - Produce of Dam
Top Ten - Classic Head Fillies
Top Ten - Most Classic Filly

AHAC Dutch Nationals 2008
Top Ten - Produce of Dam

AHAC European Championships Verona 2008
Champion - Classic Head Fillies
Top Ten - 2yr/o Fillies
Top Ten - Produce of Dam

AHAC St Petersburg Open 2008
Champion - Most Classic Filly
Most Classic Arabian

AHAC Salon Du Cheval 2008
Top Ten - Classic Head Fillies
Top Ten - 2yr/o Filly Breeders Sweepstakes

AHAC Sharjah 2008
Top Ten - Most Classic Filly

AHAC Region One Championships 2009
Top Ten - Sporthorse Fillies In-Hand

AHAC Ajman National Show 2009
Top Ten - Sporthorse Under Saddle Futurity

AHAC Scottsdale Arabian Horse Show 2009
Reserve Champion - Sporthorse Fillies In-Hand

AHAC Voghera 2009
Top Ten - Sporthorse Under Saddle Futurity

AHAC Qatar International 2009
Reserve Champion - Sporthorse Under Saddle Futurity
Top Ten - Filly Futurity

AHAC Egyptian National Championships 2009
Top Ten - Filly Futurity

AHAC Arabian Masters 2009
Top Ten - Filly Futurity

AHAC 2009 Sharjah
Top Ten - Sporthorse Fillies In-Hand

AHAC 2009 Arabian Breeders World Cup
Top Ten - Freestyle Dressage Jr Horses

AHAC 2009 US Nationals
Champion - Freestyle Dressage Jr Horse
Top Ten - Sporthorse Fillies In-Hand

AHAC Travagliato 2009
Champion - Junior Breeding Mare 3-6 Breeders Sweepstakes

AHAC 2009 Wels International
Top Ten - Junior Breeding Mare 3-6 Breeders Sweepstakes

AHAC 2009 Tulip Cup
Top Ten - Filly Futurity

AHAC 2009 Buckeye
Top Ten - Sporthorse Fillies In-Hand

AHAC 2009 Jordan National Championships
Top Ten - Freestyle Dressage Jr Horses

AHAC 2009 Czech National Championships
Reserve Champion - Junior Breeding Mare 3-6 Breeders Sweepstakes
Top Ten - Filly Futurity
Top Ten - Freestyle Dressage Jr Horses

AHAC 2009 German Nationals
Top Ten - Sporthorse Under Saddle Futurity
Top Ten - Freestyle Dressage Jr Horses

AHAC 2009 Menton International
Top Ten - Sporthorse Fillies In-Hand
Top Ten - Freestyle Dressage Jr Horses
Top Ten - Junior Breeding MAre 3-6 Breeders Sweepstakes

AHAC 2009 Orientalica
Top Ten - Filly Futurity

AHAC 2009 Emerald Trophy
Top Ten - Filly Futurity

AHAC 2009 Scandinavian Open Championships
Reserve Champion - Freestyle Dressage Jr Horses
Top Ten - Filly Futurity
Top Ten - Sporthorse Under Saddle Futurity

AHAC 2009 Vilhelmsborg
Top Ten - Freestyle Dressage Jr Horses
Top Ten - Junior Breeding Mare 3-6 Breeders Sweepstakes

AHAC 2009 Asil Cup
Top Ten - Junior Breeding Mare 3-6 Breeders Sweepstakes

AHAC 2009 Towerlands UK
Champion - Sporthorse Fillies In-Hand
Top Ten - Filly Futurity
Top Ten - Sporthorse Under Saddle Futurity

AHAC 2009 Finnish National Championships
Top Ten - Junior Breeding Mare 3-6 Breeders Sweepstakes

AHAC 2009 All Nations Cup
Top Ten - Junior Breeding Mare 3-6 Breeders Sweepstakes

AHAC 2009 Merrist Wood
Top Ten - Freestyle Dressage Jr Horses
Top Ten - Junior Breeding Mare 3-6 Breeders Sweepstakes

AHAC 2009 Moroccon National Championships
Top Ten - Freestyle Dressage Jr Horses

AHAC 2009 Middle East Championships
Top Ten - Junior Breeding Mare 3-6 Breeders Sweepstakes

AHAC 2009 Verona National Championships
Top Ten - Sporthorse Under Saddle Futurity

AHAC 2009 European Championships Verona
Top Ten - Filly Futurity

AHAC 2009 Dutch National Championships
Top Ten - Filly Futurity

AHAC 2009 Egypt International
Top Ten - Sporthorse Fillies In-Hand
Top Ten - Junior Breeding Mare 3-6 Breeders Sweepstakes

AHAC 2009 Brazilian Nationals
Top Ten - Sporthorse Fillies In-Hand
Top Ten - Sporthorse Under Saddle Futurity
Top Ten - Freestyle Dressage Jr Horses

AHAC 2010 Region I Championships
Reserve Champion - Training Level Dressage
Top Ten - 4yr/o Mares

AHAC 2010 Region II Championships
Top Ten - 4yr/o Mares
Top Ten - Training Level Dressage
Top Ten - Junior Breeding Mare 3-6 Breeders Sweepstakes

AHAC 2010 Ajman
Reserve Champion - 4yr/o Mares

AHAC 2010 Scottsdale
Reserve Champion - Training Level Dressage
Top Ten - Junior Sporthorse Mares In-Hand

AHAC 2010 Voghera
Top Ten - 4yr/o Mares
Top Ten - Training Level Dressage

AHAC 2010 Qatar International
Top Ten - 4yr/o Mares
Top Ten - Junior Sporthorse Mares In-Hand

AHAC 2010 Egyptian National Championships
Top Ten - 4yr/o Mares

AHAC 2010 Strohen International
Reserve Champion - Junior Sporthorse Mares In-Hand
Top Ten - 4yr/o Mares
Top Ten - Sporthorse Under Saddle Jr Horse

AHAC 2010 Dubai International
Top Ten - 4yr/o Mares
Top Ten - Sporthorse Under Saddle Jr Horse

AHAC 2010 Sharjah International
Top Ten - 4yr/o Mares
Top Ten - Junior Sporthorse Mares In-Hand

AHAC 2010 Arabian Breeders World Cup
Reserve Champion - Training Level Dressage

AHAC 2010 Egyptian Event
Top Ten - Training Level Dressage

AHAC 2010 Travagliato
Top Ten - 4yr/o Mares
Top Ten - Training Level Dressage

AHAC 2010 Wels International
Top Ten - 4yr/o Mares

AHAC 2010 Tulip Cup
Reserve Champion - Training Level Dressage
Top Ten - Junior Sporthorse Mares In-Hand

AHAC 2010 Buckeye
Top Ten - Training Level Dressage

AHAC 2010 Orientalica
Top Ten - 4yr/o Mares

AHAC 2010 Mooslargue
Top Ten - 4yr/o Mares

AHAC 2010 Jordan National Championships
Top Ten - Sporthorse Under Saddle Jr Horse
Top Ten - Training Level Dressage

AHAC 2010 Emerald Trophy
Champion - 4yr/o Mares
Top Ten - Sporthorse Under Saddle Jr Horse

AHAC 2010 Scandinavian Open Championships
Top Ten - 4yr/o Mares
Top Ten - Junior Sporthorse Mares In-Hand
Top Ten - Sporthorse Under Saddle Jr Horse
Top Ten - Training Level Dressage

AHAC 2010 German Nationals
Top Ten - Junior Sporthorse Mares In-Hand
Top Ten - Sporthorse Under Saddle Jr Horse
Top Ten - Training Level Dressage

AHAC 2010 Vilhelmsborg
Top Ten - Sporthorse Under Saddle Jr Horse
Top Ten - Training Level Dressage

AHAC 2010 Brussels Arabian Trophy
Top Ten - Training Level Dressage

AHAC 2010 Asil Cup
Top Ten - 4yr/o Mares

AHAC 2010 Elran Cup
Top Ten - 4yr/o Mares

AHAC 2010 Towerlands UK
Top Ten - Training Level Dressage

AHAC 2010 All Nations Cup
Reserve Champion - 4yr/o Mares

AHAC Finnish National Championships 2010
Top Ten - Junior Sporthorse Mares In-Hand
Top Ten - Training Level Dressage

AHAC Moroccan National Championships 2010
Top Ten - Training Level Dressage

AHAC 2010 Norwegian National Championships
Top Ten - Sporthorse Under Saddle Jr Horse
Top Ten - Training Level Dressage

AHAC Saint Tropez Arabian Cup 2010
Top Ten - 4yr/o Mares

AHAC 2010 US Sporthorse Nationals
Top Ten - Sporthorse Under Saddle Jr Horsr

AHAC Israeli Nationals 2010
Top Ten - 4yr/o Mares

AHAC Egypt International 2010
Top Ten - 4yr/o Mares

AHAC Dutch National Championships 2010
Top Ten - Training Level Dressage

AHAC European Championships Verona 2010
Top Ten - 4yr/o Mares
Top Ten - Training Level Dressage

AHAC Verona National Championships 2010
Top Ten - 4yr/o Mares
Top Ten - Sporthorse Under Saddle Jr Horse

AHAC Sharjah 2010
Reserve Champion - Training Level Dressage
Top Ten - Sporthorse Under Saddle Jr Horse

AHAC Salon Du Cheval 2010
Top Ten - 4yr/o Mares