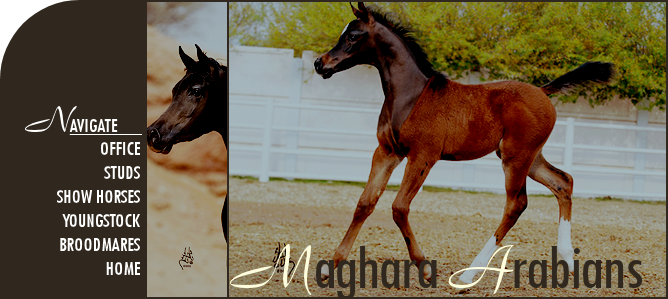 BT Phantastyke++++

2004 Chestnut Domestic Arabian Stallion
Competing in Western Riding & Reining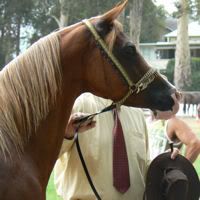 BT Phantastyke is a colt of another story. He is beautiful, elegant, and has the most graceful and fluent movements that you'll run across. Phantastyke was named after his father, G Phantastique, who was a brilliant Golden Bay Acres and Dahabu Arabians hombred. We love this little guy because he has the blood that we've been looking for in an upcoming sire. He has brilliant written all over him. We are thrilled to have bred a colt with such a reputable background. Also in his pedigree, one of the most fabulous horses of all, WA Enchantment+++/, who is stabled at the well-known Windblown Arabians. Having such valuable SIM lines in his background has been a blessing. Phantastyke has recently rejoined our roster and we're thrilled to get the new year started off with his showing. Perhaps one day he'll be as famous as the horses in his background.
G Phantastique

Pherazzon
Pharazzon
Ferlai
Dahabu Nahoo
WA Enchantment
Ebony Dreams

BT Pherzaamcus

Aamir Dreamaar
Dreamazon
Tsea Note
BT Borwaycus
Atticus
Borjczky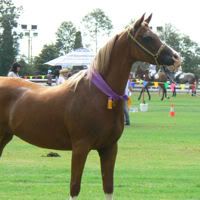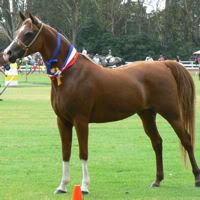 Progeny
BT Phanatyke+, 2007 Domestic Arabian Colt out of BT Ezmeralda

Show Record
- 1650 AHAC POINTS ll AHAC LEGION OF MASTERS (++++)



2005 Fall Arabian Classic
Top Ten - Yearling Colts

WF Oktober Invitational 2005
Top Ten - 2004 Arabian & Half-Arabian

ASAHA European Championships 2005
Top Five - Yearling Colts

2005 ASAHA All Nations Cup
Top Ten - Yearling Colts

2005 ASAHA Elran Cup
Top Ten - Yearling Colts

2005 ASAHA Towerlands UK
Top Ten - Yearling Colts

2005 ASAHA Region 7 Championships
Top Ten - Yearling Colts

2005 ASAHA Region 1 Championships
Top Five - Yearling Colts

2006 Blackthorn Hills May Invitational
Top Ten - Two Year Old Colt Futurity

2006 Goldenrod Arabian Show
Top Ten - Two Year Old Colt Futurity

2006 Fadil Arabian Show
Top Ten - 2004 Arabian & Half-Arabian Halter
Top Ten - Arabian & Half-Arabian At Liberty

2006 Haalim Arabian Invitational
Top Ten - Two to Three Year Old Stallion

ASAHA Vilhelmsborg 2006
Reserve Champion - Two Year Old Colts

2006 ASAHA Region 2 Championships
Top Ten - Two Year Old Colts

2006 ASAHA Hamburg Classic
Top Ten - Two Year Old Colts

AHAC 2006 Dubai International
Top Ten - Two Year Old Colts

AHAC 2006 Salon du Cheval
Top Ten - Two Year Old Colts
Top Ten G2 - Most Classic Colts

AHAC Sharjah 2006
Top Ten - Two Year Old Colts

AHAC Emerald Trophy 2006
Top Ten - Two Year Old Colts

AHAC Asil Cup 2006
Top Ten G2 - Two Year Old Colts

AHAC 2007 Region 1 Championships
Regional Futurity Champion
Champion - Colt Futurity
Top Ten - Western Pleasure Futurity
Top Ten - Reining Futurity
Top Ten - Freestyle Reining

The Haakim Cup 2007
Top Ten - Colt Futurity

2007 Blackthorn Hills Homebred Invitational
Reserve Champion - Junior Breeding Stallion

AHAC 2007 Region 2 Championships
Top Ten - Western Pleasure Futurity
Top Ten - Reining Futurity
Top Ten G2 - Freestyle Reining
Top Ten G2 - Colt Futurity

AHAC 2007 Ajman
Champion - Colt Futurity

2007 Blackthorn Hills Homebred Invitational II
Top Ten - Junior Breeding Stallion

AHAC 2007 Scottsdale Show
Reserve Champion - Reining Futurity
Top Ten - Colt Futurity
Top Ten - Western Pleasure Futurity
Top Ten G2 - Freestyle Reining

AHAC 2007 Qatar International
Champion - Western Pleasure Futurity
Champion - Freestyle Reining
Top Ten - Reining Futurity
Top Ten G2 - Colt Futurity
Top Ten G8 - Classic Head Stallions

AHAC 2007 Egyptian National Championships
Reserve Champion - Reining Futurity
Top Ten G2 - Colt Futurity
Top Ten G4 - Freestyle Reining
Top Ten G6 - Classic Head Stallions

AHAC 2007 Sharjah International
Reserve Champion - Reining Futurity
Top Ten - Western Pleasure Futurity
Top Ten - Freestyle Reining

BT Sitwat Arabian Show 2007
Top Ten - Colt Futurity

Badi Arabian Event 2007
Top Ten - Colt Futurity

AHAC 2007 U.S. Nationals
Reserve Champion - Western Pleasure Futurity
Top Ten - Reining Futurity
Top Ten - Freestyle Reining

AHAC Arabian Breeders World Cup 2007
Top Ten - Western Pleasure Futurity
Top Ten - Reining Futurity
Top Ten - Colt Futurity
Top Ten - Freestyle Reining

AHAC Wels International 2007
Top Ten - Colt Futurity

AHAC Jordan National Championships 2007
ResChampion - Reining Futurity
Top Ten - Colt Futurity
Top Ten - Western Pleasure Futurity
Top Ten - Reining Freestyle

AHAC Menton International 2007
Top Ten - Western Pleasure Futurity
Top Ten - Reining Futurity

AHAC German National Championships 2007
Champion - Western Pleasure Futurity
Top Ten - Reining Futurity

AHAC Emerald Trophey 2007
Reserve Champion - Reining Futurity
Top Ten - Colt Futurity
Top Ten - Western Pleasure Futurity

AHAC Scand-avian Open Championships 2007
Champion - Reining Futurity
Reserve Champion - Colt Futurity
Top Ten - Western Pleasure Futurity

Galal Futurity Series I 2007
Champion - Reining Futurity
Top Ten - Colt Futurity
Top Ten - Western Pleasure Futurity

AHAC Mooslargue 2007
Reserve Champion - Reining Futurity
Top Ten - Colt Futurity
Top Ten - Western Pleasure Futurity

AHAC Vilhelmsborg 2007
Reserve Champion - Western Pleasure Futurity
Top Ten - Colt Futurity
Top Ten - Reining Futurity

AHAC Danish National Championships 2007
International Champion Futurity Horse
Champion - Colt Futurity
Top Ten - Western Pleasure Futurity
Top Ten - Reining Futurity

Akmal Arabians Extravaganza 2007
Champion - Western Pleasure Futurity
Reserve Champion - Reining Futurity
Top Ten - Colt Futurity

SAI's Sliding Stop Reining Show 2007
10th - Arabian Reining

SAI's Shark Bait Western Pleasure Show 2007
7th - Arabian Western Pleasure

SAI's Western Elegance Reining Show
Reserve Champion - Arabian Reining

AHAC British National Championships 2007
Reserve Champion - Reining Fututrity
Top Ten - Western Pleasure Futurity

AHAC St Petersburg Open 2007
Top Ten - Western Pleasure Futurity
Top Ten - Reining Futurity

AHAC Asil Cup 2007
Top Ten - Colt Futurity

Southern Acres Inc Arabian Show I 2007
Champion - Reining Futurity
Reserve Champion - Western Pleasure Futurity
Top Ten - Colt Futurity

AHAC Brussels Arabian Trophey 2007
Champion - Western Pleasure Futurity
Champion - Reining Futurity

AHAC Towerlands UK 2007
Top Ten - Colt Futurity

Galal Futurity Series III 2007
Champion - Reining Futurity
Reserve Champion - Colt Futurity
Reserve Champion - Western Pleasure Futurity

Kingsgate Arabian Show 2007
Top Ten - Colt Futurity

AHAC All Nations Cup 2007
Top Ten - Colt Futurity

AHAC Merrist Wood 2007
Champion - Western Pleasure Futurity
Top Ten - Reining Futurity
Top Ten - Colt Futurity

AHAC Elran Cup 2007
Top Ten - Colt Futurity

AHAC 2007 European Championships
Champion - Western Pleasure Futurity
Top Ten - Reining Futurity
Top Ten - Freestyle Reining

2007 AHAC Israeli National Championships
Top Ten - Colt Futurity

2007 Blackthorn Hills Homebred Invitational III
Top Ten - Junior Breeding Stallion

BT Rizwana Arabian Spectacular 2007
Reserve Champion - Colt Futurity

AHAC 2007 Egypt International
Top Ten - Western Pleasure Futurity
Top Ten - Reining Futurity

AHAC 2007 Salon Du Cheval
Top Ten - Colt Futurity

AHAC 2007 Brazilian National Championships
Top Ten - Western Pleasure Futurity
Top Ten - Reining Futurity
Top Ten - Freestyle Reining

AHAC Sharjah 2007
Top Ten - Western Pleasure Futurity
Top Ten - Reining Futurity
Top Ten - Freestyle Reining

AHAC 2008 Region 1 Championships
Top Ten - Western Riding Jr. Horse
Top Ten - Reining Jr. Horse
Top Ten - Freestyle Reining

AHAC 2008 Canadian Nationals
Top Ten - Western Riding Jr. Horse
Top Ten - Freestyle Reining

AHAC 2008 Region 2 Championships
Top Ten - Western Riding Jr. Horse
Top Ten - Freestyle Reining

AHAC Ajman National Show 2008
Top Ten - Western Riding Jr. Horse

AHAC Scottsdale Arabian Horse Show 2008
Top Ten - Western Riding Jr. Horse
Top Ten - Reining Jr. Horse
Top Ten - Freestyle Reining

AHAC 2008 Egyptian National Championships
Top Ten - Western Riding Jr. Horse

AHAC 2008 Dubai International
Top Ten - Four Year Old Stallions

AHAC 2008 Arabian Masters
International Reserve Champion Junior Stallion
Champion - Four Year Old Stallions

AHAC Qatar International 2008
Champion - Western Riding Jr. Horse

AHAC 2008 Sharjah International
Reserve Champion - Western Riding Jr. Horse
Top Ten - Reining Jr. Horse
Top Ten - Freestyle Reining

AHAC Arabian Breeders World Cup 2008
Reserve Champion - Reining Jr. Horse
Top Ten - Four Year Old Stallions
Top Ten - Western Riding Jr. Horse
Top Ten - Freestyle Reining

AHAC 2008 US Nationals
Reserve Champion - Western Riding Jr Horse
Top Ten - Reining Jr Horse
Top Ten - Freestyle Reining

AHAC 2008 Wels International
Top Ten - Four Year Old Stallions

AHAC 2008 Travagliato
International Reserve Champion Junior Stallion
Champion - Four Year Old Stallions

AHAC Region I Championships 2009
Top Ten - 5yr/o Stallions
Top Ten - Western Riding Jr Horse

AHAC Ajman National Show 2009
Champion - 5yr/o Stallions
Top Ten - Western Riding Jr Horse
Top Ten - Reining Jr Horse

AHAC Scottsdale Arabian Horse Show 2009
Top Ten - 5yr/o Stallions
Top Ten - Western Riding Jr Horse

AHAC Voghera 2009
Top Ten - 5yr/o Stallions
Top Ten - Western Riding Jr Horse

AHAC Blackthorn Hills Homebred Classic 2009
Top Ten - 5yr/o Horses

AHAC Qatar International 2009
Top Ten - Western Riding Jr Horse

AHAC Egyptian National Championships 2009
Top Ten - 5yr/o Stallions
Top Ten - Western Riding Jr Horse
Top Ten - Reining Jr Horse

AHAC 2009 Dubai International
Top Ten - 5yr/o Stallions

AHAC Arabian Masters 2009
Top Ten - 5yr/o Stallions

AHAC 2009 Strohen International
Top Ten - Classic Head Jr Stallions

AHAC 2009 US Nationals
Reserve Champion - Most Classic Jr Stallion
Top Ten - 5yr/o Stallions
Top Ten - Classic Head Jr Stallions
Top Ten - Western Riding Jr Horse
Top Ten - Reining Jr Horse

AHAC Travagliato 2009
Champion - Most Classic Jr Stallion
Top Ten - 5yr/o Stallions

AHAC 2009 Sharjah
Top Ten - Classic Head Jr Stallion
Top Ten - Most Classic Jr Stallion
Top Ten - Western Riding Jr Horse

AHAC 2009 Arabian Breeders World Cup
Top Ten - Classic Head Jr Stallions
Top Ten - Western Riding Jr Horse

AHAC 2009 Arabica
Top Ten - Reining Jr Horse

AHAC 2009 Buckeye
Top Ten - 5yr/o Stallions
Top Ten - Classic Head Jr Stallions
Top Ten - Most Classic Jr Stallion
Top Ten - Reining Jr Horse

AHAC 2009 Austrian National Championships
Top Ten - 5yr/o Stallions

AHAC 2009 Jordan National Championships
Champion - Western Riding Jr Horse
Top Ten - Most Classic Jr Stallion

AHAC 2009 Czech National Championships
Champion - Most Classic Jr Stallions
Champion - Western Riding Jr Horse
Reserve Champion - 5yr/o Stallions

AHAC 2009 German Nationals
Top Ten - Western Riding Jr Horse
Top Ten - Reining Jr Horse

AHAC 2009 Menton International
Champion - Western Riding Jr Horse
Top Ten - Reining Jr Horse

AHAC 2009 Emerald Trophy
Champion - Classic Head Jr Stallions
Top Ten - Most Classic Jr Stallion
Top Ten - Western Riding Jr Horse
Top Ten - Reining Jr Horse

AHAC 2009 Scandinavian Open Championships
Reserve Champion - Western Riding Jr Horse
Top Ten - 5yr/o Stallions

AHAC 2009 Mooslargue
Top Ten - 5yr/o Stallions
Top Ten - Classic Head Jr Stallions

AHAC 2009 British National Championships
Reserve Champion - Most Classic Jr Stallion
Top Ten - Classic Head Jr Stallions

AHAC 2009 Vilhelmsborg
Top Ten - Classic Head Jr Stallions
Top Ten - Most Classic Jr Stallion
Top Ten - Western Riding Jr Horse
Top Ten - Reining Jr Horse

AHAC 2009 St Petersburg Open
Champion - Classic Head Jr Stallions
Top Ten - 5yr/o Stallions
Top Ten - Western Riding Jr Horse
Top Ten - Reining Jr Horse

AHAC 2009 Brussels Arabian Trophy
Top Ten - 5yr/o Stallions
Top Ten - Western Riding Jr Horse

AHAC 2009 Towerlands UK
Champion - Classic Head Jr Stallions
Top Ten - Western Riding Jr Horse