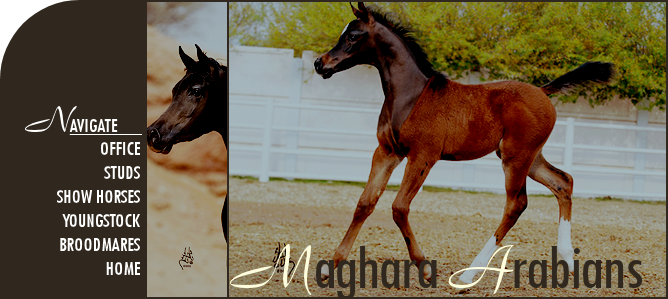 Sasstany M++++

2008 Grey Polish Arabian Filly
Competing in Introductory Dressage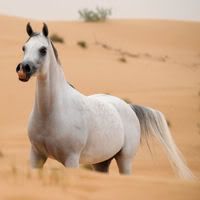 Sasstany is a beautiful young filly with a beautifully successful pedigree including the stunning grey stallion Sass owned by Nat of Ourania Arabians and out of our stunning Fantasy Ovation daughter Elgwir Oles Fhantasy. She was born last year and was quickly entered in the first running of the Road to the Legions program within the AHAC. She however wasn't placed within the program but still gained much experience thoughout the program. A year on and she is more beautiful than ever and doing well within the AHAC events of the past 6 months.
Sass

Ecaho
Pepton
Etruria
Samoa
Europejczyk
Saszetka

Elgwir Oles Fhantasy

Fhantasy Ovation
Applauz
Fantazia
Olesia
Ecaho
Orana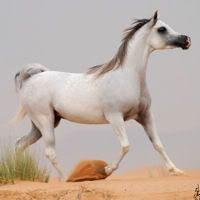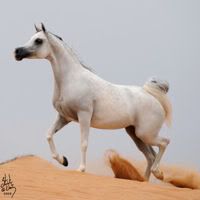 Progeny
None
Show Record
- 1836 AHAC POINTS ll AHAC LEGION OF MASTERS (++++)
- 311 AHAC ROAD TO THE LEGIONS POINTS

- AHAC NOMINATED MARE
- AHAC NOMINATED BREEDING ENTRY



AHAC 2008 Region 1 Championships
Top Ten - Road to the Legions Filly

AHAC 2008 Canadian Nationals
Top Ten - Road to the Legions Filly

AHAC 2008 Region 2 Championships
Top Ten - Road to the Legions Filly

AHAC Ajman National Show 2008
Top Ten - Road to the Legions Filly

AHAC Abu Dhabi 2008
Top Ten - Road to the Legions Filly

AHAC Scottsdale Arabian Horse Show 2008
Reserve Champion - Road to the Legions Filly

AHAC 2008 Strohen International
Top Ten - Road to the Legions Filly

AHAC 2008 Dubai International
Top Ten - Road to the Legions Filly

AHAC 2008 Sharjah International
Reserve Champion - Road to the Legions Filly

AHAC Arabian Breeders World Cup 2008
Top Ten - Road to the Legions Filly

AHAC Qatar International 2008
Top Ten - Road to the Legions Filly

AHAC 2008 Wels International
Top Ten - Road to the Legions Filly

AHAC 2008 Tulip Cup
Top Ten - Road to the Legions Filly

AHAC 2008 Buckeye
Top Ten - Road to the Legions Filly

AHAC 2008 Orientalica
Top Ten - Road to the Legions Filly

2008 AHAC Jordan Nationals
Top Ten - Road to the Legions Filly

AHAC Czech Nationals 2008
Top Ten - Road to the Legions Filly

AHAC Menton International 2008
Champion - Road to the Legions Filly

AHAC Vilhelmsborg 2008
Top Ten - Road to the Legions Filly

AHAC British Nationals 2008
Top Ten - Road to the Legions Filly

AHAC Asil Cup 2008
Top Ten - Road to the Legions Filly

AHAC Brussels Arabian Trophy 2008
Top Ten - Road to the Legion Filly

AHAC Elran Cup 2008
Top Ten - Road to the Legions Filly

AHAC Finnish Nationals 2008
Top Ten - Road to the Legions Filly

AHAC All Nations Cup 2008
Top Ten - Road to the Legions Filly

AHAC Morrocan Nationals 2008
Top Ten - Road to the Legions Filly

AHAC US Sporthorse Nationals 2008
Top Ten - Road to the Legions Filly

AHAC Norwegian Nationals 2008
Top Ten - Road to the Legions Filly

AHAC Sait-Tropez Arabian Cup 2008
Top Ten - Road to the Legions Filly

AHAC Middle East Championships 2008
Top Ten - Road to the Legions Filly

AHAC Dutch Nationals 2008
Top Ten - Road to the Legions Filly

AHAC European Champpionships Verona 2008
Top Ten - Road to the Legions Filly

AHAC Egypt International 2008
Top Ten - Road to the Legions Filly

AHAC Brazilian Nationls 2008
Top Ten - Road to the Legions Filly

AHAC St. Petersberg Open 2008
Top Ten - Road to the Legions Filly

AHAC Verona National Championships 2008
Top Ten - Road to the Legions Filly

AHAC Sharjah 2008
Top Ten - Road to the Legions Filly

AHAC Ajman National Show 2009
Top Ten - Yearling Fillies

AHAC Scottsdale Arabian Horse Show 2009
Top Ten - Yearling Fillies
Top Ten - Produce of Dam

AHAC Qatar International
Top Ten - Produce of Dam

AHAC 2009 Dubai International
Top Ten - Yearling Fillies

AHAC Arabian Masters 2009
Top Ten - Yearling Filly Breeders Sweepstakes

AHAC 2009 Strohen International
Top Ten - Produce of Dam
Top Ten - Yearling Filly Breeders Sweepstakes

AHAC 2009 Arabian Breeders World Cup
Champion - Yearling Filly Breeders Sweepstakes
Top Ten - Yearling Fillies
Top Ten - Produce of Dam

AHAC 2009 US Nationals
Reserve Champion - Yearling Fillies
Reserve Champion - Most Classic Filly
Top Ten - Produce of Dam
Top Ten - Yearling Filly Breeders Sweepstakes

AHAC Travagliato 2009
Champion - Yearling Fillies
International Reserve Champion Filly
Top Ten - Produce of Dam
Top Ten - Classic Head Fillies
Top Ten - Yearling Filly Breeders Sweepstakes

AHAC 2009 Wels International
Top Ten - Yearling Fillies
Top Ten - Produce of Dam
Top Ten - Yearling Filly Breeders sweepstakes

AHAC 2009 Austrian National Championships
Top Ten - Yearling Filly Breeders Sweepstakes

AHAC 2009 Buckeye
Reserve Champion - Most Classic Filly
Top Ten - Yearling Fillies
Top Ten - Produce of Dam
Top Ten - Yearling Filly Breeders Sweepstakes

AHAC 2009 Jordan National Championships
Top Ten - Yearling Fillies
Top Ten - Produce of Dam
Top Ten - Yearling Filly Breeders Sweepstakes

AHAC 2009 Czech National Championships
Reserve Champion - Produce of Dam
Top Ten - Classic Head Fillies
Top Ten - Yearling Filly Breeders Sweepstakes

AHAC 2009 German Nationals
Top Ten - Yearling Fillies
Top Ten - Yearling Filly Breeders Sweepstakes

AHAC 2009 Menton International
Top Ten - Yearling Fillies
Top Ten - Produce of Dam

AHAC 2009 Orientalica
Top Ten - Produce of Dam
Top Ten - Classic Head Fillies
Top Ten - Yearling Filly Breeders Sweepstakes

AHAC 2009 Scandinavian Open Championships
Champion - Yearling Fillies
Top Ten - Yearling Filly Breeders Sweepstakes

AHAC 2009 Mooslargue
Top Ten - Yearling Fillies
Top Ten - Classic Head Fillies
Top Ten - Yearling Filly Breeders Sweepstakes

AHAC 2009 Danish National Championships
Top Ten - Yearling Filly Breeders Sweepstakes

AHAC 2009 British National Championships
Top Ten - Yearling Fillies
Top Ten - Produce of Dam
Top Ten - Yearling Filly Breeders Sweepstakes

AHAC 2009 Vilhelmsborg
Top Ten - Produce of Dam

AHAC 2009 St Petersburg Open
Champion - Most Classic Filly
Top Ten - Yearling Fillies
Top Ten - Produce of Dam
Top Ten - Yearling Filly Breeders Sweepstakes

AHAC 2009 Asil Cup
Top Ten - Yearling Filly Breeders Sweepstakes

AHAC 2009 Brussels Arabian Trophy
Top Ten - Classic Head Fillies
Top Ten - Yearling Filly Breeders Sweepstakes

AHAC 2009 Towerlands UK
Top Ten - Yearling Filly Breeders Sweepstakes

AHAC Elran Cup 2009
Top Ten - Produce of Dam

AHAC 2009 Finnish National Championships
Top Ten - Yearling Fillies
Top Ten - Yearling Filly Breeders Sweepstakes

AHAC 2009 All Nations Cup
Top Ten - Yearling Fillies
Top Ten - Most Classic Filly
Top Ten - Yearling Filly Breeders Sweepstakes

AHAC 2009 Merrist Wood
Top Ten - Produce of Dam
Top Ten - Yearling Filly Breeders Sweepstakes

AHAC 2009 Moroccon National Championships
Champion - Most Classic Filly
Top Ten - Yearling Filly Breeders Sweepstakes

AHAC 2009 Norwegian National Championships
Top Ten - Produce of Dam
Top Ten - Most Classic Filly
Top Ten - Yearling Filly Breeders Sweepstakes

AHAC 2009 Saint Tropez Arabian Cup
Top Ten - Yearling Fillies
Top Ten - Produce of Dam
Top Ten - Classic Head Fillies
Top Ten - Yearling Filly Breeders Sweepstakes

AHAC 2009 Middle East Championships
Reserve Champion - Yearling Filly Breeders Sweepstakes
Top Ten - Yearling Fillies

AHAC 2009 Sharjah
Champion - Produce of Dam
Top Ten - Yearling Filly Breeders Sweepstakes

AHAC 2009 Verona National Championships
Top Ten - Produce of Dam
Top Ten - Classic Head Fillies
Top Ten - Yearling Filly Breeders Sweepstakes

AHAC 2009 Israeli Nationals
Top Ten - Yearling Fillies
Top Ten - Most Classic Filly

AHAC 2009 Dutch National Championships
Top Ten - Classic Head Fillies
Top Ten - Yearling Filly Breeders Sweepstakes

AHAC 2009 Salon Du Cheval
Top Ten - Yearling Filly Breeders Sweepstakes

AHAC 2009 Egypt International
Top Ten - Yearling Filly Breeders Sweepstakes

AHAC 2009 Brazilian Nationals
Reserve Champion - Yearling Fillies
Top Ten - Produce of Dam

AHAC 2010 Canadian Nationals
Top Ten - Classic Head Fillies
Top Ten - 2yr/o Filly Breeders Sweepstakes

AHAC 2010 Region I Championships
Top Ten - 2yr/o Fillies
Top Ten - Produce of Dam
Top Ten - 2yr/o Filly Breeders Sweepstakes

AHAC 2010 Region II Championships
Top Ten - Produce of Dam
Top Ten - 2yr/o Filly Breeders Sweepstakes

AHAC 2010 Ajman
Top Ten - 2yr/o Fillies

AHAC 2010 Abu Dhabi
Top Ten - Produce of Dam

AHAC 2010 Voghera
Champion - Produce of Dam
Champion - Classic Head Fillies
Top Ten - 2yr/o Fillies

AHAC 2010 Qatar International
Top Ten - 2yr/o Fillies
Top Ten - Most Classic Filly

AHAC 2010 Egyptian National Championships
Top Ten - Produce of Dam

AHAC 2010 Strohen International
Top Ten - Classic Head Fillies

AHAC 2010 Arabian Masters
Top Ten - 2yr/o Fillies
Top Ten - Classic Head Fillies
Top Ten - Most Classic Filly

AHAC 2010 US Nationals
Champion - 2yr/o Fillies
Top Ten - Produce of Dam
Top Ten - 2yr/o Filly Breeders Sweepstakes

AHAC 2010 Dubai International
Top Ten - Produce of Dam

AHAC 2010 Sharjah International
Top Ten - 2yr/o Fillies
Top Ten - Classic Head Fillies

AHAC 2010 Egyptian Event
Top Ten - 2yr/o Fillies
Top Ten - Produce of Dam
Top Ten - Classic Head Fillies
Top Ten - 2yr/o Filly Breeders Sweepstakes

AHAC 2010 Arabian Breeders World Cup
Top Ten - Produce of Dam

AHAC 2010 Travagliato
Top Ten - 2yr/o Fillies
Top Ten - Produce of Dam

AHAC 2010 Wels International
Top Ten - 2yr/o Fillies
Top Ten - Classic Head Fillies

AHAC 2010 Tulip Cup
Top Ten - 2yr/o Fillies
Top Ten - Produce of Dam

AHAC 2010 Austrian National Championships
Top Ten - Most Classic Filly

AHAC 2010 Buckeye
Top Ten - Produce of Dam
Top Ten - Classic Head Fillies

AHAC 2010 Arabica
Top Ten - 2yr/o Fillies

AHAC 2010 Orientalica
Top Ten - Produce of Dam

AHAC 2010 Czech National Championships
Top Ten - Produce of Dam

AHAC 2010 Emerald Trophy
Top Ten - 2yr/o Fillies
Top Ten - Produce of Dam

AHAC 2010 Scandinavian Open Championships
Top Ten - Produce of Dam

AHAC 2010 Menton International
Top Ten - Produce of Dam

AHAC 2010 German Nationals
Reserve Champion - Produce of Dam

AHAC 2010 Vilhelmsborg
Top Ten - Produce of Dam

AHAC 2010 Danish National Championships
Top Ten - Produce of Dam
Top Ten - Most Classic Filly

AHAC 2010 British National Championships
Reserve Champion - 2yr/o Fillies
Top Ten - Produce of Dam

AHAC 2010 St Petersburg Open
Top Ten - 2yr/o Fillies
Top Ten - Produce of Dam

AHAC 2010 Brussels Arabian Trophy
Reserve Champion - Produce of Dam
Reserve Champion - Classic Head Fillies
Top Ten - 2yr/o Fillies

AHAC 2010 Asil Cup
Top Ten - Produce of Dam

AHAC 2010 Elran Cup
Champion - 2yr/o Fillies
Reserve Champion - Most Classic Filly
Top Ten - Produce of Dam

AHAC 2010 Merrist Wood
Top Ten - Produce of Dam

AHAC 2010 All Nations Cup
Top Ten - Most Classic Filly

AHAC Finnish National Championships 2010
Top Ten - 2yr/o Fillies
Top Ten - Produce of Dam

AHAC Moroccan National Championships 2010
Top Ten - Produce of Dam

AHAC 2010 Norwegian National Championships
Top Ten - 2yr/o Fillies

AHAC 2010 Middle East Championships
Top Ten - 2yr/o Fillies

AHAC Saint Tropez Arabian Cup 2010
Champion - Produce of Dam

AHAC Israeli Nationals 2010
Top Ten - Produce of Dam

AHAC Brazilian Nationals 2010
Top Ten - Produce of Dam
Top Ten - Classic Head Fillies

AHAC Egypt International 2010
Top Ten - 2yr/o Fillies

AHAC Dutch National Championships 2010
Top Ten - 2yr/o Fillies

AHAC European Championships Verona 2010
Top Ten - 2yr/o Fillies
Top Ten - Produce of Dam

AHAC Verona National Championships 2010
Champion - Produce of Dam
Top Ten - 2yr/o Fillies

AHAC Sharjah 2010
Top Ten - 2yr/o Fillies
Top Ten - Most Classic Filly