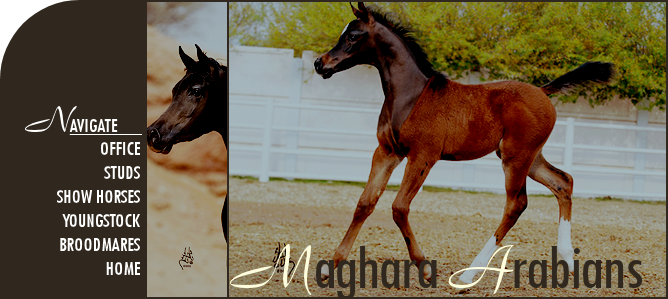 GS Soraya++++

2008 Grey Domestic Arabian Filly
Competing in Western Pleasure & Western Sidesaddle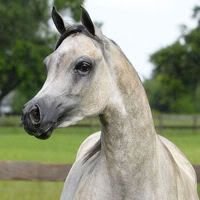 GS Soraya is the epitome of the classic Arabian filly. Dainty, elegant, and a show off. She is like her half brother, honest and humble. She isn't prissy and self-absorbed like most Arabian fillies, but she is willing and co-operative to learn. When she needs to pump it up she will, and she will show her heart out in the halter ring or performance, but soon as you get back to the barn she stops prancing, puts her tail down, and lets out a sigh like 'thank god that's over!'. Her sweet disposition makes her a barn favorite, and she is so good minded that we can't wait to see her in the futurity Western! We are very grateful to have the blood of Maghara mixed along with our Versace lineage, and we are super excited to see this little filly out there making her parents proud in 2008!
Reveille

Versace
Bask
Midnight Belle
Rhythm of Life
Shipwrecked
Broadway Brovado

Fhantasiya M

Crypt of the Nile
Encrypted
Bemy Sunshine
Elgwir Oles Fhantasy
Fhantasy Ovation
Olesia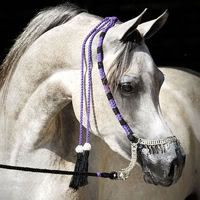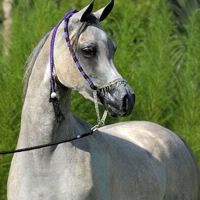 Progeny
None
Show Record
- 1426 AHAC POINTS ll AHAC LEGION OF MASTERS (++++)

- AHAC NOMINATED BREEDING ENTRY



Maghara Arabian Halter Show 2008
Top Ten - Most Classic Filly

AHAC 2008 Sharjah International
Top Ten - Weanling Fillies

AHAC Arabian Breeders World Cup 2008
Top Ten - Weanling Fillies Breeders Sweepstakes

AHAC 2008 US Nationals
Top Ten - Weanling Fillies Breeders Sweepstakes

AHAC 2008 Travagliato
Top Ten - Weanling Fillies

AHAC 2008 Wels International
Top Ten - Weanling Fillies

AHAC 2008 Austrian National Championships
Champion - Classic Head Fillies

2008 AHAC Jordan Nationals
Top Ten - Classic Head Fillies

AHAC 2008 German Nationals
Top Ten - Classic Head Fillies

AHAC 2008 Czech National Championships
Top Ten - Weanling Fillies

AHAC 2008 Asil Cup
Top Ten - Most Classic Fillies

AHAC Emerald Trophey 2008
Top Ten - Weanling Fillies

AHAC British National Championships 2008
Top Ten - Weanling Fillies
Top Ten - Most Classic Filly

AHAC Dutch Nationals 2008
Top Ten - Weanling Fillies

AHAC St. Petersberg Open 2008
Top Ten - Weanling Fillies

AHAC Salon Du Cheval 2008
Top Ten - Weanling Fillies

AHAC Region One Championships 2009
Reserve Champion - Yearling Fillies
Regional Reserve Champion Filly

AHAC Ajman National Show 2009
Top Ten - Yearling Fillies

AHAC Scottsdale Arabian Horse Show 2009
Top Ten - Classic Head Fillies

AHAC 2009 Dubai International
Champion - Yearling Filly Breeders Sweepstakes
Top Ten - Most Classic Filly

AHAC Arabian Masters 2009
Top Ten - Yearling Filly Breeders Sweepstakes

AHAC 2009 Strohen International
Top Ten - Yearling Filly Breeders Sweepstakes

AHAC 2009 Arabian Breeders World Cup
Top Ten - Yearling Fillies
Top Ten - Classic Head Fillies

AHAC 2009 Sharjah
Top Ten - Yearling Fillies
Top Ten - Most Classic Filly
Top Ten - Yearling Filly Breeders Sweepstakes

AHAC 2009 US Nationals
Top Ten - Yearling Filly Breeders Sweepstakes

AHAC Travagliato 2009
Top Ten - Yearling Filly Breeders Sweepstakes

AHAC 2009 Wels International
Top Ten - Classic Head Fillies
Top Ten - Yearling Filly Breeders Sweepstakes

AHAC 2009 Tulip Cup
Top Ten - Yearling Fillies
Top Ten - Yearling Filly Breeders Sweepstakes

AHAC 2009 Arabica
Top Ten - Most Classic Filly
Top Ten - Yearling Filly Breeders Sweepstakes

AHAC 2009 Buckeye
Champion - Yearling Fillies
Regional Reserve Champion Filly
Top Ten - Yearling Filly Breeders Sweepstakes

AHAC 2009 Jordan National Championships
Top Ten - Yearling Filly Breeders Sweepstakes

AHAC 2009 Czech National Championships
Top Ten - Yearling Filly Breeders Sweepstakes

AHAC 2009 German Nationals
Top Ten - Yearling Fillies
Top Ten - Classic Head Fillies
Top Ten - Yearling Filly Breeders Sweepstakes

AHAC 2009 Menton International
Reserve Champion - Classic Head Fillies
Top Ten - Yearling Fillies
Top Ten - Most Classic Filly
Top Ten - Yearling Filly Breeders Sweepstakes

AHAC 2009 Orientalica
Top Ten - Classic Head Fillies

AHAC 2009 Emerlad Trophy
Top Ten - Yearling Fillies
Top Ten - Classic Head Fillies
Top Ten - Most Classic Filly
Top Ten - Yearling Filly Breeders Sweepstakes

AHAC 2009 Scandinavian Open Championships
Top Ten - Most Classic Filly

AHAC 2009 Mooslargue
Top Ten - Yearling Filly Breeders Sweepstakes

AHAC 2009 Danish National Championships
Top Ten - Most Classic Filly
Top Ten - Yearling Filly Breeders Sweepstakes

AHAC 2009 British National Championships
Top Ten - Most Classic Filly
Top Ten - Yearling Filly Breeders Sweepstakes

AHAC 2009 Vilhelmsborg 2009
Champion - Yearling Filly Breeders Sweepstakes
Top Ten - Most Classic Filly

AHAC 2009 St Petersburg Open
Champion - Yearling Filly Breeders Sweepstakes

AHAC 2009 Asil Cup
Top Ten - Yearling Filly Breeders Sweepstakes

AHAC 2009 Brussels Arabian Trophy
Champion - Yearling Filly Breeders Sweepstakes

AHAC 2009 Towerlands UK
Top Ten - Yearling Filly
Top Ten - Yearling Filly Breeders Sweepstakes

AHAC Elran Cup 2009
Top Ten - Yearling Filly Breeders Sweepstakes

AHAC 2009 Finnish National Championships
Reserve Champion - Yearling Filly Breeders Sweepstakes

AHAC 2009 All Nations Cup
Champion - Yearling Filly Breeders Sweepstakes

AHAC 2009 Merrist Wood
Champion - Yearling Fillies
Champion - Yearling Filly Breeders Sweepstakes

AHAC 2009 Moroccon National Championships
Champion - Yearling Filly Breeders Sweepstakes

AHAC 2009 Norwegian National Championships
Top Ten - Yearling Filly Breeders Sweepstakes

AHAC 2009 Saint Tropez Arabian Cup
Top Ten - Most Classic Filly
Top Ten - Yearling Filly Breeders Sweepstakes

AHAC 2009 Middle East Championships
Top Ten - Yearling Filly Breeders Sweepstakes

AHAC 2009 Sharjah
Champion - Yearling Fillies
Top Ten - Classic Head Fillies
Top Ten - Yearling Filly Breeders Sweepstakes

AHAC 2009 Verona National Championships
Top Ten - Yearling Fillies
Top Ten - Classic Head Fillies
Top Ten - Yearling Filly Breeders Sweepstakes

AHAC 2009 Dutch National Championships
Top Ten - Yearling Fillies
Top Ten - Most Classic Filly
Top Ten - Yearling Filly Breeders Sweepstakes

AHAC 2009 Salon Du Cheval
Top Ten - Yearling Filly Breeders Sweepstakes

AHAC 2009 Egypt International
Top Ten - Yearling Fillies
Top Ten - Classic Head Fillies
Top Ten - Yearling Filly Breeders Sweepstakes

AHAC 2009 Brazilian Nationals
Top Ten - Yearling Filly Breeders Sweepstakes

AHAC 2010 Canadian Nationals
Reserve Champion - 2yr/o Filly Breeders Sweepstakes

AHAC 2010 Region I Championships
Top Ten - 2yr/o Fillies
Top Ten - Classic Head Fillies
Top Ten - 2yr/o Filly Breeders Sweepstakes

AHAC 2010 Region II Championships
Top Ten - Most Classic Filly
Top Ten - 2yr/o Filly Breeders Sweepstakes

AHAC 2010 Ajman
Top Ten - 2yr/o Fillies

AHAC 2010 Abu Dhabi
Top Ten - 2yr/o Fillies

AHAC 2010 Voghera
Top Ten - 2yr/o Fillies

AHAC 2010 Qatar International
Reserve Champion - 2yr/o Fillies

AHAC 2010 Egyptian National Championships
Reserve Champion - Classic Head Fillies
Top Ten - Most Classic Filly

AHAC 2010 Strohen International
Top Ten - 2yr/o Fillies

AHAC 2010 Arabian Masters
Top Ten - 2yr/o Fillies
Top Ten - Classic Head Fillies

AHAC 2010 US Nationals
Champion - 2yr/o Filly Breeders Sweepstakes
Top Ten - 2yr/o Fillies

AHAC 2010 Dubai International
Top Ten - 2yr/o Fillies

AHAC 2010 Sharjah International
Reserve Champion - 2yr/o Fillies
Top Ten - Classic Head Fillies

AHAC 2010 Egyptian Event
Top Ten - 2yr/o Fillies
Top Ten - 2yr/o Filly Breeders Sweepstakes

AHAC 2010 Arabian Breeders World Cup
Top Ten - Most Classic Filly

AHAC 2010 Travagliato
Champion - 2yr/o Fillies
Top Ten - Classic Head Fillies

AHAC 2010 Wels International
Top Ten - 2yr/o Fillies
Top Ten - Classic Head Fillies

AHAC 2010 Tulip Cup
Top Ten - 2yr/o Fillies

AHAC 2010 Austrian National Championships
Top Ten - Most Classic Filly

AHAC 2010 Buckeye
Top Ten - 2yr/o Fillies

AHAC 2010 Arabica
Top Ten - 2yr/o Fillies

AHAC 2010 Jordan National Championships
Top Ten - Classic Head Fillies

AHAC 2010 Emerald Trophy
Top Ten - Classic Head Fillies

AHAC 2010 Scandinavian Open Championships
Top Ten - 2yr/o Fillies

AHAC 2010 Menton International
Top Ten - 2yr/o Fillies

AHAC 2010 German Nationals
Top Ten - Classic Head Fillies

AHAC 2010 Vilhelmsborg
Reserve Champion - Classic Head Fillies
Top Ten - 2yr/o Fillies

AHAC 2010 Danish National Championships
Reserve Champion - 2yr/o Fillies

AHAC 2010 Asil Cup
Top Ten - 2yr/o Fillies
Top Ten - Most Classic Filly

AHAC 2010 Towerlands UK
Top Ten - 2yr/o Fillies

AHAC 2010 Merrist Wood
Champion - 2yr/o Fillies
National Reserve Champion Filly

AHAC 2010 All Nations Cup
Top Ten - Most Classic Filly

AHAC Finnish National Championships 2010
Reserve Champion - Most Classic Filly

AHAC Moroccan National Championships 2010
Top Ten - 2yr/o Fillies

AHAC 2010 Norwegian National Championships
Top Ten - 2yr/o Fillies

AHAC 2010 Middle East Championships
Champion - Most Classic Filly
Top Ten - 2yr/o Fillies

AHAC Saint Tropez Arabian Cup 2010
Top Ten - Classic Head Fillies

AHAC Israeli Nationals 2010
Champion - Most Classic Filly
Top Ten - 2yr/o Fillies

AHAC Egypt International 2010
Top Ten - 2yr/o Fillies

AHAC Brazilian Nationals 2010
Champion - 2yr/o Fillies
National Reserve Champion Filly
Top Ten - Most Classic Filly

AHAC European Championships Verona 2010
Top Ten - 2yr/o Fillys

AHAC Verona National Championships 2010
Top Ten - 2yr/o Fillies

AHAC Salon Du Cheval 2010
Top Ten - 2yr/o Fillies