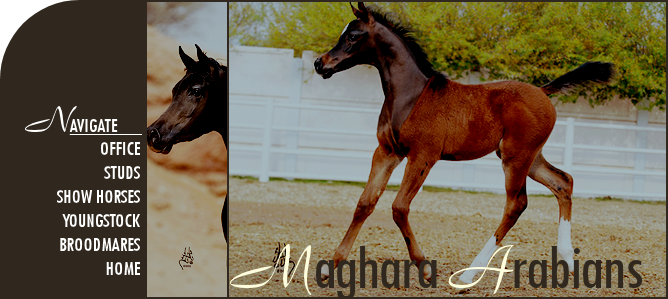 Vancouver++++

2009 Bay Domestic Arabian Colt
Competing in Western Pleasure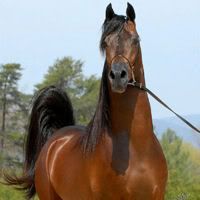 Vancouver is the spitfire of all the Vivaldi foals, he even rivals his sire in the ability to own a crowd. His ultimate desire is to be out in that ring, proving to the whole world just how talented and stunning he is. Combine that with the over-confidence of Vivaldi and you have a cheeky colt with plenty of hotness to spare! As the first son to be born by Vivaldi, Vaudeville came just a day before him, Vancouver is a wonderful example of the quality of colts Vivaldi will sire. Vancouver is a bit independant and he firmly believes in the motto that one is company and two is a crowd which makes him a fabulous halter colt since he rarely invades your space. A gentle sloping shoulder and loose motion at the trot Vancouver will be a excellent colt to show under saddle. We are extremely grateful to Maghara Arabians for the use of their mare Kyss of A Royal for this boy, he is one of a kind, and we are excited to see how he does in the 2009 weanling colts classes!
Vivaldi

Eye of The Storm
Unknown
Unknown
Dream Versace
Versace
Dreamala

Kyss of a Royal

Blues and Royals
Unknown
Unknown
Soho's First Khiss
Unknown
Unknown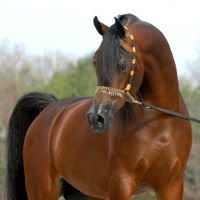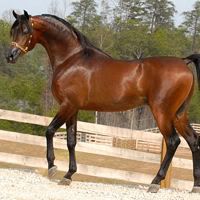 Progeny
None
Show Record
- 1577 AHAC POINTS ll AHAC LEGION OF MASTERS (++++)

- AHAC NOMINATED BREEDING ENTRY



AHAC Voghera 2009
Top Ten - Weanling Colts

AHAC Ajman National Show 2009
Top Ten - Weanling Colts

AHAC 2009 Dubai International
Top Ten - Weanling Colt Breeders Sweepstakes

AHAC Arabian Masters 2009
Reserve Champion - Weanling Colts
Top Ten - Weanling Colt Breeders Sweepstakes

AHAC 2009 Strohen International
Top Ten - Weanling Colt Breeders Sweepstakes

AHAC 2009 Arabian Breeders World Cup
Top Ten - Weanling Colt Breeders Sweepstakes

AHAC 2009 Sharjah
Reserve Champion - Weanling Colt Breeders Sweepstakes

AHAC 2009 US Nationals
Top Ten - Weanling Colt Breeders Sweepstakes

AHAC Travagliato 2009
Top Ten - Weanling Colts
Top Ten - Weanling Colt Breeders Sweepstakes

AHAC 2009 Wels International
Reserve Champion - Weanling Colt Breeders Sweepstakes

AHAC 2009 Tulip Cup
Champion - Weanling Colt Breeders Sweepstakes
Top Ten - Classic Head Colts

AHAC 2009 Austrian National Championships
Champion - Weanling Colt Breeders Sweepstakes

AHAC 2009 Arabica
Champion - Weanling Colt Breeders Sweepstakes
Top Ten - Weanling Colts

AHAC 2009 Buckeye
Top Ten - Weanling Colt Breeders Sweepstakes

AHAC 2009 Jordan National Championships
Reserve Champion - Weanling Colts
Reserve Champion - Weanling Colt Breeders Sweepstakes

AHAC 2009 Czech National Championships
Top Ten - Weanling Colts
Top Ten - Weanling Colt Breeders Sweepstakes

AHAC 2009 German Nationals
Champion - Weanling Colt Breeders Sweepstakes
Top Ten - Weanling Colts
Top Ten - Most Classic Colt

AHAC 2009 Menton International
Top Ten - Most Classic Colt
Top Ten - Weanling Colt Breeders Sweepstakes

AHAc 2009 Orientalica
Champion - Weanling Colt Breeders Sweepstakes
Reserve Champion - Weanling Colts

AHAC 2009 Emerald Trophy
Top Ten - Weanling Colts
Top Ten - Weanling Colt Breeders Sweepstakes

AHAC 2009 Scandinavian Open Championships
Champion - Weanling Colt Breeders Sweepstakes

AHAC 2009 Mooslargue
Reserve Champion - Weanling Colts
Reserve Champion - Weanling Colt Breeders Sweepstakes

AHAC 2009 Danish National Championships
Champion - Weanling Colt Breeders Sweepstakes
Top Ten - Weanling Colts

AHAC 2009 British National Championships
Top Ten - Most Classic Colt
Top Ten - Weanling Colt Breeders Sweepstakes

AHAC 2009 Vilhelsmborg
Top Ten - Classic Head Colts
Top Ten - Weanling Colt Breeders Sweepstakes

AHAC 2009 St Petersburg Open
Champion - Classic Head Colts
Reserve Champion - Weanling Colt Breeders Sweepstakes

AHAC 2009 Asil Cup
Top Ten - Classic Head Colts
Top Ten - Most Classic Colt
Top Ten - Weanling Colt Breeders Sweepstakes

AHAC 2009 Brussels Arabian Trophy
Top Ten - Weanling Colt Breeders Sweepstakes

AHAC 2009 Towerlands UK
Top Ten - Weanling Colts
Top Ten - Classic Head Colts
Top Ten - Weanling Colt Breeders Sweepstakes

AHAC Elran Cup 2009
Top Ten - Weanling Colts
Top Ten - Weanling Colt Breeders Sweepstakes

AHAC 2009 Finnish National Championships
Champion - Weanling Colt Breeders Sweepstakes

AHAC 2009 All Nations Cup
Reserve Champion - Weanling Colts
Top Ten - Weanling Colt Breeders Sweepstakes

AHAC 2009 Merrist Wood
Reserve Champion - Classic Head Colts
Top Ten - Weanling Colts
Top Ten - Weanling Colt Breeders Sweepstakes

AHAC 2009 Moroccon National Championships
Champion - Most Classic Colt
Most Classic Arabian
Reserve Champion - Weanling Colt Breeders Sweepstakes

AHAC 2009 Norwegian National Championships
Top Ten - Weanling Colts
Top Ten - Classic Head Colts
Top Ten - Weanling Colt Breeders Sweepstakes

AHAC 2009 Saint Tropez Arabian Cup
Top Ten - Weanling Colts
Top Ten - Weanling Colt Breeders Sweepstakes

AHAC 2009 Middle East Championships
Reserve Champion - Weanling Colt Breeders Sweepstakes

AHAC 2009 Sharjah
Top Ten - Classic Head Colts
Top Ten - Weanling Colt Breeders Sweepstakes

AHAC 2009 Verona National Championships
Reserve Champion - Weanling Colt Breeders Sweepstakes

AHAC 2009 European Championships Verona
Reserve Champion - Weanling Colts

AHAC 2009 Israeli Nationals
Reserve Champion - Weanling Colts
Top Ten - Classic Head Colts

AHAC 2009 Dutch National Championships
Reserve Champion - Weanling Colt Breeders Sweepstakes
Top Ten - Classic Head Colts

AHAC 2009 Salon Du Cheval
Champion - Weanling Colt Breeders Sweepstakes
Top Ten - Weanling Colts

AHAC 2009 Egypt International
Champion - Weanling Colt Breeders Sweepstakes
Top Ten - Classic Head Colts

AHAC 2009 Brazilian Nationals
Champion - Weanling Colt Breeders Sweepstakes
Top Ten - Most Classic Colt

AHAC 2010 Canadian Nationals
Champion - Yearling Colt Breeders Sweepstakes
Reserve Champion - Most Classic Colt
Top Ten - Yearling Colts
Top Ten - Classic Head Colts

AHAC 2010 Region I Championships
Champion - Yearling Colt Breeders Sweepstakes
Top Ten - Yearling Colts

AHAC 2010 Region II Championships
Champion - Yearling Colt Breeders Sweepstakes
Top Ten - Yearling Colts
Top Ten - Most Classic Colt

AHAC 2010 Ajman
Top Ten - Most Classic Colt

AHAC 2010 Abu Dhabi
Top Ten - Classic Head Colts
Top Ten - Most Classic Colt

AHAC 2010 Scottsdale
Top Ten - Classic Head Colts

AHAC 2010 Voghera
Top Ten - Yearling Colts
Top Ten - Most Classic Colt

AHAC 2010 Qatar International
Champion - Yearling Colts

AHAC 2010 Egyptian National Championships
Top Ten - Yearling Colts

AHAC 2010 Strohen International
Top Ten - Yearling Colts

AHAC 2010 Arabian Masters
Reserve Champion - Classic Head Colts
Top Ten - Yearling Colts
Top Ten - Most Classic Colt

AHAC 2010 US Nationals
Reserve Champion - Yearling Colt Breeders Sweepstakes
Top Ten - Yearling Colts

AHAC 2010 Dubai International
Top Ten - Classic Head Colts
Top Ten - Most Classic Colt

AHAC 2010 Sharjah International
Champion - Classic Head Colts
Top Ten - Yearling Colts
Top Ten - Most Classic Colt

AHAC 2010 Egyptian Event
Reserve Champion - Yearling Colt Breeders Sweepstakes
Top Ten - Yearling Colts
Top Ten - Classic Head Colts
Top Ten - Most Classic Colt

AHAC 2010 Travagliato
Top Ten - Yearling Colts
Top Ten - Classic Head Colts

AHAC 2010 Wels International
Top Ten - Classic Head Colts

AHAC 2010 Tulip Cup
Top Ten - Yearling Colts
Top Ten - Most Classic Colt

AHAC 2010 Austrian National Championships
Top Ten - Yearling Colts

AHAC 2010 Buckeye
Reserve Champion - Classic Head Colts

AHAC 2010 Arabica
Top Ten - Classic Head Colts

AHAC 2010 Orientalica
Top Ten - Yearling Colts
Top Ten - Classic Head Colts

AHAC 2010 Egyptian Classic Cup
Top Ten - Most Classic Colt

AHAC 2010 Mooslargue
Reserve Champion - Yearling Colts

AHAC 2010 Jordan National Championships
Top Ten - Yearling Colts
Top Ten - Classic Head Colts
Top Ten - Most Classic Colt

AHAC 2010 Czech National Championships
Top Ten - Yearling Colts

AHAC 2010 Emerald Trophy
Reserve Champion - Most Classic Colt
Top Ten - Yearling Colts
Top Ten - Classic Head Colts

AHAC 2010 Scandinavian Open Championships
Top Ten - Yearling Colts
Top Ten - Classic Head Colts

AHAC 2010 Menton International
Reserve Champion - Yearling Colts
Top Ten - Most Classic Colt

AHAC 2010 German Nationals
Top Ten - Yearling Colts

AHAC 2010 Danish National Championships
Top Ten - Classic Head Colts

AHAC 2010 British National Championships
Top Ten - Most Classic Colt

AHAC 2010 St Petersburg Open
Champion - Yearling Colts
International Champion Colt

AHAC 2010 Brussels Arabian Trophy
Top Ten - Yearling Colts
Top Ten - Most Classic Colt

AHAC 2010 Asil Cup
Champion - Yearling Colts
International Reserve Champion Colt

AHAC 2010 Elran Cup
Top Ten - Yearling Colts

AHAC 2010 Towerlands UK
Top Ten - Yearling Colts

AHAC 2010 Merrist Wood
Top Ten - Yearling Colts

AHAC 2010 All Nations Cup
Top Ten - Yearling Colts
Top Ten - Classic Head Colts

AHAC Moroccan National Championships 2010
Top Ten - Yearling Colts

AHAC 2010 Norwegian National Championships
Top Ten - Yearling Colts

AHAC 2010 Middle East Championships
Reserve Champion - Yearling Colts

AHAC Saint Tropez Arabian Cup 2010
Champion - Yearling Colts
International Champion Colt