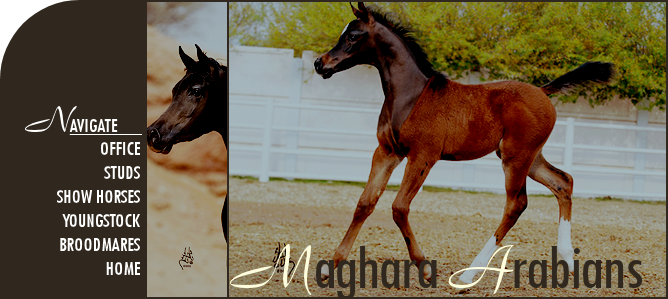 Crypt of the Sun++++

2000 Chestnut Polish Arabian Stallion
Competing in Western Pleasure & Ladies Western Sidesaddle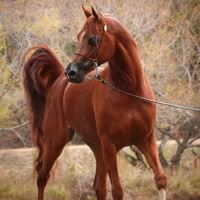 Crypt of the Sun was bought around the same time as Borszar, he was purchased from May Reed of Royalty Stables and we couldn't wait to get him showing with our other horses. Since he arrived he has gained his Legion of Merit title and hope he will continue to show fantasticly for the next couple of years until he reaches his last title when he will be retired and only show in Halter. Crypt of the Sun is an awesome mover with a steady flowing gate and amazing conformation which we hope he will pass onto his foals.

Crypt of the Sun is a beautiful stallion with lots of personality, grace and potential. He truly lives up to his name, he is such a bright, copper toned chestnut that is truly stunning in the showring! He is very fluid in all of his gaits, especaily his canter. Crypt of the Sun can canter for miles and you don't ever want to stop. His trot is very reaching and smooth, with little bounce. He also has a magnificent walk, at which he can really go! He reaches out and really moves, he can out walk most of my horses on a regular trail ride! He is sure to through beautiful, show stopping looks to all of his foals, with the likes of the great Monogramm in his pedigree. He really excelles in western pleasure and western sidesaddle. He is also exceptionaly good at halter, with his show stopping color and presence! He is such a gentleman, even though he can have a small temper, but he makes up for it in every thing else! This is your chance to own a piece of perfection!

Encrypted

Monogramm
Negatraz
Monogramma
Aladdinness
*Aladdinn
Egana

Bemy Sunshine

Bema Blak Opal
Rebel Blak Falcon
Bema Geyme Gazal
Bema Sheba
Bema Diamond Geym
Gazal Rageyma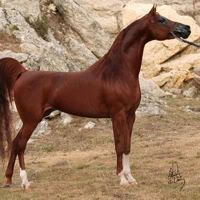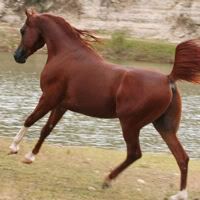 Progeny
Fhantasiya M++, 2005 Polish Arabian Mare out of Elgwir Oles Fhantasy
Show Record
- 1220 AHAC POINTS ll AHAC LEGION OF MASTERS (++++)



AHAC 2007 Dubai International
Top Ten - Seven Year Old Stallions

AHAC 2007 Sharjah International
Top Ten - Seven Year Old Stallions

The Haakim Cup 2007
Top Ten - Seven Year Old Stallions

SC Seniors Day Out
Champion - Seven Year Old Stallions
Champion Senior Stallion

Weatherlord Farm Classic Circuit Show A
Top Ten - Classic Head Stallions

AHAC 2007 U.S. Nationals
Top Ten - Western Pleasure Sr. Horse

AHAC Wels International 2007
Champion - Seven Year Old Stallions

AHAC Arabian Breeders World Cup 2007
Top Ten - Seven Year Old Stallions

AHAC 2007 Austrian National Championships
Top Ten - Seven Year Old Stallions

AHAC Arabica 2007
Reserve Champion - Seven Year Old Stallions

AHAC Orientcala 2007
Champion - Seven Year Old Stallions
International Reserve Champion Senior Stallion

AHAC Jordan National Championships 2007
Top Ten - Seven Year Old Stallions

Spirit Creek Classical Show Region I Show A
Top Ten - Classic Head Stallions

Spirit Creek Classical Region I Show B
Top Ten - Classic Head Stallions

AHAC Czech National Championships
Top Ten - Seven Year Old Stallions
Top Ten - Ladies' Western Sidesaddle

AHAC 2007 Menton International
Top Ten - Seven Year Old Stallions
Top Ten - Western Pleasure Sr. Horse

AHAC 2007 Scandinavian Open Championships
Top Ten - Seven Year Old Stallions
Top Ten - Western Pleasure Sr. Horse
Top Ten - Ladies' Western Sidesaddle

AHAC 2007 Vilhelmsborg
Top Ten - Seven Year Old Stallions
Top Ten - Classic Head Stallions
Top Ten - Western Pleasure Sr. Horse
Top Ten - Ladies' Western Sidesaddle

AHAC 2007 British National Championships
Top Ten - 7yr/o Stallions
Top Ten - Ladies Western Sidesaddle

Akmal Arabians 2007 Extravaganza
Reserve Champion - 7yr/o Stallions
Top Ten - Classic Head Stallions
Top Ten - Western Pleasure Sr Horse
Top Ten - Ladies Western Sidesaddle

AHAC 2007 Asil Cup
Reserve Champion - 7yr/o Stallions

AHAC 2007 St. Petersburg Open
Top Ten - 7yr/o Stallions
Top Ten - Western Pleasure Sr Horse
Top Ten - Ladies Western Sidesaddle

AHAC 2007 Towerlands UK
Top Ten - 7yr/o Stallions

AHAC 2007 Finnish National Championships
Top Ten - 7yr/o Stallions
Top Ten - Classic Head Stallions

AHAC Elran Cup 2007
Top Ten - 7yr/o Stallions

AHAC 2007 Merrist Wood
Reserve Champion - Western Pleasure Sr Horse
Top Ten - 7yr/o Stallions
Top Ten - Ladies Western Sidesaddle

AHAC 2007 All Nations Cup
Top Ten - 7yr/o Stallions

AHAC 2007 Moroccon National Championships
Reserve Champion - 7yr/o Stallions
Top Ten - Ladies Western Sidesaddle

AHAC 2007 Norwegian National Championships
Top Ten - 7yr/o Stallions

Arab/Half Arab Saddleseat & Pleasure Showcase
Reserve Champion - Western Pleasure Sr Horse
Reserve Champion - Ladies Western Sidesaddle

AHAC 2007 Saint-Tropez Arabian Cup
Top Ten - 7yr/o Stallions

AHAC 2007 Polish National Show
Top Ten - 7yr/o Stallions

Maghara 2007 Polish Halter Show
Reserve Champion - 7yr/o Stallions
Top Ten - Classic Head Stallions

AHAC 2007 European National Championships
Top Ten - Western Pleasure Sr Horse
Top Ten - Ladies Western Sidesaddle

AHAC 2007 Middle East Championships
Reserve Champion - Ladies Western Sidesaddle
Top Ten - Western Pleasure Sr Horse

AHAC 2007 Dutch National Championships
Top Ten - 7yr/o Stallions

AHAC 2007 Egypt International
Top Ten - Western Pleasure Sr Horse

AHAC 2007 Salon Du Cheval
Top Ten - 7yr/o Stallions

AHAC 2007 Brazilian National Championships
Top Ten - 7yr/o Stallions
Top Ten - Western Pleasure Sr Horse

AHAC Sharjah 2007
Top Ten - 7yr/o Stallions

AHAC 2008 Region 1 Championships
Top Ten - 8yr/o Stallions
Top Ten - Western Pleasure Sr Horse
Top Ten - Ladies Western Sidesaddle

AHAC 2008 Canadian Nationals
Top Ten - 8yr/o Stallions
Top Ten - Ladies Western Sidesaddle

AHAC 2008 Region 2 Championships
Champion - 8yr/o Stallions
Regional Reserve Champion Senior Stallion
Top Ten - Western Pleasure Sr Horse
Top Ten - Ladies Western Sidesaddle

AHAC Scottsdale Arabian Horse Show 2008
Champion - 8yr/o Stallions

AHAC 2008 Sharjah International
Top Ten - 8yr/o Stallions

AHAC Arabian Breeders World Cup 2008
Top Ten - Ladies Western Sidesaddle

AHAC 2008 US Nationals
Top Ten - 8yr/o Stallions
Top Ten - Western Pleasure Sr Horse

AHAC Qatar International 2008
Top Ten - Western Pleasure Sr Horse

AHAC 2008 Travagliato
Champion - 8yr/o Stallions
International Reserve Champion Senior Stallion

Pheonix Halter Show 2008
Reserve Champion - 8yr/o Stallions

AHAC 2008 Buckeye
Top Ten - 8yr/o Stallions

AHAC 2008 German Nationals
Top Ten - Western Pleasure Sr Horse

AHAC 2008 Menton International
Top Ten - 8yr/o Stallions
Top Ten - Western Pleasure Sr Horse

AHAC 2008 Czech National Championships
Reserve Champion - 8yr/o Stallions
Top Ten - Ladies Western Sidesaddle

AHAC Mooslargue 2008
Top Ten - 8yr/o Stallions

AHAC Brussels Arabian Trophy 2008
Top Ten - Western Pleasure Sr Horse

AHAC Towerlands UK 2008
Top Ten - 8yr/o Stallions
Top Ten - Western Pleasure Jr Horse
Top Ten - Ladies Western Sidesaddle

AHAC British National Championships 2008
Top Ten - 8yr/o Stallions

AHAC Polish National Show 2008
Reserve Champion - Classic Head Sr Stallions
Top Ten - 8yr/o Stallions
Top Ten - Most Classic Sr Stallion

AHAC European Championships Verona 2008
Top Ten - 8yr/o Stallions
Top Ten - Western Pleasure Sr Horse

AHAC Region I Championships 2009
Top Ten - Western Pleasure Sr Horse

AHAC Ajman National Show 2009
Champion - 9yr/o Stallions

AHAC Abu Dhabi 2009
Top Ten - 9yr/o Stallions

AHAC Scottsdale Arabian Horse Show 2009
Top Ten - 9yr/o Stallions

AHAC Voghera 2009
Top Ten - Ladies Western Sidesaddle

AHAC Qatar International 2009
Top Ten - 9yr/o Stallions
Top Ten - Ladies Western Sidesaddle

AHAC Egyptian National Championships 2009
Top Ten - 9yr/o Stallions
Top Ten - Ladies Western Sidesaddle

AHAC Abu Dhabi 2009
Top Ten - 9yr/o Stallions

AHAC 2009 Dubai International
Top Ten - 9yr/o Stallions
Top Ten - Most Classic Sr Stallion

AHAC Arabian Masters 2009
Top Ten - 9yr/o Stallions

AHAC 2009 Strohen International
Top Ten - 9yr/o Stallions

AHAC 2009 US Nationals
Top Ten - 9yr/o Stallions
Top Ten - Ladies Western Sidesaddle

AHAC Travagliato 2009
Top Ten - 9yr/o Stallions
Top Ten - Classic Head Sr Stallions
Top Ten - Most Classic Sr Stallion

AHAC 2009 Wels International
Champion - 9yr/o Stallions
Top Ten - Classic Head Sr Stallions
Top Ten - Most Classic Sr Stallion

AHAC 2009 Sharjah
Reserve Champion - Western Pleasure Sr Horse
Top Ten - Classic Head Sr Stallions

AHAC 2009 Arabian Breeders World Cup
Top Ten - 9yr/o Stallions

AHAC 2009 Tulip Cup
Top Ten - 9yr/o Stallions

AHAC 2009 Arabica
Reserve Champion - Classic Head Sr Stallions
Top Ten - Most Classic Sr Stallion

AHAC 2009 Buckeye
Top Ten - 9yr/o Stallions
Top Ten - Western Pleasure Sr Horse
Top Ten - Ladies Western Pleasure

AHAC 2009 Austrian National Championships
Top Ten - 9yr/o Stallions

AHAC 2009 Czech National Championships
Top Ten - 9yr/o Stallions
Top Ten - Western Pleasure Sr Horse
Top Ten - Ladies Western Sidesaddle

AHAC 2009 German Nationals
Top Ten - Most Classic Sr Stallion
Top Ten - Western Pleasure Sr Horse

AHAC 2009 Menton International
Top Ten - Ladies Western Sidesaddle

AHAC 2009 Orientalica
Top Ten - 9yr/o Stallions

AHAC 2009 Emerald Trophy
Reserve Champion - Western Pleasure Sr Horse
Top Ten - Classic Head Sr Stallions

AHAC 2009 Scandinavian Open Championships
Top Ten - 9yr/o Stallions

AHAC 2009 Mooslargue
Top Ten - 9yr/o Stallions

AHAC 2009 Danish National Championships
Top Ten - 9yr/o Stallions

AHAC 2009 British National Championships
Champion - 9yr/o Stallions
National Reserve Champion Senior Stallion

AHAC 2009 Vilhelmsborg
Top Ten - 9yr/o Stallions
Top Ten - Ladies Western Sidesaddle

AHAC 2009 St Petersburg Open
Top Ten - 9yr/o Stallions
Top Ten - Western Pleasure Sr Horse
Top Ten - Ladies Western Sidesaddle

AHAC 2009 Brussels Arabian Trophy
Top Ten - Classic Head Sr Stallions

AHAC 2009 Towerlands UK
Top Ten - 9yr/o Stallions
Top Ten - Ladies Western Sidesaddle

AHAC Elran Cup 2009
Top Ten - Classic Head Sr Stallions