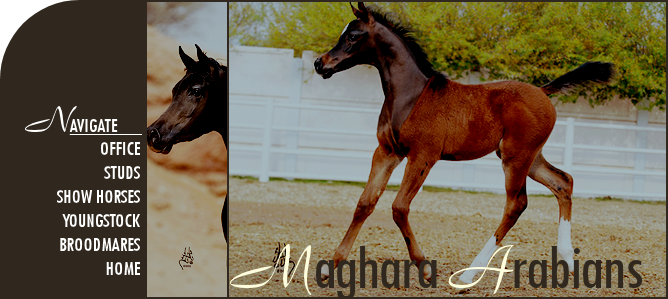 Fhantasiya M++++/

2005 Chestnut Polish Arabian Mare
Competing in Western Pleasure, Reining & Cutting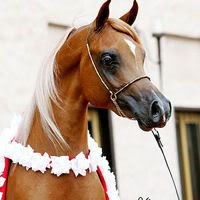 Fhantasiya is a fantasticly bred little filly she is the first foal of Elgwir Oles Fhantasy our very own Fhantasy Ovation Foal and also the first grandfoal of this stunning stallion. She has a great pedigree behind her including Fhantasy Ovation who is a Legion of Masters champion and Ecaho a stunning grey stallion. We hope that Fhantasiya will be as just good as her grand sire only in the disciplines of her sire. She is a stunning colour and shines even when the sun isn't touching her sturdy back and neck.





Crypt of the Nile

Encrypted
Monogramm
Aladdinness
Bemy Sunshine
Bema Blak Opal
Bema Sheba

Elgwir Oles Fhantasy

Fhantasy Ovation
Applauz
Fantazia
Olesia
Ecaho
Orana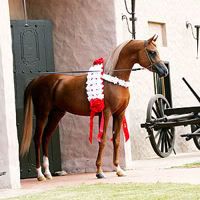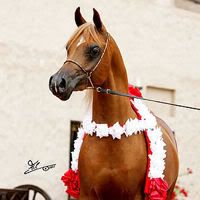 Progeny
GS Soraya+/, 2008 Domestic Arabian Filly Sired by Reveille
Show Record
- 3128 AHAC POINTS ll AHAC LEGION OF SUPREME EXCELLENCE (++++/)

- AHAC NOMINATED MARE
- AHAC NOMINATED BREEDING ENTRY



AHAC 2007 Saint-Tropez Arabian Cup
Top Ten - 2yr/o Fillies
Top Ten - Classic Head Fillies

AHAC 2007 Polish National Show
Top Ten - 2yr/o Fillies

Maghara 2007 Polish Halter Show
Champion - Classic Head Fillies
Top Ten - 2yr/o Fillies

AHAC 2007 European National Championships
Top Ten - 2yr/o Fillies

AHAC 2007 Middle East Championships
Top Ten - 2yr/o Fillies

AHAC 2007 Egypt International
Reserve Champion - 2yr/o Fillies
Top Ten - Classic Head Fillies

AHAC Sharjah 2007
Top Ten - 2yr/o Fillies

SAI's December Arabian Show II
Top Ten - 2yr/o Fillies
Top Ten - Classic Head Fillies

AHAC 2008 Region 1 Championships
Champion - Reining Futurity
Top Ten - Western Pleasure Futurity
Top Ten - Cutting Futurity

AHAC 2008 Canadian Nationals
Champion - Cutting Futurity
Top Ten - Produce of Dam
Top Ten - Western Pleasure Futurity
Top Ten - Reining Futurity

AHAC 2008 Region 2 Championships
Champion - Reining Futurity
Top Ten - Western Pleasure Futurity
Top Ten - Cutting Futurity

AHAC Ajman National Show 2008
Champion - Cutting Futurity
Top Ten - Western Pleasure Futurity
Top Ten - Reining Futurity

AHAC Scottsdale Arabian Horse Show 2008
Champion - Western Pleasure Futurity
Champion - Reining Futurity
Top Ten - Cutting Futurity

AHAC 2008 Egyptian National Championships
Reserve Champion - Cutting Futurity
Top Ten - Western Pleasure Futurity
Top Ten - Reining Futurity

AHAC 2008 Dubai International
Top Ten - Filly Futurity

AHAC 2008 Sharjah International
Reserve Champion - Reining Futurity
Top Ten - Filly Futurity
Top Ten - Western Pleasure Futurity
Top Ten - Cutting Futurity

AHAC Arabian Breeders World Cup 2008
Champion - Western Pleasure Futurity
Reserve Champion - Reining Futurity
Top Ten - Filly Futurity
Top Ten - Cutting Futurity

AHAC 2008 US Nationals
Top Ten - Filly Futurity
Top Ten - Western Pleasure Futurity
Top Ten - Reining Futurity
Top Ten - Cutting Futurity

AHAC Qatar International 2008
Top Ten - Western Pleasure Futurity
Top Ten - Reining Futurity
Top Ten - Cutting Futurity

Pheonix Halter Show 2008
Top Ten - Filly Futurity

AHAC 2008 Tulip Cup
Top Ten - Filly Futurity

AHAC 2008 Buckeye
Reserve Champion - Filly Futurity
Reserve Champion - Western Pleasure Futurity
Reserve Champion - Cutting Futurity
Top Ten - Reining Futurity

AHAC 2008 Arabica
Reserve Champion - Filly Futurity
Top Ten - Western Pleasure Futurity
Top Ten - Reining Futurity
Top Ten - Cutting Futurity

2008 AHAC Jordan Nationals
Top Ten - Reining Futurity
Top Ten - Cutting Futurity

AHAC 2008 German Nationals
Champion - Reining Futurity
Top Ten - Western Pleasure Futurity
Top Ten - Cutting Futurity

AHAC 2008 Menton International
Reserve Champion - Reining Futurity
Top Ten - Western Pleasure Futurity
Top Ten - Cutting Futurity

AHAC 2008 Czech National Championships
Top Ten - Western Pleasure Futurity
Top Ten - Reining Futurity
Top Ten - Cutting Futurity

AHAC Emerald Trophy 2008
Top Ten - Reining Futurity
Top Ten - Cutting Futurity

AHAC Brussels Arabian Trophy 2008
Top Ten - Filly Futurity
Top Ten - Western Pleasure Futurity
Top Ten - Reining Futurity
Top Ten - Cutting Futurity

AHAC Towerlands UK 2008
Top Ten - Reining Futurity
Top Ten - Cutting Futurity

AHAC Danish National Championships 2008
Top Ten - Filly Futurity

AHAC Elran Cup 2008
Top Ten - Filly Futurity

AHAC Vilhelmsborg 2008
Top Ten - Western Pleasure Futurity
Top Ten - Reining Futurtiy
Top Ten - Cutting Futurity

AHAC Polish National Show
Reserve Champion - Filly Futurity
Top Ten - Most Classic Filly

AHAC European Championships Verona 2008
Champion - Cutting Futurity
Top Ten - Western Pleasure Futurity
Top Ten - Reining Futurity

AHAC St Petersburg Open 2008
Top Ten - Western Pleasure Futurity
Top Ten - Reining Futurity
Top Ten - Cutting Futurity

AHAC Sharjah 2008
Top Ten - Filly Futurity
Top Ten - Reining Futurity
Top Ten - Cutting Futurity

AHAC Region I Championships 2009
Reserve Champion - Western Pleasure Jr Horse
Top Ten - 4yr/o Mares

AHAC Ajman National Show 2009
Top Ten - Cutting Jr Horse

AHAC Scottsdale Arabian Horse Show 2009
Top Ten - 4yr/o Mares
Top Ten - Produce of Dam
Top Ten - Western Pleasure Jr Horse
Top Ten - Cutting Jr Horse

AHAC Voghera 2009
Top Ten - 4yr/o Mares
Top Ten - Cutting Jr Horse

AHAC Qatar International 2009
Champion - 4yr/o Mares
Top Ten - Produce of Dam
Top Ten - Classic Head Jr Mares
Top Ten - Western Pleasure Jr Horse

AHAC Egyptian National Championships 2009
Champion - Cutting Jr Horse
Top Ten - 4yr/o Mares

AHAC 2009 Strohen International
Top Ten - 4yr/o Mares
Top Ten - Produce of Dam
Top Ten - Classic Head Jr Mares

AHAC Arabian Masters 2009
Top Ten - Classic Head Jr Mares

AHAC 2009 Sharjah
Top Ten - 4yr/o Mares
Top Ten - Cutting Jr Horse

AHAC 2009 Arabian Breeders World Cup
Top Ten - Produce of Dam
Top Ten - Cutting Jr Horse

AHAC 2009 US Nationals
Top Ten - Produce of Dam
Top Ten - Reining Jr Horse

AHAC Travagliato 2009
Top Ten - Produce of Dam
Top Ten - Classic Head Jr Mares

AHAC 2009 Wels International
Top Ten - 4yr/o Mares
Top Ten - Produce of Dam

AHAC 2009 Arabica
Top Ten - Cutting Jr Horse

AHAC 2009 Buckeye
Top Ten - Produce of Dam
Top Ten - Most Classic Jr Mare
Top Ten - Western Pleasure Jr Horse
Top Ten - Reining Jr Horse

AHAC 2009 Jordan National Championships
Reserve Champion - 4yr/o Mares
Top Ten - Produce of Dam
Top Ten - Cutting Jr Horse

AHAC 2009 Czech National Championships
Reserve Champion - 4yr/o Mares
Reserve Champion - Produce of Dam
Top Ten - Most Classic Jr Mare
Top Ten - Cutting Jr Horse

AHAC 2009 German Nationals
Top Ten - Most Classic Jr Mare
Top Ten - Cutting Jr Horse

AHAC 2009 Menton International
Reserve Champion - Reining Jr Horse
Top Ten - Produce of Dam
Top Ten - Cutting Jr Horse

AHAC 2009 Orientalica
Top Ten - Produce of Dam

AHAC 2009 Emerald Trophy
Top Ten - Most Classic Jr Mare
Top Ten - Reining Jr Horse
Top Ten - Cutting Jr Horse

AHAC 2009 Scandinavian Open Championships
Champion - Western Pleasure Jr Horse
Reserve Champion - Classic Head Jr Mares
Reserve Champion - Reining Jr Horse
Top Ten - Cutting Jr Horse

AHAC 2009 Danish National Championships Top Ten - 4yr/o Mares

AHAC 2009 British National Championships
Top Ten - Produce of Dam

AHAC 2009 Vilhelmsborg
Champion - Western Pleasure Jr Horse
Top Ten - 4yr/o Mares
Top Ten - Produce of Dam
Top Ten - Classic Head Jr Mares
Top Ten - Most Classic Jr Mare
Top Ten - Reining Jr Horse
Top Ten - Cutting Jr Horse

AHAC 2009 St Petersburg Open
Reserve Champion - Cutting Jr Horse
Top Ten - Produce of Dam
Top Ten - Reining Jr Horse

AHAC 2009 Asil Cup
Top Ten - 4yr/o Mares

AHAC 2009 Brussels Arabian Trophy
Top Ten - Most Classic Jr Mare
Top Ten - Reining Jr Horse
Top Ten - Cutting Jr Horse

AHAC 2009 Towerlands UK
Champion - Cutting Jr Horse
Top Ten - 4yr/o Mares
Top Ten - Most Classic Jr Mare
Top Ten - Western Pleasure Jr Horse

AHAC Elran Cup 2009
Top Ten - Produce of Dam

AHAC 2009 Finnish National Championships
Top Ten - 4yr/o Mares

AHAC 2009 All Nations Cup
Top Ten - Classic Head Jr Mares

AHAC 2009 Merrist Wood
Reserve Champion - Cutting Jr Horse
Top Ten - 4yr/o Mares
Top Ten - Produce of Dam
Top Ten - Reining Jr Horse

AHAC 2009 Moroccon National Championships
Champion - 4yr/o Mares
Top Ten - Reining Jr Horse
Top Ten - Cutting Jr Horse

AHAC 2009 Norwegian National Championships
Top Ten - Produce of Dam

AHAC 2009 Saint Tropez Arabian Cup
Top Ten - Produce of Dam
Top Ten - Classic Head Jr Mares
Top Ten - Cutting Jr Horse

AHAC 2009 Middle East Championships
Top Ten - 4yr/o Mares
Top Ten - Reining Jr Horse

AHAC 2009 Sharjah
Champion - Produce of Dam
Top Ten - 4yr/o Mares
Top Ten - Classic Head Jr Mares
Top Ten - Most Classic Jr Mare
Top Ten - Reining Jr Horse
Top Ten - Cutting Jr Horse

AHAC 2009 Verona National Championships
Top Ten - Produce of Dam

AHAC 2009 European Championships Verona
Top Ten - Cutting Jr Horse

AHAC 2009 Israeli Nationals
Reserve Champion - Cutting Jr Horse
Top Ten - Reining Jr Horse

AHAC 2009 Dutch National Championships
Top Ten - Cutting Head Jr Mares
Top Ten - Most Classic Jr Mare

AHAC 2009 Salon Du Cheval
Top Ten - Classic Head Jr Mares

AHAC 2009 Egypt International
Top Ten - Classic Head Jr Mares
Top Ten - Most Classic Jr Mare
Top Ten - Cutting Jr Horse

AHAC 2009 Brazilian Nationals
Top Ten - Produce of Dam
Top Ten - Reining Jr Horse
Top Ten - Cutting Jr Horse

AHAC 2010 Canadian Nationals
Top Ten - 5yr/o Mares
Top Ten - Most Classic Jr Mare
Top Ten - Cutting Jr Horse

AHAC 2010 Region I Championships
Champion - Western Pleasure Jr Horse
Top Ten - 5yr/o Mares
Top Ten - Produce of Dam
Top Ten - Reining Jr Horse
Top Ten - Cutting Jr Horse

AHAC 2010 Region II Championships
Champion - Western Pleasure Jr Horse
Top Ten - Produce of Dam
Top Ten - Classic Head Jr Mares
Top Ten - Most Classic Jr Mare
Top Ten - Cutting Jr Horse

AHAC 2010 Ajman
Champion - 5yr/o Mares
National Reserve Champion Junior Mare
Top Ten - Most Classic Jr Mare

AHAC 2010 Abu Dhabi
Top Ten - 5yr/o Mares
Top Ten - Produce of Dam

AHAC 2010 Scottsdale
Top Ten - Classic Head Jr Mares
Top Ten - Reining Jr Horse
Top Ten - Cutting Jr Horse

AHAC 2010 Voghera
Champion - Produce of Dam
Top Ten - Classic Head Jr Mares
Top Ten - Reining Jr Horse
Top Ten - Cutting Jr Horse

AHAC 2010 Qatar International
Top Ten - Reining Jr Horse
Top Ten - Cutting Jr Horse

AHAC 2010 Egyptian National Championships
Top Ten - 5yr/o Mares
Top Ten - Produce of Dam
Top Ten - Western Pleasure Jr Horse
Top Ten - Cutting Jr Horse

AHAC 2010 Strohen International
Champion - Cutting Jr Horse
Reserve Champion - 5yr/o Mares
Top Ten - Reining Jr Horse

AHAC 2010 Arabian Masters
Top Ten - 5yr/o Mares
Top Ten - Western Pleasure Jr Horse
Top Ten - Reining Jr Horse
Top Ten - Cutting Jr Horse

AHAC 2010 Dubai International
Reserve Champion - Most Classic Jr Mare
Top Ten - 5yr/o Mares
Top Ten - Produce of Dam
Top Ten - Cutting Jr Horse

AHAC 2010 US Nationals
Champion - 5yr/o Mares
Top Ten - Produce of Dam
Top Ten - Classic Head Jr Mares
Top Ten - Reining Jr Horse
Top Ten - Cutting Jr Horse

AHAC 2010 Sharjah International
Reserve Champion - 5yr/o Mares
Reserve Champion - Reining Jr Horse
Top Ten - Western Pleasure Jr Horse
Top Ten - Cutting Jr Horse

AHAC 2010 Arabian Breeders World Cup
Champion - Cutting Jr Horse
Top Ten - Produce of Dam
Top Ten - Reining Jr Horse

AHAC 2010 Egyptian Event
Champion - 5yr/o Mares
Reserve Champion - Reining Jr Horse
Reserve Champion - Cutting Jr Horse
International Reserve Champion Junior Mare
Top Ten - Produce of Dam
Top Ten - Western Pleasure Jr Horse

AHAC 2010 Travagliato
Reserve Champion - Cutting Jr Horse
Top Ten - 5yr/o Mares
Top Ten - Produce of Dam
Top Ten - Most Classic Jr Mare
Top Ten - Western Pleasure Jr Horse
Top Ten - Reining Jr Horse

AHAC 2010 Wels International
Champion - Reining Jr Horse
Champion - Cutting Jr Horse
Top Ten - Western Pleasure Jr Horse

AHAC 2010 Tulip Cup
Reserve Champion - Cutting Jr Horse
Top Ten - Produce of Dam
Top Ten - Western Pleasure Jr Horse
Top Ten - Reining Jr Horse

AHAC 2010 Austrian National Championships
Champion - 5yr/o Mares
Reserve Champion - Reining Jr Horse
Top Ten - Cutting Jr Horse

AHAC 2010 Buckeye
Reserve Champion - Cutting Jr Horse
Top Ten - Produce of Dam
Top Ten - Western Pleasure Jr Horse

AHAC 2010 Orientalica
Champion - Classic Head Jr Mares
Top Ten - Produce of Dam

AHAC 2010 Egyptian Classic Cup
Top Ten - 5yr/o Mares
Top Ten - Classic Head Jr Mares
Top Ten - Most Classic Jr Mare

AHAC 2010 Jordan National Championships
Reserve Champion - Western Pleasure Jr Horse
Top Ten - Reining Jr Horse
Top Ten - Cutting Jr Horse

AHAC 2010 Czech National Championships
Top Ten - Produce of Dam
Top Ten - Western Pleasure Jr Horse
Top Ten - Reining Jr Horse
Top Ten - Cutting Jr Horse

AHAC 2010 Emerald Trophy
Top Ten - 5yr/o Mares
Top Ten - Produce of Dam
Top Ten - Classic Head Jr Mares
Top Ten - Most Classic Jr Mare
Top Ten - Reining Jr Horse
Top Ten - Cutting Jr Horse

AHAC 2010 Scandinavian Open Championships
Champion - Western Pleasure Jr Horse
Top Ten - 5yr/o Mares
Top Ten - Produce of Dam
Top Ten - Reining Jr Horse
Top Ten - Cutting Jr Horse

AHAC 2010 Menton International
Champion - Classic Head Jr Mares
Top Ten - Produce of Dam
Top Ten - Reining Jr Horse
Top Ten - Cutting Jr Horse

AHAC 2010 German Nationals
Reserve Champion - Produce of Dam
Top Ten - 5yr/o Mares
Top Ten - Reining Jr Horse
Top Ten - Cutting Jr Horse

AHAC 2010 Vilhelmsborg
Top Ten - Produce of Dam
Top Ten - Western Pleasure Jr Horse
Top Ten - Reining Jr Horse
Top Ten - Cutting Jr Horse

AHAC 2010 Danish National Championships
Top Ten - Produce of Dam

AHAC 2010 British National Championships
Top Ten - Produce of Dam
Top Ten - Classic Head Jr Mares

AHAC 2010 St Petersburg Open
Reserve Champion - Reining Jr Horse
Top Ten - 5yr/o Mares
Top Ten - Produce of Dam
Top Ten - Cutting Jr Horse

AHAC 2010 Brussels Arabian Trophy
Reserve Champion - Produce of Dam
Reserve Champion - Cutting Jr Horse
Top Ten - 5yr/o Mares
Top Ten - Western Pleasure Jr Horse

AHAC 2010 Asil Cup
Top Ten - Produce of Dam

AHAC 2010 Elran Cup
Top Ten - 5yr/o Mares
Top Ten - Produce of Dam

AHAC 2010 Towerlands UK
Champion - Classic Head Jr Mares
Most Classic Head
Top Ten - Reining Jr Horse
Top Ten - Cutting Jr Horse

AHAC 2010 Merrist Wood
Top Ten - Produce of Dam
Top Ten - Most Classic Jr Mare

AHAC 2010 All Nations Cup
Top Ten - 5yr/o Mares

AHAC Finnish National Championships 2010
Top Ten - Produce of Dam
Top Ten - Reining Jr Horse
Top Ten - Cutting Jr Horse

AHAC Moroccan National Championships 2010
Champion - Reining Jr Horse
Reserve Champion - Cutting Jr Horse
Top Ten - Produce of Dam

AHAC 2010 Norwegian National Championships
Champion - Western Pleasure Jr Horse
Champion - Reining Jr Horse
Top Ten - Classic Head Jr Mares
Top Ten - Cutting Jr Horse

AHAC 2010 Middle East Championships
Top Ten - 5yr/o Mares
Top Ten - Cutting Jr Horse

AHAC Saint Tropez Arabian Cup 2010
Champion - Produce of Dam

AHAC Israeli Nationals 2010
Top Ten - 5yr/o Mares
Top Ten - Produce of Dam

AHAC Brazilian Nationals 2010
Top Ten - Produce of Dam

AHAC Egypt International 2010
Reserve Champion - Most Classic Jr Mare

AHAC Dutch National Championships 2010
Top Ten - Western Pleasure Jr Horse
Top Ten - Cutting Jr Horse

AHAC European Championships Verona 2010
Top Ten - Produce of Dam
Top Ten - Cutting Jr Horse

AHAC Verona National Championships 2010
Champion - Produce of Dam

AHAC Salon Du Cheval 2010
Top Ten - Most Classic Jr Mare