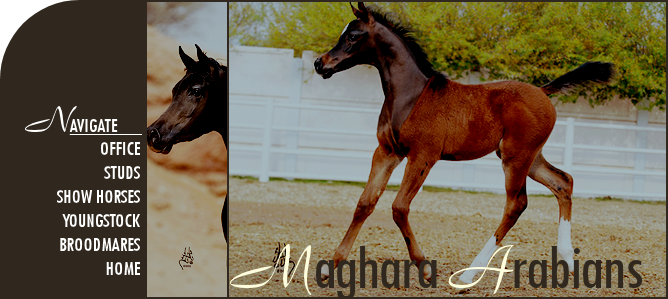 BT Elwira++++/

2002 Grey Polish Arabian Mare
Competing in Sporthorse In-Hand, Sporthorse Under Saddle & Low Jumper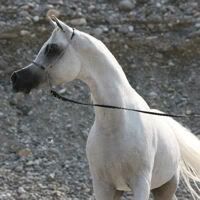 BT Elwira is one of the few Lukasz kids out there, you have a mare with a very attractive pedigree. She has lines to our founding stallion, Atticus, through her dam, BT Erykah. BT Erykah and Atticus both happen to be AHAC Sweepstakes Nominated horses and have impressive accomplishments standing under them. A promising sporthorse mare, BT Elwira is really going to kick some butt in the AHAC. She's got an elegant build that's easy on the eyes and a great personality. She's always willing to do whatever her handler asks of her and never gives a fuss. She's an old soul in a young body, from my experience with her. BT Elwira was being sold at our final 2006 Herd Reduction and Tashya of Golden Bay Acres had requested to purchase her but in the end she ended up staying at Blackthorn Hills.
Buybacks to Noel of Blackthorn Hills
Lukasz

Dervatiw Gwyddion
AJ Ibn Negatiw
Dervona
Pieparta
Partner
Pieczec

BT Erykah

Atticus
*Monogramm
Kawalkada
Farion Rafaar
Aloes
Wielka Danata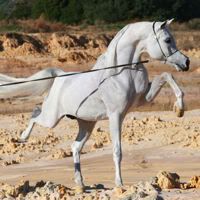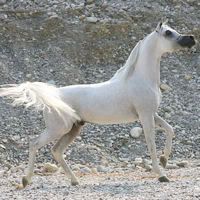 Progeny
Eligia M, 2007 Polish Arabian Filly Sired by Kazimierz
Eliasz M+/, 2008 Polish Arabian Colt Sired by Kazimierz
Show Record
- 3292 AHAC POINTS ll AHAC LEGION OF SUPREME EXCELLENCE (++++/)

- AHAC NOMINATED MARE
- AHAC NOMINATED BREEDING ENTRY



AHAC 2007 Region 1 Championships
Champion - Five Year Old Mares
Top Ten - Junior Sporthorse Mares
Top Ten [G2] - Hunter Hack (Fences 2' to 2'6)
Top Ten [G3] - Sporthorse Under Saddle Jr. Horse

The Haakim Cup 2007
Top Ten - Five Year Old Mares

AHAC 2007 Region 2 Championships
Top Ten - Junior Sporthorse Mares
Top Ten - Sporthorse Under Saddle Jr. Horse
Top Ten - Hunter Hack (Fences 2' to 2'6)
Top Ten [G3] - Five Year Old Mares In-Hand

AHAC 2007 Ajman
Top Ten [G3] - Five Year Old Mares

2007 Blackthorn Hills Homebred Invitational II
Top Ten [G2] - Junior Breeding Mare

AHAC 2007 Scottsdale Show
Champion [G4] - Sporthorse Under Saddle Jr. Horse
Top Ten [G2] - Five Year Old Mares
Top Ten [G2] - Junior Sporthorse Mares
Top Ten [G3] - Hunter Hack (Fences 2' to 2'6)

AHAC 2007 Egyptian National Championships
Champion - 5yr/o Mares
Reserve Champion - Jr. Sporthorse Mares In-Hand
Top Ten - Classic Head Mares
Top Ten - Sporthorse Under Saddle

2007 Adamant Arabian Classic
Top Ten - 5yr/o Mares

BT Gharkwan Arabian Spectacular 2007
Top Ten - 5yr/o Mares
Top Ten - Low Jumpers

Weatherlord Farm Classic Circut Show A
Top Ten - Classic Head Mares

Weatherlord Farm Classic Circut Show B
Top Ten - Classic Head Mares

AHAC Wels International 2007
Top Ten - 5yr/o Mares

AHAC Jordan National Championships 2007
Top Ten - Sporthorse Under Saddle Jr Horse
Top Ten - Low Jumper

AHAC 2007 Czech National Championships
Reserve Champion - Sporthorse Under Saddle Jr Horse
Top Ten - 5yr/o Mares
Top Ten - Low Jumper

AHAC 2007 Menton International
Top Ten - 5yr/o Mares
Top Ten - Junior Sporthorse Mares In-Hand

AHAC 2007 Scandinavian Open Championships
Champion - Low Jumper
Top Ten - Junior Sporthorse Mares In-Hand
Top Ten - Sporthorse Under Saddle Jr Horse

AHAC 2007 Mooslargue
Reserve Champion - 5yr/o Mares
Top Ten - Junior Sporthorse Mares In-Hand
Top Ten - Sporthorse Under Saddle Jr Horse

AHAC 2007 Vilhelmsborg
Top Ten - 5yr/o Mares
Top Ten - Junior Sporthorse Mares In-Hand
Top Ten - Sporthorse Under Saddle Jr Horse
Top Ten - Low Jumper

AHAC 2007 British National Championships
Top Ten - Low Jumper

AHAC 2007 Asil Cup
Top Ten - 5yr/o Mares

AHAC 2007 St. Petersburg Open
Top Ten - 5yr/o Mares
Top Ten - Low Jumper

AHAC 2007 Finnish National Championships
Reserve Champion - 5yr/o Mares

AHAC Elran cup 2007
Top Ten - 5yr/o Mares

AHAC 2007 Merrist Wood
Top Ten - 5yr/o Mares

AHAC 2007 All Nations Cup
Champion - 5yr/o Mares
International Champion Junior Mares

AHAC 2007 US Sporthorse Nationals
Top Ten - Sporthorse Under Saddle Jr Horse

AHAC 2007 Saint-Tropez Arabian Cup
Top Ten - 5yr/o Mares

AHAC 2007 Polish National Show
Reserve Champion - 5yr/o Mares

Maghara 2007 Polish Halter Show
Reserve Champion - 5yr/o Mares

AHAC 2007 European National Championships
Champion - Junior Sporthorse Mares In-Hand
Top Ten - 5yr/o Mares
Top Ten - Sporthorse Under Saddle Jr Horse

AHAC 2007 Middle East Championships
Top Ten - Junior Sporthorse Mares In-Hand

2007 Blackthorn Hills Homebred Invitational III
Champion - Junior Breeding Mare In-Hand

AHAC 2007 Egypt International
Top Ten - Junior Sporthorse Mares In-Hand
Top Ten - Low Jumper

AHAC 2007 Salon Du Cheval
Top Ten - 5yr/o Mares

AHAC 2007 Brazilian National Championships
Top Ten - 5yr/o Mares
Top Ten - Junior Sporthorse Mares In-Hand
Top Ten - Low Jumper

AHAC Sharjah 2007
Top Ten - 5yr/o Mares
Top Ten - Junior Sporthorse Mares In-Hand

AHAC 2008 Region 1 Championships
Reserve Champion - Sporthorse Under Saddle Jr Horse
Top Ten - Low Jumper

AHAC 2008 Canadian Nationals
Reserve Champion - 6yr/o Mares
Top Ten - Sporthorse Under Saddle Jr Horse
Top Ten - Low Jumper

AHAC 2008 Region 2 Championships
Champion - 6yr/o Mares
Top Ten - Sporthorse Under Saddle Jr Horse

AHAC Ajman National Show 2008
Top Ten - 6yr/o Mares
Top Ten - Sporthorse Under Saddle Jr Horse
Top Ten - Low Jumper

AHAC Scottsdale Arabian Horse Show 2008
Top Ten - 6yr/o Mares
Top Ten - Low Jumper

AHAC 2008 Egyptian National Championships
Champion - Low Jumper
Top Ten - Sporthorse Under Saddle Jr Horse

AHAC 2008 Strohen International
Top Ten - 6yr/o Mares

AHAC 2008 Sharjah International
Champion - 6yr/o Mares

AHAC Arabian Breeders World Cup 2008
Reserve Champion - Low Jumper

AHAC 2008 US Nationals
Top Ten - Low Jumper

Pheonix Halter Show 2008
Top Ten - 6yr/o Mares

AHAC 2008 Buckeye
Top Ten - Low Jumper

AHAC 2008 Arabica
Top Ten - Sporthorse Under Saddle Jr Horse
Top Ten - Low Jumper

2008 AHAC Jordan Nationals
Top Ten - 6yr/o Mares

AHAC 2008 German Nationals
Top Ten - Junior Sporthorse Mares In-Hand

AHAC 2008 Menton International
Top Ten - Low Jumper

AHAC 2008 Asil Cup
Top Ten - 6yr/o Mares

AHAC Mooslargue 2008
Top Ten - 6yr/o Mares

AHAC Brussels Arabian Trophy 2008
Top Ten - Sporthorse Under Saddle Jr Horse

AHAC Towerlands UK 2008
Top Ten - 6yr/o Mares

AHAC Vilhelmsborg 2008
Reserve Champion - Sporthorse Under Saddle Jr Horse
Top Ten - Junior Sporthorse Mares In-Hand

AHAC Polish National Show 2008
Reserve Champion - 6yr/o Mares
Top Ten - Classic Head Jr Mares
Top Ten - Most Classic Jr Mare

AHAC European Championships Verona 2008
Top Ten - 6yr/o Mares
Top Ten - Low Jumper

AHAC Sharjah 2008
Top Ten - 6yr/o Mares

AHAC Region One Championships 2009
Champion - Low Jumper
Top Ten - Produce of Dam

AHAC Ajman National Show 2009
Top Ten - Produce of Dam
Top Ten - Senior Sporthorse Mares In-Hand

AHAC Abu Dhabi 2009
Top Ten - Produce of Dam

AHAC Scottsdale Arabian Horse Show 2009
Top Ten - Produce of Dam
Top Ten - Sporthorse Under Saddle Sr Horse

AHAC Voghera 2009
Reserve Champion - Sporthorse Under Saddle Sr Horse

Blackthorn Hills 2009 Homebred Classic
Top Ten - 7yr/o In-Hand

AHAC Qatar International 2009
Top Ten - 7yr/o Mares
Top Ten - Produce of Dam
Top Ten - Senior Sporthorse Mares In-Hand
Top Ten - Low Jumper

AHAC 2009 Strohen International
Top Ten - Senior Breeding Mare 7-up Breeders Sweepstakes

AHAC 2009 Dubai International
Top Ten - Senior Breeding Mare 7-up Breeders Sweepstakes

AHAC Arabian Masters 2009
Top Ten - 7yr/o Mares
Top Ten - Senior Breeding Mare 7-up Breeders Sweepstakes

AHAC 2009 Sharjah International
Top Ten - Senior Breeding Mare 7-up Breeders Sweepstakes

AHAC 2009 Arabian Breeders World Cup
Top Ten - Produce of Dam
Top Ten - Low Jumper
Top Ten - Senior Breeding Mare 7-up Breeders Sweepstakes

AHAC 2009 US Nationals
Top Ten - Senior Breeding Mare 7-up Breeders Sweepstakes

AHAC Travagliato 2009
Champion - Senior Breeding Mare 7-up Breeders Sweepstakes

AHAC 2009 Wels International
Top Ten - Senior Breeding Mare 7-up Breeders Sweepstakes

AHC 2009 Tulip Cup
Reserve Champion - Senior Breeding Mare 7-up Breeders Sweepstakes

AHAC 2009 Austrian National Championships
Top Ten - Produce of Dam
Top Ten - Senior Breeding Mare 7-up Breeders Sweepstakes

AHAC 2009 Arabica
Top Ten - 7yr/o Mares
Top Ten - Senior Breeding Mare 7-up Breeders Sweepstakes

AHAC 2009 Buckeye
Champion - Senior Breeding Mare 7-up Breeders Sweepstakes
Top Ten - 7yr/o Mares
Top Ten - Senior Sporthorse Mares In-Hand

AHAC 2009 Jordan National Championships
Champion - Senior Breeding Mare 7-up Breeders Sweepstakes
Top Ten - 7yr/o Mares
Top Ten - Senior Sporthorse Mares In-Hand

AHAC 2009 Czech National Championships
Top Ten - Produce of Dam
Top Ten - Sporthorse Under Saddle Sr Horse
Top Ten - Senior Breeding Mare 7-up Breeders Sweepstakes

AHAC 2009 German Nationals
Top Ten - Produce of Dam
Top Ten - Senior Sporthorse Mares In-Hand
Top Ten - Low Jumper
Top Ten - Senior Breeding Mare 7-up Breeders Sweepstakes

AHAC 2009 Menton International
Top Ten - Produce of Dam
Top Ten - Senior Sporthorse Mares In-Hand
Top Ten - Senior Breeding Mare 7-up Breeders Sweepstakes

AHAC 2009 Orientalica
Top Ten - Produce of Dam
Top Ten - Senior Breeding Mare 7-up Breeders Sweepstakes

AHAC 2009 Emerald Trophy
Top Ten - Produce of Dam
Top Ten - Senior Sporthorse Mares In-Hand
Top Ten - Low Jumper
Top Ten - Senior Breeding Mare 7-up Breeders Sweepstakes

AHAC 2009 Scandinavian Open Championships
Top Ten - Senior Sporthorse Mares In-Hand
Top Ten - Sporthorse Under Saddle Sr Horse
Top Ten - Senior Breeding Mare 7-up Breeders Sweepstakes
Top Ten - Sweepstakes Nominated Senior Dams

AHAC 2009 Mooslargue
Top Ten - Produce of Dam
Top Ten - Sweepstakes Nominated Senior Dams

AHAC 2009 Danish National Championships
Top Ten - 7yr/o Mares
Top Ten - Produce of Dam
Top Ten - Senior Breeding Mare 7-up Breeders Sweepstakes
Top Ten - Sweepstakes Nominated Senior Dams

AHAC 2009 British National Championships
Reserve Champion - 7yr/o Mares
Top Ten - Senior Breeding Mare 7-up Breeders Sweepstakes

AHAC 2009 Vilhelmsborg
Top Ten - Senior Sporthorse Mares In-Hand
Top Ten - Low Jumper
Top Ten - Senior Breeding Mare 7-up Breeders Sweepstakes
Top Ten - Sweepstakes Nominated Senior Dams

AHAC 2009 St Petersburg Open
Reserve Champion - Senior Breeding Mare 7-up Breeders Sweepstakes
Top Ten - 7yr/o Mares
Top Ten - Low Jumper

AHAC 2009 Asil Cup
Reserve Champion - Sweepstakes Nominated Senior Dams
Top Ten - 7yr/o Mares
Top Ten - Senior Breeding Mare 7-up Breeders Sweepstakes

AHAC 2009 Brussels Arabian Trophy
Top Ten - Produce of Dam
Top Ten - Sporthorse Under Saddle Sr Horse
Top Ten - Senior Breeding Mare 7-up Breeders Sweepstakes
Top Ten - Sweepstakes Nominated Senior Dams

AHAC 2009 Towerlands UK
Top Ten - Senior Sporthorse Mares In-Hand
Top Ten - Senior Breeding Mare 7-up Breeders Sweepstakes

AHAC Elran Cup 2009
Top Ten - Senior Breeding Mare 7-up Breeders Sweepstakes
Top Ten - Sweepstakes Nominated Senior Dams

AHAC 2009 Finnish National Championships
Champion - 7yr/o Mares
National Champion Senior Mare
Reserve Champion - Produce of Dam

Top Ten - Senior Breeding Mare 7-up Breeders Sweepstakes
Top Ten - Sweepstakes Nominated Junior Dams

AHAC 2009 All Nations Cup
Champion - Sweepstakes Nominated Senior Dams
Top Ten - Most Classic Sr Mare
Top Ten - Senior Breeding Mare 7-up Breeders Sweepstakes

AHAC 2009 Merrist Wood
Reserve Champion - Produce of Dam
Top Ten - Senior Breeding Mare 7-up Breeders Sweepstakes
Top Ten - Sweepstakes Nominated Senior Dams

AHAC 2009 Moroccon National Championships
Reserve Champion - Senior Breeding Mare 7-up Breeders Sweepstakes
Top Ten - 7yr/o Mares
Top Ten - Produce of Dam
Top Ten - Classic Head Sr Mares
Top Ten - Low Jumper
Top Ten - Sweepstakes Nominated Senior Dams

AHAC 2009 Norwegian National Championships
Top Ten - Senior Sporthorse Mares In-Hand
Top Ten - Sporthorse Under Saddle Sr Horse
Top Ten - Low Jumper
Top Ten - Senior Breeding Mare 7-up Breeders Sweepstakes

AHAC 2009 Saint Tropez Arabian Cup
Reserve Champion - Sweepstakes Nominated Senior Dams
Top Ten - 7yr/o Mares
Top Ten - Senior Sporthorse Mares In-Hand
Top Ten - Sporthorse Under Saddle Sr Horse
Top Ten - Law Jumper
Top Ten - Senior Breeding Mare 7-up Breeders Sweepstakes

AHAC 2009 Middle East Championships
Reserve Champion - Senior Breeding Mare 7-up Breeders Sweepstakes
Top Ten - Produce of Dam
Top Ten - Sweepstakes Nominated Senior Dams

AHAC 2009 Sharjah
Top Ten - 7yr/o Mares
Top Ten - Senior Breeding Mare 7-up Breeders Sweepstakes
Top Ten - Sweepstakes Nominated Senior Dams

AHAC 2009 Verona National Championships
Top Ten - Senior Breeding Mare 7-up Breeders Sweepstakes
Top Ten - Sweepstakes Nominated Senior Dams

AHAC 2009 European Championships Verona
Top Ten - 7yr/o Mares
Top Ten - Produce of Dam
Top Ten - Sporthorse Under Saddle Sr Horse
Top Ten - Low Jumper

AHAC 2009 Israeli Nationals
Top Ten - Produce of Dam
Top Ten - Sporthorse Under Saddle Sr Horse

AHAC 2009 Dutch National Championships
Top Ten - Senior Breeding Mare 7-up Breeders Sweepstakes
Top Ten - Sweepstakes Nominated Senior Dams

AHAC 2009 Salon Du Cheval
Top Ten - 7yr/o Mares
Top Ten - Senior Breeding Mare 7-up Breeders Sweepstakes
Top Ten - Sweepstakes Nominated Senior Dams

AHAC 2009 Egypt International
Champion - Low Jumper
Top Ten - Senior Breeding Mare 7-up Breeders Sweepstakes

AHAC 2009 Brazilian Nationals
Top Ten - 7yr/o Mares
Top Ten - Most Classic Sr Mare
Top Ten - Low Jumper
Top Ten - Sweepstakes Nominated Senior Dams

AHAC 2010 Canadian Nationals
Top Ten - 8yr/o Mares
Top Ten - Produce of Dam
Top Ten - Low Jumper
Top Ten - Senior Breeding Mare 7-up Breeders Sweepstakes
Top Ten - Sweepstakes Nominated Senior Dams

AHAC 2010 Region I Championships
Reserve Champion - 8yr/o Mares
Top Ten - Produce of Dam
Top Ten - Senior Breeding Mare 7-up Breeders Sweepstakes
Top Ten - Sweepstakes Nominated Senior Dams

AHAC 2010 Region II Championships
Top Ten - Produce of Dam
Top Ten - Low Jumper
Top Ten - Senior Breeding Mare 7-up Breeders Sweepstakes
Top Ten - Sweepstakes Nominated Senior Dams

AHAC 2010 Ajman
Champion - 8yr/o Mares
Top Ten - Produce of Dam

AHAC 2010 Abu Dhabi
Top Ten - 8yr/o Mares
Top Ten - Produce of Dam

AHAC 2010 Scottsdale
Top Ten - Senior Sporthorse Mares In-Hand
Top Ten - Low Jumper

AHAC 2010 Voghera
Top Ten - 8yr/o Mares
Top Ten - Produce of Dam
Top Ten - Senior Sporthorse Mares In-Hand
Top Ten - Low Jumper

AHAC 2010 Qatar International
Top Ten - 8yr/o Mares
Top Ten - Low Jumper

AHAC 2010 Egyptian National Championships
Top Ten - 8yr/o Mares
Top Ten - Produce of Dam
Top Ten - Senior Sporthorse Mares In-Hand
Top Ten - Low Jumper

AHAC 2010 Strohen International
Top Ten - 8yr/o Mares
Top Ten - Low Jumper

AHAC 2010 Arabian Masters
Reserve Champion - 8yr/o Mares
Top Ten - Produce of Dam
Top Ten - Senior Sporthorse Mares In-Hand
Top Ten - Sporthorse Under Saddle Sr Horse
Top Ten - Low Jumper

AHAC 2010 US Nationals
Top Ten - Produce of Dam
Top Ten - Low Jumper
Top Ten - Senior Breeding Mare 7-up Breeders Sweepstakes

AHAC 2010 Dubai International
Top Ten - 8yr/o Mares
Top Ten - Produce of Dam
Top Ten - Low Jumper

AHAC 2010 Sharjah International
Champion - Low Jumper
Reserve Champion - Produce of Dam
Top Ten - 8yr/o Mares
Top Ten - Senior Sporthorse Mares In-Hand
Top Ten - Sporthorse Under Saddle Sr Horse

AHAC 2010 Egyptian Event
Champion - Low Jumper
Reserve Champion - 8yr/o Mares
Reserve Champion - Senior Sporthorse Mares In-Hand
Top Ten - Produce of Dam
Top Ten - Sporthorse Under Saddle Sr Horse
Top Ten - Senior Breeding Mare 7-up Breeders Sweepstakes
Top Ten - Sweepstakes Nominated Senior Dams

AHAC 2010 Arabian Breeders World Cup
Top Ten - 8yr/o Mares
Top Ten - Produce of Dam

AHAC 2010 Egyptian Event
Champion - Low Jumper
Reserve Champion - 8yr/o Mares
Reserve Champion - Senior Sporthorse Mares In-Hand
Top Ten - Produce of Dam
Top Ten - Sporthorse Under Saddle Sr Horse
Top Ten - Senior Breeding Mare 7-up Breeders Sweepstakes
Top Ten - Sweepstakes Nominated Senior Dams

AHAC 2010 Travagliato
Top Ten - 8yr/o Mares
Top Ten - Produce of Dam
Top Ten - Low Jumper

AHAC 2010 Wels International
Top Ten - 8yr/o Mares
Top Ten - Produce of Dam

AHAC 2010 Tulip Cup
Reserve Champion - 8yr/o Mares
Top Ten - Produce of Dam

AHAC 2010 Austrian National Championships
Top Ten - 8yr/o Mares
Top Ten - Produce of Dam

AHAC 2010 Buckeye
Reserve Champion - Produce of Dam
Top Ten - 8yr/o Mares
Top Ten - Senior Sporthorse Mares In-Hand

AHAC 2010 Arabica
Top Ten - 8yr/o Mares
Top Ten - Produce of Dam

AHAC 2010 Orientalica
Top Ten - 8yr/o Mares
Top Ten - Produce of Dam

AHAC 2010 Egyptian Classic Cup
Top Ten - 8yr/o Mares
Top Ten - Produce of Dam

AHAC 2010 Mooslargue
Reserve Champion - 8yr/o Mares
Top Ten - Produce of Dam

AHAC 2010 Jordan National Championships
Top Ten - Produce of Dam

AHAC 2010 Czech National Championships
Reserve Champion - Produce of Dam
Top Ten - 8yr/o Mares

AHAC 2010 Emerald Trophy
Top Ten - 8yr/o Mares
Top Ten - Senior Sporthorse Mares In-Hand
Top Ten - Sporthorse Under Saddle Sr Horse

AHAC 2010 Scandinavian Open Championships
Champion - 8yr/o Mares
International Champion Senior Mare
Top Ten - Produce of Dam
Top Ten - Low Jumper

AHAC 2010 Menton International
Top Ten - 8yr/o Mares
Top Ten - Produce of Dam
Top Ten - Senior Sporthorse Mares In-Hand
Top Ten - Sporthorse Under Saddle Sr Horse
Top Ten - Low Jumper

AHAC 2010 German Nationals
Champion - Low Jumper
Reserve Champion - Sporthorse Under Saddle Sr Horse
Top Ten - 8yr/o Mares

AHAC 2010 Vilhelmsborg
Top Ten - Produce of Dam
Top Ten - Low Jumper

AHAC 2010 Danish National Championships
Top Ten - 8yr/o Mares
Top Ten - Produce of Dam

AHAC 2010 St Petersburg Open
Top Ten - 8yr/o Mares
Top Ten - Sporthorse Under Saddle Sr Horse

AHAC 2010 Brussels Arabian Trophy
Top Ten - 8yr/o Mares
Top Ten - Produce of Dam

AHAC 2010 Asil Cup
Top Ten - 8yr/o Mares

AHAC 2010 Elran Cup
Top Ten - 8yr/o Mares
Top Ten - Produce of Dam

AHAC 2010 Merrist Wood
Top Ten - 8yr/o Mares

AHAC 2010 All Nations Cup
Top Ten - 8yr/o Mares

AHAC Finnish National Championships 2010
Top Ten - 8yr/o Mares
Top Ten - Low Jumper

AHAC Moroccan National Championships 2010
Champion - Sporhorse Under Saddle Sr Horse
Reserve Champion - Low Jumper
Top Ten - 8yr/o Mares

AHAC 2010 Norwegian National Championships
Reserve Champion - Low Jumper
Top Ten - 8yr/o Mares
Top Ten - Produce of Dam

AHAC 2010 Middle East Championships
Reserve Champion - Low Jumper
Top Ten - 8yr/o Mares
Top Ten - Produce of Dam

AHAC Saint Tropez Arabian Cup 2010
Top Ten - 8yr/o Mares

AHAC 2010 US Sporthorse Nationals
Top Ten - SPorthorse Under Saddle Sr Horse
Top Ten - Low Jumper

AHAC Israeli Nationals 2010
Top Ten - 8yr/o Mares
Top Ten - Produce of Dam

AHAC Brazilian Nationals 2010
Reserve Champion - Produce of Dam
Top Ten - 8yr/o Mares

AHAC Egypt International 2010
Reserve Champion - 8yr/o Mares
Top Ten - Produce of Dam

AHAC Dutch National Championships 2010
Top Ten - 8yr/o Mares
Top Ten - Produce of Dam
Top Ten - Senior Sporthorse Mares In-Hand

AHAC European Championships Verona 2010
Champion - Senior Sporthorse Mares In-Hand
Top Ten - 8yr/o Mares
Top Ten - Produce of Dam
Top Ten - Low Jumper

AHAC Verona National Championships 2010
Top Ten - 8yr/o Mares
Top Ten - Produce of Dam
Top Ten - Sporthorse Under Saddle Sr Horse
Top Ten - Low Jumper

AHAC Sharjah 2010
Reserve Champion - Produce of Dam
Reserve Champion - Low Jumper

AHAC Salon Du Cheval 2010
Top Ten - 8yr/o Mares