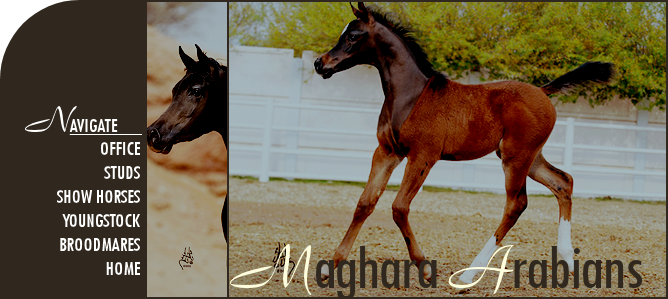 BT Fantazyl++++

2003 Grey Polish Arabian Mare
Competing in English Pleasure & Pleasure Driving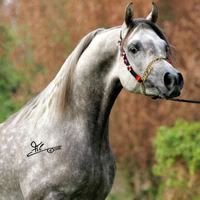 BT Fantazyl is another mare purchased from Blackthorn Hills' 2009 foal crop. She will begin showing anongside our other english pleasure mares in the coming AHAC shows and continue doing so until she is as successful as her sire and also her half brother Berry Bazyli M who was one of the first foals to come to Maghara Arabian when we started participating in the AHAC. We hope that this new mare will be greatly desired among the participants of the AHAC and produce beautiful foals to continue this wonderful bloodline.



*Bazyli

Bialas Mandek
*Monogramm
Erytrea
Anielsky
Emigrant
*Elma

*Faerytale

Etogram
El Paso
Etruria
Fula
Partner
Florena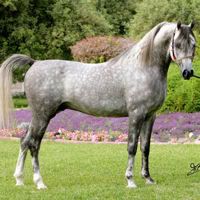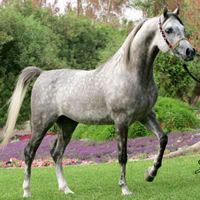 Progeny
Choo's Fhantasy M, 2007 Domestic Arabian Colt, Sired by Beybe Choo's VI

Show Record
- 1702 AHAC POINTS ll AHAC LEGION OF MASTERS (++++)

- AHAC NOMINATED BREEDING ENTRY



AHAC 2009 Dubai International
Reserve Champion - Get of Sire
Top Ten - 6yr/o Mares

AHAC Arabian Masters 2009
Top Ten - Get of Sire

AHAC 2009 Sharjah
Top Ten - Get of Sire
Top Ten - English Pleasure Jr Horse

AHAC 2009 Arabian Breeders World Cup
Reserve Champion - Pleasure Driving Jr Horse

AHAC 2009 Buckeye
Top Ten - 6yr/o Mares
Top Ten - English Pleasure Jr Horse

AHAC 2009 Jordan National Championships
Reserve Champion - Get of Sire
Top Ten - Pleasure Driving Jr Horse

AHAC 2009 Czech National Championships
Champion - Get of Sire
Reserve Champion - Pleasure Driving Jr Horse
Top Ten - 6yr/o Mares

AHAC 2009 German Nationals
Top Ten - Get of Sire

AHAC 2009 Menton International
Champion - English Pleasure Jr Horse
Top Ten - Get of Sire

AHAC 2009 Orientalica
Top Ten - Get of Sire

AHAC 2009 Emerald Trophy
Top Ten- Get of Sire

AHAC 2009 Scandinavian Open Championships
Top Ten - English Pleasure Jr Horse
Top Ten - Pleasure Driving Jr Horse

AHAC 2009 Mooslargue
Top Ten - Get of Sire

AHAC 2009 Danish National Championships
Top Ten - 6yr/o Mares
Top Ten - Get of Sire

AHAC 2009 British National Championships
Champion - 6yr/o Mares
National Reserve Champion Junior Mare

AHAC 2009 St Petersburg Open
Top Ten - 6yr/o Mares

AHAC 209 Asil Cup
Top Ten - Get of Sire

AHAC 2009 Brussels Arabian Trophy
Top Ten - 6yr/o Mares
Top Ten - Get of Sire

AHAC 2009 Towerlands UK
Champion - 6yr/o Mares
Top Ten - English Pleasure Jr Horse

AHAC Elran Cup 2009
Top Ten - Get of Sire

AHAC 2009 Finnish National Championships
Champion - Get of Sire
Top Ten - 6yr/o Mares
Top Ten - Most Classic Jr Mare

AHAC 2009 All Nations Cup
Top Ten - 6yr/o Mares

AHAC 2009 Merrist Wood
Top Ten - Pleasure Driving Jr Horse

AHAC 2009 Moroccon National Championships
Top Ten - Get of Sire

AHAC 2009 Norwegian National Championships
Top Ten - 6yr/o Mares

AHAC 2009 Saint Tropez Arabian Cup
Top Ten - Pleasure Driving Jr Horse

AHAC 2009 Middle East Championships
Top Ten - Get of Sire

AHAC 2009 Sharjah
Champion - Get of Sire
Top Ten - English Pleasure Jr Horse

AHAC 2009 Verona National Championships
Top Ten - 6yr/o Mares
Top Ten - Get of Sire
Top Ten - English Pleasure Jr Horse
Top Ten - Pleasure Driving Jr Horse

AHAC 2009 European Championships Verona
Champion - 6yr/o Mares
Champion - Most Classic Jr Mare
National Champion Junior Mare
Top Ten - Get of Sire
Top Ten - Classic Head Jr Mares
Top Ten - English Pleasure Jr Horse
Top Ten - Pleasure Driving Jr Horse

AHAC 2009 Israeli Nationals
Champion - 6yr/o Mares

AHAC 2009 Dutch National Championships
Top Ten - Get of Sire

AHAC 2009 Egypt International
Top Ten - Get of Sire

AHAC 2009 Brazilian Nationals
Top Ten - 6yr/o Mares
Top Ten - Get of Sire
Top Ten - Pleasure Driving Jr Horse

AHAC 2010 Canadian Nationals
Champion - Get of Sire
Top Ten - 7yr/o Mares
Top Ten - English Pleasure Sr Horse

AHAC 2010 Region I Championships
Champion - Classic Head Sr Mares
Top Ten - 7yr/o Mares
Top Ten - Get of Sire

AHAC 2010 Region II Championships
Reserve Champion - Most Classic Sr Mare
Top Ten - 7yr/o Mares
Top Ten - Get of Sire
Top Ten - English Pleasure Sr Horse
Top Ten - Pleasure Driving Sr Horse

AHAC 2010 Ajman
Champion - Get of Sire
Top Ten - 7yr/o Mares

AHAC 2010 Scottsdale
Champion - 7yr/o Mares
Reserve Champion - Pleasure Driving Sr Horse
Top Ten - Classic Head Sr Mares

AHAC 2010 Voghera
Top Ten - Get of Sire
Top Ten - Most Classic Sr Mare
Top Ten - Pleasure Driving Sr Horse

AHAC 2010 Egyptian National Championships
Champion - Pleasure Driving Sr Horse
Top Ten - 7yr/o Mares
Top Ten - Get of Sire
Top Ten - Classic Head Sr Mares

AHAC 2010 Strohen International
Top Ten - 7yr/o Mares
Top Ten - Get of Sire
Top Ten - Pleasure Driving Sr Horse

AHAC 2010 Arabian Masters
Top Ten - Get of Sire
Top Ten - English Pleasure Sr Horse
Top Ten - Pleasure Driving Sr Horse

AHAC 2010 US Nationals
Top Ten - 7yr/o Mares
Top Ten - Get of Sire
Top Ten - Classic Head Sr Mares
Top Ten - English Pleasure Sr Horse

AHAC 2010 Dubai International
Top Ten - 7yr/o Mares
Top Ten - Get of Sire
Top Ten - English Pleasure Sr Horse
Top Ten - Pleasure Driving Sr Horse

AHAC 2010 Sharjah International
Reserve Champion - 7yr/o Mares
Top Ten - Get of Sire
Top Ten - English Pleasure Sr Horse
Top Ten - Pleasure Driving Sr Horse

AHAC 2010 Arabian Breeders World Cup
Top Ten - 7yr/o Mares
Top Ten - Get of Sire
Top Ten - Pleasure Driving Sr Horse

AHAC 2010 Egyptian Event
Reserve Champion - 7yr/o Mares
Reserve Champion - Get of Sire
Top Ten - Most Classic Sr Mare
Top Ten - English Pleasure Sr Horse

AHAC 2010 Travagliato
Top Ten - 7yr/o Mares
Top Ten - English Pleasure Sr Horse
Top Ten - Pleasure Driving Sr Horse

AHAC 2010 Wels International
Top Ten - Get of Sire
Top Ten - English Pleasure Sr Horse

AHAC 2010 Tulip Cup
Reserve Champion - Pleasure Driving Sr Horse
Top Ten - Get of Sire
Top Ten - English Pleasure Sr Horse

AHAC 2010 Buckeye
Top Ten - Get of Sire

AHAC 2010 Arabica
Top Ten - Get of Sire

AHAC 2010 Orientalica
Top Ten - Get of Sire

AHAC 2010 Egyptian Classic Cup
Reserve Champion - Get of Sire
Top Ten - 7yr/o Mares

AHAC 2010 Mooslargue
Champion - Get of Sire
Reserve Champion - Classic Head Sr Mares
Top Ten - 7yr/o Mares

AHAC 2010 Jordan National Championships
Reserve Champion - 7yr/o Mares
Top Ten - English Pleasure Sr Horse

AHAC 2010 Czech National Championships
Champion - 7yr/o Mares
Reserve Champion - Pleasure Driving Sr Horse
Top Ten - Get of Sire
Top Ten - Most Classic Sr Mare

AHAC 2010 Emerald Trophy
Top Ten - 7yr/o Mares
Top Ten - Get of Sire

AHAC 2010 Scandinavian Open Championships
Top Ten - 7yr/o Mares
Top Ten - Get of Sire

AHAC 2010 Menton International
Top Ten - Get of Sire
Top Ten - English Pleasure Sr Horse

AHAC 2010 German Nationals
Top Ten - 7yr/o Mares
Top Ten - Get of Sire
Top Ten - Classic Head Sr Mares
Top Ten - Pleasure Driving Sr Horse

AHAC 2010 Vilhelmsborg
Reserve Champion - English Pleasure Sr Horse
Top Ten - 7yr/o Mares
Top Ten - Classic Head Sr Mares
Top Ten - Pleasure Driving Sr Horse

AHAC 2010 Danish National Championships
Top Ten - 7yr/o Mares

AHAC 2010 British National Championships
Champion - Get of Sire
Reserve Champion - Classic Head Sr Mares

AHAC 2010 St Petersburg Open
Reserve Champion - Get of Sire
Reserve Champion - English Pleasure Sr Horse
Top Ten - Pleasure Driving Sr Horse

AHAC 2010 Brussels Arabian Trophy
Reserve Champion - Classic Head Sr Mares
Top Ten - Get of Sire
Top Ten - English Pleasure Sr Horse
Top Ten - Pleasure Driving Sr Horse

AHAC 2010 Asil Cup
Reserve Champion - 7yr/o Mares
Top Ten - Get of Sire
Top Ten - Most Classic Sr Mare

AHAC 2010 Elran Cup
Reserve Champion - Get of Sire
Top Ten - 7yr/o Mares

AHAC 2010 Towerlands UK
Reserve Champion - Pleasure Drivin Sr Horse
Top Ten - 7yr/o Mares
Top Ten - Enlish Pleasure Sr Horse

AHAC 2010 All Nations Cup
Top Ten - 7yr/o Mares
Top Ten - Get of Sire
Top Ten - Classic Head Sr Mares

AHAC Finnish National Championships 2010
Champion - Pleasure Driving Sr Horse

AHAC Moroccan National Championships 2010
Top Ten - 7yr/o Mares
Top Ten - Get of Sire
Top Ten - English Pleasure Sr Horse

AHAC 2010 Norwegian National Championships
Top Ten - 7yr/o Mares
Top Ten - Get of Sire
Top Ten - English Pleasure Sr Horse
Top Ten - Pleasure Driving Sr Horse

AHAC 2010 Middle East Championships
Top Ten - Get of Sire
Top Ten - English Pleasure Sr Horse
Top Ten - Pleasure Driving Sr Horse

AHAC Israeli Nationals 2010
Top Ten - Get of Sire

AHAC Brazilian Nationals 2010
Top Ten - Get of Sire

AHAC Egypt International 2010
Top Ten - 7yr/o Mares
Top Ten - Get of Sire

AHAC Dutch National Championships 2010
Top Ten - Get of Sire
Top Ten - Pleasure Driving Sr Horse

AHAC European Championships Verona 2010
Reserve Champion - Get of Sire
Top Ten - English Pleasure Sr Horse
Top Ten - Pleasure Driving Sr Horse

AHAC Verona National Championships 2010
Top Ten - Pleasure Driving Sr Horse

AHAC Sharjah 2010
Champion - Pleasure Driving Sr Horse
Top Ten - 7yr/o Mares
Top Ten - Get of Sire
Top Ten - English Pleasure Sr Horse

AHAC Salon Du Cheval 2010
Top Ten - Get of Sire