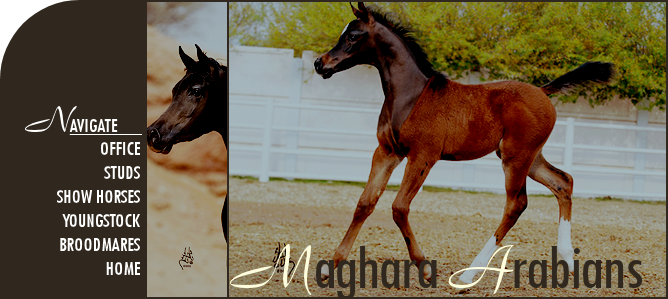 Gypsie Bint Adio M++++/

2006 Grey Domestic Arabian Mares
Competing in Pleasure Driving & English Pleasure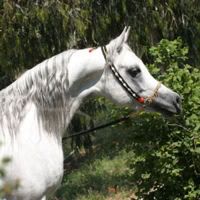 Gypsie Bint Adio is a beautiful futurity mare who has been showing since her yearling year and has alrrady achieved her Legion of Masters title with the AHAC, she is one of the 3 mares foaled by Bint Gypsie Bey all of whom are also at their Legion of Masters title. She also has 2 half brothers who are also titled within the AHAC. This mare has a stunning pedigree with her dam having 5 other foals all titled within the AHAC and also being a Legion of Excellence titled mare herself. She is also sired by a beautiful grey finnish owned and shown horse who has passed on georgous genes to this beautiful mare and complemented those of Bint Gypsie Bey.





Adio

G Nazeer Al Rayyan
Ashhal Al Rayyan
Shaphara Al Ansrafa
KWB Sharasna
CKE Sharif Ziam
CKE Natasna

Bint Gypsie Bey

Bask Knight
Bask
Sweet Gypsie Rose
Yalla Bint Halim
DA Shah Halim
Yalla Bint Nishan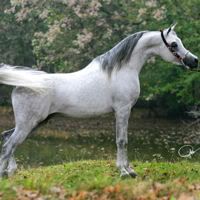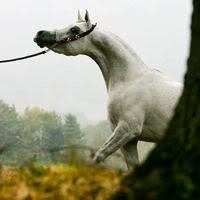 Progeny
Gerwazy M, 2010 Domestic Arabian Colt Sired by O Pyzazz
Show Record
- 2837 AHAC POINTS ll AHAC LEGION OF SUPREME EXCELLENCE (++++/)



2007 Adamant Arabian Classic
Champion - Yearling Fillies

BT Gharkwan Arabian Spectacular 2007
Champion - Yearling Fillies

Weatherlord Farm Classic Circuit Show A
Top Ten - Classic Head Fillies

Weatherlord Farm Classic Circuit Show B
Top Ten - Classic Head Fillies

AHAC Wels International 2007
Champion - Yearling Fillies
Reserve Champion Filly
Reserve Champion - Produce of Dam

AHAC Tulip Cup 2007
Top Ten - Yearling Fillies
Top Ten - Produce of Dam
Top Ten - Classic Head Fillies

AHAC Arabica 2007
Top Ten - Yearling Fillies

AHAC Orientcala 2007
Top Ten - Yearling Fillies

AHAC Jordan National Championships 2007
Top Ten - Yearling Fillies
Top Ten - Produce of Dam

AHAC 2007 Czech National Championship
Champion - Produce of Dam
Top Ten - Yearling Fillies

AHAC 2007 Menton International
Top Ten - Produce of Dam

AHAC 2007 Scandinavian Open Championship
Top Ten - Yearling Fillies
Top Ten - Produce of Dam

AHAC 2007 Mooslargue
Top Ten - Yearling Fillies
Top Ten - Produce of Dam
Top Ten - Classic Head Fillies

AHAC 2007 Vilhelmsborg
Top Ten - Yearling Fillies

AHAC 2007 British National Championships
Top Ten - Yearling Fillies
Top Ten - Classic Head Fillies

AHAC 2007 Asil Cup
Top Ten - Yearling Fillies
Top Ten - Produce of Dam

AHAC 2007 St Petersburg Open
Reserve Champion - Classic Head Fillies
Top Ten - Yearling Fillies
Top Ten - Produce of Dam

AHAC 2007 Towerlands UK
Top Ten - Produce of Dam

AHAC 2007 Finnish National Championships
Champion - Produce of Dam
Top Ten - Yearling Fillies

AHAC Elran Cup 2007
Top Ten - Yearling Fillies

AHAC 2007 Merrist Wood
Top Ten - Yearling Fillies
Top Ten - Produce of Dam

AHAC 2007 All Nations Cup
Top Ten - Yearling Fillies
Top Ten - Produce of Dam

AHAC 2007 Moroccon National Championships
Top Ten - Weanling Fillies
Top Ten - Produce of Dam
Top Ten - Classic Head Fillies

AHAC 2007 Norwegian National Championships
Reserve Champion - Classic Head Fillies
Top Ten - Yearling Fillies

AHAC 2007 Saint-Tropez Arabian Cup
Top Ten - Yearling Fillies
Top Ten - Classic Head Fillies

AHAC 2007 Polish National Show
Top Ten - Produce of Dam
Top Ten - Classic Head Fillies

AHAC 2007 European Championships
Top Ten - Yearling Fillies

AHAC 2007 Middle East Championship
Champion - Produce of Dam

AHAC 2007 Dutch National Championships
Top Ten - Yearling Fillies

AHAC 2007 Israeli Nationals
Top Ten - Produce of Dam

AHAC 2007 Egypt International
Top Ten - Yearling Fillies

AHAC 2007 Salon Du Cheval
Top Ten - Yearling Fillies

AHAC 2007 Brazilian National Championships
Champion - Produce of Dam

AHAC Sharjah 2007
Top Ten - Yearling Fillies

AHAC 2008 Region 1 Championships
Top Ten - 2yr/o Fillies

AHAC 2008 Canadian Nationals
Champion - 2yr/o Fillies
National Champion Filly

AHAC 2008 Region 2 Championships
Reserve Champion - Produce of Dam

AHAC Ajman National Show 2008
Top Ten - 2yr/o Fillies

AHAC 2008 Sharjah International
Reserve Champion - 2yr/o Fillies

AHAC Arabian Breeders World Cup 2008
Top Ten - 2yr/o Fillies
Top Ten - Produce of Dam

AHAC 2008 US Nationals
Top Ten - Produce of Dam

AHAC 2008 Travagliato
Champion - Produce of Dam
Reserve Champion - 2yr/o Fillies

AHAC 2008 Austrian National Championships
Top Ten - Produce of Dam

AHAC 2008 Tulip Cup
Top Ten - 2yr/o Fillies

AHAC 2008 Buckeye
Top Ten - 2yr/o Fillies
Top Ten - Produce of Dam

AHAC 2008 Orientalica
Top Ten - Produce of Dam

2008 AHAC Jordan Nationals
Top Ten - 2yr/o Fillies

AHAC 2008 Menton International
Top Ten - Produce of Dam

AHAC 2008 Czech National Championships
Top Ten - Produce of Dam

AHAC 2008 Asil Cup
Reserve Champion - 2yr/o Fillies
Top Ten - Produce of Dam

AHAC Mooslargue 2008
Top Ten - Produce of Dam

AHAC Brussels Arabian Trophy 2008
Top Ten - 2yr/o Fillies
Top Ten - Produce of Dam

AHAC Towerlands UK 2008
Top Ten - 2yr/o Fillies
Top Ten - Produce of Dam

AHAC Finnish National Championships 2008
Top Ten - Produce of Dam

AHAC Danish National Championships 2008
Champion - 2yr/o Fillies

AHAC Elran Cup 2008
Top Ten - 2yr/o Fillies
Top Ten - Produce of Dam

AHAC Vilhelmsborg 2008
Top Ten - Produce of Dam

AHAC European Championships Verona 2008
Top Ten - Produce of Dam

AHAC St. Petersberg Open 2008
Top Ten - 2yr/o Fillies

AHAC Salon Du Cheval 2008
Reserve Champion - Produce of Dam
Top Ten - 2yr/o Fillies

AHAC Sharjah 2008
Top Ten - 2yr/o Fillies
Top Ten - Produce of Dam

AHAC Region I Championships 2009
Champion - Filly Futurity
Reserve Champion - Pleasure Driving Futurity
Regional Futurity Reserve Champion
Top Ten - English Pleasure Futurity

AHAC Ajman National Show 2009
Top Ten - English Pleasure Futurity
Top Ten - Pleasure Driving Futurity

AHAC Abu Dhabi 2009
Top Ten - Filly Futurity

AHAC Scottsdale Arabian Horse Show 2009
Top Ten - English Pleasure Futurity
Top Ten - Pleasure Driving Futurity

AHAC Voghera 2009
Champion - Pleasure Driving Futurity
Top Ten - Filly Futurity

AHAC Qatar International 2009
Top Ten - English Pleasure Futurity
Top Ten - Pleasure Driving Futurity

AHAC Egyptian National Championships 2009
Top Ten - English Pleasure Futurity
Top Ten - Pleasure Driving Futurity

AHAC Arabian Masters 2009
Top Ten - Produce of Dam

AHAC 2009 Sharjah
Champion - English Pleasure Futurity
Top Ten - Produce of Dam
Top Ten - Pleasure Driving Futurity

AHAC 2009 Arabian Breeders World Cup
Top Ten - Produce of Dam
Top Ten - Pleasure Driving Futurity

AHAC 2009 US Nationals
Top Ten - English Pleasure Futurity
Top Ten - Pleasure Driving Futurity

AHAC Travagliato 2009
Top Ten - Filly Futurity

AHAC 2009 Arabica
Top Ten - Produce of Dam
Top Ten - Pleasure Driving Futurity

AHAC 2009 Buckeye
Top Ten - Pleasure Driving Futurity

AHAC 2009 Jordan National Championships
Champion - Pleasure Driving Futurity
Top Ten - Filly Futurity
Top Ten - Produce of Dam
Top Ten - English Pleasure Futurity

AHAC 2009 Czech National Championships
Champion - Filly Futurity
National Futurity Reserve Champion
Top Ten - Produce of Dam
Top Ten - English Pleasure Futurity
Top Ten - Pleasure Driving Futurity

AHAC 2009 German Nationals
Reserve Champion - Classic Head Jr Mares
Top Ten - English Pleasure Futurity
Top Ten - Pleasure Driving Futurity

AHAC 2009 Menton International
Champion - Produce of Dam
Top Ten - Classic Head Jr Mares
Top Ten - English Pleasure Futurity
Top Ten - Pleasure Driving Futurity

AHAC 2009 Emerald Trophy
Top Ten - English Pleasure Futurity
Top Ten - Pleasure Driving Futurity

AHAC 2009 Scandinavian Open Championships
Reserve Champion - Pleasure Driving Futurity
Top Ten - Produce of Dam
Top Ten - Classic Head Jr Mares
Top Ten - English Pleasure Futurity

AHAC 2009 Mooslargue
Reserve Champion - Most Classic Jr Mare
Top Ten - Classic Head Jr Mares

AHAC 2009 Danish National Championships
Top Ten - Produce of Dam
Top Ten - Classic Head Jr Mares

AHAC 2009 British National Championships
Top Ten - Classic Head Jr Mares
Top Ten - Most Classic Jr Mare

AHAC 2009 Vilhelmsborg
Reserve Champion - English Pleasure Futurity
Top Ten - Classic Head Jr Mares
Top Ten - Pleasure Driving Futurity

AHAC 2009 St Petersburg Open
Top Ten - Filly Futurity
Top Ten - Produce of Dam
Top Ten - English Pleasure Futurity
Top Ten - Pleasure Driving Futurity

AHAC 2009 Asil Cup
Reserve Champion - Produce of Dam

AHAC 2009 Brussels Arabian Trophy
Reserve Champion - Filly Futurity
Top Ten - English Pleasure Futurity
Top Ten - Pleasure Driving Futurity

AHAC 2009 Towerlands UK
Top Ten - Produce of Dam
Top Ten - Classic Head Jr Mares
Top Ten - English Pleasure Futurity
Top Ten - Pleasure Driving Futurity

AHAC Elran Cup 2009
Champion - Classic Head Jr Mares
Most Classic Head
Top Ten - Filly Futurity

AHAC 2009 Finnish National Championships
Champion - Produce of Dam
Champion - Most Classic Jr Mare

AHAC 2009 All Nations Cup
Champion - Filly Futurity
Top Ten - Produce of Dam

AHAC 2009 Merrist Wood
Reserve Champion - Pleasure Driving Futurity
Top Ten - Produce of Dam
Top Ten - English Pleasure Futurity

AHAC 2009 Moroccon National Championships
Reserve Champion - Pleasure Driving Futurity
Top Ten - Produce of Dam
Top Ten - Classic Head Jr Mares
Top Ten - English Pleasure Futurity

AHAC 2009 Norwegian National Championships
Champion - English Pleasure Futurity
Top Ten - Filly Futurity
Top Ten - Produce of Dam
Top Ten - Pleasure Driving Futurity

AHAC 2009 Saint Tropez Arabian Cup
Top Ten - Produce of Dam
Top Ten - English Pleasure Futurity
Top Ten - Pleasure Driving Futurity

AHAC 2009 Middle East Championships
Champion - English Pleasure Futurity
Reserve Champion - Classic Head Jr Mares
Top Ten - Pleasure Driving Futurity

AHAC 2009 Sharjah
Champion - Classic Head Jr Mares
Top Ten - Produce of Dam
Top Ten - English Pleasure Futurity
Top Ten - Pleasure Driving Futurity

AHAC 2009 Verona National Championships
Reserve Champion - English Pleasure Futurity
Top Ten - Produce of Dam
Top Ten - Most Classic Jr Mare
Top Ten - Pleasure Driving Futurity

AHAC 2009 European Championships Verona
Top Ten - Produce of Dam
Top Ten - Classic Head Jr Mares
Top Ten - English Pleasure Futurity
Top Ten - Pleasure Driving Futurity

AHAC 2009 Israeli Nationals
Reserve Champion - Produce of Dam
Reserve Champion - English Pleasure Futurity
Top Ten - Classic Head Jr Mares
Top Ten - Pleasure Driving Futurity

AHAC 2009 Dutch National Championships
Top Ten - Produce of Dam
Top Ten - Most Classic Jr Mare

AHAC 2009 Salon Du Cheval
Top Ten - Filly Futurity
Top Ten - Produce of Dam

AHAC 2009 Egypt International
Reserve Champion - Produce of Dam
Top Ten - Filly Futurity
Top Ten - Most Classic Jr Mare
Top Ten - English Pleasure Futurity
Top Ten - Pleasure Driving Futurity

AHAC 2009 Brazilian Nationals
Top Ten - Pleasure Driving Futurity

AHAC 2010 Canadian Nationals
Top Ten - 4yr/o Mares
Top Ten - Produce of Dam
Top Ten - English Pleasure Jr Horse

AHAC 2010 Region I Championships
Champion - Produce of Dam
Top Ten - English Pleasure Jr Horse

AHAC 2010 Region II Championships
Top Ten - 4yr/o Mares
Top Ten - English Pleasure Jr Horse

AHAC 2010 Ajman
Top Ten - Produce of Dam

AHAC 2010 Abu Dhabi
Reserve Champion - Produce of Dam

AHAC 2010 Scottsdale
Top Ten - Pleasure Driving Jr Horse

AHAC 2010 Voghera
Champion - Pleasure Driving Jr Horse
Top Ten - 4yr/o Mares

AHAC 2010 Qatar International
Top Ten - Produce of Dam
Top Ten - English Pleasure Jr Horse

AHAC 2010 Egyptian National Championships
Top Ten - 4yr/o Mares
Top Ten - Pleasure Driving Jr Horse

AHAC 2010 Strohen International
Top Ten - 4yr/o Mares
Top Ten - Produce of Dam
Top Ten - Pleasure Driving Jr Horse

AHAC 2010 Arabian Masters
Top Ten - Produce of Dam

AHAC 2010 US Nationals
Top Ten - 4yr/o Mares
Top Ten - Produce of Dam
Top Ten - Pleasure Driving Jr Horse

AHAC 2010 Dubai International
Reserve Champion - Pleasure Driving Jr Horse
Top Ten - Produce of Dam

AHAC 2010 Sharjah International
Top Ten - Produce of Dam
Top Ten - English Pleasure Jr Horse

AHAC 2010 Arabian Breeders World Cup
Top Ten - 4yr/o Mares
Top Ten - Produce of Dam
Top Ten - Pleasure Driving Jr Horse

AHAC 2010 Egyptian Event
Champion - Pleasure Driving Jr Horse
Top Ten - English Pleasure Jr Horse

AHAC 2010 Travagliato
Top Ten - 4yr/o Mares
Top Ten - Produce of Dam
Top Ten - English Pleasure Jr Horse
Top Ten - Pleasure Driving Jr Horse

AHAC 2010 Wels International
Top Ten - Pleasure Driving Jr Horse

AHAC 2010 Tulip Cup
Reserve Champion - English Pleasure Jr Horse
Top Ten - 4yr/o Mares
Top Ten - Pleasure Driving Jr Horse

AHAC 2010 Austrian National Championships
Top Ten - 4yr/o Mares
Top Ten - English Pleasure Jr Horse
Top Ten - Pleasure Driving Jr Horse

AHAC 2010 Buckeye
Reserve Champion - 4yr/o Mares
Top Ten - Pleasure Driving Jr Horse

AHAC 2010 Arabica
Top Ten - 4yr/o Mares

AHAC 2010 Orientalica
Top Ten - Produce of Dam

AHAC 2010 Egyptian Classic Cup
Top Ten - 4yr/o Mares

AHAC 2010 Jordan National Championships
Top Ten - Produce of Dam
Top Ten - English Pleasure Jr Horse
Top Ten - Pleasure Driving Jr Horse

AHAC 2010 Czech National Championships
Top Ten - Pleasure Driving Jr Horse

AHAC 2010 Emerald Trophy
Top Ten - 4yr/o Mares
Top Ten - English Pleasure Jr Horse
Top Ten - Pleasure Driving Jr Horse

AHAC 2010 Scandinavian Open Championships
Top Ten - 4yr/o Mares
Top Ten - Produce of Dam
Top Ten - Pleasure Driving Jr Horse

AHAC 2010 Menton International
Reserve Champion - Produce of Dam
Top Ten - English Pleasure Jr Horse
Top Ten - Pleasure Driving Jr Horse

AHAC 2010 German Nationals
Reserve Champion - English Pleasure Jr Horse
Top Ten - Produce of Dam
Top Ten - Pleasure Driving Jr Horse

AHAC 2010 Vilhelmsborg
Reserve Champion - 4yr/o Mares
Reserve Champion - English Pleasure Jr Horse
Top Ten - Produce of Dam
Top Ten - Pleasure Driving Jr Horse

AHAC 2010 St Petersburg Open
Top Ten - Produce of Dam
Top Ten - English Pleasure Jr Horse

AHAC 2010 Brussels Arabian Trophy
Reserve Champion - Pleasure Driving Jr Horse
Top Ten - English Pleasure Jr Horse

AHAC 2010 Asil Cup
Top Ten - 4yr/o Mares
Top Ten - Produce of Dam

AHAC 2010 Elran Cup
Champion - Produce of Dam
Champion - Pleasure Driving Jr Horse
Top Ten - English Pleasure Jr Horse

AHAC 2010 Merrist Wood
Top Ten - 4yr/o Mares

AHAC 2010 All Nations Cup
Top Ten - 4yr/o Mares
Top Ten - Produce of Dam

AHAC Finnish National Championships 2010
Champion - Pleasure Driving Jr Horse
Top Ten - Produce of Dam
Top Ten - English Pleasure Jr Horse

AHAC Moroccan National Championships 2010
Top Ten - Pleasure Driving Jr Horse

AHAC 2010 Norwegian National Championships
Reserve Champion - English Pleasure Jr Horse
Top Ten - Pleasure Driving Jr Horse

AHAC 2010 Middle East Championships
Top Ten - Pleasure Driving Jr Horse

AHAC Saint Tropez Arabian Cup 2010
Top Ten - 4yr/o Mares
Top Ten - Produce of Dam

AHAC Israeli Nationals 2010
Reserve Champion - 4yr/o Mares
Top Ten - Produce of Dam

AHAC Brazilian Nationals 2010
Top Ten - 4yr/o Mares

AHAC Egypt International 2010
Reserve Champion - Produce of Dam
Top Ten - 4yr/o Mares

AHAC Dutch National Championships 2010
Champion - Produce of Dam
Champion - English Pleasure Jr Horse
Top Ten - Pleasure Driving Jr Horse

AHAC European Championships Verona 2010
Top Ten - Produce of Dam
Top Ten - Pleasure Driving Jr Horse

AHAC Verona National Championships 2010
Champion - Pleasure Driving Jr Horse
Top Ten - 4yr/o Mares
Top Ten - Produce of Dam

AHAC Sharjah 2010
Top Ten - English Pleasure Jr Horse
Top Ten - Pleasure Driving Jr Horse