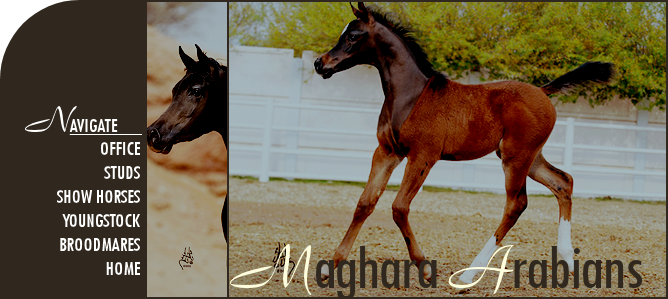 Fhantasy Ovation++++

1998 Bay Polish Arabian Stallion
Retired from Prix St. Georges Dressage & High Jumper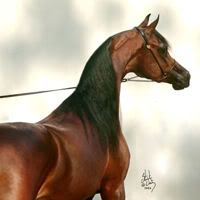 Fhantasy Ovation was purchased from the 2006 AHAC Promotional Auction his sire is the Bay polish arabian stallion Applauz and he is out of Fantazia who is sired by the stunning bay stallion Aladdinn. Fhantasy Ovation is a wonderful horse, he can be a little cantankerous at times and doesn't like to work for long periods of time but when he is in the show ring he just loves to show off as he knows people re watching him and want to see what he's got. Fhantasy Ovation is a very successful show horse now titled as an AHAC Legion of Masters champion, he is also a wonderful sire having sired 7 stunning foals all of whom are doing very well in the show ring.

Another horse donated by Silver of Silverstone Adoptions, Fhastasy Ovation is a handsome boy standing at 15.2hh; pretty tall for an Arabian. He's got a lot of spirit and can be a huge handful, so an advanced rider and handler is recommended. A great competitor when he's not trying to be his dominant self, Fhastasy Ovation has got a great pedigree behind him that is recognized by people who don't even know a thing about Arabians. Aladdinn had successfully made himself become a famous stallion because his name is popping up in pedigrees everywhere. He has a heavy influence on the Polish world as we know it.
Applauz

El Paso
Czort
Ellora
Andalusia
Bask
Andaluzia

Fantazha

Aladdinn
Nureddin
Lalage
Pouilly Fussie
Cognac
Fata Morgana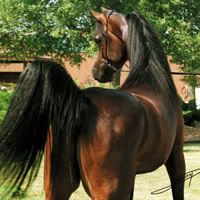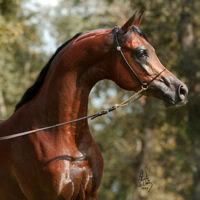 Progeny
Elgwir Oles Fhantasy++++, 2000 Polish Arabian Mare out of Olesia
Khristopher M++++, 2001 Polish Arabian Stallion out of Peirczar
Epic Fhantasy, 2002 Anglo Arabian Mare out of Unbridled Ballad
Fhantasy Lady, 2003 Polish Arabian Mare out of Moonlight
Emeryk M+//, 2005 Polish Arabian Gelding out of BT Entropian
Ffirie Fhantasy++++, 2005 Polish Arabian Mare out of Ffirie Fiona
Ovaszar M++++, 2005 Polish Arabian Stallion out of Borszar
Perfume Fhantasy M, 2006 Domestic Arabian Mare out of Pink Perfume
Apolonia++++, 2007 Polish Arabian Filly out of *Glomek
Ya Bint Al Riyah M, 2007 Polish Arabian Filly out of *Persowkan
Brygida M, 2008 Polish Arabian Filly out of Borszar
Premysl M+, 2008 Polish Arabian Colt out of Psychedelik
Show Record
- 1313 AHAC POINTS ll AHAC LEGION OF MASTERS (++++)

- AHAC NOMINATED STALLION



AHAC 2006 Polish National Show
Champion - 8yr/o Stallions
Top Ten - Open Liberty

AHAC 2006 Middle East Championships
Top Ten - 8yr/o Stallions
Top Ten - First Level Dressage

AHAC 2006 Israel National Championship
Top Ten - 8yr/o Stallions
Top Ten - First Level Dressage
Top Ten - Jumper

AHAC 2006 Egypt International
Top Ten - 8yr/o Stallions
Top Ten - Freestyle Dressage
Top Ten - First Level Dressage
Top Ten - Classic Head Stallions

AHAC 2006 Scandinavian Cup
Champion - 8yr/o Stallions
Top Ten - Classic Head Stallions

AHAC 2006 Emerald Trophy
Top Ten - 8yr/o Stallions
Top Ten - Second Level Dressage
Top Ten - Jumper
Top Ten Classic Head Stallions

AHAC Sharjah 2006
Reserve Champion - Second Level Dressage
Top Ten - 8yr/o Stallions
Top Ten - Freestyle Dressage
Top Ten - Jumper

AHAC 2007 Canadian Nationals
Reserve Champion - 9yr/o Stallions
Top Ten - Freestyle Dressage, Test of Choice
Top Ten - First Level Dressage
Top Ten - Classic Head Stallions

AHAC 2007 Ajman
Top Ten - 9yr/o Stallions

AHAC 2007 Scottsdale Show
Champion - Fourth Level Dressage
Top Ten - 9yr/o Stallions
Top Ten - Freestyle Dressage
Top Ten - Classic Head Stallions

AHAC 2007 Qatar International
Reserve Champion - Classic Head Stallions
Reserve Champion - Freestyle Dressage
Reserve Champion - High Jumper
Top Ten - 9yr/o Stallions
Top Ten - Fourth Level Dressage

AHAC 2007 Egyptian National Championships
Champion - Classic Head Stallions
Top Ten - 9yr/o Stallions
Top Ten - Freestyle Dressage
Top Ten - Fourth Level Dressage

2007 Adamant Arabian Classic
Champion - 9yr/o Stallions

BT Gharkwan Arabian Spectacular 2007
Champion - High Jumper [4'0-4'6]
Top Ten - 9yr/o Stallions
Top Ten - Fourth Level Dressage

Weatherlord Farm Classic Circut Show A
Top Ten - Classic Head Stallions

Weatherlord Farm Classic Circut Show B
Top Ten - Classic Head Stallions

AHAC Wels International 2007
Reserve Champion - 9yr/o Stallions

AHAC Tulip Cup 2007
Champion - 9yr/o Stallions
Top Ten - Liberty Sr Stallion

AHAC 2007 Austrian National Championships
Top Ten - 9yr/o Stallions

AHAC Arabica 2007
Top Ten - 9yr/o Stallions

AHAC Orientcala 2007
Top Ten - 9yr/o Stallions

AHAC Jordan National Championships 2007
Reserve Champion - High Jumper
Top Ten - 9yr/o Stallions
Top Ten - 4th Level Dressage

AHAC 2007 Czech National Championships
Reserve Champion - 4th Level Dressage
Top Ten - 9yr/o Stallions
Top Ten - High Jumper

AHAC 2007 Menton International
Champion - 4th Level Dressage
Reserve Champion - Freestyle Dressage
Top Ten - 9yr/o Stallions

AHAC 2007 Scandinavian Open Championship
Top Ten - 9yr/o Stallions
Top Ten - 4th Level Dressage
Top Ten - High Jumper

AHAC 2007 Mooslargue
Reserve Champion - 4th Level Dressage
Top Ten - 9yr/o Stallions
Top Ten - High Jumper

AHAC 2007 Vilhelmsborg
Top Ten - 9yr/o Stallions
Top Ten - 4th level Dressage
Top Ten - High Jumper

AHAC 2007 British National Championships
Top Ten - 9yr/o Stallions
Top Ten - 4th Level Dressage

AHAC 2007 Asil Cup
Top Ten - 9yr/o Stallions

AHAC 2007 St. Petersburg Open
Reserve Champion - 4th Level Dressage
Reserve Champion - High Jumper
Top Ten - 9yr/o Stallions

AHAC 2007 Towerlands UK
Top Ten - 9yr/o Stallions

AHAC 2007 Finnish National Championships
Reserve Champion - 9yr/o Stallions

AHAC Elran Cup 2007
Top Ten - 9yr/o Stallions

AHAC 2007 Merrist Wood
Champion - High Jumper
Reserve Champion - 9yr/o Stallions
Top Ten - 4th Level Dressage

AHAC 2007 All Nations Cup
Champion - 9yr/o Stallions
International Champion Senior Stallion

AHAC 2007 Moroccon National Championships
Reserve Champion - 4th Level Dressage
Top Ten - 9yr/o Stallions
Top Ten - High Jumper

AHAC 2007 US Sporthorse Nationals
Champion - 4th Level Dressage
Champion - Jumpers

AHAC 2007 Norwegian National Championships
Top Ten - 9yr/o Stallions

AHAC 2007 Saint-Tropez Arabian Cup
Top Ten - 9yr/o Stallions

AHAC 2007 Polish National Show
Top Ten - 9yr/o Stallions
Top Ten - Liberty Sr Stallions

Maghara 2007 Polish Halter Show
Champion - 9yr/o Stallions
Champion Senior Stallion
Top Ten - Classic Head Stallions

AHAC 2007 European National Championships
Top Ten - 9yr/o Stallions
Top Ten - 4th Level Dressage
Top Ten - High Jumper

AHAC 2007 Middle East Championships
Champion - 4th Level Dressage
Reserve Champion - 9yr/o Stallions

AHAC 2007 Dutch National Championships
Top Ten - 9yr/o Stallions

AHAC 2007 Israeli Nationals
Top Ten - 9yr/o Stallions

AHAC 2007 Egypt International
Top Ten - 4th Level Dressage
Top Ten - High Jumper

AHAC 2007 Salon Du Cheval
Top Ten - 9yr/o Stallions

AHAC 2007 Brazilian National Championships
Top Ten - 9yr/o Stallions
Top Ten - 4th Level Dressage
Top Ten - High Jumper

AHAC Sharjah 2007
Top Ten - 9yr/o Stallions
Top Ten - 4th Level Dressage
Top Ten - High Jumper

AHAC 2008 Region 1 Championships
Reserve Champion - Prix St. Georges Dressage
Top Ten - 10yr/o Stallions
Top Ten - High Jumper

AHAC 2008 Canadian Nationals
Reserve Champion - Prix St. Georges Dressage
Top Ten - Freestyle Dressage Sr Horse
Top Ten - High Jumper

AHAC 2008 Region 2 Championships
Top Ten - Prix St. Georges Dressage
Top Ten - Freestyle Dressage Sr Horse
Top Ten - High Jumper

AHAC Ajman National Show 2008
Top Ten - 10yr/o Stallions
Top Ten - Prix St. Georges Dressage
Top Ten - High Jumper

AHAC Scottsdale Arabian Horse Show 2008
Top Ten - Prix St. Georges Dressage
Top Ten - Freestyle Dressage Sr Horse
Top Ten - High Jumper

AHAC 2008 Egyptian National Championships
Top Ten - Prix St. Georges Dressage

AHAC 2008 Strohen International
Top Ten - 10yr/o Stallions

AHAC 2008 Sharjah International
Reserve Champion - Prix St. Georges Dressage
Top Ten - 10yr/o Stallions
Top Ten - High Jumper

AHAC Arabian Breeders World Cup 2008
Top Ten - 10yr/o Stallions
Top Ten - Prix St. Georges Dressage
Top Ten - Freestyle Dressage Sr Horse
Top Ten - High Jumper

AHAC 2008 US Nationals
Champion - 10yr/o Stallions
Reserve Champion - Prix St. Georges Dressage
Top Ten - High Jumper

AHAC Qatar International 2008
Top Ten - Prix St. Georges Dressage

AHAC 2008 Travagliato
Top Ten - 10yr/o Stallions

AHAC 2007 Wels International
Top Ten - 10yr/o Stallions

Pheonix Halter Show 2008
Top Ten - 10yr/o Stallions

AHAC Austrian National Championships 2008
Top Ten - 10yr/o Stallions

AHAC Tulip Cup 2008
Top Ten - 10yr/o Stallions

AHAC 2008 Buckeye
Champion - 10yr/o Stallions
Top Ten - Prix St Georges Dressage
Top Ten - High Jumper

AHAC 2008 Arabica
Champion - High Jumper
Reserve Champion - 10yr/o Stallions
Top Ten - Prix St Georges Dressage

AHAC 2008 Menton International
Top Ten - 10yr/o Stallions

AHAC 2008 Czech National Championships
Top Ten - 10yr/o Stallions

AHAC Emerald Trophy 2008
Champion - 10yr/o Stallions

AHAC 2008 Asil Cup
Top Ten - 10yr/o Stallions

AHAC Mooslargue 2008
Top Ten - 10yr/o Stallions

AHAC Brussels Arabian Trophy 2008
Top Ten - 10yr/o Stallions

AHAC Towerlands UK 2008
Top Ten - 10yr/o Stallions

AHAC British National Championships
Top Ten - 10yr/o Stallions

AHAC Finnish National Championships 2008
Top Ten - 10yr/o Stallions

AHAC Danish National Championships 2008
Top Ten - 10yr/o Stallions

AHAC European Championships Verona
Top Ten - 10yr/o Stallions

AHAC Salon Du Cheval 2008
Top Ten - 10yr/o Stallions

AHAC Region I Championships 2009
Top Ten - 11-up yr/o Stallions

AHAC Qatar International 2009
Top Ten - 11-up yr/o Stallions

AHAC 2009 Strohen International
Top Ten - 11-up yr/o Stallions

AHAC 2009 Sharjah International
Top Ten - 11-up yr/o Stallions

AHAC 2009 US Nationals
Top Ten - 11-up yr/o stallions

AHAC 2009 Tulip Cup
Top Ten - 11-up yr/o Stallions

AHAC 2009 Austrian National Championships
Top Ten - 11-up yr/o Stallions

AHAC 2009 Buckeye
Top Ten - 11-up yr/o Stallions

AHAC 2009 Jordan National Championships
Top Ten - 11-up Stallions

AHAC 2009 Czech National Championships
Top Ten - 11-up Stallions

AHAC 2009 Menton International
Top Ten - 11-up Stallions

AHAC 2009 Emerald Trophy
Top Ten - 11-up Stallions
Top Ten - Sweepstakes Nominated Senior Sires

AHAC 2009 Scandinavian Open Championships
Reserve Champion - Sweepstakes Nominated Senior Sires
Top Ten - 11-up Stallions

AHAC 2009 Mooslargue
Top Ten - Sweepstales Nominated Senior Sires

AHAC 2009 Danish National Championships
Reserve Champion - Sweepstakes Nominated Senior Sires
Top Ten - 11-up Stallions

AHAC 2009 British National Championships
Top Ten - Sweepstakes Nominated Senior Sires

AHAC 2009 Vilhelmsborg
Top Ten - Sweepstakes Nominated Senior Sires

AHAC 2009 St Petersburg Open
Top Ten - Sweepstakes Nominated Senior Sires

AHAC 2009 Asil Cup
Top Ten - 11-up Stallions
Top Ten - Sweepstakes Nominated Senior Sires

AHAC 2009 Brussels Arabian Trophy
Top Ten - Sweepstakes Nominated Senior Sires

AHAC 2009 Towerlands UK
Top Ten - Sweepstakes Nominated Senior Sires

AHAC Elran Cup 2009
Top Ten - Sweepstakes Nominated Senior Sires